3 of the Best AI-Powered Keyword Research Tools
Keywords, keyword, keywords. Say that three times fast. 
Yup, keywords are something your brand can't live without, even though some days, you may wish they didn't weigh so heavily on your content strategies. The process of uncovering relevant keywords is often time-consuming and, for some marketers, intimidating. But it doesn't need to be that way. 
While plenty of SEO tools exist to help steer you in the right direction, there's a new wave of supportive tools helping businesses of all sizes — AI-powered keyword discovery tools.
In seconds, gain access to the keyword you need to rank, increase visibility, and boost traffic. Here's a look at some of the best AI-powered keyword research tools.
Why use AI-powered keyword research tools?
Did you know that Google processes over 8.5 billion searches every day? To compete and actually get your page ranked, you may be interested in keyword research software and artificial intelligence (AI).
There are several reasons why leveraging AI-powered research tools is a smart move:
Increased efficiency and greater cost savings. These tools help eliminate the need for manual keyword research.
Identify your competitors' keywords. What keywords are your competitors targeting? With that information, you can develop new, data-driven, research-backed strategies to remain relevant and competitive in a sea of businesses. 
Improve audience targeting. By pinpointing the keywords used to search for products or services like yours, this insight can help you optimize campaigns for higher conversions and a healthier ROI.
So, what are some of the best AI-powered keyword research tools?
Discover more: AI and SEO: Can AI Support Your SEO Strategy?
Scripted | Keyword Research Tool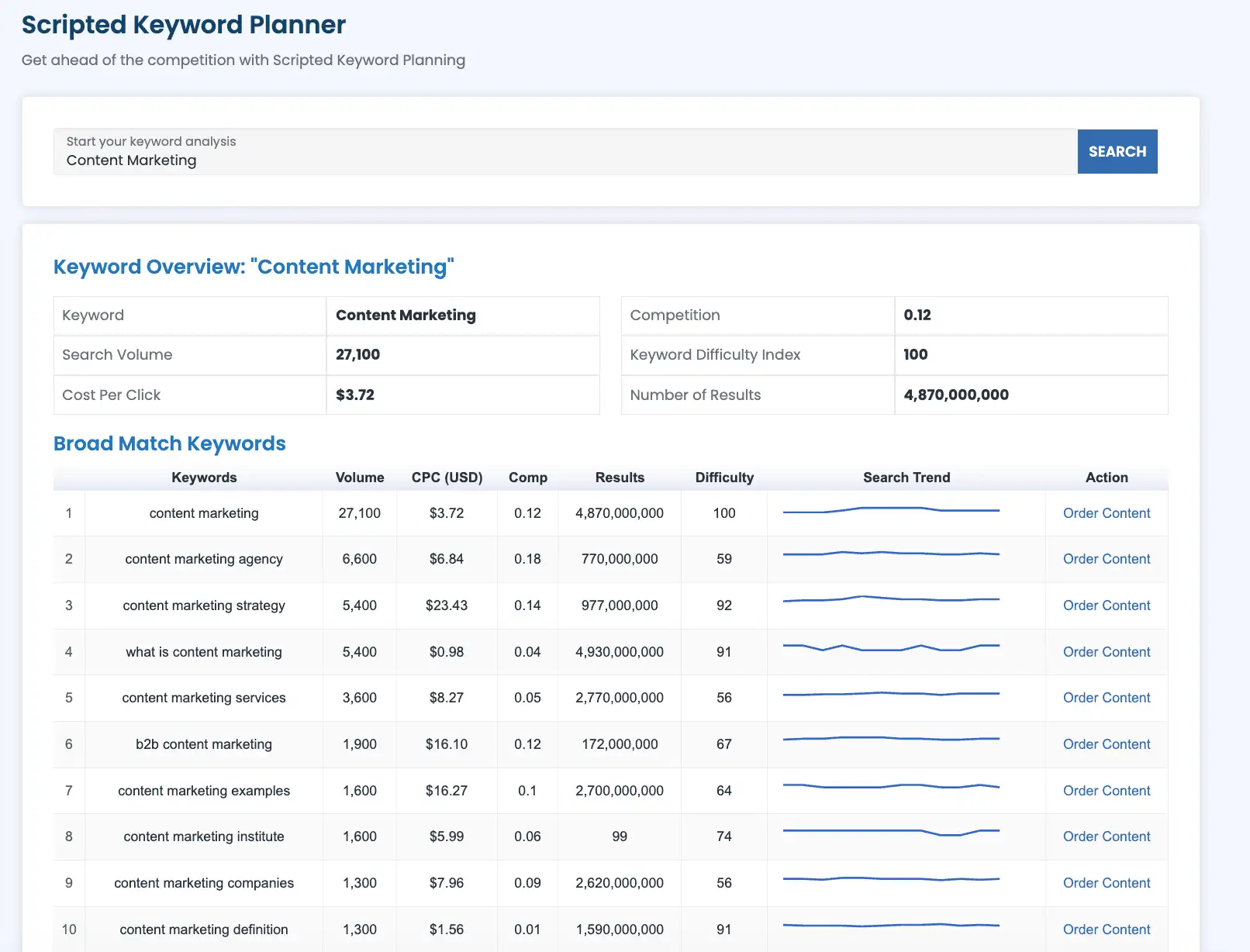 The best all-in-one keyword research and content creation solution.
Scripted is unique because it's an end-to-end content creation solution that implements AI-powered tools throughout the process. Various tools, including an AI-powered keyword research tool, support each step. This approach ensures you don't need to use a handful or more tools to accomplish what Scripted's platform achieves. 
Scripted's Keyword Research Tool is powered by Scout and works hand-in-hand with Recommended Content, which helps you generate winning content ideas during the strategy phase of content creation. These tools automate the creation of a detailed Smart Content Brief. Use this AI-powered process to significantly boost productivity to protect your most precious resource — time. 
Features:
Our Keyword Research Tool helps you: 
Find keywords
Generate headlines
Automate content briefs
Hire expert human writers
Publish content
Track performance
...and more, without ever having to switch tools, sign into other sites, or download additional solutions. You never have to navigate away from the platform.
The Keyword Research Tool also: 
Analyzes trends and data so you don't have to
Generates a list of suggested keywords for your target niche
Provides analytical details that typically require hours of attentive research, including:

Search volume
Cost per click (CPC)
Keyword difficulty
Pricing
: Scripted's
flexible payment plans
have many perks, including a 100% quality guarantee — you don't pay if you're not 100% happy with your content. Choose the perfect plan for your business — all memberships include access to the keyword research tool. 
Ahrefs | Keywords Explorer
The most useful when aiming to optimize websites. 
A study by Ahrefs concluded that nearly 91% of the internet's pages don't receive any organic traffic from Google search — and Google handles more than 3.5 billion searches every day!
Ahrefs is an all-in-one search engine optimization (SEO) tool that will help you optimize your site and improve search visibility. While this platform offers a range of tools, including Backlink Checker and Site Audit, Ahref's Keywords Explorer is needed when seeking reliable keywords. It runs on the world's largest third-party database, offering access to over 7 billion keywords. 
Quickly discover thousands of great keyword ideas and analyze their ranking and difficulty. This AI-powered process helps you calculate traffic potential so you can adjust your content creation strategy accordingly. 
Features:
It covers different search engines, allowing you to estimate YouTube, Bing, and Amazon keyword volumes. 
Keyword difficulty score helps you determine how hard it will be to rank for your chosen keyword. 
Advanced SEO metrics, including clicks per search, return rate, and more. 
Pricing
: Plans range from
$99 per month
to $999+. All plans include Keywords Explorer.
SEMrush | Keyword Magic Tool
The most comprehensive keyword-specific solution.
When talking about keywords, few platforms are as notorious as SEMrush. After all, it is the largest keyword database out there. Offering over 24 billion keywords and a range of tools, SEMrush is a valuable tool in your digital marketing arsenal. 
The Keyword Magic Tool generates keywords, including long-tail keywords, and provides key metrics for each. Following this process, you can save your research in the Keyword Manager. While SEMrush launched several AI-powered tools in 2023, including the SEO Writing Assistant, keyword research is where SEMrush shines. 
Features:
The largest keyword database on the market, SEMrush allows you to build customized keyword lists (several tools are available standard in conjunction with the Keyword Magic Tool).
The Keyword Cluster tool provides auto-generated groups, allowing you to analyze total search volume, average difficulty, and intent. 
Ability to export master keyword lists. 
Pricing
: Pricing is offered via
monthly plans
. The best option for you depends on how many keywords you wish to track. Try the Pro or Guru plans for free. All plans include access to the Keyword Magic Tool.
Which tool is best?
Question: What are the b

est AI-powered keyword research tools?
Answer: It depends. 
AI-powered keyword research tools offer advantages and disadvantages depending on your specific needs. If you seek keyword discovery suggestion tools and an all-in-one, hands-off content creation approach, Scripted ticks all the boxes and then some.

However, if you specifically want access to more in-depth keyword analysis tools or keyword planner tools, leveraging the power of SEMrush or Ahrefs can help fuel your content creation strategy. 

Bottom line
: If you seek human subject matter experts leveraging the latest AI technology, Scripted can help you gain a competitive edge. After all, AI-powered content written by industry-leading subject matter experts makes that much-needed connection between humans and AI:
The human touch is the golden ticket. 
Want to learn more?
Schedule a demo
to take your content marketing strategy to the next level.