Content Marketing for Your Injury Law Website
Get Started
Content marketing is a powerful, sustainable, and cost-effective way to increase organic traffic for your injury law website. With that said, it can be tough to develop a winning content strategy that fits with your digital marketing goals and constraints.
The world of injury law is riddled with potential clients, often in an emotional or distressed state, and a sea of competitor firms who are also vying for their business. Your injury law website has to offer factual, serious, and straightforward information that people can trust to win. But there's more to content marketing than that.
In addition to offering reliable content, like case studies and blog posts, your injury law website needs to cover the right topics in the right format, all while presenting that information using a consistent voice and style readers will resonate with. This means knowing your target audience, conducting detailed keyword research, and dedicating time to on-page SEO strategies.
Here's how to bring all of these together in your content marketing strategy so you can increase organic traffic to your website in a way that's sustainable and only grows as search volume increases.
Benefits of Investing in Content Marketing for Your Injury Law Website
Over 72% of content marketers say it helps them drive new leads, and with generating fresh prospects being a major component of a successful injury law website, there's no doubt that content marketing is worth adding to your strategy. If you're still on the fence about it, consider these other big benefits.
Build Authority
With content marketing, you're consistently producing quality content across all of the platforms where you seek relevancy. This means your content is ultimately exposed to more people, but it also means you're creating a network of content around your brand that people begin to recognize as reliable, valuable, and factual. As a result, content marketing helps your brand build authority.
One of the most natural ways you'll see this authority pay off is when a person is searching for a question, like: "how much can I get for a knee injury at work?" and your content shows up. If your content is truly valuable, the reader will get an answer to their question quickly, and they'll instantly have a positive impression of your brand. This makes them more likely to follow through with the content's call-to-action (like "schedule a free consultation) or, at least, continue reading other content to get more answers.
All the while, your content is helping build a memorable name for your brand -- one that's associated with dependable content. This authority is powerful and will help you convert more readers into leads and play a role in word-of-mouth marketing.
Increase Engagement
Have you ever opened a webpage and been met with a "wall of text"? Internet users everywhere have one thing in common: We're usually looking for instant results, instant answers, or instant confirmation. That means when a reader opens an article and all they see are long, rambling paragraphs where their answer isn't immediately obvious, they're going to be quick to click the back button, thus increasing your site's "bounce rate."
As a website owner, your goal is to increase engagement, which means getting people to spend more time on each page, more time on your website overall, and get more of them to act when they see your call-to-action. Content marketing helps you do this.
With a content marketing strategy, you're going to understand the answers your audience is looking for and then make them easily accessible with lots of sub-headings, bullet lists, and other "skim-friendly" post elements. Plus, a strategy will help you cover lots of connected, related content, allowing you to keep people on your site for longer because you're able to link posts like "how much can I get for a knee injury at work?" to other helpful content like, "how to file a workers' comp claim."
Improve Rankings
Long-tail keywords aren't enough to increase traffic to your site on their own. As you build a content marketing strategy that targets the topics your audience cares about, you'll naturally be hitting the major SEO checkpoints for your injury law website. After all, Google has stated time and time again:
"Provide high-quality content on your pages, especially your homepage. This is the single most important thing to do ... Think about the words users would type to find your pages and include those words on your site."
For years, people have wasted time trying to rank websites by attempting to "cheat" the algorithm, but even if they get results in the short-term, blackhat SEO is unsustainable and can easily get your site penalized or blacklisted by Google and other search engines. Meanwhile, providing quality content, which is exactly what Google analytics wants you to do, will help you attract, engage, and convert more leads.
By default, a great content marketing strategy will boost your rankings, and that means more organic traffic and qualified prospects in addition to getting blogs to link to your site, earning featured snippets, and other markers of quality content.
Tips for Creating a Winning Injury Law Content Strategy
Creating a content strategy for your injury law website is not as simple as finding topics. For your content strategy to be truly effective, you need to start from the ground up and make sure that all of your information is sound, so you don't make any wrong turns. Here's are some key points of advice to follow.
Profile Your Company
A major and often overlooked part of creating content is defining how you want the information you offer to be presented. All content has a "voice," whether it's dry and monotone or bubbly and comedic. Given that your injury law firm is going to be dealing with serious, often emotionally charged topics, you'll likely approach your content with a serious and factual voice. Some law firms also take on a caring or even "motherly" tone to offer comfort and empathy to readers.
Ultimately, to determine the style and presentation of your content going forward, you need to profile your company. Most companies do this by creating a "brand book," which will not only offer guidance for your internal team but will also become a handy digital asset that you can provide to marketers, writers, and other professionals who you outsource to or partner with.
Set Goals Objectives
The effectiveness of your content strategy cannot be measured unless you set clear goals and objectives. It's not enough to say that you want to drive traffic to your site. You need to know the amount of traffic to your website, how many other sites link to your site, how you can earn more links to your site, and so on. These goals and objectives need to be attainable, and you can determine if they're attainable by using tools like Google Analytics to evaluate long-tail keywords, search volume, and other important metrics.
Once you set specific goals and objectives, you'll be able to build a content marketing strategy with the confidence of knowing that your digital marketing efforts won't go to waste. Instead, you'll know your content is reaching your audience and ranking in the right place by checking your on-page SEO metrics and seeing if things are stacking up to your objectives.
Create Your Customer Personas
You know that laying out clear guidelines from your company's perspective is essential to developing an effective content strategy, but perhaps the most important thing of all is to understand who your audience is. As an injury law website, you likely have very specific demographics -- whether they're limited by geographic location, age group, work status, degree level, income level, or any other identifier.
Understanding who your audience is plays a key role in developing your company's voice and choosing what topics you need to target. After all, if you cannot fully characterize who your ideal lead is, there's no way to know where you can find that lead or what that lead is searching for. So, it's essential to create "customer personas" for each person who fits your description of an "ideal candidate."
Research Your Audience Competition
Having your customer personas on hand is the first step to understanding your audience. From there, you need to understand what your audience is searching for and what your competition is already offering them. To rank highly and get more business, you need to offer more than what the competition is offering -- whether that means more information, a more engaging style, a more user-friendly website, or all of the above.
Getting to your competition is made easier with the help of analysis tools, but you should also take the time to look at some of your top competitors' websites first-hand. Take a look at their layout, read some of their content, and see if you can find any similarities that distinguish their best-performing articles from the content you're currently creating. Be subjective and ask yourself: What can your website do better?
Choose Your Type of Content
As you build your content strategy, you'll need to think of it as a web rather than a line. In other words, you're likely going to publish content across platforms at varying intervals, which is why it can be handy to create a content calendar, but you first need to define two things: where you'll publish and what you'll publish.
For instance, you might choose to publish on your own blog, which gives you the chance to do either short-form blog posts or long-form articles. However, what you decide to maintain a Facebook page? Now you might be posting multiple times a week, but it has to be more than links to your blog posts. Videos perform particularly well on Facebook, but do you have the capacity to produce them?
Answering these essential questions will help you build a complete content strategy, so consider all of the types of content you can publish and then think about where you would want to publish them:


Articles and blog posts
Podcasts
Videos
Infographics
Original photographs
GIFs
When considering the platforms you want to be active on, realize that some platforms pose some constraints. For instance, you have to publish great photos if you're on Instagram since every post features an image and people use Instagram to view images. As such, it may not be a great fit for your niche. Instead, a place where you can offer information, like Facebook and YouTube, maybe better choices.
When it comes down to deciding where you're going to publish content and what it's going to be, research where your audience spends their time and what type of content they interact with the most. This should be your guiding information when making a decision.
Find The Right Writer
For most injury law websites, the final piece of the content marketing puzzle is figuring out how they're going to keep up with their content schedule. The fact is, it's not easy (or fast) to produce high-quality content, especially when you need to ensure it's factual and removes your liability. As such, you might try to task someone in-house to take care of your content, but that will cost you in time and, potentially, reduced quality, optimization, output, or overall performance.
There's a reason why most websites choose to outsource their content production, but you can't hire just any writer for your injury law website. For your content to live up to the reliability and dependability you expect, you need an injury law writer who specializes in the niche, with the experience and knowledge to back the content they create.


Successful Injury Law Websites (and How They Did It)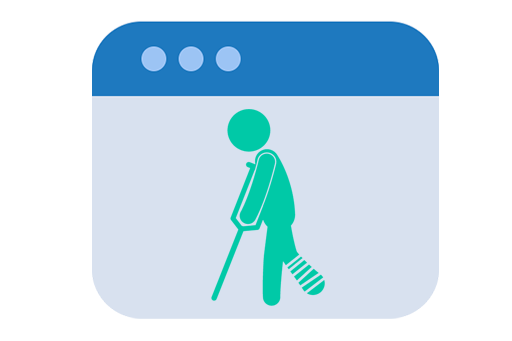 Need some inspiration for your content marketing strategy? Here's a closer look at some top injury law websites that are outpacing the competition through dedicated content marketing efforts that speak to their audience's needs, concerns, and questions they need answered, all while maintaining a trustworthy and factual yet empathetic writing style.


If you live on the west coast, you've likely seen commercials or heard the tagline for Craig Swapp & Associates, "One call, that's all." However, even for those who haven't seen the firm's commercials, their content marketing routinely pays off thanks to their long list of targeted keywords and associated articles.
Aside from having a robust, neatly organized homepage that provides a wealth of information -- along with multiple calls-to-action to get readers to reach out -- the main menu makes it simple to find the exact information you're looking for. Choose from Vehicle Accident, Personal Injury, Product Liability, or the "About Us" page, with each of the former sections having its own drop-downs to allow the reader to get to the exact info they need in a single click.
The neat organization and valuable, in-depth content is an excellent example of content marketing done right. Plus, the firm links out to all of its social media pages, where it regularly posts and shares links to the website content, driving traffic back to its core presence so it can entice and convert more leads.
Another multi-regional law firm, JJS Attorneys At Law has over 40 years of experience serving the east coast. The homepage of the website is clean and straightforward, with the prompt for a "free consultation" and the direct phone number in the upper right-hand corner of the menu and in multiple places throughout the content.
Below the header image, nine main practice areas are presented with injury law right in the middle, and all of them represented by a bold visual image. If you select Personal Injury, you'll be taken to a page with helpful information, a form for a free case review, and more prompts to call for a free consultation.
Big headers, bullet lists, and more help break up the text and provide at-a-glance information for potential leads. This makes the content easy to skim and allows readers to quickly ascertain answers to their specific questions and concerns.
Looking for Premium Injury Law Writers?
Creating a content strategy is half the battle. Once you have one, the next step is to start executing it, and that requires the right writer by your side to carry out the content writing efficiently and with care. Scripted can help you find your best injury law writer, thanks to our database of thousands of professionals.
Handpicked through a rigorous application process, Scripted's platform ensures you never waste time with entry-level or unreliable writers. Scripted's writers are able to create the quality, valuable, engaging content your readers expect.
Are you ready to put your content strategy to work? Browse our database of writers and hire your injury law writer today so you can start seeing better results and hitting your content goals.
Get Started