Content Marketing in the Home & Garden Industry
Get Started
Every Business Needs Great Content
The Home Garden industry continues to grow as more people look to brighten their living spaces, creatively make room for multifunctional spaces, and expand their living areas outdoors. All of that means your Home Garden website needs insightful, on-trend, and engaging content that readers will want to share. So, how do you do it?

Here's an in-depth guide to help you kickoff a content marketing plan for your Home Garden website and increase organic traffic while building your brand.
Benefits of Investing in Content Marketing for Your Home Garden Brand
Your Home & Garden brand stands to gain a lot by investing in a solid content marketing strategy. If you're on the fence, just consider how 72% of companies find content marketing to be an effective method for generating new leads. Here's a closer look at the specific benefits your Home & Garden brand can expect to see.
Set Your Brand Apart
There's a reason why some brands in the Home Garden sector sell more. They have a unique brand identity that people can identify with. Think Magnolia Homes and its HGTV star founder, Joanna Gaines, or the infamous magazine (and now digital authority) Better Homes Gardens.

One thing that all recognizable brands have in common is unique, engaging content that helps them stand out. They're not just the first to hop on trends, but they're often the ones shaping them. As a Home Garden brand, you should follow in their footsteps, with content writing plans that look to the future and keeps up with consumers' changing wants and needs — like the work-from-home shift and the need to effectively separate productivity from play with limited space.
Breed Customer Loyalty
Perhaps the single biggest perk that comes along with a great content marketing strategy is the boost in brand loyalty you're going to see over time. Content marketing can help showcase your unique insights as a brand, thereby building authority and identity, but it can also show off your great employer culture, customer service initiatives, and values.

When your brand publishes great content that shapes your brand into a persona people want to interact and connect with, you'll see customers routinely coming back. This is great news for your advertising budget. After all, acquiring new customers is far more time-consuming and expensive than sustaining existing ones.
Increase Organic Traffic
For many brands, the primary purpose of a content marketing strategy when they first dive into it is to increase organic traffic. This is a great goal as it will help you build a sustainable source of traffic and leads without having to always put money into paid advertising campaigns.

Of course, in order for your brand to see a higher search volume, you have to build your content marketing strategy around the right keywords, like long tail keywords. On-page SEO and other SEO strategies also play a role. Keyword research will be a crucial step in your planning, and we'll dive into it later in this guide.
Convert More Readers
The right content marketing plan won't just build a brand identity or drive traffic to your website. The right plan will have everything aligned so that, when someone does come to your website, they're met with the perfect content to help funnel them towards subscribing, booking an appointment, or making a purchase.

A great content marketing strategy offers content for all of your customer personas and tailors its messaging to the various stages of the conversion process. We'll jump into this a little later, but the benefit that your brand should take away is that a content strategy means more prospects converting into customers.
Tips for Creating a Winning Home Garden Content Strategy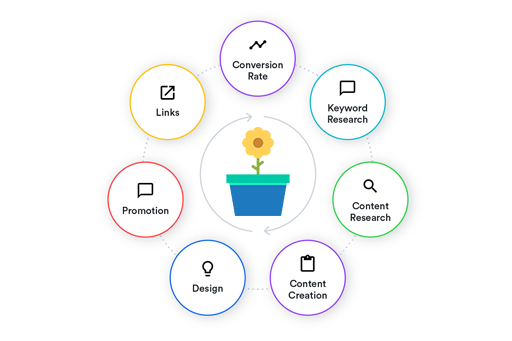 As you continue looking at leading brands in the niche and your direct competitors to see what they're doing to thrive, let's walk through the steps to actually help you come up with a well-rounded content strategy that's rooted in a strong foundation.


Step 1: Do The Preliminary Research
Before you write a word of content, it's fundamental that your brand takes the time to distinguish itself. This generally involves doing your research to understand your ideal client and then figuring out who your brand should be in order to best resonate with that client.


Identify your key customer personas so you know who you're talking to.
Create a "brand book" that explains your customers and brand.
Flesch out your brand's identity, specifying the voice you want to use.
Reinforce the values your company holds and the pain points you want to solve.
As you go through the above list, make sure you invest time into the research process. All of the information you collect during this foundational stage is going to inform your strategy from here on out, so make sure you're confident in the information you're collecting and the sources you're getting it from.
Step 2: Set Specific Goals
Having ideas is great, but before you start trying to plan anything, you need to set specific goals. After all, a plan isn't going to get you far if you don't know where you're trying to go. Ideally, you'll set both short-term and long-term goals related to the outcome you want your content strategy to give you. A short-term goal may be to increase your Facebook followers by 500 users and boost engagement by 30%. A long-term goal could be to generate 25% more organic traffic for your website.

Short-term goals should be accomplishable in the next 1-3 months while long-term goals may take as long as a year to come to fruition. You should be realistic about your goals and follow the SMART goal-setting framework, making sure they're specific, measurable, actionable, realistic, and time-bound. Taking the two examples above, if you run them through the SMART framework, you may get something like this:


Increase Facebook followers by 500 users and boost engagement by 30% in the next 3 months.
Generate 25% more organic traffic for your website in the next 6 months.
Let's dig into these goals and begin to reverse engineer them to create a content strategy that will actually help us reach them.
Step 3: Brainstorm Your Content Plan
Let's say your home and garden brand has a minimal social media presence at the moment and you post on your blog about once per week. You're looking at competitors and seeing that they're focusing a lot of their efforts on creating content about redesigning interior spaces to be multifunctional. That's a trend you should get behind, but you should put your own unique spin on it.

Your brand might decide to start a Q session each week to boost Facebook engagement. Meanwhile, creating sharable content will help spread the word and increase your followers. Tying this in to more blog posts and engaging website content will lead to increased organic traffic, too. This is a good start, but it is a content strategy?

You've got some ideas, but it's time you put them on paper and come up with a content strategy that is measurable and impactful in the long-term. Save your ideas and move onto the next step to bring them to life with confidence.
Step 4: Choose Your Content
You have ideas, but do they represent the extent of your content plan? Take some time to consider all of the content your brand could publish so you can decide what you should publish.

Articles: Posting on your blog is basically a must-do, and written content can range from how-to tutorials to informational posts about plants, interior design advice, and so on. Case studies and behind-the-scenes content can also drive traffic to your site.
eBooks: Often made available for free download, eBooks are great lead generation tools that you can trade for an email address or simply offer as an additional resource to readers.
Podcasts: Some brands have found great success in starting their own podcasts, but you have to have the time and resources to do it right.
Videos: Much like podcasts, videos take a large amount of resources, but they're also very engaging and great for building authority. Styles range from talking heads to entire productions with lighting and settings.
Social Posts: Almost every brand will maintain some sort of social media presence. It's up to you to decide which platforms to post on. Start with 1-3 where your audience is most likely to engage with your brand.
Focus on the content types you think your audience will resonate with the most and then jump into the next step.
Step 5: Create a Content Calendar
Your content plan is starting to come together, but one critical component that will shape your content marketing strategy is your content calendar. This simple tool will allow you to schedule content for the entire year, which is actually a lot easier than it sounds.

In its most basic form, a content calendar should include empty slots for an entire year (January through December). Each slot should define the type of content (i.e., blog post, tweet, video, podcast, etc.) and where it will be posted. It basically tells you how often you're going to post and to what platforms.

Content calendars are essential tools to help your brand stay organized. Without one, you're bound to end up posting inconsistently, which can harm engagement and cause a reduction in readership. People want to know exactly when you're going to post next so they can reliably visit your blog to read a new article or hop on Facebook to hear the latest questions and answers.

A content calendar also provides a planning tool that will tell you how many ideas you need, when y ou need them by, and help you "plug them in" so you don't forget. Lastly, as you lay out your content calendar, be sure to account for seasonal changes and holiday promotions. These things will definitely impact the type of content you publish and even how often you publish, which is why planning for an entire calendar year is a good idea.
Step 6: Plan Your Ideas
Once you know the type of content you plan on posting and you've created a content calendar that lays out exactly how often you plan on posting, the next step is to take your content calendar and begin plugging ideas and topics into those empty slots. This is often seen as the most daunting part. After all, coming up with article ideas can be tough — especially if you want to post to your blog twice a week.

The fact is, a lot of your ideas have already been written out for you. As we said earlier, a content marketing strategy will only be effective if it addresses the content your audience actually wants to see. So, your main goal in this step is to dive into an in-depth keyword research process so that you can figure out what your target audience is searching for. Consider tools like Google Analytics.

The keywords your audience is searching will reveal exactly what they care about, whether it's questions on how to arrange flowers for a picnic or the best stain resistant couches for pets. Keyword research, when done right, will help you completely fill in your content calendar. All you need to do is put your own spin, add unique insight, and make sure there's a great writer producing the content for you.
Successful Home Garden Brands (and how they did it!)
When it comes to building out a content marketing strategy, it's always important to look to successful brands in the industry and see what they're doing right. Here's a look at two up-and-coming Home Garden brands and a quick look at how they're mastering content marketing.
This ever-growing DIY community is dedicated to home and garden projects. With millions of subscribers on their YouTube channel and countless more views for all of their videos, Hometalk is doing content marketing right. On the Hometalk website, there's an endless array of community-sourced projects, making Hometalk perhaps the best example of user-generated content (UGC) in the home and garden industry.

Readers can get answers to their DIY questions, share projects of their own, and chat with other DIYers in the active community. In all of their content, Hometalk encourages readers and viewers to join the community. While they don't sell any products, they continue to grow their resources and they drive revenue primarily through paid ad slots and sponsorships.

As a result of their trendy content, Hometalk has earned plenty of backlinks. Backlinks (i.e., a link to your site) are extremely powerful ranking signals and can play a role when it comes to improving SEO, which will increase organic traffic.
Since 2009, Lively Root has been bringing the garden to people's doorsteps. The live plant delivery service offers an array of potted plants complete with brand swag (just as reusable shopping bags) in every order. A responsive customer service team, who are plant experts, and a number of plant care related articles allow even those with a brown thumb to surround themselves with happy, healthy plants.

While other companies have sprouted up offering similar doorstep plant delivery services, Lively Root continues to stand out and thrive thanks to their continued dedication to both customer service and customer education. In addition to all of the thoughtful pieces on the brand's blog, Lively Root is active on social media where they answer questions and share advice. They also have an Ambassadors program to help grow the brand.
Looking for Premium Home Garden Writers?
Now that you know everything that goes into building a content strategy, how will your Home Garden brand get ahead of the competition and build a name for itself? As you'll soon learn, growing your business is easy if you have the right resources on your side.

Here at Scripted, we're proud to have some of the best Home Garden writers in the industry. Our talented, dedicated writers know what it takes to keep your readers engaged. Plus, they're well-versed on the ins-and-outs of SEO, which will help your content rank for your primary keywords and drive more organic traffic to your website. In other words, our writers know how to execute a content strategy to help your brand reach its goals.
Get Started