Content Marketing for Your Dental Practice Website
Learn how Scripted can help with content marketing for your dental practice website, and why now is the time to invest in digital marketing services.
Get Started
Every Business Needs Great Content
Building a content strategy for your dental practice begins with excellent content. Start building yours today.
CTA: Get started.
The dental sector is many things: important, unique, and technical, to name a few. And when people think about dentists and dental practices, lots of things probably come to mind right away. What many people don't think about, though, is content marketing as it relates to dental strategy.
Dental practice websites are just like any other site out there. They need great digital marketing to survive and thrive in the online landscape. When you do content strategy right for your dental practice website, you'll increase organic traffic and earn more visitors.
Here's the good news: a great content strategy is made, not born. With a little legwork, you can learn the ins and outs of content strategy, and build an excellent digital marketing plan for your dental practice website.
First Things First - What is Content Strategy?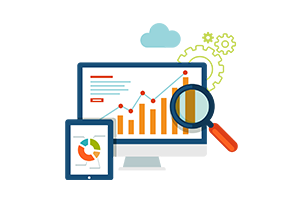 We're using the terms "digital marketing" and "content strategy" interchangeably on this page, and that's because each approach informs the other. Neither would be effective, whole, or comprehensive without the other. Digital marketing needs content to function, and content relies on digital marketing to help it spread and find readers.
With that in mind, let's get down to brass tacks:
Content strategy, loosely defined, is the approach a business takes to sharing and promoting the content it uses to publicize its business — either digitally or in print.
Here are a few examples of content strategy:
A schedule of monthly social media posts
A schedule of quarterly blog articles
Long-tail keyword research that helps you identify which terms to target in your site content
Editorial calendars
Here's how MarketMuse defines content strategy:
Content strategy is the ongoing process of transforming business objectives and goals into a plan that uses content as a primary means of achieving those goals.
Digital marketing, then, is the umbrella that encompasses content marketing and a bunch of other digital efforts (web design, back-end development, etc.) that help a company market itself digitally. While all digital marketing is also content strategy, not all content strategy is digital marketing.
In fact, many service-based companies (like dental practices) enhance their digital marketing efforts with associated print marketing pushes. For example, a dental practice may invest. in SEO, digital marketing, and social media, while also running ads on a local radio station and in local magazines or newspapers.
This combination of analog and digital marketing is an effective way to meet customers and patients where they are and ensure they're interacting with your content in a way that feels good for them.
Why Is Content Strategy Important for Dental Practice Websites?
Content might matter for digital companies, like design agencies and ecommerce sites, but how important is it really for dental websites? The answer is hugely. To. put it bluntly, you cannot have a successful dental practice website today without a great content strategy.
Here are a few stats to demonstrate that point:
As it stands now, year-over-year growth in unique site traffic is 7.8x higher for content marketing leaders than it is for followers (19.7% vs 2.5%). Content marketing also costs an average of 62% less than traditional marketing but generates 3x as many leads. Here's the real nail in the metaphorical coffin: conversion rates are 6x higher for content marketing adopters than non-adopters.
Now that you know how content functions in the actual world, let's look at a few ways it can help your dental practice website thrive.
Higher Conversions
We just mentioned how content improves conversions in the paragraph above, but let's inspect the mechanism.
Here's how content helps you earn more patients:
Today, about 81% of would-be customers shop for products, goods, or services online. And, when they do, they're looking for a few key things.
A person searching for a dental practice, for example, probably wants to find an office that's in their area and works with their insurance. They also want to work with a practice that seems approachable, professional, and knowledgeable, and that addresses their unique pain points.
Someone interested in cosmetic dentistry, for example, wants to know the office provides it. Someone with a deep fear of the dentist might be interested in the sedation or relaxation methods the office offers.
Ultimately, it's the job of your content to help would-be patients decide if your firm is a good fit. If they come across your website or social channels and find professional, well-written content that seems tailored to them, they're more likely to call you up and make an appointment.
Great content like that doesn't just happen, though. It's the result of a strategic approach that involves research and planning.
A Better Social Media Presence
Have you ever wondered what the heck to share on your social media platforms? You're not alone. Service-based companies, like dental offices, often have a tough time coming up with posts to fill out their social platforms.
Fortunately, content strategy is an excellent way to build out that social presence. Besides helping you win a large social media following, a content strategy can help you maintain a consistent, relevant social presence that keeps your followers engaged. It's also a great way to share news about promotions, specials, or new services you're offering.
Enhanced SEO
No matter what industry you're in, every website needs SEO. SEO stands for search engine optimization and it is, quite simply, what makes the web run. Here's how SEO giant Moz defines it:
SEO stands for Search Engine Optimization, which is the practice of increasing the quantity and quality of traffic to your website through organic search engine results.
SEO involves several parts that work together to help websites rank in search engine results pages (SERPs). These parts include the quality of a site's traffic, the quantity of that traffic, and the organic search traffic - or the unpaid traffic that comes to a site via the SERPs.
When you invest in a content strategy for your dental practice website, you inherently boost your SEO. Useful, relevant, high-quality content boosts your monthly search volume, helps you rank higher in the SERPs (which means more eyes on your website), and allows you to stand out as an authority in your industry.
More Trust From Your Audience
Let's put it bluntly: nobody is going to trust a shoddy dentist's website full of skeletal, misspelled, unprofessional content - no matter how good your actual dentists may be. If you can't wow today's customers with your digital presence, there's a very slim chance they'll ever actually make it to your office.
With that in mind, investing in a great content strategy helps you stand out in your industry. Besides keeping you ahead of your competitors, it also positions you as a trusted authority in your industry for would-be customers.
The Best Dental Practice Websites Out There (and What Makes Them so Good!)
If you want to improve your content strategy, one great way to do it is to look at other dental practice websites that have done an outstanding job and to learn from them.
Here are a few we admire:

Tend
With over 2,600 licensed dentists in NYC, it's safe to say The Big Apple is a tough place for a practice to stand out. Tend, however, is one dental practice website that broke the mold.
While there are many things this site does well (the fun video, for example, or the bold colors), what we love most about this site is its minimalism. In a world where most dental websites are chock-full of technical lingo and stock photos of dentists in long white coats, Tend's site is minimal, clean, and energetic. The above-the-fold content provides simple options for visitors (learn more, book now, call, etc.), while the simple design places the focus more on the user and their experience than the dentists and their qualifications.

Smile Co
Remember when we talked about what patients who are fearful of the dentist would likely be looking for in site content? Smile Co speaks directly to them.
Everything about the website immediately feels refreshing and fun, and the stacked navigation menu provides an easy user experience. Smile Co also knocks it out of the park on social media and manages to create a diverse yet inviting digital experience:
Jackson Family Dental
And now, for something a bit more traditional. Jackson Family Dental, located in Missouri, is a high-end dental practice that differentiates itself by providing a spa-like experience for patients.
One thing this site does incredibly well is to lead with its unique selling propositions. The "personal touch" they advertise is clear in all the site's content - from the professional videos to the well-written pages. The site also offers unique design elements, lots of calls to action, and more.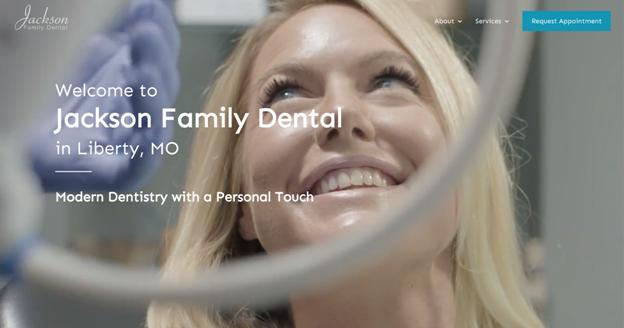 Tips for Creating a Winning Content Strategy for Your Dental Practice
Now that you've seen how a few other dental practice websites have differentiated themselves with top-quality content, let's look at how you can do the same. Here are a few tips we recommend:
1. Develop your internal branding guidelines
Every house needs a foundation, and every great content strategy needs some internal documents to guide content writing and digital marketing efforts. To kick yours off, start with an internal company profile. In this document, you'll outline who you are as a brand, what separates you from the competition, and the unique value you bring to your customers.
Start by answering these questions:


What services do you offer?
Who do you want to reach with your content strategy and digital marketing efforts?
What is your tone as a brand? Are you professional and authoritative? Relatable and fun? Something in-between?
What do you offer that nobody else does? What separates you from your competition? Why would patients choose you over the practice across the street?
What are your goals as a practice and a business? Both long- and short-term.

Answering these questions provides a great foundation to a content strategy and helps you ground your content writing and digital marketing efforts in the heart of your business.
2. Outline your goals
Next, you've got to analyze what you want to achieve with your content marketing.
Are you a new practice that needs to increase website visits? Do you want to draw attention to a new offering at your practice? Do you want to gain more followers on Facebook or subscribers to your blog?
There's no "right" or "wrong" way when it comes to content marketing goals, but defining your goals is a critical step in creating a content strategy that works toward your larger objectives as a business.
3. Develop a target audience

A target audience is one of the most important assets any company can have. Here's how SproutSocial defines a target audience:
In simplest terms, a target audience refers to the group of people that are most likely to be interested in your product or offer. And members of this group share common traits.
If you're like most practices, you probably have at least a few target audiences. For example, maybe you provide pediatric dentistry and cosmetic dentistry. In that case, your two target audiences will be parents of children who need dental services, and adult patients with discretionary income looking to improve their smiles with cosmetic dentistry services.
If you've never made a target audience (also known as a buyer persona) before, here are a few tips to help you get started:
Consult your contacts database: This is a valuable source of information that will help uncover how people are finding your practice and viewing or interacting with your content. Are people coming to you through referrals? Are they finding you through Google? If so, what are the search terms they're using to get to your site? What are the top-viewed service pages on your site? While these sound like simple questions, they're highly effective ways to learn more about the customers you're already serving.


Survey your customers: Consider implementing a survey process that allows you to learn more about the new customers entering your practice. During every intake, have your new customers fill out a form that provides information about how they found you, what their primary concerns are, and what they want from your practice. If you'd like, you can offer incentives like discounts or promotional products to thank them for providing additional information.


Develop a template: If you're new to creating a buyer persona, use a template to guide your efforts. A good template will provide the structure of the persona so you just have to fill in the details. We like this option from HubSpot.



4. Partner with a pro
You're busy managing your dental practice and serving your patients. Unless you have a big in-house team, adding a great content strategy on top of all of that is going to be difficult. That's why we recommend working with an expert to knock your content strategy out of the park. Here at Scripted, we match leading medical and dental copywriters and content marketing experts with the practices that need them.
The result is outstanding, professionally written content that supports your content strategy wows your customers, and doesn't take up all of your time. Learn more here.


5. Adjust as you go
Over time, your content needs will change. Content strategy is meant to be dynamic and fluid, and to adapt to your business, services, and customers. Once you've started the ball rolling, be sure to monitor key metrics like traffic to your website, links to your site, and search volume. This data will give you a good idea of what's working, what's not, and what may need an adjustment.

How Scripted Can Help
Here at Scripted, we love all things content strategy and content writing. Our digital marketing experts work with companies in a variety of industries, from the dental field to manufacturing, to provide a wide variety of content marketing assets, including case studies, blog posts, social media material, and more.
If you're working on developing a content strategy for your dental website, we want to help. By utilizing relevant long-tail keywords and expert copywriting, we're uniquely equipped to boost traffic to your site and enhance your on-page SEO strategies.
Whether you're a new practice looking to increase organic traffic or an established business that just wants to reinvest in your content marketing efforts, we're here for you. Contact us today to learn more or to start your content journey now.
Focus KWs: content strategy, content writing, digital marketing, long-tail keywords, search volume, keyword research, traffic to your site, target audience, case studies, blog posts, traffic to your website, on-page SEO, SEO strategies, link to your site, featured snippet, google analytics, content marketing, increase organic traffic


---
Get Started