Content Marketing in the Human Resources Industry
Get Started
Building a quality human resources website requires a focused and deliberate content strategy. Here's how to get started and increase organic traffic to your HR company.
The HR Niche is Seeing Big Changes
The human resources sector is transforming. With technology and the number of people who work from home, HR can't be the same as it was years ago. HR companies that contract with several different businesses must keep up with changes. That helps them continue to get new clients and keep the ones they have. They can increase organic traffic by optimizing content for readers. That brings in more clients.

Competition is high in the human resources sector. More companies scatter their workforces around the globe today. That means they contract with outside organizations and individuals for their HR needs. With a high level of competition, human resources companies need to consider their content strategy. This helps them ensure that they're seen in the marketplace.

With strong content marketing and a good digital marketing plan, they can maximize their presence. That means a higher level of traffic to their websites organically. Getting started in content marketing is important for HR companies that haven't yet made it their focus. Companies that already have a content strategy may want to make adjustments, too. Doing that can strengthen their position against their competitors.
The Benefits of a Content Strategy for Your HR Company
There are some great examples of content writing for HR companies. But it's also important to focus on why these strategies matter so much. Looking at the benefits of good digital marketing is one way to see the value of creating good content. Content marketing is more efficient than outbound marketing when looking at studies. That means it's easier to use content marketing in the HR industry to generate leads.

Many HR companies agree that marketing their content has been the most valued method of lead generation. Content marketing is a valuable asset for many businesses. HR companies like it because they are often ignored by the mainstream, unlike many other types of businesses.

Besides getting seen, there are several other benefits to strong and accurate marketing for companies in the HR industry. Currently, nearly 70% of businesses that market to other businesses have a documented content strategy. Your HR company should be one of them so it can reap the benefits. These benefits include:
Raising Your Authority Profile
Being an authority in your field matters, especially when working in an industry like HR. This industry involves working with people and handling their concerns. But it also has a lot of legal and technical aspects to consider. These issues could cause serious problems for the company providing the HR services. Issues could also arise for the company requesting those services. Additionally, the employee or group of employees involved might see problems.
Boosting Your Efforts for SEO
By investing in good SEO strategies, your search volume will rise. The way to invest in quality SEO is to use long-tail keywords and strong keyword research. That allows the crafting of high-quality content your audience will appreciate. Getting more organic traffic to your site can mean more companies that are looking for your services will find what you offer. Good SEO isn't a guarantee of an increased client base. But it has the potential to bring in more people for any HR company's business needs and goals.
Being Stronger on Social Media
Social media is so popular today. Any HR company interested in getting noticed will want to focus on its presence there. A lot of companies handle their HR in-house. They may not realize that there are companies that can help them with their HR needs on an outsourced basis. A strong content strategy could mean more traffic to your site and a stronger social media presence.
Increasing Retention for Your Audience
Keeping an audience is important for companies that want their name out in the public eye. That helps them continue building their brand. If people aren't engaged with what an HR company offers, they will not remember them. Then they won't reach out to that company when they have human resources needs. It may not seem like an HR company would need a big audience. But every company can use an audience to help increase the power and reach of its message.
Getting More Conversions
Converting people who see your social media and website from viewers to customers is vital. It keeps your business alive. The conversion rates for content marketers are almost six times higher than those who don't use content marketing. That's true of HR or any other company. Service-based businesses need consistent people who want to buy from them or use the service they're offering. That's the goal of an HR company. It can provide a service to another company for several years as opposed to a one-time option.

Investing in your HR business through long-tail keywords and keyword research can boost your company's profile online. That makes it easier to build your company and your brand for the long term.
Creating a Winning Brand in the HR Field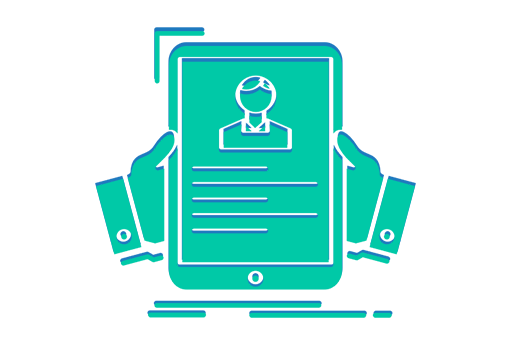 Seeing how other human resources brands are handling their content marketing to get noticed is valuable. To increase your client base, it's important to think about how you can do the same with your HR business. There are specific steps you'll want to take to get your HR brand headed in the proper direction for long-term success.


Step 1: Your Company Needs a Profile
People need to know who your company is, what it offers, and why they should choose it. What makes it better than other HR competitors in the marketplace? To give these companies the information they need to decide, your HR company needs a strong profile.

You can provide that profile through SEO strategies to help your company get found. You can also link to your site on any blog posts or case studies posted around the web. Also, consider looking at your company's website. Changing on-page SEO might increase organic traffic and help you get found.

Be clear about what services you offer and who you can help. That way, potential clients know that information right away.
Step 2: Make Sure You Have Goals
Don't simply decide to be an HR company and start looking for clients. You need to have company goals you're working toward. You may want to see better numbers on your Google Analytics reports. Or you'd like to have traffic to your website coming in higher numbers.

No matter what types of goals you have, you'll have more success if you set measurable goals. Then determine how you're going to work toward them. Goals like landing clients of a particular size or in a specific industry make sense. Your target audience needs to know you're there and what you provide, and your SEO strategies can help get that process started.

Choose goals that are important to you. Then, look at the best ways to meet them.
Step 3: Develop Buyer Personas
Without a buyer persona, you're left floundering in your SEO strategies, blog posts, and more. You need to know what kinds of companies to target. Also, consider what types of specific HR services those companies are going to be looking for. You'll want to have a sound idea of why a company looking for HR services would choose your company over a competitor. What can you offer the client that your competition can't?

You will probably need several buyer personas. You can't create one and assume it will work for everyone you're trying to reach with your content marketing. Different industries and company sizes will mean very different HR needs. Each one of those basic industries may need a buyer persona, as will several sizes of companies.

Develop a buyer persona for several industries and sizes of companies. Then you can target your intended audience.
Step 4: Know the Needs of Your Clients
Clients of an HR company want HR services, but what does that mean? Are they looking for payroll help? Do they need someone to address complaints and issues with benefits or a labor union? Something else? A lot of companies are seeking an all-encompassing solution for their HR requirements. You want to provide them with that.

If you don't provide your clients (or potential future clients) with what they need, they'll likely go elsewhere for their HR services. They might switch away from your company to a competitor. Or they may not even consider you when they're looking for a company that meets their needs. If those clients feel heard, though, they're more likely to give your company a chance to serve their HR needs.

Ask your clients what they're looking for. Talk about what else you can offer to meet their expectations, so you can keep your HR company growing.
Step 5: Check Out Your Competitors
You should take your competition seriously, but they're more than just the HR companies that are competing with you for clients. They're also a source of knowledge and information. Look at their blog posts and case studies. Do they have a featured snippet that clients respond to? Is their on-page SEO on point? If they have a good content strategy, it's vital that you learn from it.

There are already several well-established companies in the HR sector. That may surprise companies trying to get started in the business. But it doesn't mean there isn't room for any more. It means you might have to work your way in. Using powerful techniques to get noticed can help you begin building a client base.

Inspect what your competitors are doing right. You can learn from that. Then incorporate high-quality techniques into your content marketing efforts.
Step 6: Find a Quality Content Writer
You need good content to attract clients. The way you get that is to choose a content writer with HR industry experience and plenty of skill. Select a talented writer who understands the industry. You'll reach out to clients in ways that work for the companies you're trying to attract.

Human resources is a vital area for many companies. Making sure you're giving those companies what they actually need matters. But you also have to tell those companies what you have and that you can provide them with value. A good content writer will know how to do that in the most effective way possible.

Choose a quality content writer who's knowledgeable about the HR industry and going to give you value. They will create content that speaks to the audience you're trying to reach.
Successful HR Brands and How They Accomplished It
For your company to be successful in the HR industry, you need to study the competition. If you find a company that's reaching the levels of success you desire, seeing how they did that and how they're different from you can help your company improve.

Here are a couple of companies leading the HR field, and they're definitely worth watching. They've attained success, and it's clear they're not yet done perfecting what they do.
ADP has been in the business solution business for over 70 years, so they know what companies need. They've also had a long time to adapt what they offer, and to grow and change to keep up with customer demands. They're best known for payroll solutions. But they also offer PEO services and full HR outsourcing for companies.

But how did they get to where they are today?

One reason ADP is so popular is its tailored solutions. As an HR solution for businesses, it focuses on each of its individual clients. There's no "cookie-cutter" design for HR services. No matter how much a company needs, they can get what works for them. ADP covers human capital management, and there are solutions and options for every facet. Companies that choose ADP for their HR needs don't have to worry about something falling through the cracks. The company's high-end reputation in the business world shows that it won't be a problem.

ADP also has experience in a lot of different industries because HR doesn't always look the same. A service business doesn't operate the same as a product business. Even within those two groups, there will be a lot of different companies with needs that aren't the same. ADP has been around for a long time. It's a company that's always working to be better. The teams that manage HR for particular industries have people on them who have worked in those industries. It's an assurance to meeting the needs of the client.
Another quality company in the HR industry is Exude. This company has been in business since 1996 and is nationally recognized. It specializes in human capital consulting, risk management, and employee benefits. Flexibility is one of the biggest value propositions at Exude.

How did the company get to the top of the list of HR firms?

One reason Exude is such a valuable human resources company to work with is that it focuses on fulfilling client dreams. Acting as an HR outsourced team isn't all it can do, and it also offers executive coaching and HR consulting. The company has remote and on-site support. Exude is well-positioned to continue offering all its services to companies that work entirely remotely and companies that have on-site workforces. They can also undertake specific projects if a company needs HR services and a consultant to help them evaluate those needs.

With HR experts in quite a few different areas, the company's knowledge base is extensive. It includes everything from payroll and compensation to employee benefits. Exude also works with labor relations and organizational development. Companies that contract with Exude for their HR needs get a company that can handle everything a business would need. That allows the company to move forward and also provides peace of mind.
Looking for Quality Writers in the Human Resources Industry?
With Scripted, finding a quality content writer doesn't have to be difficult. We offer access to a wide variety of professional writers, many of whom have HR industry experience. The quality of your content can make your brand, so it's important that you choose your writers carefully.

We've done the work for you. Now you can relax and know that the HR industry writers you choose are professionals. Ready to get started? Reach out to writers who fit your criteria, or post a job and receive proposals. Our content professionals are ready to help you today.

Finding the perfect writer or team for your human resources business is easy. We offer a 30-day free trial. Start today and put your content marketing concerns to rest.
Get Started