Hire Freelance Writers For
Enterprise Businesses
Hire freelance writers for your enterprise business today. Scripted writers have the exceptional skills to adapt to your brand voice, create SEO content, and create product descriptions for your e-commerce site.
Great Content Marketing Requires Great Freelance Writers for Enterprise Business
How to Hire Scripted Freelance Writers for Enterprise
Join Scripted
Joining Scripted gives you access to thousands of freelance writers for enterprise clients. You get one free month to experience our platform and add experienced enterprise freelance writers to your team.
Describe Your Writing Needs
Scripted's platform makes it easy for you to create and describe your first project. Feel free to add as much information as you want so our freelance writers for enterprise understand your needs. We recommend using all of our platform's tools, but you don't have to.
Invite-only Projects: Some of our freelance writers for enterprise might stand out to you more than others. Once you identify the content developers you prefer, you can create "invite-only" projects just for them.
Review Job Proposals
Scripted's platform will show your project to qualified writers. Interested writers can submit their unique ideas for you to browse. Choose one or more pitches to start your project.
Receive Your First Draft
You will get your first draft within a week. If you love the content, you can accept it immediately. If you would like revisions, submit feedback so the writer can make changes.
100% Satisfaction Guarantee
If you don't love it, you don't pay for it. Period.
Ready to hire with top freelance writers for your enterprise business?

–
Schedule a Demo
Frequently Asked Questions About Hiring Enterprise Writers
Enterprise marketing requires high-quality writing with in-depth coverage of specific topics. It's not enough to fill up your blog with regurgitated stories and information - you need to match or surpass the quality of content that your competitors are posting. Hiring an enterprise writer is the best way to create online blog or marketing copy that appeals to an Enterprise audience.
Enterprise writers tend to have higher rates because they have deeper subject matter knowledge and years of writing expertise. Companies typically pay $25 to $150 for one short- to medium-length piece of content - but enterprise clients expect a level of skill and service that often commands a much higher price. Expect to pay $0.50-$1.00 per word for a quality enterprise writer.
When hiring an enterprise writer, it helps to write a detailed job posting. Define the scope of your project and what you require of your writers so that you can weed out applicants who won't meet your needs. Lay out your project goals, topics, word count, format, tone or voice, and project timeline before hiring your next enterprise writer.
One way to find Enterprise writers is to look for writers you enjoy on social media platforms and in online publications. You can reach out to these writers to ask if they are available for hire. In order to gain access to a pool of talented writers with Enterprise experience, you can also use a content writing platform. The best ones match you with skilled enterprise writers and manage the writing process for you.
When reviewing writers for your enterprise business, look for ones who can match your brand voice and you trust with your brand's reputation. Great writing skills are a must, but matching your company's voice is key to long-term success with your company.
Connect With the World's Top Freelance Writers for Enterprise
Scripted's content writers must meet high expectations before they can join our team. We maintain exceptional standards by only accepting 2% of our applicants. The freelance writers for enterprise asked to join the community have exceptional skills in word choice, grammar, and creative thinking.
Writers must continue to prove themselves to stay in the Scripted community. We want them to do more than generate good content. Successful freelance writers submit pitches to clients, meet tight deadlines, and continue to listen to feedback so they can continue improving their writing skills.
How to Hire Freelance Writers for Enterprise
When you become a Scripted member, you can access all of our freelance writers for enterprise clients. Every member of our team has been vetted by professionals who expect high-quality writing. We designed our platform to help you start projects and find the right freelance writers for you.
Options for hiring a freelance writer for enterprise content include:
Browsing our list of writers by expertise and writing samples.
Assigning work directly to the writers you like most.
Inviting writers to pitch ideas to you.
Accepting pitches from any writers on our platform.
No matter which option you choose, you maintain control over who works on your jobs. Eventually, you may develop long-term working relationships with a handful of talented, hardworking writers. You can request them as often as you like. You can also choose a new writer for each of your projects. Our platform's flexibility lets you make the decisions.
Since we've done the hard work by selecting some of the world's top freelance writers for enterprise content, you can get started immediately.
Types of Freelance Writers for Enterprise
Freelance writers for enterprise clients often have experience in diverse areas. You may want to choose someone who has worked in a specific field. We've put together a large team of professionals with experience working as:
Press release writers
Brand journalists
Lead generation writers
Social media influencers
Technical writers
Advertising copywriters
SEO experts
Subject matter specialists
No matter what type of project you want to start, someone in our network has the right experience to do the job well.
Ready to work with the best freelance writers for enterprise businesses?

–
Schedule a Demo
How to Make Freelance Writers for Enterprise Love You
The Scripted community relies on amazing writers and members. We can offer you the best content because we work closely with enterprise freelance writers to find interesting projects and useful tools that they enjoy.
Some Scripted writers appeal to freelance writers for enterprise clients more than others. You can attract our top writers by:
Building relationships with reliable writers instead of hiring one at a time.
Giving writers the information they need to develop pitches that meet your needs.
Leaving positive reviews for the writers who impress you.
Finalizing projects quickly instead of waiting for the Scripted platform to finalize them automatically.
Tipping writers who produce content that goes above and beyond your expectations.
We have a thriving group of freelance writers and enterprise clients. We'd love for you to join our community!
These Great Companies Love Scripted Content Writers
Content Writing Catered to You
Benefits
What Scripted Content Writers Can Do For You
Collaborate with Real People
Scripted is a marketplace for writers, not robots. You'll communicate directly with your writer to execute your vision. When you find a writer you love working with, add them to your favorites to start building your bullpen.
Get the Best Content
Thanks to Scripted's rigorous vetting process, only 2% of applicants become Scripted writers. You'll find experts in every industry to write informed content. That's why every order comes with a satisfaction guarantee. Only pay for what you love!
Utilize Powerful Tools
Scripted's intuitive content management tools provide your all-in-one writing solution. Organize, scrutinize, and analyze your entire content operation right from Scripted.com!
Can Freelance Writers for Enterprise Help Me Rank on Google?
Absolutely! Publishing amazing content is a proven way to improve your Google ranking.
Google rewards websites that:
Publish informative, helpful blogs frequently.
Link to authoritative websites.
Get shared often on popular social media sites.
Scripted works with thousands of writers who have developed blog posts, landing pages, and other content that reaches the first page of Google rankings. Some of our best freelance writers for enterprise create:
100% original blog posts with unique ideas and reliable research.
Social media posts that encourage people to read content on your site.
Website and landing page copy with high-ranking keywords chosen to attract search engine crawlers.
Newsletters that help you build your audience, engage with clients, and grow your reputation.
Do you need extra help getting a top Google ranking as soon as possible? Our Cruise Control program uses data-driven content marketing solutions that get results. The perks of choosing Cruise Control include:
An SEO audit that will optimize existing content on your website.
Keyword research that attracts search engine crawlers.
A content strategy developed by our team of experts.
Content made specifically for your site, social media, leading industry sites, and forums.
High-ranking content from enterprise freelance writers with years of experience.
A higher Google ranking gives your business an edge over competitors. We can't overemphasize the role that strong content plays in an effective ranking strategy. Join Cruise Control to get started today!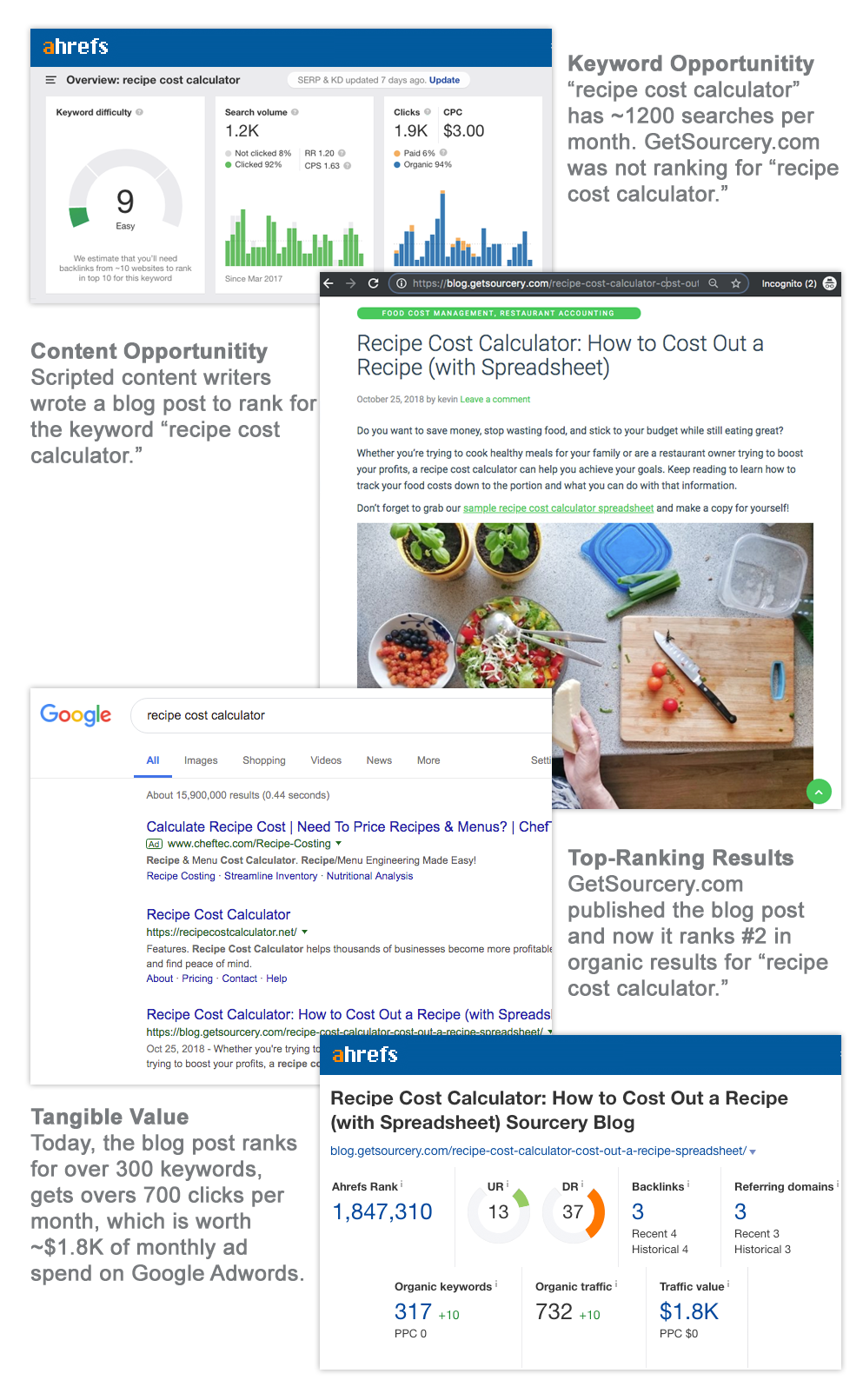 Stop Wasting Time With Lackluster Freelance Writers for Enterprise
Scripted dedicates a lot of time to finding some of the world's best freelance writers for enterprise clients. We've done the hard work, so you don't need to waste more time and money on lackluster content writers.
When you join Scripted, you gain access to thousands of writers who have passed our proficiency tests.
We know from experience that our freelance writers can help you build a loyal audience and improve your search engine rankings.
Now, you can discover the benefits that you've missed from lackluster content writers. Start a trial membership with Scripted today. You'll discover that content development becomes easier, more reliable, and more effective when you choose Scripted writers.
We get the best results because we're not satisfied until we've surpassed your expectations.
Get Started
Try Scripted
Free

for a Month

Your first month is on us.