A Step-by-Step Guide to Keyword Research

It is no secret that content has gotten longer, and search engine algorithms have gotten smarter. However, one constant aspect remains in content marketing: Keyword research.
Even after all these years, doing keyword research based on search intent — and then using the right keywords in your content — is one of the most effective methods of increasing your page rankings on Google and other search engines. 
Once you do keyword research and enhance your SEO strategy, the fun part happens: 
Search bots crawl and index your keyword-rich content.

Your content appears in an outstanding position on search engine results pages (SERP).

The chance of people clicking through to your webpage increases.
Those people are most likely your target audience, and they could turn into your next customers.
This is called search engine optimization, also known as SEO, and it is the centerpiece of your digital marketing campaign.
Is SEO worth it? What's so important about search intent and keywords?
You may be wondering if keyword research, backlinks, PPC, CPC, discovering search intent, and other aspects of SEO are worth it. 
Yes. All aspects of SEO, including keyword research and search intent, are absolutely worth your time and investment. If you feel otherwise, the following statistic may change your mind:68% percent of all online activity starts when someone types a query into a search engine.
The reason for their query is known as their search intent, and you need to use your keywords and content to address their intent.For example, someone may conduct a search query for "free blogging websites," while another person may search for the "best pizza in [their neighborhood]."
Those search queries will result in webpages, such as landing pages or product pages, that have taken the time to find relevant keywords being shown on page one of Google.Whether for informational or commercial intent, getting your website to rank on the first page of Google is essential to running a successful business, and it all starts with the query someone types into the search engine.
How can I increase my page rankings? I want to boost my conversion rates!
By now, you know that researching related keywords that fit popular queries is essential to driving more search traffic to your website. As a matter of fact, increasing your traffic is more possible than you may have thought!
The question is, how do you accomplish this goal?
You may feel a little overwhelmed with all this talk about keywords and SEO, but don't worry, the following step-by-step guide can help you become an expert at keyword research.
1. Create a List of Topics for Your Content Marketing Strategy
The first step of the keyword research process is coming up with topic ideas that interest your target audience. Remember it is harder to increase search traffic and organic traffic if nobody is searching for your product or service. This is called a low-volume search, with little-to-no search history on Google. It is essential to appeal to your audience for a top-ranking website.
Luckily, many ideas generate a high search volume on Google, such as footwear. After all, people still buy and wear shoes, so footwear is bound to have a good search volume. Therefore, you may start a product page for footwear and similar accessories.
Now that you have decided on your niche, you may want to write quality blog posts on the best type of shoes for the fall, how to choose the most comfortable footwear for the workplace, and other topics that can be helpful to your potential customers. Your content is meant to offer a solution to their search query. A person who needs a new pair of shoes for work or the season is sure to appreciate your content.
Before posting blogs, you need to research related keywords for your content marketing campaign. This is an important step because search engines must crawl your pages and determine your keyword relevancy. Then, the search crawl bots rank your webpage on their search results based on your target keywords.However, it doesn't stop at your target keywords.
You need to research other keywords related to these content topics so search engines can continue to crawl your pages, determine keyword relevancy, and rank your site on their results page based on the other keywords you used. 
Keyword Research Example
Continuing to use footwear as an example, you may decide to create a blog post that contains a list of the cheapest men's shoes on your ecommerce website.
You need related keywords, phrase matches and long-tail keywords to include your content. After a little research, you may settle on "cheap men's shoes, "men's shoes on a budget," and "men's shoes under $100." Y
ou may also want to add the appropriate keyword to each URL slug, which is the area of the URL that describes your content. For example, your URL may be www.yourdomain.com/store/cheapest-mens-shoes. "Cheapest-mens-shoes" is the URL slug, and it tells your potential customers that they are about to find the cheapest men's shoes in your ecommerce store.
According to Google Search Advocate John Mueller, as told by Semrush, using the URL slug is a ranking factor, but it is often overestimated. However, including the keyword in the URL slug never hurts to give your readers a sneak peek of your content. After all, you still need to keep them engaged once they find your website.
It is not enough to determine which keywords have a good search volume. You also need to ensure you are using those keywords naturally. The keywords should sound like they belong in the content and should never be tossed in an irrelevant spot that reads awkwardly. You also need to determine how often the keywords should be used in a piece of content.
Failure to develop an honest, high-quality keyword strategy may result in keyword stuffing, which is an absolute no-no in SEO. Keyword stuffing may even lead to Google and other search engines penalizing your website, and this means you may not get the search traffic you need to land potential customers and high conversion rates.
If you are unsure of your quality of writing, or you don't have time to brainstorm great content, Scripted is full of talented writers who are experts at SEO, keyword research, and content marketing.

2. Use Keyword Research Tools
You may think, "How do I find the right keywords with a good search volume?" Creating a list of keywords on your own is time-consuming and feels like you're searching for a needle in a big haystack. The last thing you want is to feel frustrated and unmotivated to make your business successful.
The good news is, many keyword research tools make it so much easier to find great keywords for your content. This gives you more time to focus on your other content marketing tasks.
Keyword Research Tools
There are tons of valuable keyword research tools and SEO tools on the market to help you come up with effective keyword ideas. A few of these tools include:
Google Keyword Planner

Semrush

MOZ Keyword Explorer

Google Trends

Ahrefs Keyword Explorer

Excel's Keyword Analysis
These are all free keyword research tools, perfect for starting out or searching for a new keyword.When using a free keyword research tool, learn and understand how you use it. This way, you can get right down to business when it's time for keyword research.
Example
Say you choose Semrush as your keyword research tool of choice. You will want to find keyword suggestions based on your content topic and include these keywords in future content, helping you rank higher on search engine results pages. 
Tools like Semrush will tell you the most popular keywords related to your content idea. You will discover the most-used and most lucrative search terms used by people in different countries and regions and which keywords generate the most traffic and engagement. Below is the main Semrush screen that reveals all of this valuable information: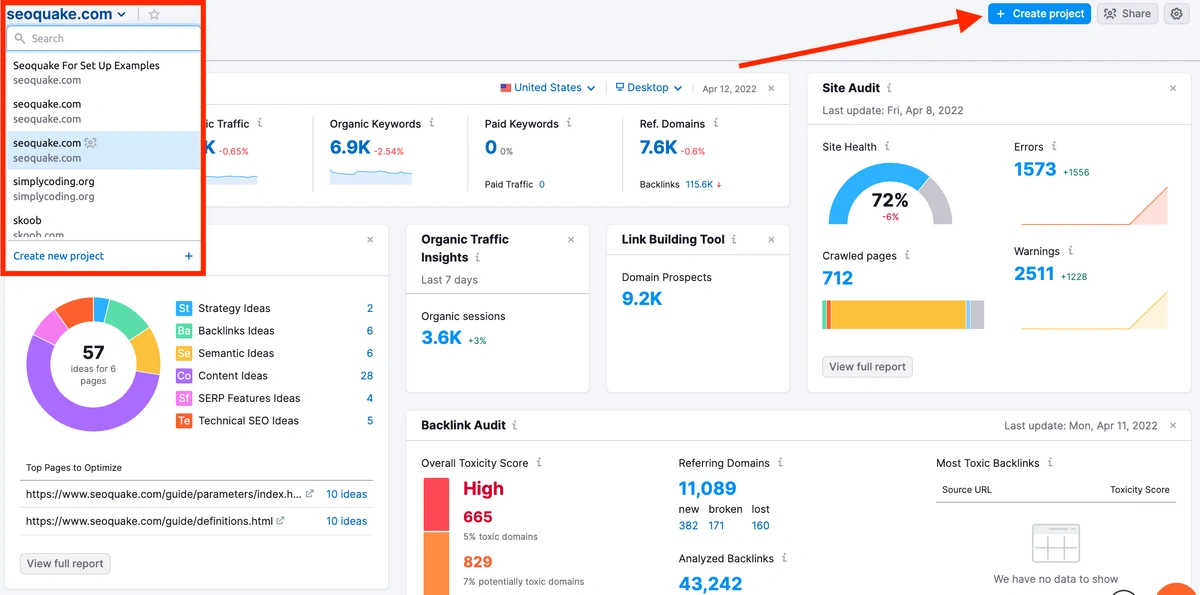 Google's changing algorithm
Keep in mind that it is not uncommon for Google's algorithm to change, so it is important to ensure your topic and related searches have a high keyword search volume. Whether you are updating current content or expanding your subtopics, keyword research tools can help you adapt to the changing algorithm.
Seasonal keyword trend evaluation
Internet searchers may change their search intent for different times of the year. For example, "footwear gift ideas" may have a higher monthly search volume in November and December.
Why? The Christmas season, of course! The search intent? Christmas gifts!
When running an online store, the holiday season is a great time to add transactional keywords to your content, look into Google Ads, and appeal to your potential customers.
Just like the changing algorithm, keywords can change with the season, and there is nothing wrong with prioritizing those transactional keywords to increase your holiday sales. Just remember to use those keywords naturally.
But wait — how can you find out which keywords are in season? Use the Google Trends tool for seasonal evaluation.
3. Research Competitors' Keywords
In addition to staying ahead of the algorithm, you also need to stay ahead of the competition. After all, everyone in your niche competes for the same things: search traffic, organic traffic, and high conversion rates.
Have you ever wondered why your competition ranks higher than you on Google and other search engines? It's most likely because they use relevant keywords based on popular search terms in your niche.
One of the best ways to find the right keywords for your content and increase your rankings is to figure out your competitor's keywords. Of course, you are not going to copy their content or website. You are researching how your target audience ends up on their websites instead of yours. Something may be missing from your website, or an important step you may have skipped.
The keyword research tools on the above list also share the keywords those in your niche use to enhance their SEO and content strategy. Once you determine what keywords are helping your competitors reach page one and gain traffic, you can decide if you want to use these keyword ideas in your content to increase your search rankings.
Learning your competitor's keywords helps you determine which keywords, phrases, and terms to use to reach your target audience, satisfy your searcher's intent, and increase your conversion rates.
Researching Competitor's Keywords Example:
For instance, you may decide to use Ahrefs because you believe it is the best keyword research tool for competitor analysis. This tool shows you how your competitors reach their target audience and bring in repeat, organic traffic. You can also use this tool to find out how much search traffic they generate and other information that can help improve your long-term content marketing strategy.

4. Get Specific with Long-tail Keywords
You have results from your keyword research tool, and now, it's time to start narrowing down your terms with specific keywords and phrases.
You want to avoid focusing on broad keyword terms that can put you in direct competition with other companies. If you wind up in direct competition with a well-established company, you may have difficulty increasing your traffic.
It is best to perform an in-depth search on specific keyword phrases, which are also known as long-tail keywords, instead of generalized keywords. Longer keywords increase your chances of matching user intent, which is your searcher's goal when typing a query into a search engine.
Long-tail keywords are more likely to satisfy user intent, which is why they are usually more successful at conversion than short-tail keywords.
Once you complete an in-depth search and determine which long-tail keywords are best for your niche, you need to find a way to naturally insert them into your content. Professional writers at Scripted are proficient at using keywords, keyword phrases, and SEO to create top-ranking content.
Long-Tail Keyword Example:
Using a footwear store as an example again, imagine that someone is looking for the best shoes for a wedding. You can target that user with the short-term keyword "wedding shoes," which is just two words. However, it is better to use the long-term keyword "best shoes to wear at a wedding," which is seven words.
The latter method satisfies the user's commercial intent — finding the best shoes to wear at a wedding — more than the former because it meets the needs of their search query.
Adding "best shoes to wear at a wedding" to your content may result in a higher ranking on search engines, while "wedding shoes" may put you in direct competition with websites that include general information about wedding shoes. 

5. Evaluate Keyword Difficulty
The next step is to evaluate the keyword difficulty, which is the keyword demand and work necessary for generating higher rankings. It is an SEO metric that evaluates how hard it would be for a specific keyword to rank on a search engine results page's first page.
Evaluating keyword difficulty is also known as keyword metrics.The best way to use keyword metrics is to measure the quality of the content produced by your competitor.
Search for your keyword idea on Google and click the top organic result. Look for ways your competitor has used the same keyword in their content, and take note of the following information:
Did your competitor place the keyword in the main header or H1?

Did your competitor use the keyword in any H2s or H3s, and if so, how many times?

How many times did your competitor use the keyword in the body of their content?

Did your competitor use any related keywords in their content? If so, which keywords were used? 

Did your competitor use the keyword as anchor text for an inbound or outbound link?
Evaluating Keyword Metrics Example:
Let's say your chosen long-tail keyword is "best shoes to wear at a wedding." Search for that keyword on Google and click on the top organic search result.Without copying, use this content as inspiration for adding that same keyword to your piece of content.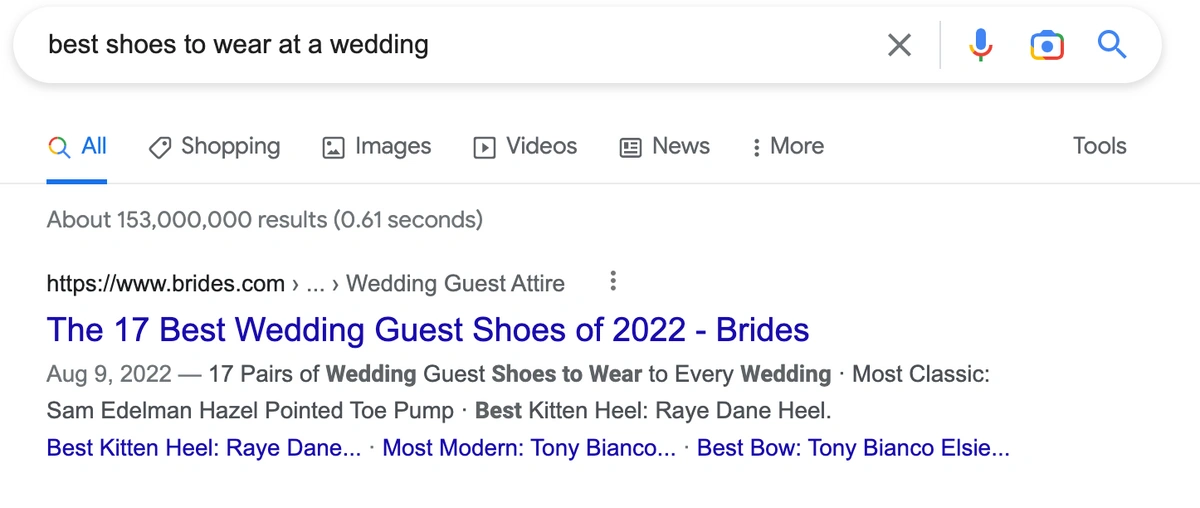 You can use this content for inspiration when you incorporate your keyword in a piece of content.
6. Start Writing Your Content!
Now that you know which keywords and phrases might increase your rankings, start creating your content. You already have your topic idea, so the rest of the keyword research process should be pretty straightforward. When creating your content, use your keyword ideas regularly throughout your piece.
As long as you include your keyword naturally, there are no rights and wrongs when it comes to adding the best keywords to your content. But here are several effective methods to help you rank higher on search engines:
Include your keyword in the main header and H2s. This helps search engines determine the relevancy when crawling your content.

Use a keyword density, which is the number of times your keyword appears in your content, of 0.5%-2%. For instance, you may want to use "best shoes to wear at a wedding" just 10 times in a 1,000-word article, as this is a keyword density of 1%. This keeps you from keyword stuffing.

Use tools such as Google Analytics to measure the success of your keywords. This tool helps you determine which keywords and phrases are generating the most traffic from search engines.

Use your keyword in meta descriptions, image alt text, the URL slug, and other elements that search engines use to rank your website.

Use Google Search Console to measure your overall success by checking search queries, indexing status, and crawling errors. Formerly known as Google Webmaster Tools, this tool helps you improve your website's visibility.
It is important to measure the success of your content to determine if you need to change your strategy.
If you are worried about SEO elements such as keyword density, backlinks, and brainstorming content, register at Scripted to learn more about the network of content writers. All you have to do is share your topic, the required number of keywords, your chosen keywords and phrases, and other information that can help this content marketing platform find a writer who is fit for your project.
Final Thoughts
Keyword research may initially seem overwhelming, but it doesn't have to be a complicated task. When you follow the above step-by-step guide, you can find the best keywords for your topic, evaluate your competitor's keywords, and create content that appeals to search engine users.
Need Help Boosting Your Rankings? Explore Scripted's SEO Package
Are you familiar with using search engine optimization to increase page rankings but unsure how to get started? Scripted's vetted writers make it easier for you by creating SEO-friendly content that boosts your content marketing and digital marketing strategies. Start your trial today.
Follow Scripted On LinkedIn
Are you interested in what we have to offer for your business? Follow Scripted on LinkedIn to learn more about our services, as well as connect with professional writers who are ready to take your content to the next level.