A Step-by-Step Guide to Keyword Research

Content has gotten longer. Search engine algorithms have got smarter. But one constant remains in content marketing: Keyword research.
Even after all these years, doing keyword research — and then using the right keywords in your content — is one of the best things you can do to get your pages to rank higher on Google and other search engines. 
Then the fun part happens: 
Search bots crawl and index your keyword-rich content

Your content appears in a prominent position on search engine results pages 

People are more likely to click on those pages and end up on your site
If you're still wondering whether keyword research is worth your time and investment, here's a statistic that will change your mind:
68% percent of all online activity starts when someone types a query into a search engine. 
So researching keywords that match or relate to popular search queries will drive more traffic to your website than you ever thought possible!
Here's a step-by-step guide to keyword research:
1. Create a List of Topics for Your Content Marketing Strategy
The keyword research process starts with topic ideas that interest your audience. 
Say you are a small company that sells footwear online. You might want to create blog posts about the best types of shoes for the fall, how to choose the most comfortable footwear for the workplace, and so on. You will then research keywords related to these content topics so search engines can crawl your pages, determine keyword relevancy, and then rank your site on their results page based on the keywords you used. 
Example
Using footwear as an example again, imagine creating a blog post listing the cheapest men's shoes in your online store. You might want to naturally incorporate keywords into that blog post, such as "men's shoes under $100," "cheap men's shoes," and "men's shoes on a budget."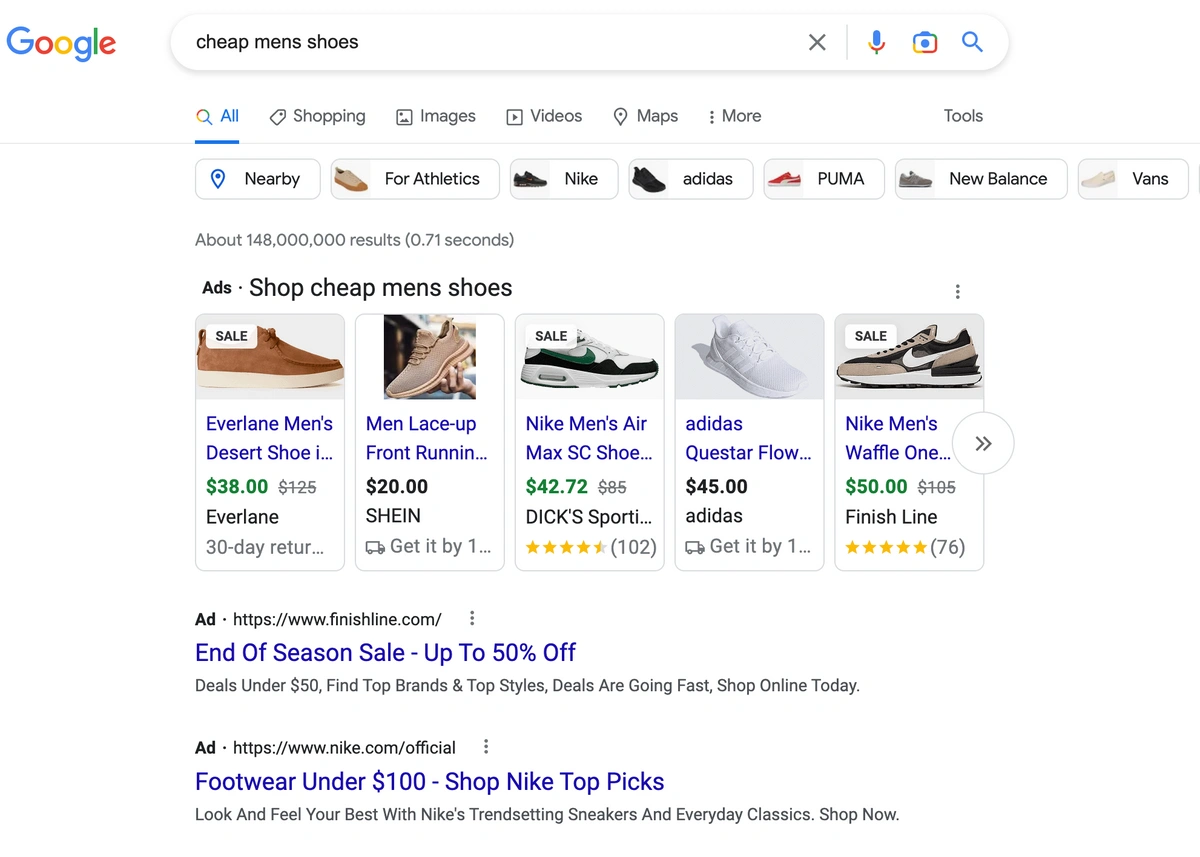 You will want to incorporate these keywords the right number of times into your content. Otherwise, search engines might penalize you for "keyword stuffing." Scripted's network of talented writers can help you achieve this goal and improve your content marketing strategy!
2. Use Keyword Research Tools
Finding the most popular and lucrative keywords for content is like looking for a needle in a haystack in a forest full of haystacks. That's why using keyword research tools makes so much sense. You have a thousand other content marketing tasks to complete, after all. 
There are tons of valuable tools on the market, such as:
Make sure you learn and understand how to use the tool you pick so you can save time when researching keywords. 
Example:
Say you choose Semrush as your keyword research tool of choice. You will want to find keyword suggestions based on your content topic and include these keywords in future content, helping you rank higher on search engine results pages. 
Tools like Semrush will tell you the most popular keywords related to your content idea. You will discover the most-used and most lucrative search terms used by people in different countries and regions and which keywords generate the most traffic and engagement. Below is the main Semrush screen that reveals all of this valuable information: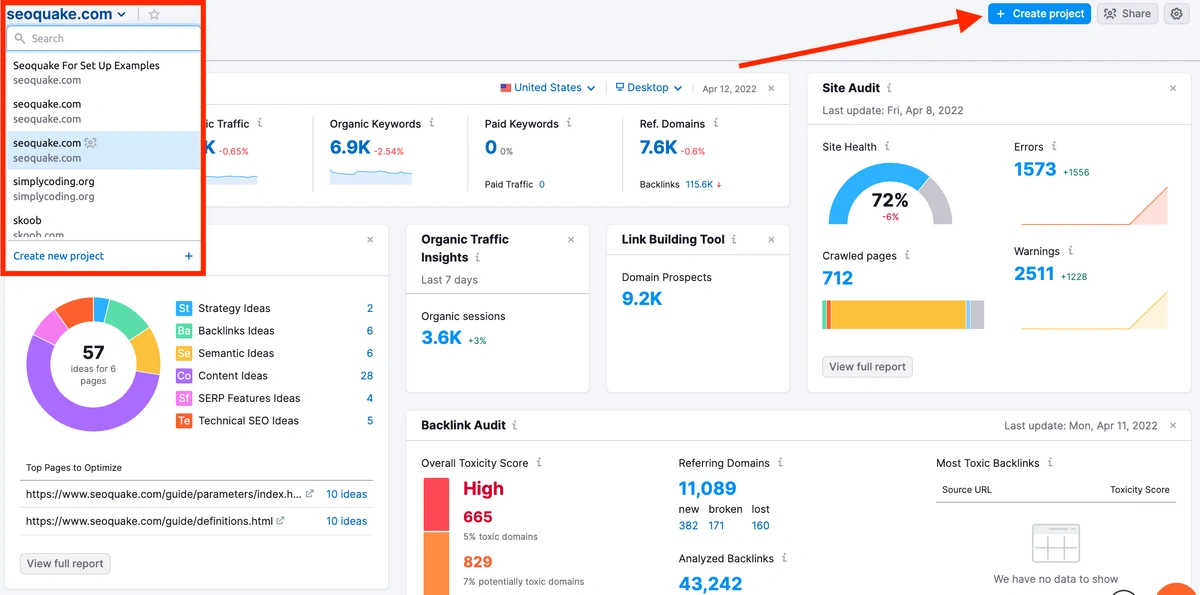 Tip: You can also use tools such as Google Trends for seasonal keyword trend evaluation. For example, "footwear gift ideas" might rank higher in the run-up to the holiday season than at other times of the year. 
3. Research Competitors' Keywords
Ever wondered why your rivals rank higher than you on Google? It's probably because these companies use relevant keywords based on popular search terms in your industry. One of the best ways to find keywords to incorporate into your content and get that content to rank higher on search engines is by discovering keywords your competitors use. This process is not about copying what your competitors do. You are merely researching how your target audience ends up on other websites rather than yours. 
The keyword research tools listed above also list the keywords companies like yours use to improve their SEO. That helps you evaluate the keywords your competitors rank for and decide whether you should use these terms in your content for higher search rankings. 
Example:
Say you use Ahrefs because you think it's the best keyword research tool for competitor analysis. Ahrefs will reveal how your rivals target audiences. Discover how a competitor uses different keywords in their content, how much traffic they generate from these keywords, and other information that will guide your long-term content marketing strategy.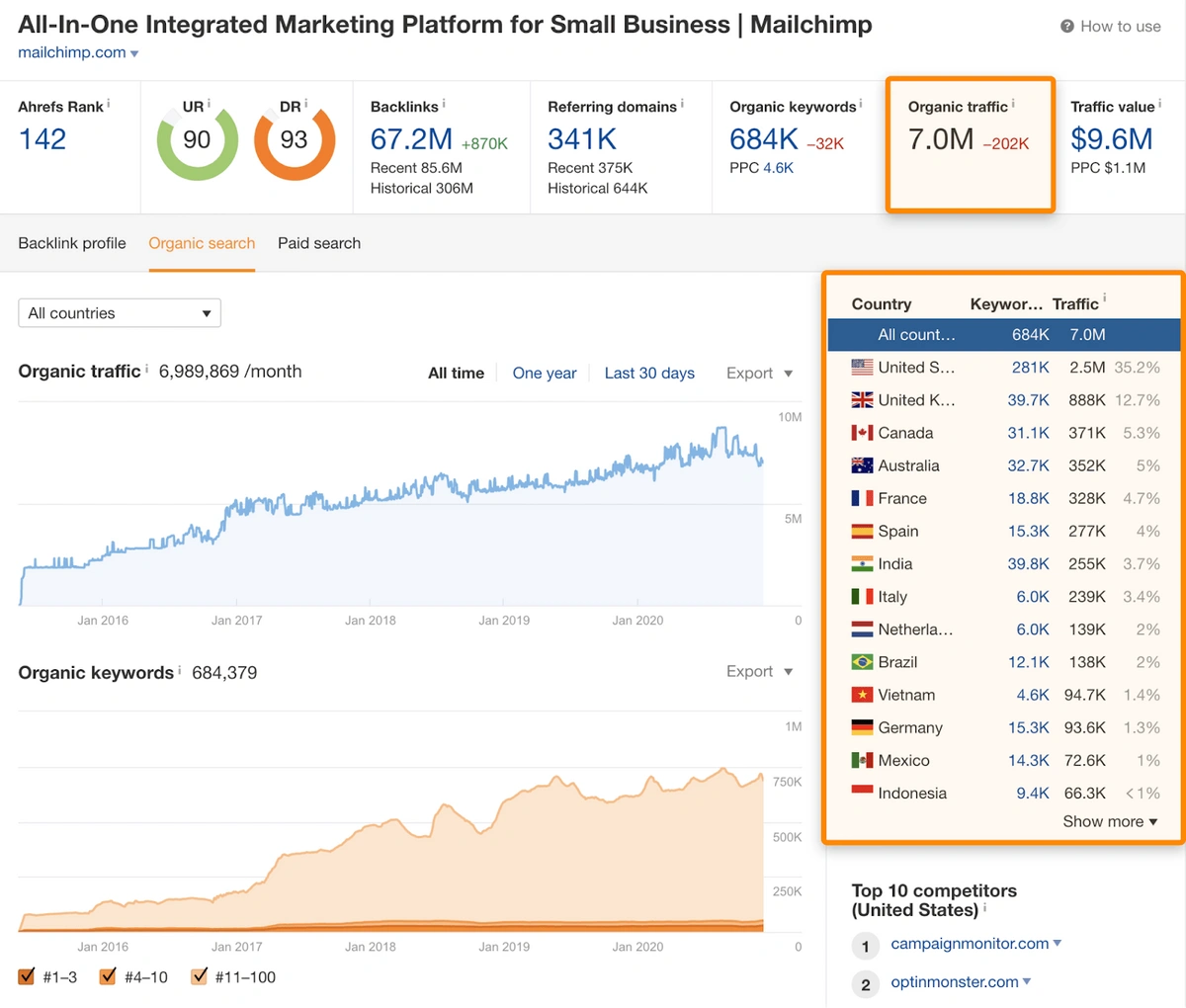 4. Get Specific with Long-tail Keywords
Once you've got some results from the keyword research tool of choice, it's time to get specific and narrow down your terms. 
Focusing on broad keyword terms can put you at a disadvantage by putting you in direct competition with other companies. You might get more success from using specific keyword phrases — known as long-tail keywords — than generalized ones. That's because longer keywords match user intent — a user's goal when typing a query into a search engine. Long-tail keywords generally fare better at conversion than short-tail keywords because they are more likely to satisfy user intent.
Example:
Say someone wants to find the best shoes for a wedding. You could use the short-term keyword "wedding shoes" (two words) to target that user. Alternatively, you could use the long-term keyword "best shoes to wear at a wedding" (seven words).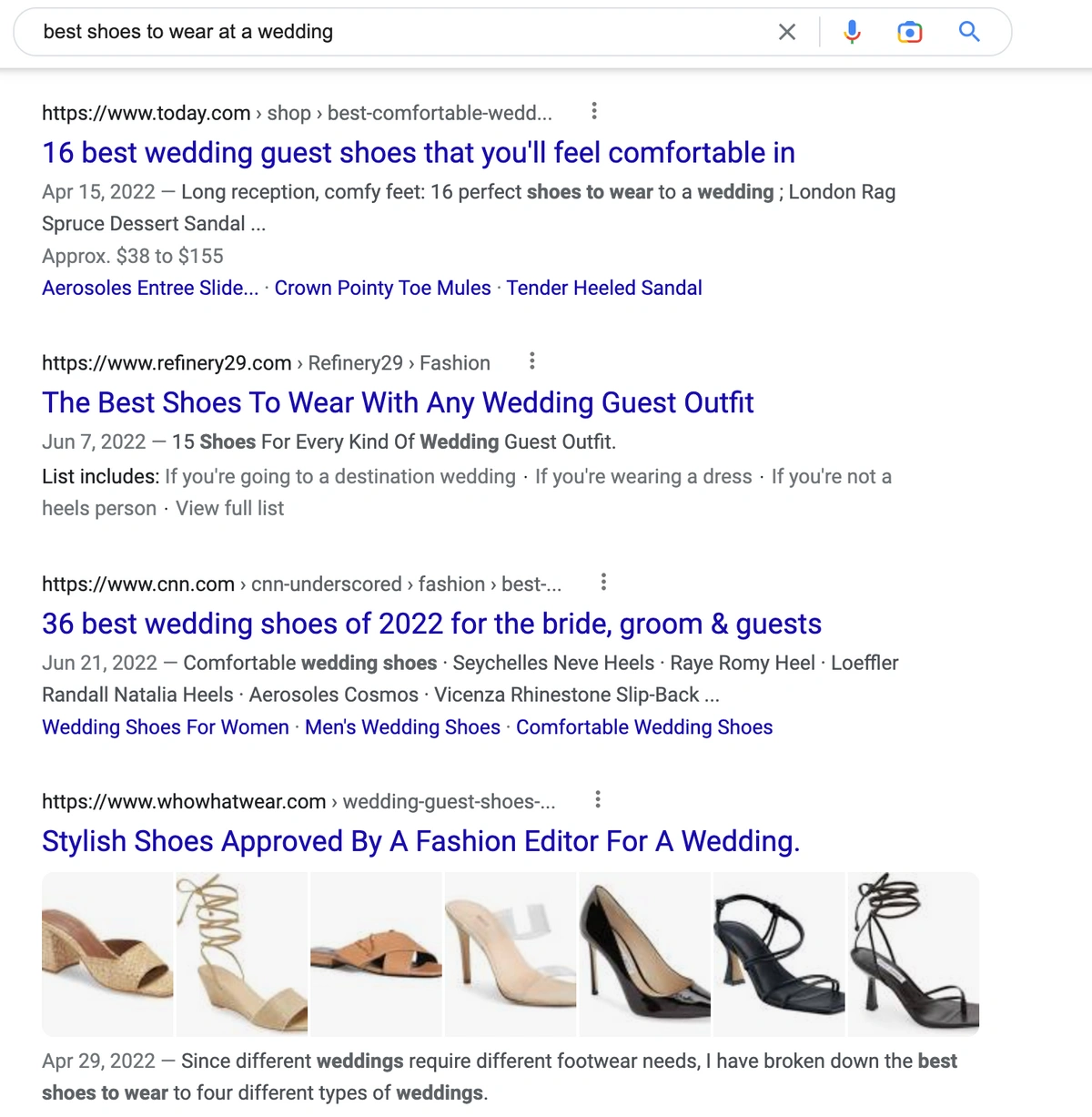 The latter satisfies user intent — finding the best shoes for a wedding — more than the former because it's more specific to the original search query. As a result, incorporating this keyword into your content might make that content appear higher on a search engine. "Wedding shoes" might put you in direct competition with websites that include information about the history of wedding shoes, for example. 
5. Evaluate Keyword Difficulty
Keyword demand and the work needed to generate higher rankings will determine how easy (or hard) it is to rank for different search queries. You can evaluate keyword difficulty — a metric used to determine the effort it takes to get a page to rank near the top of a search engine results page with a particular keyword — by measuring the quality of content produced by a competitor. 
Search for your desired keyword in Google and read the content for the top organic result. Look for ways your competitor has incorporated your keyword into the content and make a note of this information:
Has your competitor placed the keyword in the main header or H1?

Has your competitor used the keyword in H2s and H3s? If so, how many times?

How many times has your rival used the keyword in the body of the content?

Does your competitor use related keywords in their content? If so, which keywords? 

Does your competitor use the keyword as anchor text for an inbound or outbound link?
Example:
If your chosen keyword is "best shoes to wear at a wedding," click on the first organic search result for this search query on Google.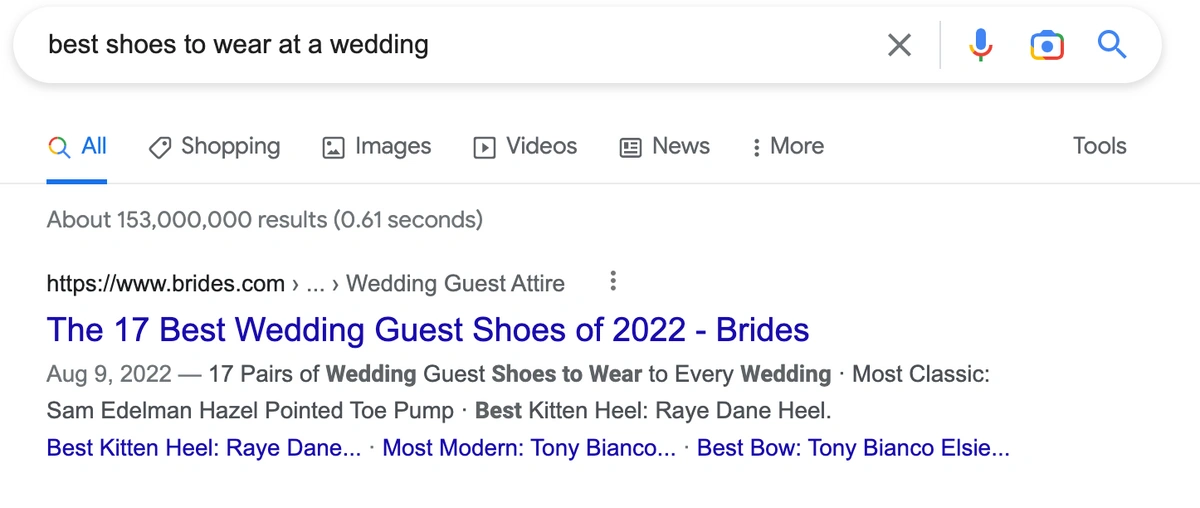 You can use this content for inspiration when you incorporate your keyword in a piece of content.
6. Start Writing Your Content!
Now you know which keyword (or keywords) to incorporate into your content for increased search rankings. As you already have a content topic, the rest of the keyword research process should be relatively straightforward. Create your content with your keyword in mind and include it regularly throughout the piece. 
There are no rights or wrongs when it comes to incorporating keywords into your content, but here are a few best practices that can help you rank higher on search engines:
Include your keyword in the main header and H2s. Doing so will help search engines determine content relevancy when crawling your content. 

Aim for a keyword density — the number of times you use your keyword in a content piece — of 0.5-2%. For example, you might want to include the keyword "best shoes to wear at a wedding" 10 times in a 1,000-word article (1%). 

Use analytics tools like Google Analytics to measure the success of your keywords and determine which words and phrases generate the most traffic to your site from search engines. 

Include your keyword in meta descriptions, image alt text, and other elements that search engines use to determine your search rankings. 
Tip: Scripted's vetted content writers will create compelling content based on your chosen keyword while engaging your audience. Just tell Scropted your content topic, required number of words, required keyword(s), and other simple information, and the content marketing platform will do all the hard work for you!
Final Thoughts
Keyword research doesn't have to be a complicated task. By following the steps above, you can identify the best keywords for your content idea, analyze the keywords used by your competitors, and create more successful content that resonates with search engine users. Want to learn how Scripted revolutionizes your content marketing strategy? Start your trial today.