How to Write Landing Page Copy for Conversions
Any modern marketer, business owner, or writer would have heard of the landing page. The landing page is arguably one of the pivotal sections of a website, responsible for conversions -- AKA transforming ordinary leads into valuable subscribers, partners, or customers. 
There is a common misconception that a landing page is the home page. While correct sometimes, it does not apply in every case. A landing page may be a standalone page, services page, or, yes, a homepage.  
What defines a landing page is that it enables visitors to find it via a search engine by typing in keywords. A landing page does not depend on direct word-of-mouth recommendations or the sharing of URLs. High-performing organic searches require quality landing page copy to help sites rank high in the results, or they'll remain obscure (and forgotten) at the bottom of a list. 
As such, if you seek grade-A conversions, you'll need to provide your landing page copy with the special treatment that it deserves.  
Make Your Headline Pop 
Successful landing pages feature powerful headlines that sum up the offering of a brand, business, or organization. Visitors will immediately understand what your landing page is all about, with nothing left to doubt. There are a few ways to create a powerful headline:
You may choose to summarize your offerings in a nutshell. Campaign Monitor does a beautiful job sharing how users stand to benefit from their services by "

driving results with unforgettable email marketing

." 

Your headline might pose a question (i.e., looking for an affordable getaway?) and follow up with an attractive solution in the subheading (e.g., we have the cheapest resort rates in town). Rental company Roomeze

sets a practical example

with this approach. 

Include social proof in your headline, such as "3,203 people adore our shampoo, you would too." Remember to back up your statements at the bottom of the page, perhaps with a link to testimonials and reviews. 
Focus on Solutions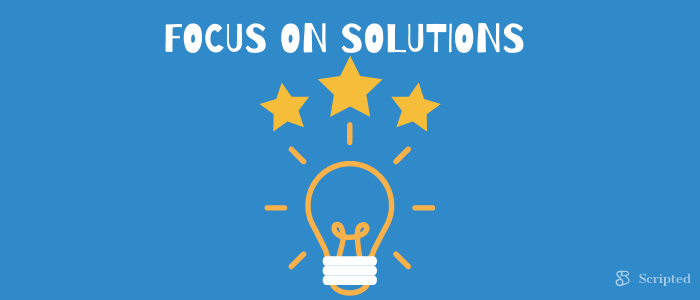 As with any marketing solution, your landing page should focus on solutions while going easy on product/service features (you should go into greater detail with your service deep pages). Remember, the landing page is the chance for you to make a winning impression on your leads. You'll need to provide a realistic solution that drives conversions. 
Consider researching the needs and preferences of your target audience and directly responding to them in your copy. Use an empathetic and knowledgeable tone that convinces your reader that you have the answers (and not your competitors). List 2 to 3 ways you will fulfill those needs with your offering, just enough to keep visitors interested in learning more. 
Ideally, your proposed solution should go beyond a functional purpose to include a feel-good factor. For example, a boutique may sell comfy dresses that let shoppers "bask in the joys of summer." Modern customers seek a stronger emotional connection. 
According to the Havard Business Review, "after a major bank introduced a credit card for Millennials that was designed to inspire emotional connection, use among the segment increased by 70% and new account growth rose by 40%." The same concept applies to your landing page copy, essentially the first phase in the customer journey. 
Leverage Visuals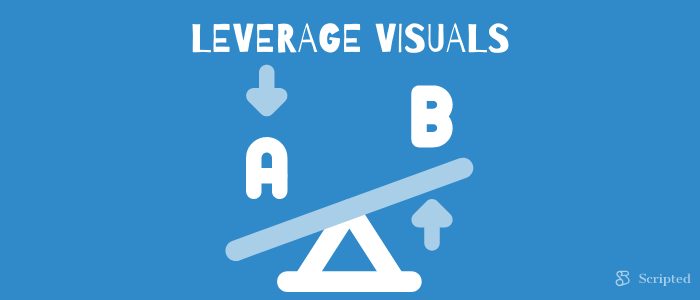 A video, drawing, or quality photograph adds variety to your landing page content. Specifically, some modern brands have replaced static hero messages at the top of the landing page with engaging videos. Marketing videos add an interactive element to the landing page, which humanizes the brand and bridges a stronger connection with visitors. 
Impactful landing page videos require professional voiceover actors with the perfect delivery and talented scriptwriters who bring your marketing vision to life with well-structured sentences and phraseology. For the best results, consider keeping the script clear, concise, and delivered in a conversational style. 
Provide Guarantee
Some semblance of guarantee or assurance can go a long way in an increasingly complex and uncertain modern landscape. Also, it will help boost conversions for your landing page. Guarantees may go beyond cost savings -- such as premium service standards, safety assurances, and other benefits. As always, you'll need to back up promises with reliable proof, such as a certification or customer testimonial. 
You may include award, shield, and medal symbols next to your displayed guarantees to foster greater confidence in your audience. These symbols are collectively known as trust badges and can help raise the overall conversions of your site. 
Clarify Over Clutter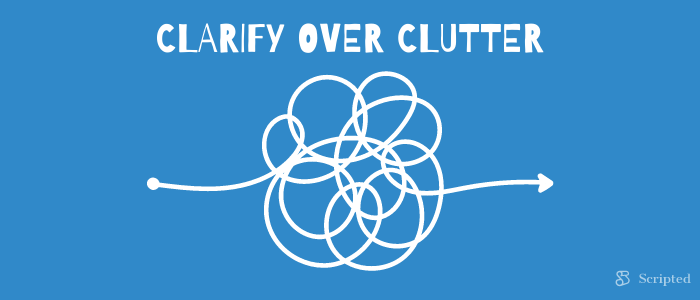 As we've covered, your landing page is the first point of contact. Therefore, it's necessary to clarify your message with a concise copy. A dull wall of text might cause disengagement among visitors and delay the loading speed of your landing page. Unoptimized images and massive media files are just some of the many causes of poor loading times. 
According to Google, the probability of bounce increases significantly with delayed load time. A delay of 1 to 3 seconds increases bounce by 32%, while a 1- to 10-second delay results in a 123% increase. Therefore, while it might seem tempting to beautify a landing page with stunning visuals and lengthy written content, always consider the risk of bounce and its crippling effects on conversions. 
Optimize CTAs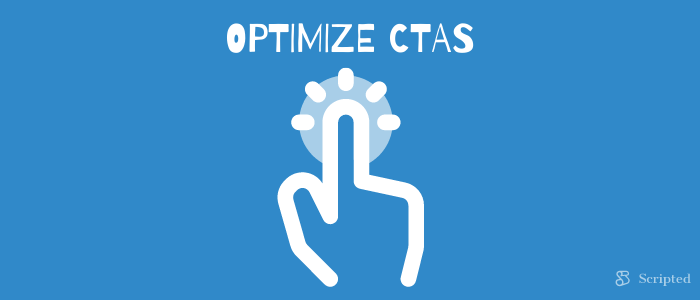 Every successful landing page should lead to a clearly defined CTA. Whether it's to enroll leads for a course, make a purchase, or add them to a mailing list, you'll need a prominent CTA to score those conversions. The main idea is to make your CTA stand out from the rest of the page -- by underlining it, using bold letters, or displaying it as a button. 
Additionally, your CTA copy should pack a punch to drive action. Rather than settling for a passive "submit" or "click me," consider more energetic alternatives that empower your reader, such as "buy now" or "count me in!"
Quality Writers Boost Conversions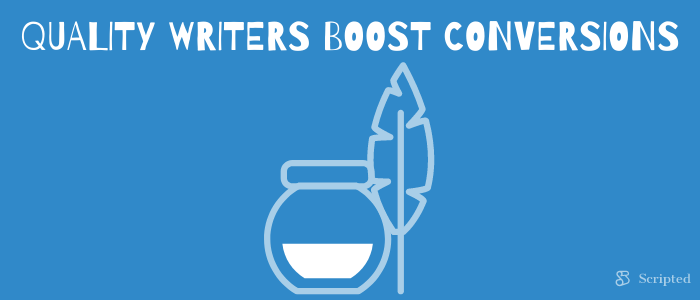 Ultimately, you'll need rockstar writers to put your solid landing page together. The Scripted platform makes it a breeze to locate the perfect writer for your project. Enjoy a fuss-free process by hiring from a diverse database of vetted writing experts with varied specializations. 
Sign up for Scripted today to hire your champion copywriter and scriptwriter, who will help you exceed the targets for your landing page conversions -- every time!