AI and SEO: Can AI Support Your SEO Strategy?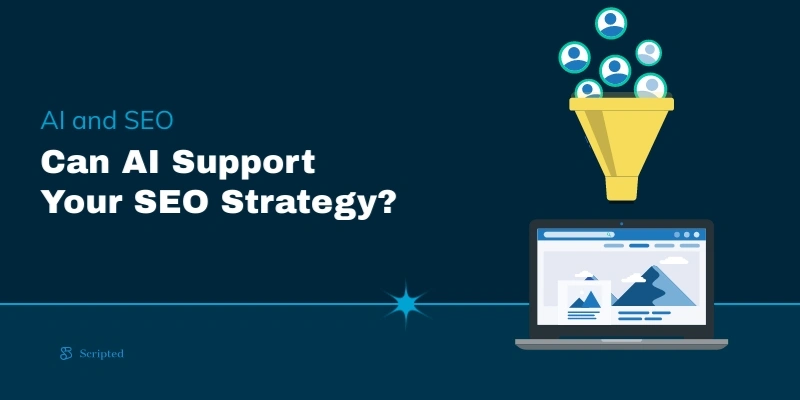 The short answer is… sort of, and only with careful use. The longer answer requires taking a look at where we are with AI and SEO right now, where we could be, and the pros and cons of using AI in your content marketing efforts.
The reassuring news is that you're probably already using AI-powered tools right now. Clearscope uses AI to check for competing articles, suggest the most-asked questions, and help with keyword density. Grammarly uses natural language processing and machine learning to check your text and ensure it matches current grammatical expectations. However, none of these tools actually write your content from scratch. So, the big question is, should you be using AI-generated content if you want to climb the SERPs?
The basics: why SEO content is still so valuable
Yes, you need search-engine-optimized content as part of your content marketing strategy. 53% of website traffic comes from searches, which means consumers or B2B buyers opening a search engine like Google and typing in a question or search phrase. It stands to reason that if you're not carefully considering SEO for your content, you're potentially missing over half the hits you could be getting on your blogs or landing pages.
Traditionally, all web copy has been crafted by in-house writers or freelance subject matter experts. Businesses may also work with all-in-one content marketing solution providers, who may help them consider when and where to publish content, and help them understand the impact and performance of their online writing.
Today, there are tons of tools that promote AI-generated text, and you can find out more about them over at our blog. Why, then, are not all businesses simply eschewing paying for freelance writers instead of using AI text generators like Jasper and Copysmith?
Google may penalize websites with high volumes of AI-generated content
Google is what most people are thinking of when they consider SEO. Ranking highly on Google can massively improve your chances of getting leads or building a dedicated readership. 91-92 percent of the market share in organic searches is owned by Google, so understanding what Google likes and doesn't like is a vital part of any effective SEO strategy.
John Mueller is a senior search analyst at Google, and last year, he stated, "…for us it's still automatically generated content, and that means for us it's still against the Webmaster Guidelines. So we would consider that to be spam." What he meant is, while AI content creation is getting more advanced, it's not good enough for Google to promote it as valuable content.
It turns out, Google is already penalizing some websites for having too much AI-generated content. The linked case study shows that once a site started to fill their site with AI-generated content, traffic dropped off to practically nothing. However, the case study also notes that this AI text was, frankly, terrible, and Google will penalize poor-quality content no matter who or what creates it.
In a total 180-degree turn on Mueller's 2022 comments, Google has now stated that AI content is not against its overall guidelines. However, the principle that websites will only be rewarded with higher SERP rankings for high-quality content still very much stands. Their official stance is, "Google's ranking systems aim to reward original, high-quality content that demonstrates qualities of what we call E-E-A-T: expertise, experience, authoritativeness, and trustworthiness." In other words, it's fine to use AI and SEO, but only if you do it well.
We asked Chat GPT how AI helps with SEO
Yes, we went there! While we don't want to copy and paste the whole entry as this could flag up our blog as AI-generated content, here are the key points ChatGPT gave us:
         

AI text generators can help by producing a large volume of high-quality content, faster than human writers

         

AI generators are excellent at following prompts to include specific keywords or phrases

         

AI can also create meta descriptions and headings that fall in line with current SEO trends

         

Content localization could be simpler, thanks to the ability to generate content in multiple languages

         

Content marketers should not rely on AI exclusively

         

All AI-generated content should be optimized by humans to ensure relevance, quality, and value to the reader
Do we agree with these points? In part, yes. AI generators can, of course, create content faster than humans. Is it high quality? Well, that's the big debate, isn't it? AI-generated text has, famously, got it startlingly wrong on several occasions, ranging from a tuna pie recipe containing "hard cooked apple mayonnaise" to a report of a massive earthquake in 2017—that actually happened in 1925.
So, we definitely agree with the last point: All AI-generated content needs to be optimized by a human or team of human writers and SEO specialists to render it fully effective. Let's have a look at the rest of the points in a bit more detail.
Content marketers need SEO content fast
82% of marketers invest in content marketing. That's a lot of competing content, so it's no wonder that writers and content marketers are looking for shortcuts. It takes, on average, over 4 hours to produce a blog—although that statistic includes writers that are not professionals or subject matter experts. Why, then, wouldn't any content marketing agency jump on the chance to use a tool that can generate the same amount of content in a matter of seconds?
Of course, it all boils down to quality. When a writer takes between two to four hours to write a blog, that time includes careful research, checking for duplicate content, and of course, search engine optimization. AI text generators simply don't work the same way. Their large language models pull together strings of text that they predict will read well, without any actual understanding of the topic in question.
What does that mean? Well, with the right prompting, you can absolutely get an AI-generated article on data transformation that's packed with relevant keywords, phrases, and FAQs that pop up frequently in search engine queries. However, AI will not automatically check for:
         

Plagiarism

         

Accuracy (remember the tuna pie?)

         

Value—AI has no concept of whether the content it creates provides value

         

Readability—natural language processing is improving this drastically, but many AI-generated articles are still repetitive, dull, or hard to read
Successful SEO strategies require a human writer to step in and adjust AI-generated content for all these aspects, and possibly more. So, with that in mind, do AI and SEO come together organically to create content faster? Not really. However, AI could help improve the productivity of SEO copywriters, as you'll see in the next section.
AI text generators may be better for prompts and brainstorming
Hiring a technical content writer is always going to be best for creating an industry-specific blog with high levels of accuracy and engagement. However, AI could be great when you're running out of ideas for blogs or want to ensure your content calendar is packed with articles that will resonate with a range of users.
Asking AI text generators to give you a list of blog titles on a particular subject can help guide your content strategy by breaking through writer's block and diversifying your reach.
You could also ask for commonly asked questions, frequently used keywords, or even what the most common blog title is so that you can avoid it. AI, used in this way, could help make you way more efficient and ensure that everything you create is original and valuable.
AI detection tools can work in tandem with AI creation tools
If you're using AI text generators to create blocks of text for blogs, social media snippets, or product descriptions, consider using AI detection tools to see how easily the content gets flagged up as AI. You might find that the shorter pieces of text pass with flying colors, as many AI detection tools can't tell the difference between humans and AI when the text is under about 500 characters. That means your human-crafted product descriptions could, in theory, be replaced by SEO-friendly, AI-crafted alternatives.
Remember, that only works for really short pieces, and you'll notice that the longer your content, the more likely it is that AI detectors will pick it up. However, this allows you to start optimizing your content. In other words, you can tweak and improve your basic, AI-generated text to create something unique, valuable, and useful to your readers.
It's worth noting that you could spend more time tweaking AI-generated content than it takes to write an article from scratch! That's why so many businesses still trust content creation services that match them up with talented subject matter experts, and generally use AI for other tasks, such as listing SEO keywords and idea prompts.
Even content localization needs a human touch
One of the SEO tasks ChatGPT told us that AI could help with was content localization. Content localization means adapting content to be relevant to an audience in a different part of the world. A very common aspect of this is switching U.S. English to either British, Australian, or Canadian English. Many companies work across different English-speaking markets, so a thorough understanding of spelling, grammar, and culture differences is essential.
Culture, you say? Absolutely. For example, there's no asphalt in the United Kingdom, nor do cars have a trunk. There are numerous differences with schools systems, healthcare, and even when meals are eaten throughout the day and what they're called. For example, in the north of England, most people call dinner, "tea". Can an AI-powered content generator pick out those nuances?
We asked ChatGPT to tell us a story about a man in the north of England who went out for a meal. Within the first paragraph, the man was going out for dinner, not tea. Also, the whole piece was written in American English. Okay, these might seem like minor issues, but you can see straight away that without a human to overlook the overall content creation process, content localization isn't as complete as it should be to really resonate with your target audiences across different markets.
Content optimization needs a human at some point in the journey
That neatly leads us to our final point: AI-generated content, no matter how rich in SEO keywords and phrases, can't guarantee great SERP results without a human to oversee the finished product.
AI is good at some aspects of SEO:
         

Shorter AI-generated content is better. The longer content becomes, the more likely it's going to get flagged by AI detectors.

         

AI is great at telling you how to make your own content more SEO friendly.

         

Some AI-generated SEO content does rank highly and garner organic traffic. Still, the results are so inconclusive that the people doing those tests only use this type of content on burner sites.

         

AI is a great way to generate blog prompts and ideas or even develop a framework for articles. You could also get AI text generators to suggest good resources for your own content research.

         

Beyond content creation, there are so many opportunities for content marketers, agencies, and businesses to harness the analytical power of AI to understand what's working and what's not in terms of your marketing campaigns.
Google consistently rewards content that provides real value to readers. Your writing should answer commonly asked questions, be engaging and easy to read, and not include plagiarism of any kind. Until AI can guarantee all that, it won't be as effective as a human SEO writing specialist.
Work with an AI-powered content marketing platform with real human SEO experts
AI isn't going anywhere, and we love that! Our content marketing platform uses Scout, an AI-powered assistant that helps users connect with real writers fast. Scout also researches content writing ideas, helps you create content briefs that can get writers to work quickly, and even reports back on the effectiveness of your content. We're using AI to help you and the subject matter experts you connect with create consistent content that brings readers back to your blogs and websites, over and over.
All our content is 100% human-written and we have talent across over 50 industries waiting to start working for you. Get started on your AI-driven, human-written SEO content marketing strategy today.