Best AI Content Creation Tools of 2023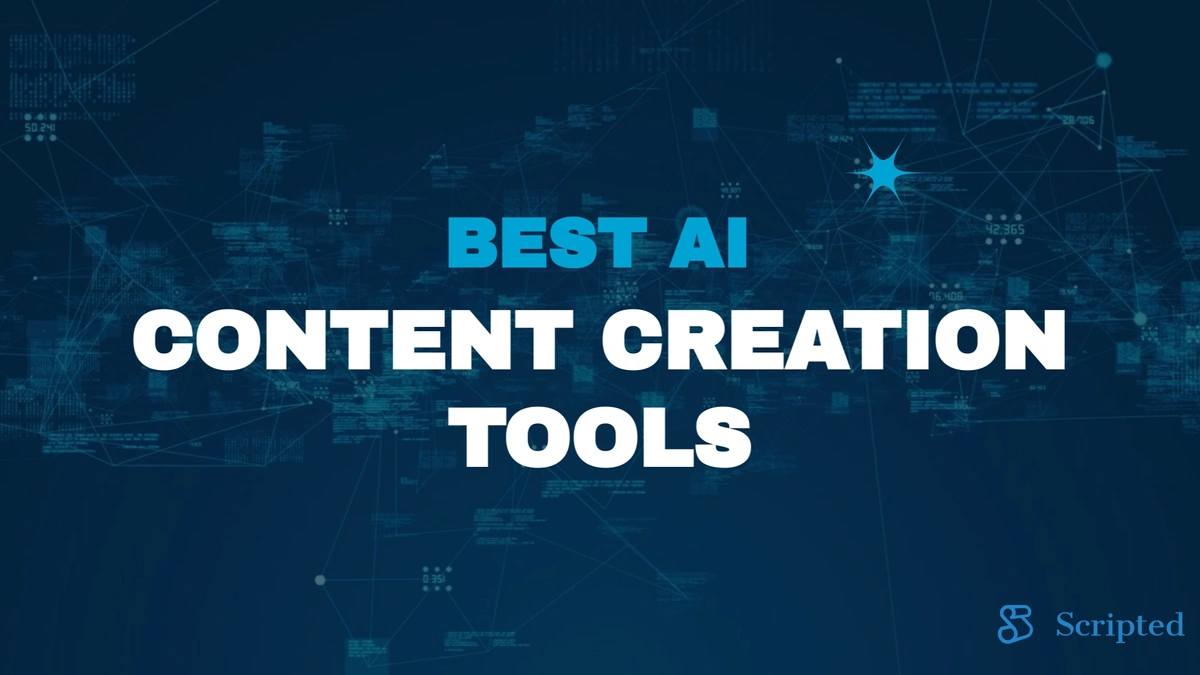 Creating content for your business helps you engage with customers, promote products and services, improve search engine conversions, and generate revenue. Even if you publish a couple of blog posts a week, you can inform, educate, and entertain your audience and increase awareness about your offerings. It's no wonder that 53% of businesses want to improve the quality of their content. 
Writing, publishing, and promoting content can be challenging, especially if you don't have a team of content writers or lack a big marketing budget. That's why more companies like yours are using AI tools to automate content creation or generate text from prompts. 
There are numerous AI content creation tools if you want to use artificial intelligence for content marketing. This article will list some of the best platforms available in 2023. You will also learn the dangers of using AI platforms to create text without human writers.
1. Scripted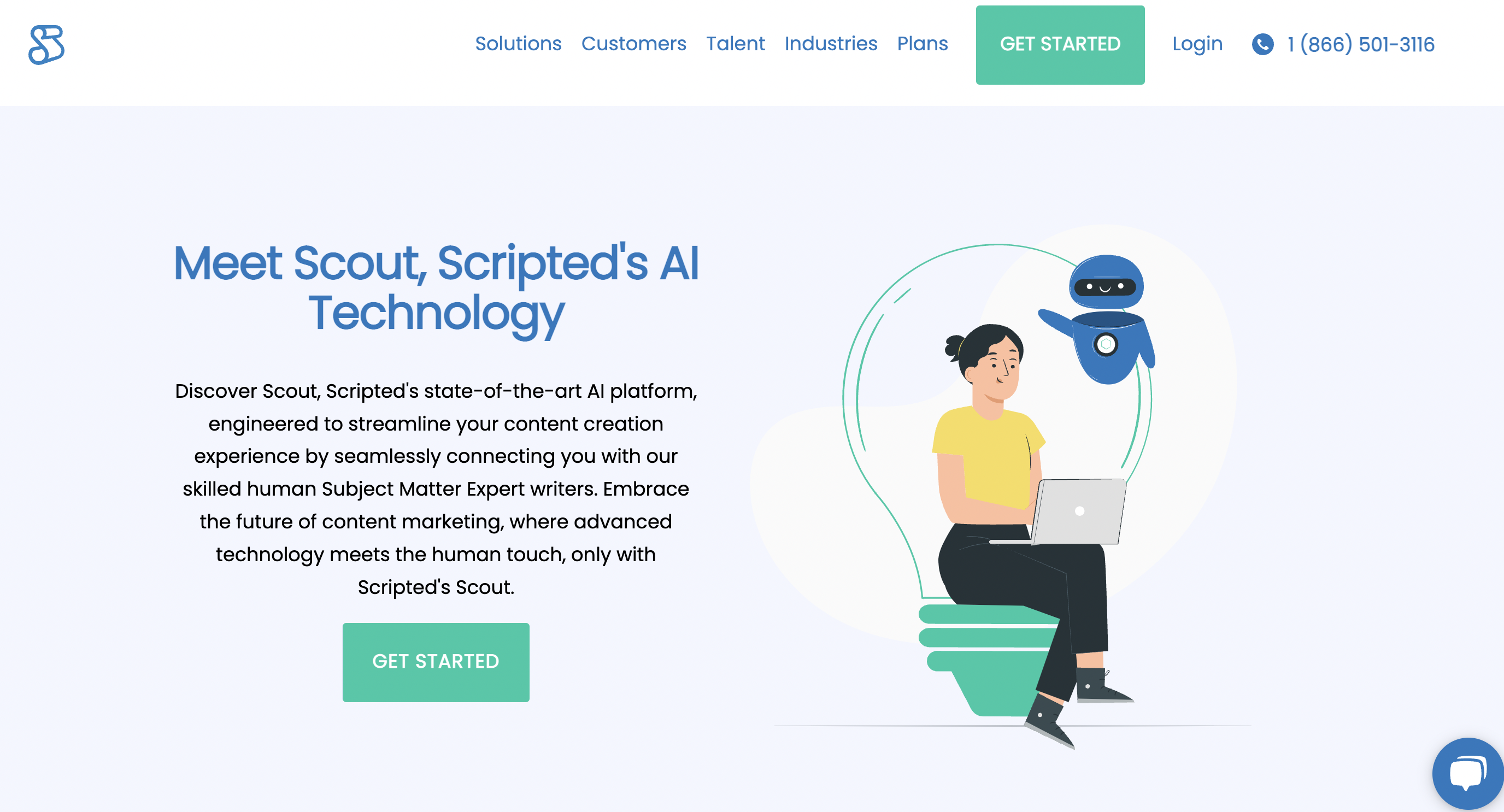 Scripted is an end-to-end content marketing solution that connects you with human writers in your specific industry, helping you create compelling and creative content that resonates with your audience. However, Scripted also has an AI-powered content creation assistant called Scout that boosts your marketing efforts. This one-two punch gives you the best of both worlds: Real writers and AI efficiency. 
Scout is integrated throughout Scripted's platform, providing guidance for the entire content production process. This AI tool can research content ideas, create briefs from scratch, order writing jobs, and analyze the performance of your content. That removes a lot of work when creating content, freeing up time and resources for your team. 
Say you want to create content for your blog but don't know what topic to write about. Scout will analyze industry trends, search engine rankings, audience behavior, and competitors in your industry to come up with blog post ideas your audience will love. Then the AI tool will generate headlines for those posts that grab the attention of your readers before suggesting the most relevant keywords that boost your search rankings.
When Scripted's talented writers create your blog post, Scout creates detailed briefs that provide these content creators with a clear direction on what to write about. Finally, Scout will track your finished post across the web, providing you with valuable insights about your content marketing strategies. You'll learn how effective your content is across multiple channels.

Scripted Features
Here are some features of Scripted's AI platform:
Scout, Scripted's AI tool, automates content creation by optimizing

 

content strategies, generating headlines, researching keywords, creating content briefs, and analyzing performance with the latest real-time metrics.
Create blog posts, white papers, social media posts, short-form content,

 

long-form content, product descriptions, ad copy, landing pages, SEO optimization content, and scripts for video content.
Human Subject Matter Experts write, edit, and personalize the content you need.

As your content needs expand, Scripted adapts to the increased demand, guaranteeing efficient

 

content creation

 

that keeps pace with your business

Scripted Pricing
Scripted has four pricing plans based on your content marketing needs:
Self Serve Basic, from $199 per month

Self Serve Premium, from $499 per month

Agencies, from $2,500 per month

Enterprises, from $5,000 per month
Bottom Line
Unlike other AI content creation tools, real subject matter experts still write your content on Scripted. That's because, despite its many benefits, AI can't replicate human writers. A platform like ChatGPT that produces text from user prompts might be faster than waiting for writers to create your articles. However, relying on fully automated text can result in grammatical and factual errors in your content, which impacts your SEO rankings, especially when Google favors content from subject matter experts with expertise and experience. 
Scripted believes in 100% human-written content and that AI is merely a tool to make the content creation process more effective for your business. Connect with real writers today and use AI to streamline content creation. Get started!
2. Jasper AI

Unlike Scripted's AI content creation tools, Jasper AI uses artificial intelligence and machine learning to create text without relying on the skills of any human writers. You enter prompts about the type of content you need, the subject matter, the tone, and other requirements. Then the platform generates text within seconds. 
You can use Jasper AI to create any content you need, from blog posts to social media content for Facebook and LinkedIn. As previously mentioned, the platform does all the hard work for you, meaning you don't need to communicate with writers at all. Because no subject matter experts are involved, Jasper AI claims to create content 10 times faster than other content writing platforms. 
While the above sounds good, especially if you don't have a large copywriting budget, Jasper AI has many limitations. Removing human writers from the content creation workflow means you get content that's entirely written by robots. This type of content might lack the depth and perspective that comes from a real writer who understands your industry and target audience. Fully AI-generated content might also have factual errors that jeopardize your reputation and search engine optimization and make your audience question what you say about a particular topic. 
Jasper AI Content Generator Features
Here are some features of Jasper AI:
Jasper AI's content improver feature lets you rewrite parts of AI-generated text before you publish it. (However, this might be difficult if you lack writing and editing skills, even if you use a tool like the Grammarly Google Chrome extension.) 

Jasper AI creates content in more than 25 different languages.

Intel, Sports Illustrated, Zoom, and other famous brands use Jasper AI to assist with the content writing process.
Jasper AI Pricing

Jasper AI has three pricing plans:
Starter, from $24 per month

Boss mode, from $49 per month

Business — contact Jasper AI for pricing
Bottom Line
Jasper AI is a content creation tool that solely relies on artificial intelligence and machine learning to create content for your website. While eliminating writers and editors can save you money and time, your finished product will be created by robots and algorithms, not humans, which can lead to quality and ethical concerns. Jasper AI is useful for creating large quantities of content, but ask yourself whether it will add value to customers and help you effectively promote your products and services.
Unlike Jasper AI, Scripted uses real human writers and AI to create high-quality original content your brand deserves. Get started now!
3. Copy.AI

Copy.AI is a similar tool to Jasper AI. It automates content writing with deep learning and natural language processing (NLP), allowing you to generate AI-written text in seconds. You tell the platform what content type you want to create, such as a blog post, and include a bit of context about your piece. Then Copy AI creates a finished product without the need for human writers. 
Copy AI might be a good choice for your organization if you don't have the time to create social media posts, meta descriptions, and other short content types. However, the platform faces the same problems as Jasper AI for blog posts, white papers, and other longer content. Because robots, not writers, create content on the platform, you might receive a piece of writing that includes errors or lacks the emotion and perspective of a real human being. You have to ask yourself whether full content automation is worth potentially damaging the reputation of your business if it doesn't provide any real value when promoting your products and services. 
That said, Copy AI is certainly cheaper than content writing platforms that rely on human writers to create engaging content. There's also a free plan that lets you create 2,000 words a month. You might want to try the platform and see whether AI-generated text is good enough for your website.
Copy AI.Features
Here are some of Copy AI's features:
Copy AI says it can write content 10 times faster than other content writing platforms.

Copy AI can also generate content ideas, ideal for those times when you have writer's block!

Over 7 million businesses and individuals use this platform to automate content marketing.

Like Jasper AI, Copy AI creates text in over 25 languages.
Copy AI.Pricing

There are two pricing plans available:
Pro  $36 a month

Enterprise — contact Copy AI for pricing
Bottom Line
Copy.AI is a Jasper AI alternative for creating quick AI-generated copy in different use cases. Creating content with prompts and templates is easy, and you can certainly generate more pieces of content quicker than using human writers. However, your finished product, written by robots, will lack a personal touch and might contain errors and inconsistencies. It's also worth noting that you might not own the content generated by these types of tools.
4. Copysmith

Copysmith is another AI content generator that focuses on product descriptions. You can create quick content that describes your offerings and drive sales on your website. Like Jasper AI and Copy AI, Copysmith requires only a few user prompts before creating text for product pages in seconds. 
Say you own a furniture store and want to create product descriptions for all your inventory but don't have the time or resources. Tell Copysmith about these products, and it will use artificial intelligence to generate short descriptions that include relevant keywords for your industry and target audience. That helps you rank higher on search engines. 
Copysmith Features
Here are some of Copysmith's features:
Rewrite old product descriptions and optimize them for Google search.

Create new product descriptions in bulk.

Copysmith guarantees results or you get your money back.
Copysmith Pricing

Copysmith has three pricing plans:
Starter — $19 per month

Professional  — $49 per month

Enterprise — contact Copysmith for pricing
Bottom line
Like all fully automated AI content creation tools, Copysmith has limitations. Because no human writers are involved, finished product descriptions might lack nuance or contain incorrect information, which can frustrate your customers. Using a tool like Scripted might provide your organization with more value.
Final Word
AI content creation tools streamline content marketing by automating tasks or generating text from user prompts. While the latter can save you time and money, only human writers can produce the desired results when targeting your audience. Whatever route you take, choosing the right content creation tool for your needs and goals is important. 
Why Scripted?
Unlike Jasper AI, Copy AI, Copysmith, and other AI content creation tools, Scripted relies on human writers to create high-quality, engaging content targeting your audience. The combination of Scout and real copywriters means you get a finished product written and edited by humans while benefiting from the automation and efficiency of artificial intelligence. Scripted's track record of delivering outstanding content speaks for itself, with companies of all sizes using this cost-effective platform for all their content needs.
Ready to start your AI content creation journey? Connect with real subject matter experts in your niche now and get all the benefits of human content and AI in one go. Get started!