SEMRush: Reviews, Features, Prices and Alternatives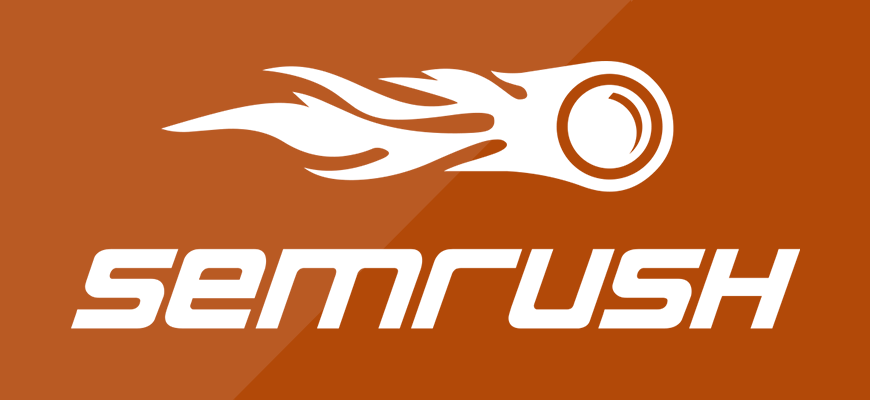 Award-winning "online visibility" platform SEMRush provides competitive intelligence across all marketing channels for clients ranging from EBay and Quora to small businesses and entrepreneurs looking to boost search rankings and improve marketing strategies. SEMRush serves a diverse marketing community of more than 6 million users worldwide with more than 40 tools for boosting search visibility, creating content and conducting competitive market and keyword research. 
Along with its comprehensive SEO toolkit, SEMRush also features an extensive set of learning resources, including SEO certificate programs, webinars and downloadable ebooks to help marketers improve their SEO skills and create more effective content strategies. 
What's Inside SEMRush?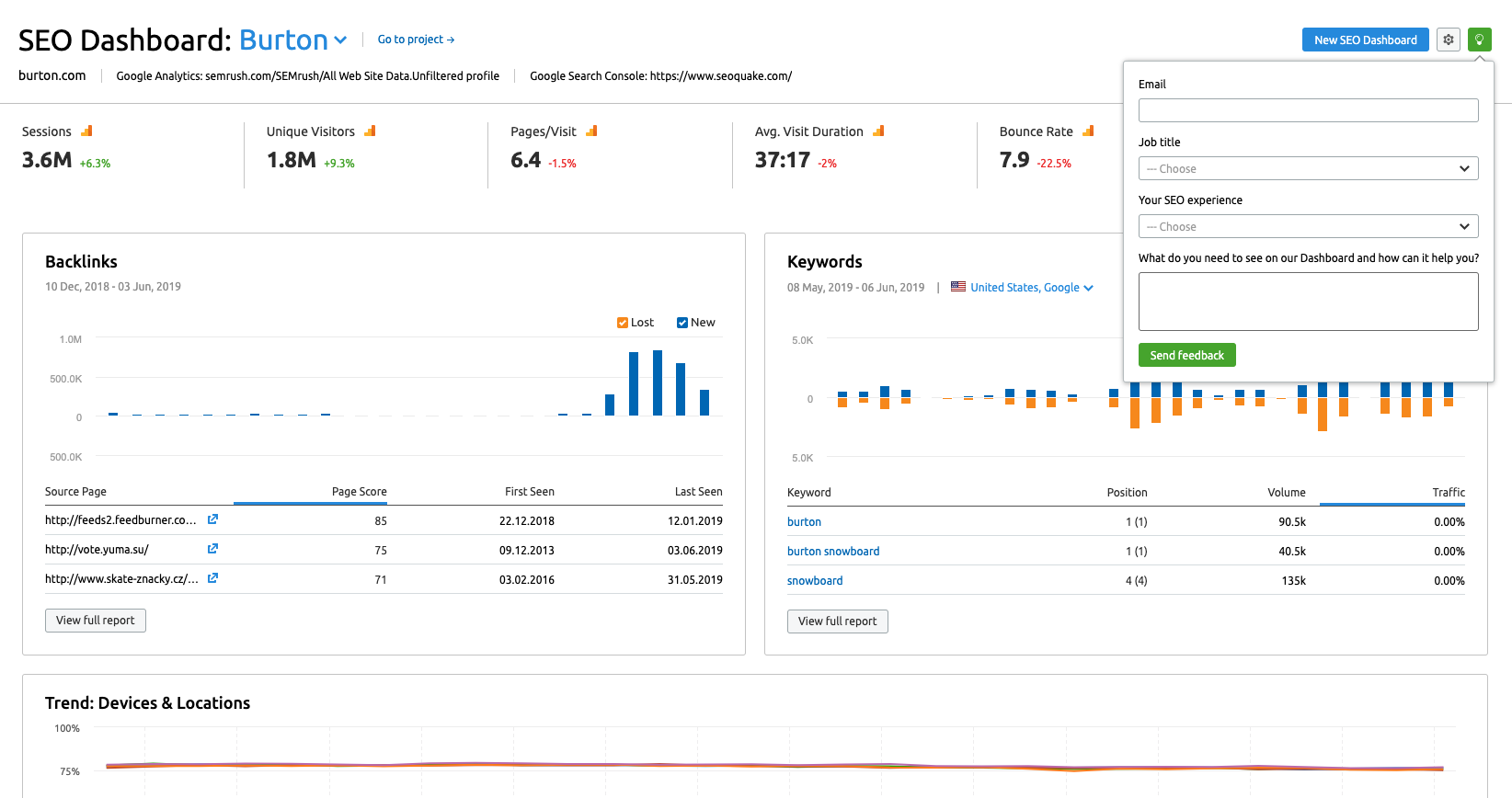 SEMRush calls itself an "online visibility management platform" for businesses and e-commerce ventures, and that sums up its long list of services and tools for ranking high in organic searches as well as creating effective Pay Per Click campaigns. The SEMRush platform targets online marketing specialists looking for a one-stop solution to the challenges of building a brand's presence in a competitive global marketplace.  Key features of SEMRush's digital marketing toolkit include:
Position Tracking: This tool allows users to monitor both national and local search engine positions for any keyword. Users can discover local competitors and keep track of competitors' keywords in multiple languages and locations.
Site Audits: SEMRush's SEO analysis tool provides a comprehensive site analysis that reveals SEO problems identifies weak content and offers solutions for improving the rankings of any website. The SEMRush audit campaign checks for SEO-optimized content and images on all pages and posts, and provides fresh reports on the site's SEO health at regular intervals.
Social Media Tracking and Posting: SEMRush analyzes a brand's social media performance and provides automation tools for scheduling and posting to all social accounts from one place. SEMRush also tracks social media metrics and provides regular reports on the channels of your choice,
Multiple Keyword Tools: SEMRush's platform includes keyword tools for checking on-page and social media keyword optimization, and for collecting and managing keyword lists for organic and PPC search results.
Content Analysis and Creation: Depending on the plan you select, SEMRush's Content Platform features templates for creating-SEO friendly content, and for optimizing articles for maximum searchability. Users can also create a content plan, find topics and order custom content.
Ad-Building and PPC Tools: SEMRush helps digital marketers create and manage keyword-optimized advertising campaigns with built-in tools and templates for finding ideas and analyzing competitor campaigns. The SEMrush platform includes ad previews and relevant ad extensions to add visibility and improve performance.
Resources, Training and Community
SEMRush's learning center and community offer numerous resources including guides, ebooks and tutorials on SEO and SEMRush features, along with videos, podcasts and webinars on a wide range of SEO and marketing topics. Users who complete selected sets of materials can receive a certificate, and anyone with an account can connect with the international community of SEMRush users.
Partnerships and Extra Tools
SEMRush offers a number of "Extra" tools for other features that supplement the company's core set of tools. That includes a suite of Amazon tools, TrafficJet for boosting web traffic, and the Marketplace for connecting with professional content writers. SEMRush also partners with other providers in a range of specialized niches and connects users with them upon request.
SEMRush Plans and Pricing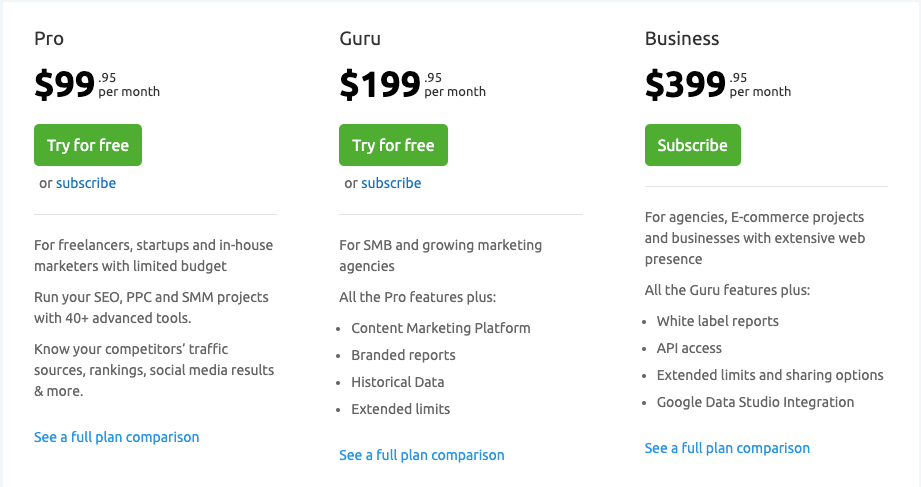 SEMRush has three subscription plans, with options for monthly or annual billing. All plans include the full set of over 40 marketing tools and features. At $99.95 USD per month, the Pro plan is designed for freelancers, startups and other marketing professionals with limited resources. This plan doesn't include access to the Content Marketing Platform and branded PDF reports.
For small businesses and expanding marketing teams, the Guru plan ($199.95 per month) includes all pro features plus access to the Content Marketing Platform and the branded reports. For larger businesses and ecommerce ventures, the Business plan at $399.95 a month includes all the features of Pro and Guru, plus API access, white label reporting and other exclusive features. SEMRush offers a free trial of both the Pro and Guru plans, and also offers a custom enterprise solution with features tailored to a company's specific needs.
SEMRush's all in one SEO and marketing solution includes tools and features for every aspect of online marketing, including content creation and optimization through its Content Marketing Platform and Marketplace for ordering content including articles, web copy and product descriptions. But SEMRush's primary focus is on getting results from content, rather than creating it.  With Scripted's SEO-centered content marketing solutions, quality content takes center stage.
Should You Use SEMRush?
SEMRush's one-stop platform is among the top five best solutions for digital marketing professionals, with an overall rating of 4.6 out of 5 (861 reviews) from Capterra. With its range of tiered plans, SEMRush is flexible and scalable to meet the needs of a growing company hoping to expand its visibility, or to support an enterprise venture's many marketing campaigns.
SEMRush's tools can also be helpful for small businesses and startups without a dedicated marketing team. But its prices are typically higher than some competitors, so freelancers and solopreneurs might find that they can get basic keyword tools and analytics they need from less expensive and more user-friendly digital marketing platforms. Here are a few alternatives to consider.
SE Ranking's digital marketing toolkit is packed with tools including a website ranking engine, SEO audit and keyword suggestion module. The SE Ranking platform includes strategic planning tools for users ranging from individuals to enterprises, and includes a set of tools specifically for B2B users. With plans starting at $39USD per month for 10 websites to an Enterprise level plan at $189 per month, SE Ranking offers affordable reporting and planning tools for small and large companies.
With both free and paid SEO tools, Moz claims to make SEO simple for everyone. Moz Pro is a complete SEO toolkit with options for site crawling, keyword research, rank tracking, and more. Moz Pro plans range from $99USD per month for basic tools to $599 per month for larger SEO focused agencies and marketing teams.  Moz Local helps businesses maximize their offline connections with tools for managing location data, business listing management, and social posting. Plans range from $129 annually for basic service to $299 per year for complete service management.
Serpstat calls itself the "all in one SEO platform," with tools for collecting market intelligence, competitor research, site audits and crawls, and search and keyword analytics. Serpstat plans are lower than many of its competitors, with options ranging from Lite at $69USD monthly to Enterprise at $499 monthly. You can also try Serpstat's tools for free, or request a personal demonstration.
Organic search dominates the web - and it can drive traffic your way. Whether you're a solo entrepreneur, a small business or a large corporation, a comprehensive digital marketing solution can boost visibility and expand the reach of your brand.
Scripted: A Content Centered Solution
Scripted's SEO solutions for businesses in industries of all kinds focus on SEO-friendly, professional content, created by a pool of skilled freelancers who specialize in a variety of fields ranging from fashion to medicine. Scripted connects you with the best writers for your specific needs, and provides the tools and support you need to make the most of the content they create. 
All of Scripted's subscription plans include access to a pool of selected content writers who can create the articles, white papers, press releases, social media posts and other kinds of content that can build your brand's reputation for authority and expertise. Whether you need just the basics, or you're looking for a fully managed content solution, Scripted has a plan for that.
Scripted's Self Serve Basic and Premium Plans are designed for entrepreneurs, startups and small businesses. The Self Serve Basic Plan includes access to Scripted's basic pool of freelancers in a wide range of industries, with options for unlimited content and one round of revisions. The Self Serve Premium Plan offers access to a select pool of Premium writers, plus the help of a dedicated account representative. With Self Serve Premium, you'll also receive an initial site analysis and a quarterly review to keep your content goals on track.
For a fully managed content solution, Scripted's Cruise Control Plan handles every aspect of your content marketing strategy. On the Cruise Control Plan, we'll find the best writers for your projects. You'll also have the support of a dedicated account manager. Cruise Control includes a complete SEO check-up on your website, plus monthly reviews to monitor its progress. Want to find out how Scripted's content marketing solutions can work for you? Contact us for a consultation or a demo today.