AI Content With a Human Touch
– Powered by Scripted
Human Creativity + AI Power = Amazing, High-Quality Content at Scale. AI-powered writing has some major benefits - speed, affordability, and efficiency, to name a few. But let's face it, robots can't replace the magic of human writers...yet.
Welcome to the future of content creation. Our AI technology gives you lightning-fast turnaround times and unbeatable costs, while our hand-picked writers add the human touch your content needs to shine.
No more bland, generic content. No more settling for mediocrity.
It's time to upgrade to the ultimate content experience, powered by Scripted.
You Need Better Content, Fast
Everyone knows content is king. But in today's fast-paced digital world, speed and quality are equally important.
You want SEO-friendly content that engages readers and builds credibility, but you're busy growing your business. That's where we come in.
At Scripted, we've got the secret recipe for content success - a mix of cutting-edge AI technology and a talented team of human writers hand-picked by us. Our winning combination delivers:
Content that will make your competitors jealous
Prices that won't break the bank
Speedy delivery that'll make your head spin
With Scripted on your side, you can sit back and relax while we handle the heavy lifting. It's time to upgrade your content and elevate your business to new heights.
Don't Settle for Unsupervised Robots
Say goodbye to bland, uninspired content generated by robots, and say hello to the future of content creation.
At Scripted, we know that AI can't replace human work. Instead, we harness its power and combine it with the expertise of our hand-picked team of human writers.
With our winning combination, you get:
Content that's not just good, but fantastic
A creative spark that robots just can't replicate
Accurate, error-free content that'll make your customers love you
Round-the clock content creation that never takes a day off
Don't settle for less than the best. With Scripted, you get the best of both worlds - AI power and human creativity. Get ready for content that will make your audience come back again and again.
The Power of Our Human + AI Mix
We know you want high-quality content, but budgeting for human writers can be a real pain. That's why our team of expert writers teams up with AI to bring you the best of both worlds - amazing content at lightning speeds.
With our AI-powered writing, you'll get:
Cost-effective content without sacrificing quality
Super-fast turnaround times that'll have your website updated in no time
A chance to review and approve content before it's published so you're always in the drivers seat
Our human writers make sure the content is absolutely perfect for you. We:
Fact-check AI-generated content
Guide the AI to say what you want
Make sure the content is written exactly in your tone and style
Ready to Upgrade Your Content?
Sign Up for Scripted Today
Do you want high-quality content that's affordable, fast, and efficient? Then it's time to join Scripted.
We believe that AI can't replace human work, but it can enhance it. That's why we've combined state-of-the-art AI technology with a team of hand-picked human writers to bring you the ultimate content experience. With our human + AI mix, you'll get:
Great content at scale
Reliable, error-free text
Affordable prices
Fast turnarounds
Don't settle for less than the best. With Scripted, you get the best of both worlds - AI power and human creativity. So, why wait? Join Scripted today.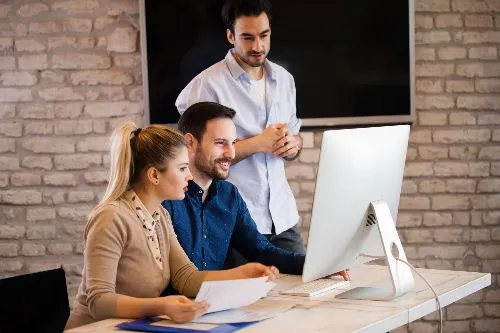 What's GPT Again?
Most AI-powered content writing tools are built on top of GPT, a natural language processing system that uses deep learning algorithms to generate human-like text. In human speak, that means this model was fed a ton of text, so it can spit out human-sounding word patterns -- like your phone's autocomplete.
It's best at:
Generating lists and outlines
Crafting short, snapping copy
Summarizing complex topics
But that training means it's not good at:
Writing with personality
Creating new ideas
Talking about complex subjects with nuance
That's why we use AI to help enhance our human team. Human writing just can't be replaced but with AI, our writers can work better and fast while still producing quality content.
Ready to Take Your Content to The Next Level?
Scripted has subject matter experts in over 40 industries. We manage your whole writing team on and off the Scripted platform.
Get Started