AI Product Description Generator Tools: Generating Content at Scale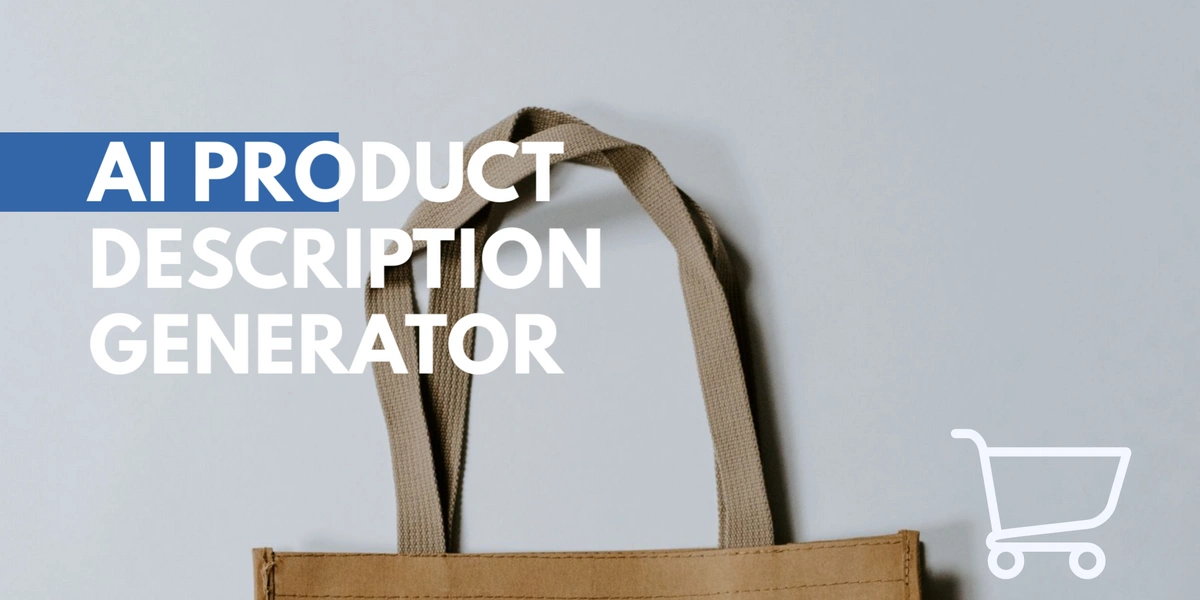 No matter how dedicated your copywriting professionals are, they probably struggle to generate hundreds of unique, high-quality product descriptions at a time. Yet if any aspect of your business leans on ecommerce, it's essential that you produce product or service descriptions that resonate with potential customers. Artificial intelligence (AI) could be the answer to dealing with product description writer's block.
While AI still struggles to create compelling long-form content, it's great at short, snappy sections of text. Many tools can even incorporate detailed prompts on branding, such as avoiding specific words or using a specific tone of voice. In fact, AI can improve business productivity by 14%. Utilizing it for content creation tasks that require constant scaling of repetitive work could be one way to leverage this advantage.
What Makes a Good Product Description?
Writing product descriptions is a tricky business. They need to be short enough that readers don't get bored and click away, which negatively affects your website's bounce rate. Plus, they also need to include all the product details a buyer needs. 
Imagine an ecommerce site or product page as a virtual storefront. Instead of picking up a product and examining it, consumers get insight only from the information on the page. That means the copy needs to be packed with info without being dry and difficult to digest. 
Your potential customer wants to know that the product will address their pain point, so there must be information on what problem the product solves. This can be in a short story-telling format to evoke an emotional response. In addition, pricing information or a link to a sales representative must be present. Other critical features of a good product description include the following:
Product name and any variation names
A short description of the product or service
Benefits of the product
The features of your product in bullet points
Technical specifications, if applicable
Dimensions or other physical properties such as color, if applicable
Product descriptions should also include SEO keywords to drive more traffic to your product pages. FAQs can also help here, as search engine queries are often posed in a question format. Many AI generators can produce effective FAQs as well as provide keyword research data and SEO-friendly product descriptions.
The Benefits of AI for Generating Product Descriptions
A lot of creativity goes into crafting effective product descriptions. But realistically, as long as you can input the relevant technical or physical information, an AI tool should be able to generate the rest. The major benefit of utilizing AI-generated product descriptions is that you can create content at scale with the reassurance that it's all unique.
Other benefits of using AI for product descriptions include:
Accurate spelling and grammar
Speed, increased output, and improved productivity
Personnel can work on more pressing tasks, and copywriters can focus on long-form content like blog posts that need the human touch
AI won't veer beyond the parameters you provide
Some AI tools can produce text in many other languages, empowering companies to increase their reach internationally
Ensuring all product descriptions follow certain standards for SEO and branding could increase the volume of leads and boost your conversion rate, which drives your business's organic growth.
What to Look for in a Product Description AI Tool
There are so many generative AI tools — tools that generate text using only AI — that it can be hard to know which is the best for your product description needs. Choosing by price alone could leave you with a free or cheap tool that simply doesn't have the features you need. However, there are plenty of great value or even free AI generators that measure up to exacting business requirements.
The best product description generators should have the following features:
The ability to create unique product descriptions
A user-friendly interface
A free plan or at least a free trial
High-value paid plans
User support
Multiple types of content generation
Features above and beyond these are a bonus, so research the tools that look interesting and take advantage of free trials or plans to discover if they work for your business.
AI-Powered Product Description Generator Tools for Ecommerce
Businesses regularly use the following tools for ecommerce product descriptions. They might generate one or two descriptions weekly for a small online store or hundreds of descriptions for major online retailers. Check out the features, benefits, and pricing for some of the most popular AI content generators available online right now.
Copy.ai
This AI writing platform offers a free tool for generating product descriptions, which limits users to just 2,000 words per month. This might not be enough for ecommerce retailers who frequently shift their inventory, but it's a good starting point for marketing and content specialists to understand whether this is the right tool for their organization. 
Copy.ai is keen for users to sign up. There's some interesting copy on the landing page about why product descriptions are so essential. This includes the intriguing statistic that 85% of shoppers say product descriptions are important when deciding where to buy their products or services. 
The process for generating product descriptions with Copy.ai is fairly simple. Click on the Product Descriptions button on the left-hand menu. Provide a product name, some details, and choose a tone of voice. Click Create Copy. You can then click Make More to keep generating descriptions. There's no option for bulk descriptions, but it generates a single piece of text in seconds, so it still saves time compared to human writing.
Copy.ai also allows you to create custom templates to help write compelling product descriptions yourself for your e-commerce store. 
AI Writer
AI Writer or AI-Writer is slightly unusual in that it guarantees it can cite sources for every piece of text it produces. Considering one of the biggest flaws with AI is accuracy and the need to fact-check all writing, this could be a big win for businesses building their brand on integrity and reliability.
For product descriptions, of course, the accuracy of the information comes from you, the user, inputting the right details. While AI Writer is aimed at those wanting to create blog posts or articles, it's absolutely possible to create content for product descriptions too. Just make sure you include all the relevant facts about your product. 
Plans for AI Writer start at $29 a month and include up to 40 pieces, so this may not be the best option for businesses needing bulk volumes of product descriptions. It could be a great option, however, for businesses that need blog posts, long-form articles, and product descriptions without having to invest in more than one platform.
Jasper.ai
Jasper.ai is a popular content-writing platform with its own effective marketing campaign. You've probably seen ads for Jasper all across social media, and its services are used by big names such as Airbnb and HubSpot. 
Jasper promises to "Supercharge" your content and provides AI tools and templates for over 50 use cases, including product descriptions. It also boasts that AI produces marketing copy ten times faster than humans, but of course, this depends largely on the scale and volume of content you're producing.
Jasper integrates a number of well-known marketing techniques into its product description templates, including AIDA (attention, interest, desire, action), a methodology designed to nudge the customer toward committing to a sale. Jasper can also take the features of your product and transform them into benefits, meaning you don't have to input as much data — another time saver.
Jasper offers a 7-day trial, and pricing starts at $49 per month when paying monthly and $39 per month when paying annually. Because it's a complete AI content platform, paid plans offer much more than just product description tools and templates. There's also access to brand voice tools, a browser extension, and unlimited words for any content type you like.
Anyword
Anyword offers numerous generative AI writing tools for marketing content, including this Amazon product description generator. Anyword promises persuasive, engaging language and provides some best practices for product descriptions — although it's not explicitly stated that the AI will follow these practices! Anyword's interface is fairly simple, although the multitude of features, content types, and use cases in the various drop-down menus might overwhelm absolute beginners.
There is a free trial for Anyword, which provides a limited number of characters. This probably isn't very useful for long-form content marketers, but it's a great way to try out the efficacy of the product description generator. If users decide it's the tool for them, pricing starts at $39 a month. That plan includes "Copy Intelligence," which uses data from your AI-generated marketing content to suggest improvements and optimize performance.
As copywriting tools go, Anyword is considered one of the better options for long-form content, so users investing in this platform could also use it for blog posts, articles, and other types of marketing copy. As well as English, Anyword offers content in French, German, Spanish, and several other languages. 
Rytr
Rytr is an AI writing assistant that's free at the outset, with affordable plans starting at $9/month, which include some extra features. The basic, free plan includes 10,000 characters per month and the ability to create a range of content types, including product descriptions. 
Much of Rytr's appeal comes from its simple, minimalist interface with practically zero learning curve — ideal for absolute beginners to generative AI. Users choose from over 30 languages, decide what tone they'd like for their content, click the product description option, then input their prompts. This can include specific product features, tech specs, or costs. Click "Ryte for me," and the system produces a description. 
The downside here is that you can only produce one description at a time, but you can use the same prompts to create multiple descriptions about the same product or service. It's easy to tweak the input to create brand-new descriptions, so this could be a great time-saving tool.
No credit card is needed to use the free version, and you can upgrade at any point to one of the paid plans for access to more characters and services.
Writesonic
Writesonic is another content generation platform offering multiple types of content, from Facebook posts to product descriptions and just about anything else you can think of. Generating product descriptions is easy, and you can get started for free without inputting any payment information. There's also the option to upgrade if you run out of words or want to take advantage of premium features.
Choose the product description option from the main dashboard. You enter the product name and key features and benefits. Writesonic also allows you to specify a tone of voice, language, and several other characteristics. Press Generate, and you get three versions that you can either choose from or use to conduct A/B testing. You can keep pressing generate to get multiple descriptions for the same product or service. You can also tweak the name and features to produce entirely different product descriptions. 
Writesonic offers a completely free plan, which is good news for ecommerce content marketers who want to check if this is the right tool for them. Unlike some free plans, this one is quite generous, offering 10,000 words per month to a single user. Writesonic is currently plugging its unlimited plan as being 20% cheaper than ChatGPT Plus at just $16 a month (charges annually), so it could be a good time for businesses on a budget to sign up. 
Copysmith
Copysmith is one of the few AI content generators that's primarily aimed at ecommerce retailers. Its homepage immediately demonstrates the type of product descriptions you can create, with a furniture example that looks engaging and well-written. Copysmith also offers a money-back guarantee if product descriptions don't bring positive results. 
Copysmith requires an investment of at least $228 for their starter plan. This provides access to generative AI for product descriptions, meta descriptions and tags, and FAQs to help drive traffic to your website. There is no limit to how much content you can generate for this price, and the plan also offers some basic analytics so you can understand the performance of your content. 
However, for bulk product descriptions to scale up your content output, you'd need to invest in the Pro plan at $490 a year. This allows up to five users to access the platform and also includes a handy product catalog manager.
A really popular feature of this site is the ability to rewrite old or underperforming product descriptions to a better standard. You can learn more about Copysmith in our review of the best AI content creation tools.
Scripted
Scripted is a one-stop platform for all types of content generation and proudly uses AI to make life easier for both businesses and copywriters. It's the first platform to offer a combination of AI and human-written content and utilizes AI throughout its platform for efficiency and better results.
In addition to providing access to subject matter expert (SME) writers via its paid plans, Scripted is now offering a free-of-charge, AI-generated content plan.
By signing up for free, businesses gain access to:
A GPT-4 powered chatbot
Email sequences
Social media posts
Infographic text
Product descriptions
Companies can utilize Scripted as an easy-to-use free product description generator. Because Scripted is an established content resource for businesses all over the world, users also gain access to high-quality customer support at no extra cost. There's also the flexibility to upgrade to one of the paid plans if you need longer-form content or a human writer to help you optimize your content marketing strategy. 
Increasing Your Content Output is Essential for Ecommerce Success
AI could be the key to success in the ecommerce arena. Forbes suggests that over one-fifth of all sales will occur online this year, so optimizing your content is essential to give you an edge over your competition. SEO product descriptions help drive organic website traffic while positioning your brand as a trusted entity via high-quality, well-written writing.
Scripted already uses AI for efficiency and reliability. The SmartMatch function helps deliver jobs to writers with the right qualifications to create high-quality content fast. Smart Content Briefs use AI to generate a guide or outline that ensures writers understand your business content needs perfectly. Keyword research tools take the time and tedium out of deciding what words and phrases your content needs to reach your desired target audience. There's also a built-in plagiarism checker for peace of mind.
Now that Scripted is providing AI-generated content for free, its users have more choice than ever over how their content gets produced. They can pay competitive rates for guaranteed human-written blogs, whitepapers, or even video scripts. All this content comes with a 100% satisfaction guarantee. 
Alternatively, businesses can take advantage of the new, free AI-only offering that allows the speedy generation of content that can genuinely optimize the effectiveness of new or existing product web pages and online stores. There's no need to invest in multiple platforms to handle different types of content, which saves businesses so much time and money.
Statistics suggest 79% of shoppers buy online every month. Take advantage of that readily available audience with AI tools that generate SEO product descriptions at scale. Want to create your own AI ecommerce content? Get started with Scripted for free today.