Writesonic Review: Features, Pricing, Benefits, and More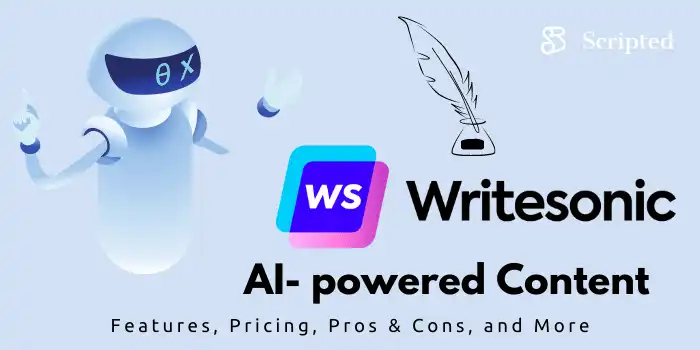 The push to implement AI for better content marketing has been in the works for some time. Tools like Grammarly are continuously tweaked to better replicate a brand's tone, and the platform recently raised $200M to expand its AI suggestion platform.
In late 2021, Mailchimp launched its Content Optimizer, an AI-driven tool designed to improve email performance. "If a software can understand what story marketing content is telling, it can then correlate features with marketing outcomes and add data to much of the creative process," Mailchimp's Product Manager explained. Now, AI enthusiasts are pushing for advancements in AI content generation, and the implications for the average business owner are huge. 
Many entrepreneurs and marketers are looking for ways to get their content written quickly and efficiently without doing it themselves. Whether it's blog content, social media posts, sales copy, or product descriptions, most companies now need some sort of content on a regular basis.
AI's writing capabilities have been improving at an impressive rate, and it's no surprise that many businesses want to test out the best deep learning software for AI blog content. There are several competing platforms that have emerged, including Jasper, Wordtune, Article Forge, and Anyword.
Writesonic is one such platform that we'll review today. In this Writesonic review, we'll explore the features, pricing, pros, and cons of this versatile writing software so you can decide if it's right for your needs.
How Do AI Content Writing Assistants Work?
Writing software is designed to analyze existing blogs and websites to pull pertinent ideas from the web (without plagiarizing). AI looks at words and phrases that are commonly used on other websites so it can make some reasonable assumptions about what it should write. Using these pieces of information as data points for its machine learning model, it formulates enough of an understanding of a topic to create content. The user only needs to enter some basic text and answer a few questions to get the ball rolling.
 The idea behind AI content writers is to save you time and streamline the writing process so that minimal work is involved. For time-strapped companies and especially busy solopreneurs, having AI writing software is like having a full-time writer on staff any time they're needed. Of course, the question on everyone's mind is: Do these systems actually produce the same quality of work as a human writer would?
Writesonic Review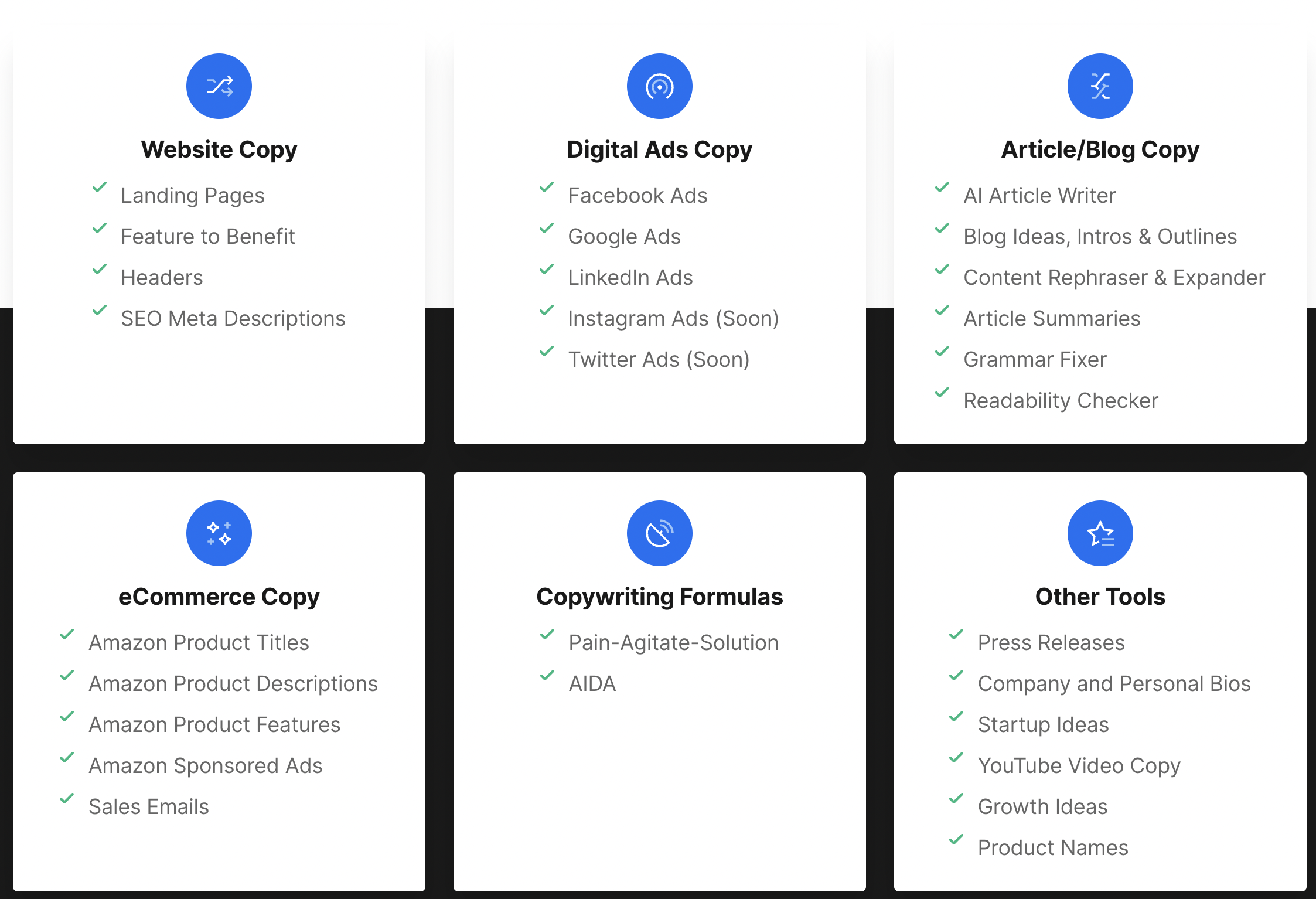 Launched in 2021, Writesonic's website explains that its AI-driven tool can:
Write articles and blog posts

Draft emails

Draft marketing copy

Summarize blog posts

Rephrase old content

Fix grammar mistakes
As a marketer or business owner, you know how difficult it is to generate new content consistently. Faced with the challenge of coming up with new ideas all the time, even brilliant creators get burned out. Writesonic's founder positions the platform as a solution to this problem, offering relevant content to compose blog posts and articles, along with other marketing tools such as snippets for social media sites and online stores.
 Overall, the tool appears to be relatively simple and accessible to users with any level of tech skills. In addition, they offer a free trial period for users to test the waters and see if the content quality is up to their standards.
How Does It Work?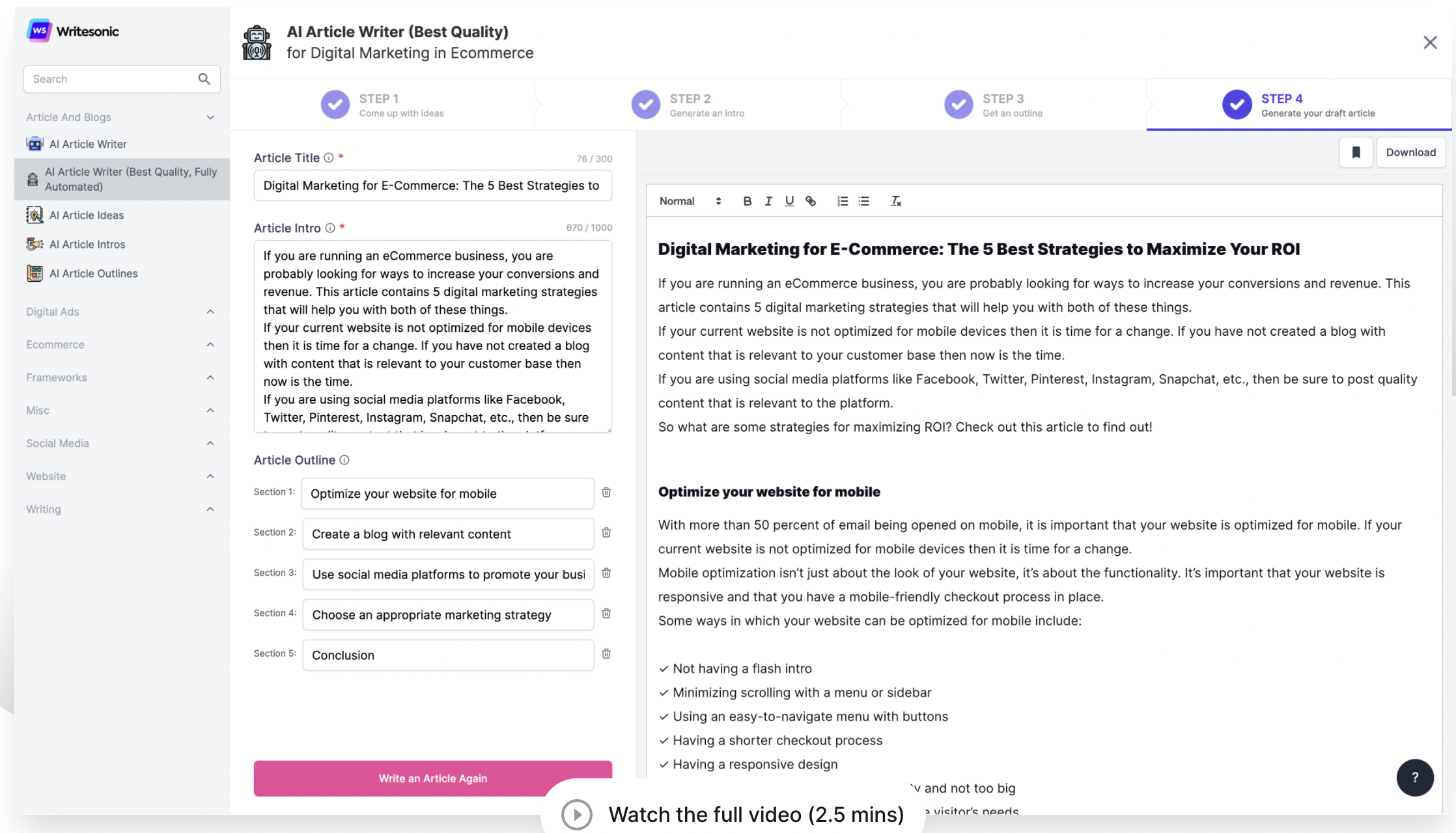 Writesonic uses deep learning and AI to write content for companies in a number of different industries. Users can customize their experience by selecting what industry they want AI to write about and which specific categories to focus on. When it comes to the type of content, the sky is the limit – blogs, e-books, white papers, sales letters, case studies, and more can be generated. After setting up your account, you will have full access to their online platform.
Writesonic has implemented neural networks to help power their online writing software, allowing seamless communication with the platform using their website chat or support tickets. The neural network mimics how a human would write an essay. These neural networks are powered by some of the most sophisticated deep learning applications available. This means they can generate unique copy from the user's guidance in real-time without many errors.
The platform is extremely user-friendly. The first thing to do once you've logged in is to set up a Project. Add a title, select your template and theme, then add your keyword phrases and hit the big Generate button in the top left corner of the window. From there, you can use the space to decide how you want each segment of your written content to flow from one paragraph to another. For example, a user can go from summarizing important points from their research report (or interview transcript) in one section, then dig into recent breakthroughs in their industry in the next section.
You can click on Add Content, fill out the Title, Description, and Keyword boxes with the appropriate information, and hit Publish when done. Voila! That's all it takes to generate long-form AI content.
If you don't like the tone of the content that is produced, you can use the Content Rephraser and request a different tone, such as professional, dramatic, or persuasive. Whether or not Writesonic can replace a human writer is up to the individual to decide. It also largely depends on the topic. For example, writing a complex technology tutorial probably won't be possible with an AI tool. It may be necessary to hire a professional writer with a tech background. On the other hand, a simple blog post about the importance of marketing will be a breeze for AI to generate.
How Much Does Writesonic Cost?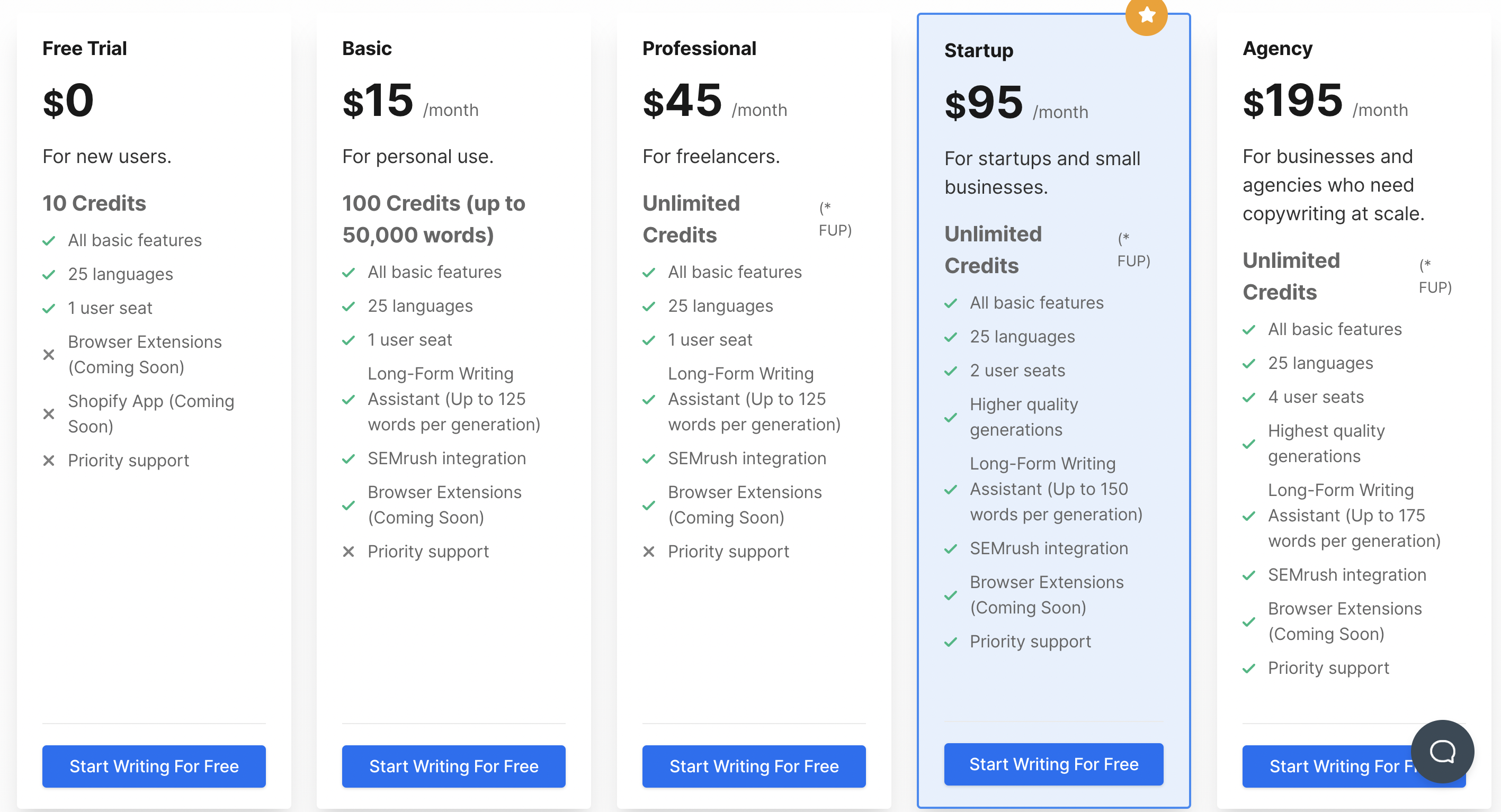 One of the nice things about Writesonic is that it offers several payment plans: $15, $45, $95, and $195. These tiers are called basic, professional, startup, and agency, respectively. The free trial provides 10 credits where users can play around with all features from the basic plan and multiple languages. 
As far as payment frequency, the platform offers two options: monthly or yearly billing. Pay-as-you-go is perfect for users who don't post often and want to buy credits when they need them. These credits don't automatically renew, so it's best to keep a tab on how many you have left. A yearly subscription works well for people who post regularly, especially if they have a steady stream of content requirements year-round. This will save users time because the credits reset every month. (Credits are what allow you to generate content. Each type of content, like blogs and product descriptions, takes a certain portion of credits from the user). Once the content is generated, you own the rights and can use it anytime and anywhere on the internet. 
Pros and Cons of Writesonic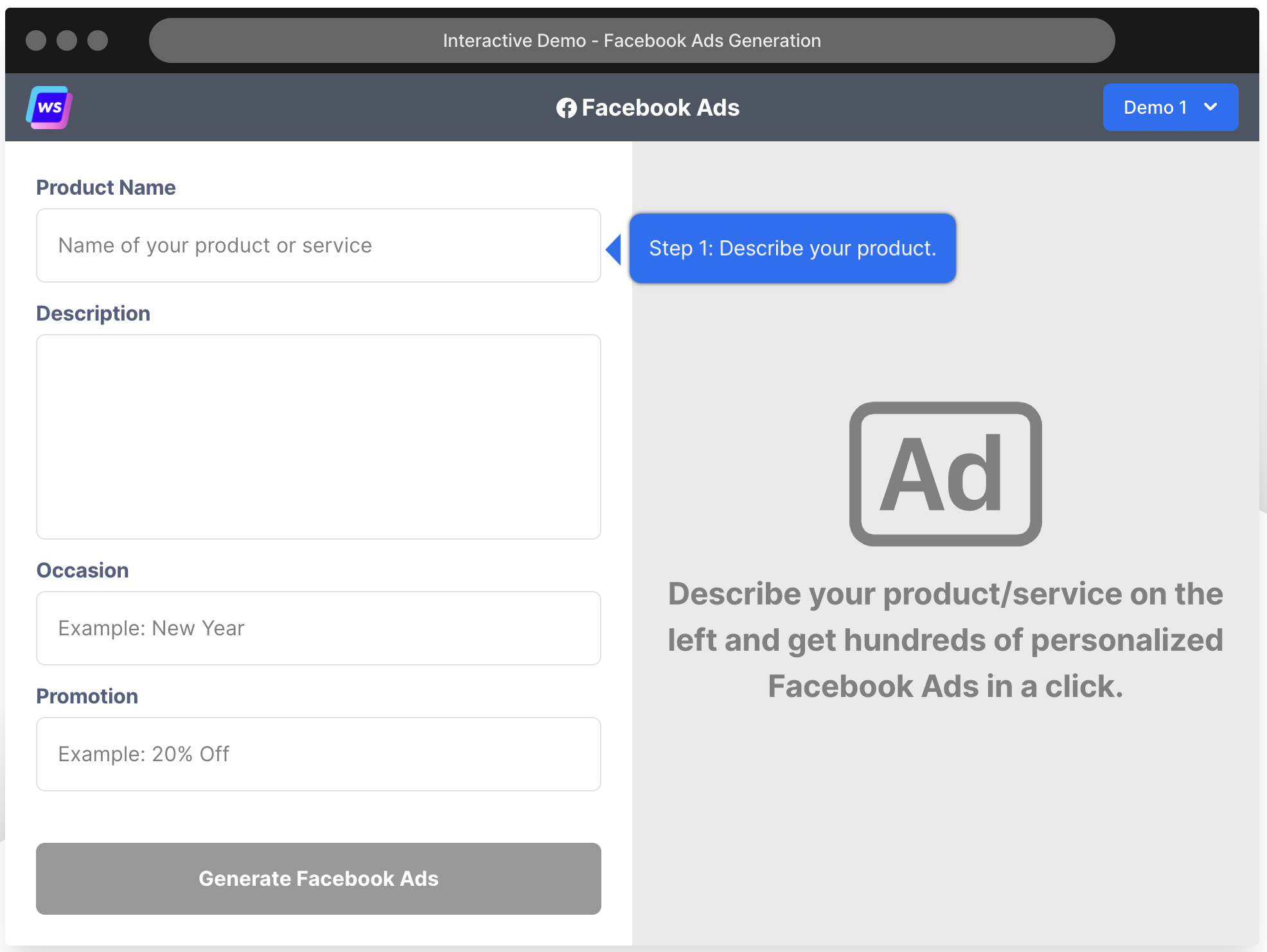 The allure of platforms like Writesonic is that they can write about virtually any basic topic, as long as the user knows how to feed the generator clear information. This can save you countless hours on research, writing, editing, and trying to get your brand's tone right. Some other perks of Writesonic include integration with SEMrush, priority support for the two highest tiers, and a long-form writing assistant, which can be used for up to 125 words per generation. 
From product descriptions to blogs, landing pages, whitepapers, marketing copy, and everything in between, Writesonic is certainly diverse. Assuming you are generating great content, the platform allows you to work faster and create more content with less effort and research – an absolute dream for busy and burned-out content marketers.
Another possible upside to Writesonic is that you can paste your existing copy and see if the platform can improve it. Anything from marketing copy to product descriptions, blogs, and landing pages is said to be improved with professional-grade texts. Again, there is no guarantee that AI will be able to improve every piece of content, especially if it's already well written, so it's a bit of a gamble each time. 
One of the most obvious downsides to using AI content writing software is the price. If you can generate better content in-house, you can save that money instead of spending it each month. This is why the free trial is valuable: you can test it out and see for yourself. You'll need to fact-check the content and proofread it to make sure it's usable.  
Another possible downside of Writesonic is that learning the rules and counting credits can be a bit tedious for someone who just wants to get their content and go. If you are new to the platform and generate lots of poor content by accident, this still counts as credits used. Unlike the process of working with a real writer, you can't ask for detailed edits or nuance in the copy. What you see is what you get, so if the content isn't up to your standards or sounds too robotic, there's nothing you can do but start over again and use more credits. 
Reviewers from around the web zeroed in on some of the specific features of Writesonic, saying:
"The division of topics and dedicated tools make it an excellent tool. The Italian version is good." source
 "I have tested four different AI writing tools and found Writesonic to be the best amongst all. The output is both plagiarism-free and easy to read and understand." source
"I chose to purchase this because of my tight budget but it is a loss. Too expensive and comes with limited features." source
 "I was struggling for weeks to get my product descriptions done for my Shopify store." source
Conclusion
While AI-generated content is still in its infancy, tools like Writersonic are helping busy marketers achieve their content marketing goals. Writers are no longer needed for every aspect of content creation. Software and automation can produce content at a faster rate and at a lower cost than ever before.
As consumers demand more quality content from businesses online, AI makes it easier to create better value with fewer resources. The only gray area is whether AI can measure up to the quality standards it needs to. Using natural language generation (NLG) technology, an automated writing platform can churn out thousands of words on multiple topics per day while saving content creators time, money, and frustration. We hope you enjoyed this Writesonic review!
Get Help Writing for Your Business
While AI writing software can be a useful solution for content marketers and business owners, there is nothing like a team of real humans helping you craft a meaningful and effective content strategy. AI is more accurate than it's ever been, but it still has a long way to go. 
Professional writers create stories that place a brand's ideal customer in the driver's seat, showing them how to solve their problems and make their lives better with your product or service. By humanizing your brand with stories about real people, you show customers that you understand their concerns and needs, increasing the chances they'll choose your business over competitors. Whether you have an existing website, an upcoming product launch, or are just getting started as a business owner, hiring the right copywriter can help you powerfully position your brand in the minds of your potential customers.
A freelance writer is much more than just a skilled wordsmith. Quality writers understand how to connect you with your customers and foster long-term relationships. Scripted's hundreds of vetted writers specialize in many industries and have worked with many business types. Rather than hiring an anonymous freelancer for one-off writing projects, you can work with experienced writers who will take the time to understand your brand, complete revisions, and give your content the extra attention it needs. Have professional content writers pitch ideas for your next project and only pay for the content you love.
Ready to try it out? Sign up for a free trial with Scripted today.