Writesonic Review: Features, Pricing, Benefits, and More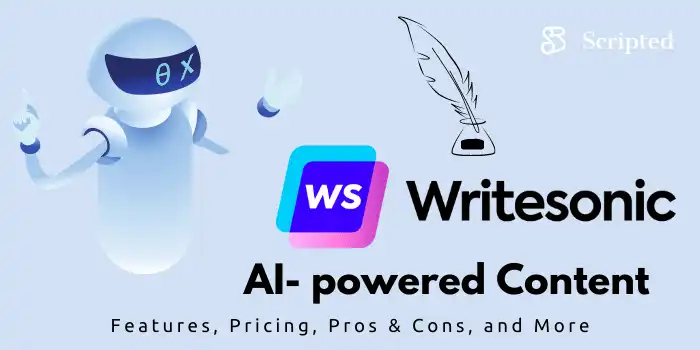 Since the explosion of OpenAI's ChatGPT and other generative AI use cases in businesses, competitors have sprung up in the machine learning industry to diversify the landscape of AI-powered chatbots and content generators. While ChatGPT was the first, and still the biggest, name in artificial intelligence Generative Pre-Trained Transformers (the GPT in ChatGPT), other large language model (LLM) bots and content generation tools incorporate similar technology to create conversational experiences for users to generate a wide variety of content.
Writesonic was founded in late 2020 to help freelancers and entrepreneurs create high-converting marketing copy quickly for landing pages, powered originally on OpenAI's GPT-3. Over the past three years, the company has grown significantly, expanding its feature and product offerings to empower companies, writers, and other professionals to pair their creativity with the power of AI content creation by using tools that allow for image generation and content tailored to a brand's unique voice and needs.
Over the past three years, Writesonic has developed various content creation tools and an AI-powered chatbot called Chatsonic (similar to Chat-GPT). While Writesonic's tool suite is large and its claims are pretty impressive (claims that far outpace those of ChatGPT), can it deliver on everything it claims to be capable of? And are you better off with Writesonic, or an approach that has human intervention baked in?
An Overview of Writesonic's Products and Features
Writesonic offers a variety of AI-powered writing tools, templates, API integrations and chatbots:
Writesonic Products and Features
The Writesonic suite of products specifically for content creation include:
A large library of content generation templates, including templates for articles and blogs, ads and marketing copy, product descriptions, social media content and website copy, among other categories. These templates prompt their users for a few topic fields and generate large amounts of researched, tailored copy that freelancers and organizations can use for a wide variety of needs. Use of the short form versions of these tools are free, and longer output is available on the paid tiers.

The ability to tailor these AI-generated copy outputs to a specific brand voice by uploading sample brand voice content.

A guarantee that all output is plagiarism-free (run through their plagiarism checker, though you should still be mindful to run independent plagiarism checks to avoid any copyright infringement).

Tools to create your own Chatbot personality avatars using the company's chatbot builder, called Botsonic.

Tools to paraphrase words, summarize articles, or rewrite or expand on existing copy. Conversely, Writesonic can also shorten copy and make a message more concise.

APIs and extensions to integrate with other marketing and business software (for example, Zapier, Wordpress and Surfer), and a promise that a wider range of plugins is coming soon.
In addition to its templated tools for copy generation, Writesonic also created Chatsonic, a chatbot that bills itself as a conversational AI like ChatGPT, powered by GPT-4 (on its paid tier, GPT-3.5 on its free tier) capabilities. Chatsonic can:
Chat with its users, responding to questions and prompts with trending and factual content. Similar to other AI chatbots, Chatsonic is capable of processing English (and other) language questions and responding with written, detailed answers on current events and trending topics. 

Generate imagery based on prompts, via the Chatsonic integration with Photosonic, the company's AI image generator. You can use this digital AI art for social media and marketing campaigns.

Respond from different personality "avatars", or different types of personalities for whichever use case you need, ranging from relationship coach to math teacher. You can even create your own bot personalities using Botsonic.

Integrate with your browser via a Chrome extension, to allow you to prompt for content while browsing or get content suggestions from anywhere within your Google Chrome browser tabs.

Unlike other AI content generation tools, Chatsonic also allows you to speak prompts directly into the interface, similar to Siri, Alexa or Google Assistant.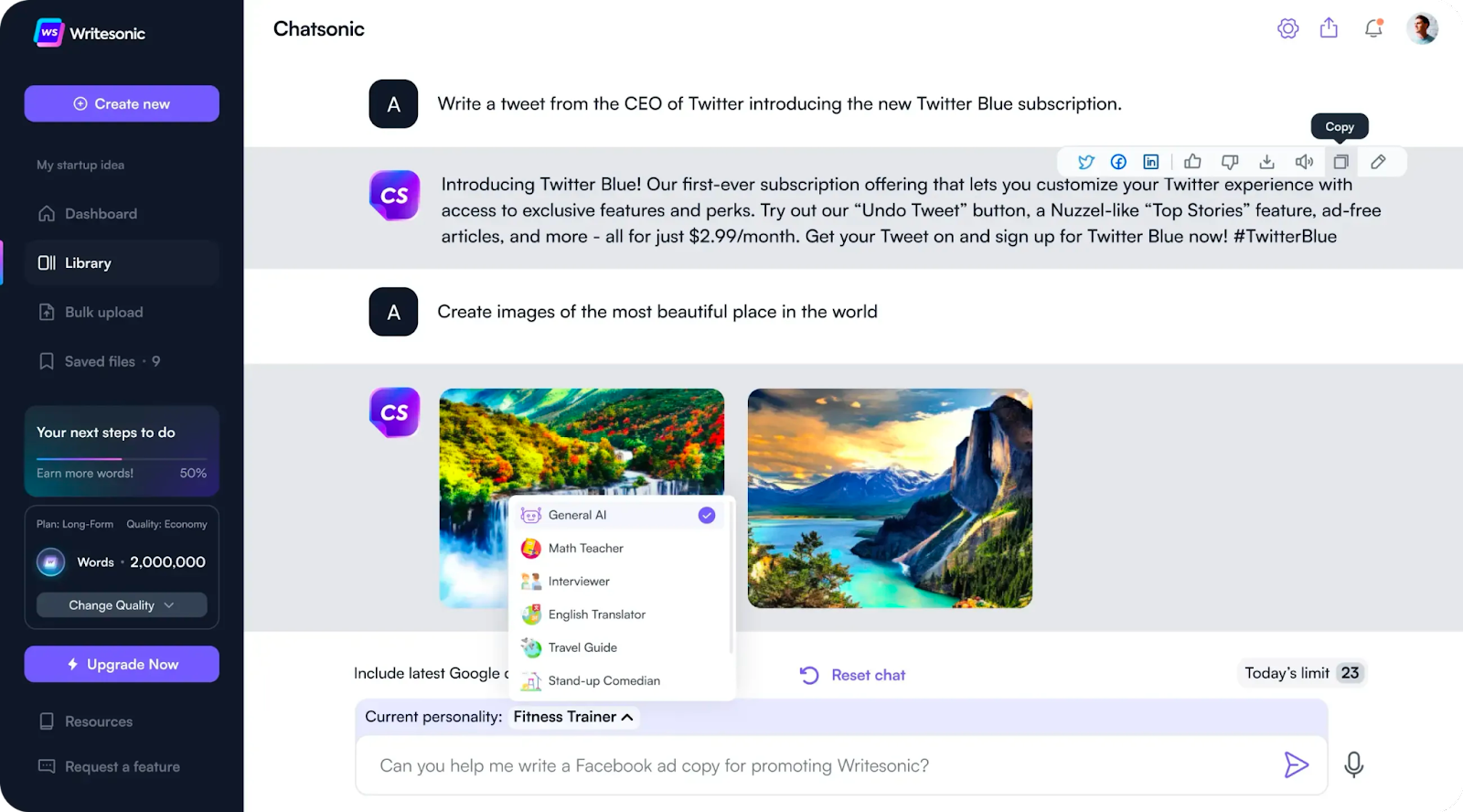 A view of the Chatsonic conversational interface, showing the ability to select the AI's personality
Ways to use Writesonic's tools
Copywriters can use either the Writesonic templated copy generation tools or Chatsonic for content creation. For example, let's say you wanted a blog post about opening a Christmas tree farm. You could use the Writesonic library template for "AI Article Writer 5.0". You would search for their topic, select up to 5 existing articles for the AI to reference, then fill out a few other fields for tone of voice, quality of type, language, and SEO keywords, before generating your article.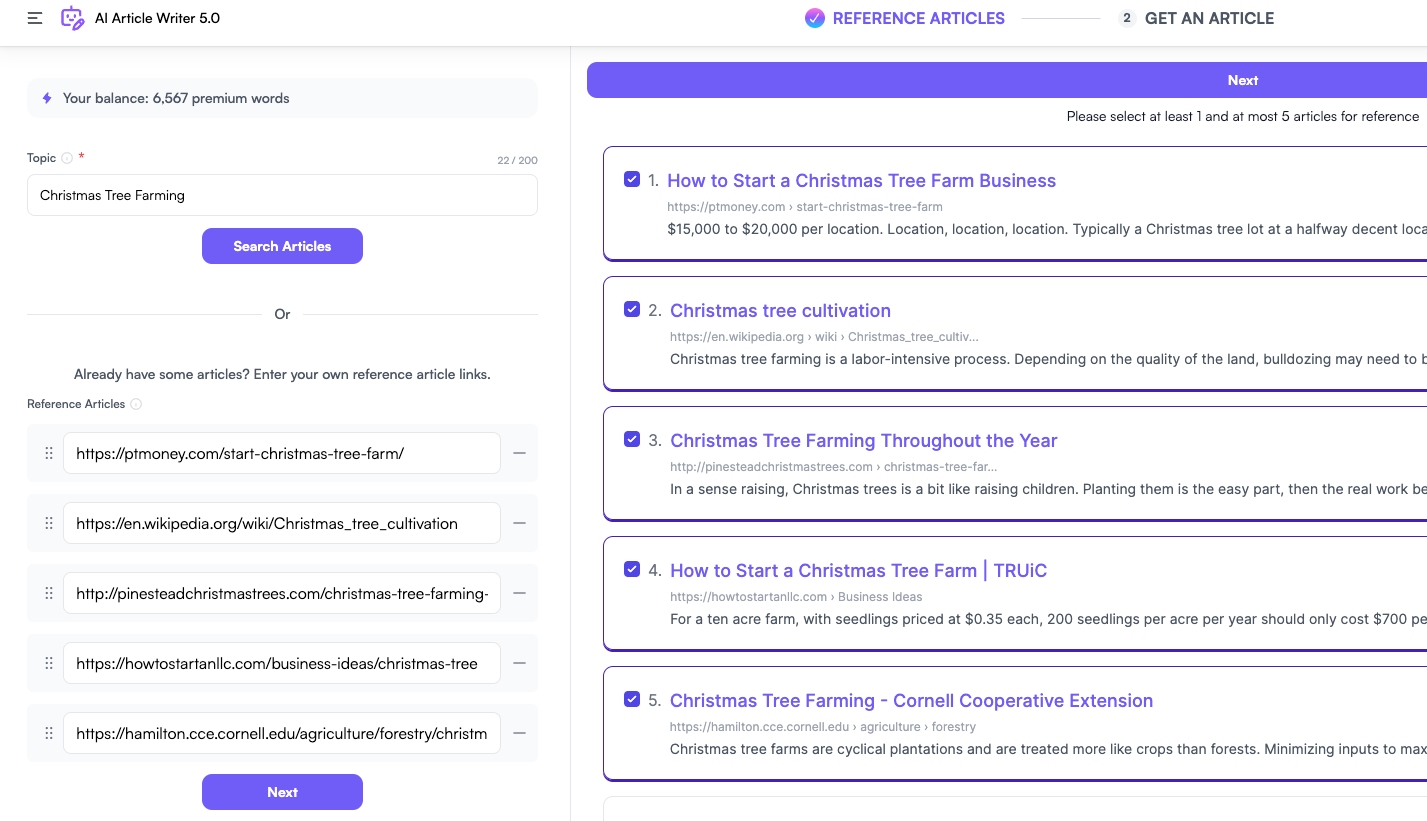 The Writesonic Article Generation Interface
You can then edit the generated output with Writesonic's Sonic Editor (a word processor similar to Google Docs).
You could also use Chatsonic to generate a similar article by inputting the same requirements as text (with or without the reference articles). By using the Chatsonic interface, you can converse back-and-forth with the bot to refine requirements, but may miss some ideal parameters by not using the Writesonic templates.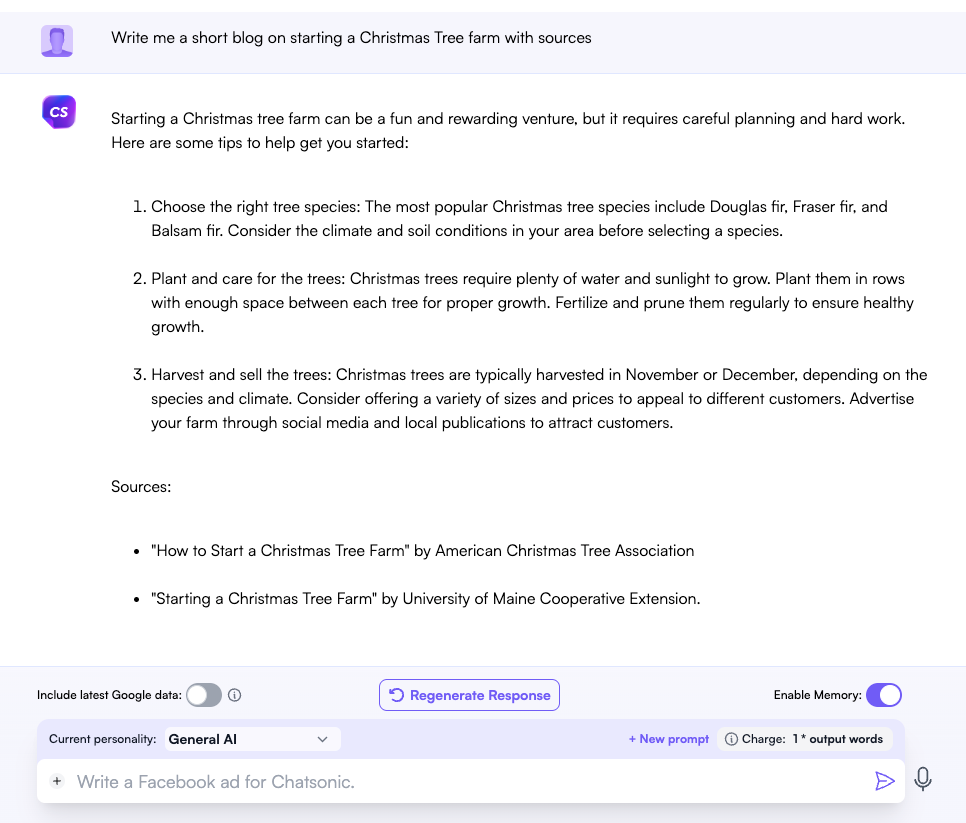 Generating a blog post using the Chatsonic chatbot interface
Both of these tools are powerful for generating copy, and you can use either depending on how much structure you want to have in your input parameters to generate your ideal output.
How Writesonic and Chatsonic use AI
Like other chatbots and content generation platforms, Writesonic and Chatsonic uses natural language processing (NLP) algorithms to read the user's written or spoken prompts, understand their context and intent, and return a unique and creative response based on previously read data from across the Internet. Writesonic boasts that their tools are trained on over 10% of the entire content of the Internet. Writesonic's tools, including Chatsonic, are based on GPT-3, GPT-3.5 and GPT-4, which are deep learning neural network ML models developed by Open AI. Chatsonic also uses Stable Diffusion and DALL-E, powerful text-to-image generation models, to create its prompted images. Writesonic pairs these tools with the power of Google Search for real-time information. 
Pros of Writesonic and Chatsonic
Writesonic's tools are created specifically with content generation and creators in mind, and thus are tailored for that use case (compared to Chat-GPT, which is more a generalist tool without content generation-specific prompts).

When compared to ChatGPT, Chatsonic's knowledge is more up-to-date with trending and factual content. ChatGPT is only trained on data as recent as September 2021, whereas Chatsonic is powered by Google Search, with real-time, up-to-date answers and content.

Unlike other AI content generators, Chatsonic can provide the sources consulted in case you want to look for additional information or vet the quality of the information behind a response.

Chatsonic and Writesonic tools all have a free trial period, free to try without inputting a credit card. The Chatsonic bot can reply to a user's prompts and Writesonic can return templated AI-generated content, up to 10,000 words across all tools on a free trial. This free trial word limit is higher than most competitors, and will allow you to get a good sense of whether or not the tools will suit your needs.

Writesonic and Chatsonic tools support up to 24 languages, and Writesonic invites users to reach out if they have additional language needs.

The content generation tools offered by Writesonic address a wider range of needs than any other copy generation suite, including articles, blog posts, ecommerce descriptions, ads and other marketing tools, website and email copy, personal biographies, press releases, listicles, real estate listings, and other descriptions, each of these coming with a short form for a user to fill out to allow Writesonic to customize the copy to their needs, brand voice, and reference articles.

Both Chatsonic and the rest of the Writesonic tools have an intuitive, easy-to-use user interface, linking easily to the prompts library, the user's historical prompts, and the Writesonic Discord server, among other tools.

Finally, the user retains ownership of all of the copy and imagery generated in their account, and can use the copy and images however they'd like without restrictions.
Cons of Writesonic and Chatsonic
While the listed features for Writesonic and Chatsonic are rather impressive, in testing its abilities, Scripted found some inconsistencies and bugs in the responses provided. For example, at the time of this article's publication, the imagery generation feature was not working consistently, occasionally returning vague error messages.

Though rare, in testing, Scripted encountered unexpected, unexplained errors for basic requests
Similar to other AI interfaces and chatbots, the responses and content are only as good as the underlying information that Chatsonic is trained on. During some test questions, some of the answers returned appeared incorrect, and the underlying sources linked in the response appeared to be low-quality spam webpages. Additionally, some of the more straight-forward image requests returned some unexpected, inconsistent results. Users should be mindful to vet the quality of information and images returned.

While the cheapest paid tier of Writesonic is less expensive than Jasper, copy.ai or ChatGPT, the price increases quickly if you increase the number of desired words returned monthly or user seats, a scale that does not exist on some other competitors.

Writesonic, like other AI-generated content marketing companies, does not offer the option to include human review and revision as part of their offerings. Other companies, like Scripted, offer you the benefits of AI while also including human quality and subject matter expertise in a one-stop-shop.
Writesonic Pricing
Writesonic provides a comparatively generous free quota: 10,000 words across the Writesonic tools and the Chatsonic bot, with access to all AI-generated content type templates, integration with other tools, all 24 supported languages and the Botsonic chatbot builder.
Beyond the free tier, you can select between two paid plans: Pro and Enterprise. The paid tiers are paid either monthly or annually; an annual payment includes a 33% discount off of the monthly price. You can select within the Pro tier how many words and seats you want to have on the account. Note that the words limitation only includes the number of words returned by the tools, not the number of words input by users. The Pro plans range from 100,000 words monthly ($12.67/month for 1 user) to 6 million words monthly ($666/month for 15 users). You can select from a variety of options in between these two ends.
The most comprehensive paid plan offered is the Enterprise tier, designed for full teams and businesses. Companies will need to contact Writesonic for a custom package and pricing depending on the company's needs. Both of the paid tiers include priority support, but the Enterprise tier also includes custom training sessions, premium support and a dedicated account manager.
Each of the two tiers includes two different quality options for the copy and answers returned. The less expensive quality option (called the "Premium"  quality) runs on GPT-3.5, and the higher quality option (called the "Superior" quality option) runs on GPT-4 and GPT-4 32K. The Superior quality option boasts enhanced intelligence, improved understanding of the user's prompts and better contextualized responses, longer text input and output, and better non-English comprehension. For either of the paid plans, you can switch in between the Premium and Superior qualities whenever desired, but you should note that the Superior quality counts as 3x the number of words returned as the Premium Quality (essentially costing 3x as much money for the higher quality).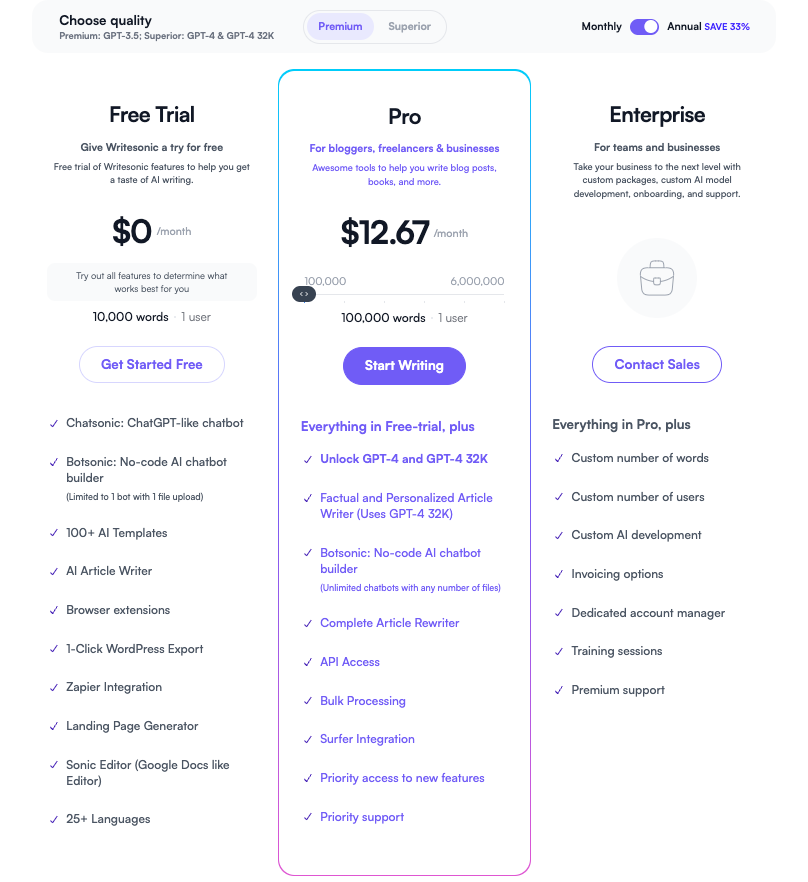 Writesonic offers free plans up to 10,000 words, and a variety of paid options
Writesonic
Support
Writesonic provides a wide variety of self-serve training and support materials for users on its free tier:
For paid users, there are also additional non-self-serve support options. Users of the Pro tier have access to priority support, and users of the Enterprise tier have access to tailored training sessions, a dedicated account manager, and premium support. The website does not detail the difference between priority and premium support.
Writesonic
Reviews
On the software review site G2, there are reviews for both Writesonic's AI writing platform tools, as well as for the Chatsonic chatbot.
Writesonic's tool suite earns a 4.5 out of 5 stars, over almost 1,800 reviews. A few review highlights include:  
ChatSonic 100% deserves a 5 star review. The templates they have are ridiculous, there is one for pretty much anything you can think of and the fact the chat uses web browsing better than ChatGPT does itself is quite funny. must buy especially if you work in a team like us as it allows us to collaborate. Plus you can rain [sic] your own model in a super easy-to-understand way (we do this outside of Chatsonic but the fact they have made it so easy within it will help a lot of people). 

- Mike C, May 2023
SonicWrite [sic] is about convenience and confidence in the correct answers, because after spending 20k words I came across only one wrong answer, but even that was because I didn't ask the right question. in SonicChat [sic], you can turn on the Enable Memory function, because of which you can not paint each question from the beginning, but briefly, as if in a conversation, ask questions on one topic. 

- Вадим Евгеньевич, May 2023
Title: Effective and useful for me as an articlewriter on LinkedIn

I've been using the Writesonic extension for Chrome for a few weeks now, and I'm thoroughly impressed with its functionality and ease of use. As a writer, I'm always on the lookout for tools that can help me generate ideas, improve my writing, and save time. Writesonic does all of these things and more. The extension integrates seamlessly with my browser, allowing me to access its features with just a few clicks. I particularly appreciate the ability to generate new ideas for articles and blog posts using the AI-powered content idea generator. The writing assistant feature is also incredibly helpful, providing suggestions for improving my writing and catching any grammar or spelling errors. 

- Stig-Arne K, May 2023
The reviews of the Chatsonic product alone are smaller in number, earning only 3 out of 5 stars across just 5 reviews. Similar to the pros and cons already listed, the reviews highlight the benefits of the image generation and sources cited, but lament the accuracy of the content and images returned.
-it can say news in simple and interseting [sic] manner

-it can generate images

-fast and accurate responses compared to chatgpt

-references are added at the end of the prompt

-cant be as accurate as chatgpt

-limited to its ability and limited prompts only

-paid after certain word limit

-generates irrelavent [sic] images sometimes compared to midjourney

- Sumanth Srini K, May 2023
Can Writesonic replace a human content writer?
There are a few elements you should consider when weighing weather to fully replace a human content writer with Writesonic, or a similar company:
Ideation: There are aspects of Writesonic's suite that can better empower a human content writer and help them save time in the writing process, but ultimately the tools will still rely on a human content writer to ideate the content and provide the necessary inputs and parameters into the tools.

Accuracy and quality: All AI-powered content generation tools are only as good as the sources they've trained on. Writesonic users will still need to check the quality and factual accuracy of the tool's returned content. In doing research for this article, Chatsonic returned a few low-quality answers and cited low-quality sources, but those were overall less common than accurate answers. Writers using Writesonic (or any AI tools) should do their due diligence in fact-checking before publishing any AI-researched content. According to a  recent article in Forbes, AI-generated copy without any human review will contribute to a self-perpetuating massive spread of disinformation, propaganda, clickbait, biased data, and copyright infringement.

Brand voice: Writesonic's tools are able to adopt a specific tone or account for a brand's voice by studying the brand's existing content to emulate the brand's values, messaging and personality. However, for more unique or more colloquial brand voices, you may want to double check the tool's output for consistency with the targeted brand voice. You should be especially aware if the brand's voice relies on slang or other quickly-evolving style or phrasing. Without human review and correction, brands would risk embarrassing, meme-able moments of clearly trying (and failing) to connect with younger audiences with colloquialisms.
While all AI-powered content generation still needs a human reviewer, researcher and writer to monitor for the aspects above, Writesonic can help expedite the writing process by generating new ideas, reducing writers block, and generating copy quickly. However, if you are looking for a one-stop-shop for AI-driven content creation needs, you may want to look into companies who create AI-generated content and include human input and review as part of their core offerings.
Where do we go from here?
Content marketing and copywriting are quickly changing industries with the advent of AI-driven writing tools, and these tools have a strong role to play in current trends.  In the coming years, it's likely that we will see AI-driven content creation in interactive content (such as polls, quizzes) and video content, both of which have grown significantly in importance with the rise of social media in content marketing. AI-driven text to speech has already started to transform the use of audio and video in business operations and marketing (for example, training videos and video advertising).
AI will also start to play a bigger role in influencer marketing, as machine learning capabilities can refine marketing copy to emulate the voice of a specific influencer, reducing the amount of time needed on influencer marketing copy or videos.
How Scripted Can Help
While Writesonic's tools are the best on the market for content creators and most tailored towards copywriting use cases, most available tools (Writesonic's included) still require some human input, oversight, and review to bring the output to the type of top-tier quality that copywriting clients and readers expect.
Readers are developing a more discerning eye for computer-generated text without any human revision. These tools can expedite the generation of lots of copy in bulk, and reserve human review time for more in-depth research or editing and revision. However, human reviewers and researchers are still needed to mitigate the spread of clickbait and misinformation propagated and perpetuated by ML models that train on inaccurate data. Writesonic does not offer the option to include human input in its offerings; Scripted does.
Despite the power of Writesonic's toolsuite, its inevitable reliance on some human intervention reduces its effectiveness for your business. Scripted offers similar advantages with its AI-generated content, with the human element baked in. Scripted pairs the power of AI with its human subject matter experts to produce high-quality content that stands out. Why use two separate processes and platforms to create your content and also have the necessary human review when you could come to Scripted for an all-in-one solution?
Scripted is an AI-powered marketplace that can pair the capabilities of these powerful AI content generation tools with expert freelance writers and editors to deliver high-quality, effective content at scale. Scripted writers use our proprietary AI-powered tool Scout to enhance content creation. Scripted's AI-powered content tools can optimize your content strategy, generate headline ideas, do keyword research, optimize your content briefs, and analyze your performance, all while working with a certified subject matter expert to conduct all of the necessary human research, revision, and quality control that we have discussed so far. 
Scripted enlists thousands of experienced writers and researchers to mitigate some of the cons of AI-generated copy discussed above. Scripted's SmartMatch writer system will pair your business's needs with an appropriate, seasoned writer who can pair the power of AI with research and industry expertise at affordable prices. Want to see what Scripted can do for your content marketing needs? Sign up for a free trial today.