Why a Freelance Writer? 5 Reasons Your Enterprise Should Use One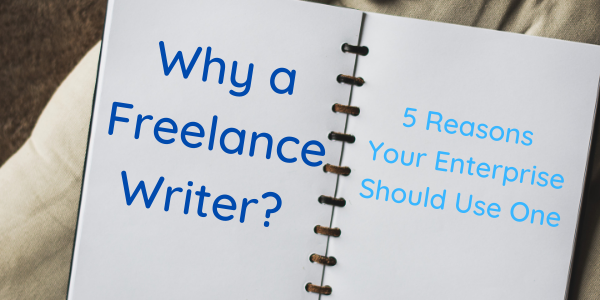 Why hire a freelance writer for your organization? In a world where content is king—and organizations everywhere need to make sure they have a robust, continually-productive content schedule—the talents of a freelance writer can offer a potent edge to companies everywhere. It's one of the best ways to keep up with the rest of the industry and to make sure your marketing efforts are full speed ahead.
So, why do you need the writing and communications skills of a freelance writer for your organization? In this blog post, we'll break down the five reasons why adding a freelance writer to your enterprise's roster could make all of the difference in your marketplace.
Reason #1: It's a way to save you plenty of payroll money. 

If you're in charge of a growing organization, you know just how thin the margins for success are. You're often operating on the razor's edge of profitability (if at all) as you try to bring in even more business. With those very thin margins, the last thing you need is to add the hefty salary of a full-time content creator to your payroll. Those few extra dollars could be deadly for your bottom line!
A better choice for your payroll? Try bringing in the services of a talented freelance writer, like the ones from Scripted. With a freelance writer, you can hire them for content as-needed and know exactly what the cost is upfront. That's an easy way to maintain your payroll flexibility and grow for the future while making sure you have the content you need to expand. After all, why waste money paying for an employee that you might only need for a certain chunk of time? A freelance writer solves all of those problems.
Reason #2: It saves you a ton of valuable time. 
You know what takes a lot of time? Content creation. Not only do you have to sit down, think out a content plan, and think out the best ways to create and distribute that content—but then, you actually have to sit down, write, and edit all of the content that you need. That's a process that takes up a ton of time—especially for people that may not be natural writers or content creators.
Getting some nightmares thinking about how much time creating content will take up? Outsourcing your content creation from your desk to the minds of freelance writers—talented writers that can churn out the content you need in no time at all—is one of the best things you can do to free up all of that valuable time you need to succeed. Take the time-suck of content creation off your plate, turn it over to the professionals, and focus on some of the other things that can grow your business—everything from client outreach and new client development to product oversight and all of the "little things" that need to get done. Get a freelance writer, and get more done overall. 
Reason #3: Freelance writers benefit your SEO outreach. 
As we said before, content is king. However, that phrase deserves to be modified a little. It really should be "SEO content is king." You can put as many words as you'd like down on your website, but if it doesn't have the keywords that count—the ones that pop off in search engines and other sites on the web—you will cease to generate organic traffic.
Integrating the right SEO practices into your content is an art that professional freelance writers excel at. With the SEO skills of a freelance writer, you'll get the talent that integrates all of those keywords you need into the text with just the right touch—threading the line between having what should be in the text and with what people are actually interested in reading. That fine balance is difficult for amateurs to achieve—but it's something that freelance writing professionals everywhere excel at. When it comes to your keyword and SEO needs, leave the bulk of this specialized work for the professionals.
Reason #4: Freelance writers provide the variety of content you need. 
As forward-thinking organizations know, there's more than one type of content out there. To ensure success online with your content strategy, you need the "full slate" of text to make a difference. That means creating everything from engaging blog posts and in-depth feature-length pieces to social media posts, website text, and much more. Each of these different types need its own specialized touch—from the conciseness of a social media post to the keyword-rich content of a long-form blog post or feature. The specialized skills of a freelance writer—with a wealth of experience and expertise creating just the right content across multiple mediums—are just what your comprehensive content strategy needs.
Reason #5: Freelance writers provide a professional edge. 
There's nothing that turns customers off like sloppy, unprofessional content. With the skills of a freelance writer, you get the grammatical edge that impresses any visitor that might pass your website. You won't ever lose a customer due to grammar mistakes, for example. Your readers will be able to enjoy content that has the proper tone, voice, and writing style that your website calls for.
Another benefit? A freelance writer has the background and research knowledge that makes it easy to create in-depth content pieces that reflect professionalism, knowledge, and intelligence; that's a big edge in a competitive marketplace.
How Scripted Can Help
Ready to add the power of a freelance writer to your organization? There's no need to go through a lengthy search to find the best match for your specific needs. Instead, turn to the professionals at Scripted to provide you with the best, most talented freelance writer for your organization.
With Scripted, it's easy to find the best match for your specific writing project. Whether it's blogs, social media, website content, long-form features, or any other type of writing, Scripted offers an enormous variety of professional writers with years of experience across a multitude of industries. Just do a search for writers with your desired expertise, browse profiles, explore sample content, and find your perfect match!
Another bonus? You don't even need to provide your own ideas. Invite our professionals to pitch ideas to you and accept the proposals that catch your attention!
Get started now with Scripted! Learn how the service works, and be sure to start your 30-day free trial with Scripted to get the content calendar started!