5 Reasons Your Enterprise Business Should Use Freelance Writers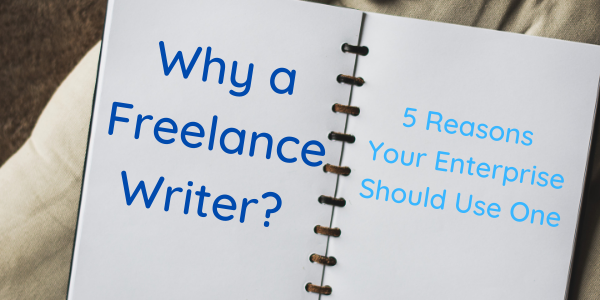 It's a cliche by now, but content is still king. Yes, even in 2023. Research shows 45% of brands are publishing more content and publishing it more frequently, while 44% said improving the value and quality of content has resulted in success.
Hiring a talented freelancer copywriter is one of the best ways to keep up with your industry and ensure your marketing efforts are effective. It's a no-brainer.
Sure, you could keep your content strategy and ideation in-house, but working with a freelancer will help you scale, improve your search rankings, increase content variety, save you time, and give you a professional edge. Learn more about the benefits of using freelance writers for quality content below.
Scripted's content writing services will match you to a vetted and experienced copywriter in your industry. These freelancers meet your content needs by creating compelling and click-worthy copy that your readers will love. Buy content for your business now!
1. Freelance Writers Let You Scale 
If you're in charge of your organization's content creation and workflow, you know how thin the margins for success are. You're probably operating on the razor's edge of profitability (if at all) as you try to bring in even more business. With those very thin margins, the last thing you need is to add the hefty cost of a full-time content creator to your payroll. The average copywriter salary in the United States is $57,872 in 2023, an expense many businesses can't afford. Those extra dollars could be deadly for your bottom line!
Instead, add the services of a talented freelance content writer — one who has proven success in your industry and understands your marketing goals. You can hire freelance writers for content as-needed and know exactly what the cost is upfront. That's an easy way to maintain payroll flexibility and grow for the future while ensuring you have the content you need to expand. Scripted's customers cite scalability as one of their top problems as content marketers. Building a trusted team of freelance writers is the best tool in your tool belt to build a scalable content creation machine and marketing strategy.
2. Freelance Writers Save You Valuable Time
Do you know what takes a lot of time? Content creation! You have to sit down, think out a content plan, and determine the best ways to create and distribute that content. Then you need to sit down, write, and edit all of the high-quality content that you need! That's a process that takes up a ton of time — especially for people who may not be natural writers or content creators.
Outsourcing your content creation from your desk to the minds of freelance writers who can churn out the content you need in no time at all lets you free up resources in your successful business, allowing you to focus on other tasks. Take the time-suck of content creation off your plate, turn it over to the professionals, and concentrate on more important jobs such as client outreach, product oversight, or all of the "little things" you need to get done.
Using Scripted's writing services saves you even more time! The platform will match you to a qualified writer, meaning you don't need to waste time sourcing, interviewing, and background-checking writers. You could find the right writer almost instantly and receive your first draft in as little as a day.
3. Freelance Writers Benefit Your SEO
As mentioned earlier, content is still king. However, that phrase should be modified a little. It really should be "SEO content is king." You can put as many words as you like on your website, but if it doesn't include relevant keywords, it's unlikely you'll generate organic traffic. That's because 53.3% of all website traffic comes from organic searches.
Integrating the right SEO practices into your content is an art where professional freelance writers excel. With the search engine optimization skills of a freelance writer, you can improve your rankings on websites like Google and drive more people to your pages. The goal of killer SEO content is to appear high on search pages without compromising content quality. That fine balance is difficult for amateurs to accomplish—but it's something the best freelance writing talent achieves. When it comes to your keyword and SEO needs, leave the bulk of this specialized work to the professionals.
Scripted's writing services not only provide you with the content you need but help you track the success of your marketing across the web, including search engines. Learn which content resonates the most with your readers, drives traffic to your pages, improves conversions, and other insights with Scripted's performance and optimization solutions.
4. Freelance Writers Provide the Variety of Content You Need
As forward-thinking organizations know, there's more than one type of content out there. To ensure success online with your content strategy, you need a wide variety of content types to make a difference and appeal to your target audiences. That means creating everything from:
Each of these different types needs its own specialized touch — from the conciseness of a Tweet to the keyword-rich content of a long-form blog post or feature. The specialized skills of a freelance writer will help you create the right content strategy across multiple mediums, so you can reach your target customers with the right marketing material.
After investing in multiple content types, you need to find the right channels to publish and promote your content. Scripted's writing solutions can help you achieve this goal and ensure more people on the internet learn about your brand, product, or service. Promoting your content on the most appropriate channels won't just increase brand visibility but could lead to new opportunities for your business.
Ready to start a new content marketing journey? Let Scripted's freelance writers do the heavy lifting of content creation and create marketing material worthy of appearing on your website. Start your 30-day free trial today.
5. Freelance Writers Provide a Professional Edge
There's nothing that turns customers off like sloppy, unprofessional content. With the skills of a freelance writer and editor, you get the grammatical edge that impresses your readers. You won't ever lose a customer due to grammar mistakes, and website visitors will be able to enjoy content with the proper tone, voice, and writing style that your website calls for.
Another benefit? A freelance writer has the background and research knowledge that can turn your website into a credible and authoritative source of information. While it might tempt you to use AI tools like ChatGPT to create content, these platforms generate unsourced and often incorrect information, which could jeopardize the professionalism of your business. Plus, AI tools lack emotion and reasoning skills like human writers. 
Some organizations think outsourcing content creation to external freelancers means they need to relinquish control of their content strategies. With Scripted, that's not the case at all. You can direct message writers throughout the writing and editing process and request revisions if you are not happy with your finished product. By communicating with writers at every stage of the content creation workflow, you can improve the quality of your content and generate more successful results.
How Scripted Can Help
Ready to add the power of a freelance writer to your organization? There's no need to go through a lengthy search to find the best match for your specific needs. Instead, turn to the professionals at Scripted and access the best, most talented freelance writers for your organization.
With Scripted, finding the best match for your specific writing project is easy. Whether it's blogs, social media, website content, newsletters, video scripts, transcriptions, custom projects, or any other type of writing, Scripted offers an enormous variety of professional writers with years of experience across various industries. Search for writers with your desired expertise, browse profiles, explore sample content, and find your perfect match!
Another bonus? You don't even need to provide your own ideas. Invite Scripted professionals to pitch ideas and accept the proposals that catch your attention!
Learn the benefits Scripted's freelance writers bring to your business when you sign up for a 30-day free trial.