Editing AI Content for Agencies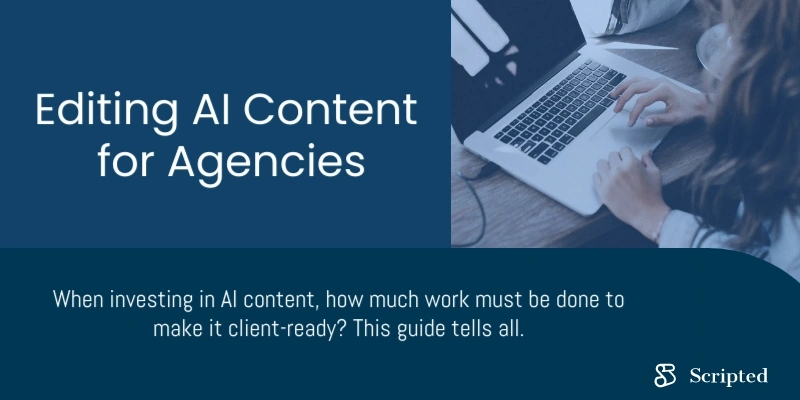 Artificial intelligence (AI) news is everywhere in marketing, especially since OpenAI launched ChatGPT. Marketers and SEO experts are beginning to rethink their processes, focusing on becoming more efficient. However, they want to maintain the same level of quality. 
One hot topic is AI editing tools for agencies. After all, the best agencies deliver well-research, SEO-optimized content to their clients, often at scale. The time-saving benefits are clear, but what about the limitations? Understanding the pros and cons of editing AI can make all the difference concerning your agency's success, reputation, and growth.
The burning question for many is the following — when investing in AI content, how much work must be done to make it agency-ready? This guide tells all. 
Agencies Are Busy - AI Makes Sense, Right?
If you're a marketer at an agency, you know how hectic the average day can be. Whether you're juggling multiple deadlines, trying to meet current client expectations, communicating with new ones, or just trying to get through a high-stress day, you need to ensure a team that works like a well-oiled machine.
Before handing content over to clients, you must ensure you're comfortable with the quality of work. Even if you did not write it, you're responsible for delivering content you'd happily put your name on. So, editing is a crucial part of the process. 
Implementing AI sounds like a dream as your content needs begin to scale, but you mustn't run before you can walk. Sure, AI content writing and editing tools are fast and cost-effective. They help boost productivity and scalability, supporting your bottom line. However, most AI content platforms are less than two years old, so some kinks are still being ironed out  — and those kinks could damage your reputation.
So, while tools like Jasper appear to be the end-all solution, there are some key considerations. 
Agency-Ready Content Must Tick These Boxes
Before comparing human and AI editing services, it's essential to review what agency-ready content is. Only then can you ensure you make an optimal choice based on the following variables. 
Content should be void of grammatical and spelling errors

Factual information should be relevant and accurate 

The client's desired tone and style should be emulated throughout 

The content should focus on SEO best practices and include research-backed keywords 
If you have already started experimenting with AI, you know that there are some red flags concerning potential pitfalls. An experienced human editor can easily tick all the boxes above, but can AI?
Comparing Human Editors vs. AI Editing Services
Based on the checklist above, let's compare.
Spelling and grammatical errors — AI tends to do quite well in this arena. The top AI writing tools can write grammatically correct sentences. So, AI could have a slight edge here compared to humans. It depends on the writer's skill level and the tools they use before submission, such as Grammarly. 
A lack of outdated, inaccurate content — Things can get hairy here, as purely AI-written content is known for being unreliable concerning factual accuracy. These tools are trained to mimic and replicate humanistic writing, not create a credible white paper or research-driven blog post. Also, tools built on GPT-3 do not account for current events, with can be disastrous in rapidly changing markets like real estate. While editing human-written content can also require fact-checking, when you invest in Subject Matter Experts (SMEs), they have the experience and know-how to deliver up-to-date, informative content. 
Desired tone and style — As an agency, catering to each client's unique needs is what you do. One client may want an article written in a drier tone for an academic community, while the next may want humorous social media posts. Being able to pivot will be crucial to your success. AI is known for creating more content faster and with less overhead. However, branding requirements can fall short, requiring more extensive editing. In contrast, with human-written content, you benefit from greater oversight from the start. 
Incorporation of keywords and SEO best practices — Brands will have many marketing goals, but they're seeking a higher ROI at the root of it all. If you can deliver that, your agency will shine. SEO opportunities and industry-relevant keywords are critical in helping you boost your client's ROI. AI can generate keywords and incorporate them into the content, but the finished product can sound unnatural. For your readers, they'll see that you're trying to keyword stuff, and for some, under-developed writing is enough for them not to return to your site. A competent human writer can add relevant keywords to avoid disrupting the text's readability and flow. 
Read more: Top 10 SEO Content Writing Services
Experiment: How Does an AI Writing Tool Really Stack Up?
We ran an experiment to see what one of the top-recommended AI writing tools, Copy.ai, can do. 
To begin, we chose a type of content, a blog post in this case, and listed the main points we wanted to cover. We could choose a tone, which was a plus. We went with a friendly tone to create an approachable post. However, we also wanted to explore our topic of the best pizza spots in New York, going into more detail about the history and cultural significance before getting a list of the top places.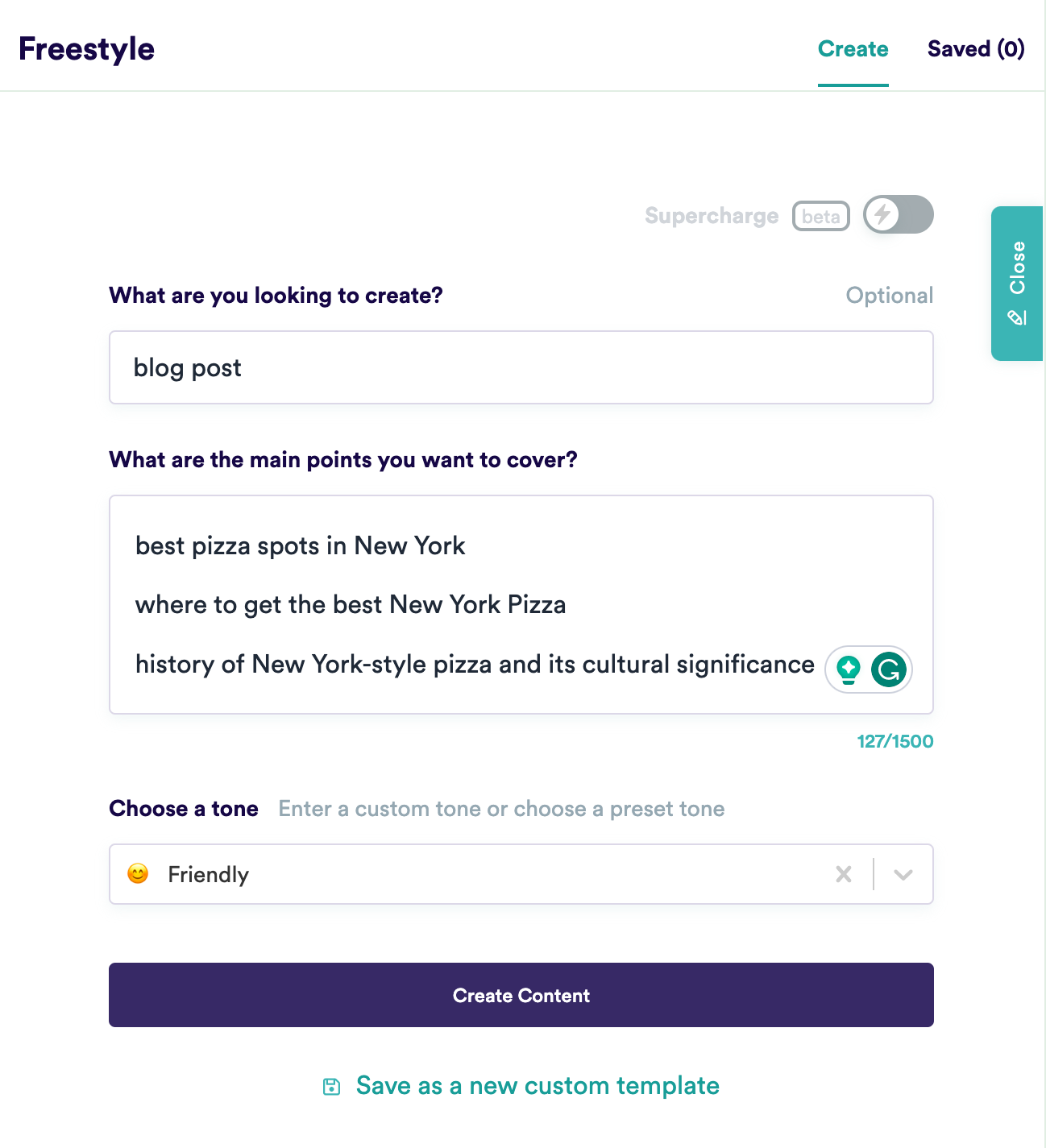 This is one of the options we received: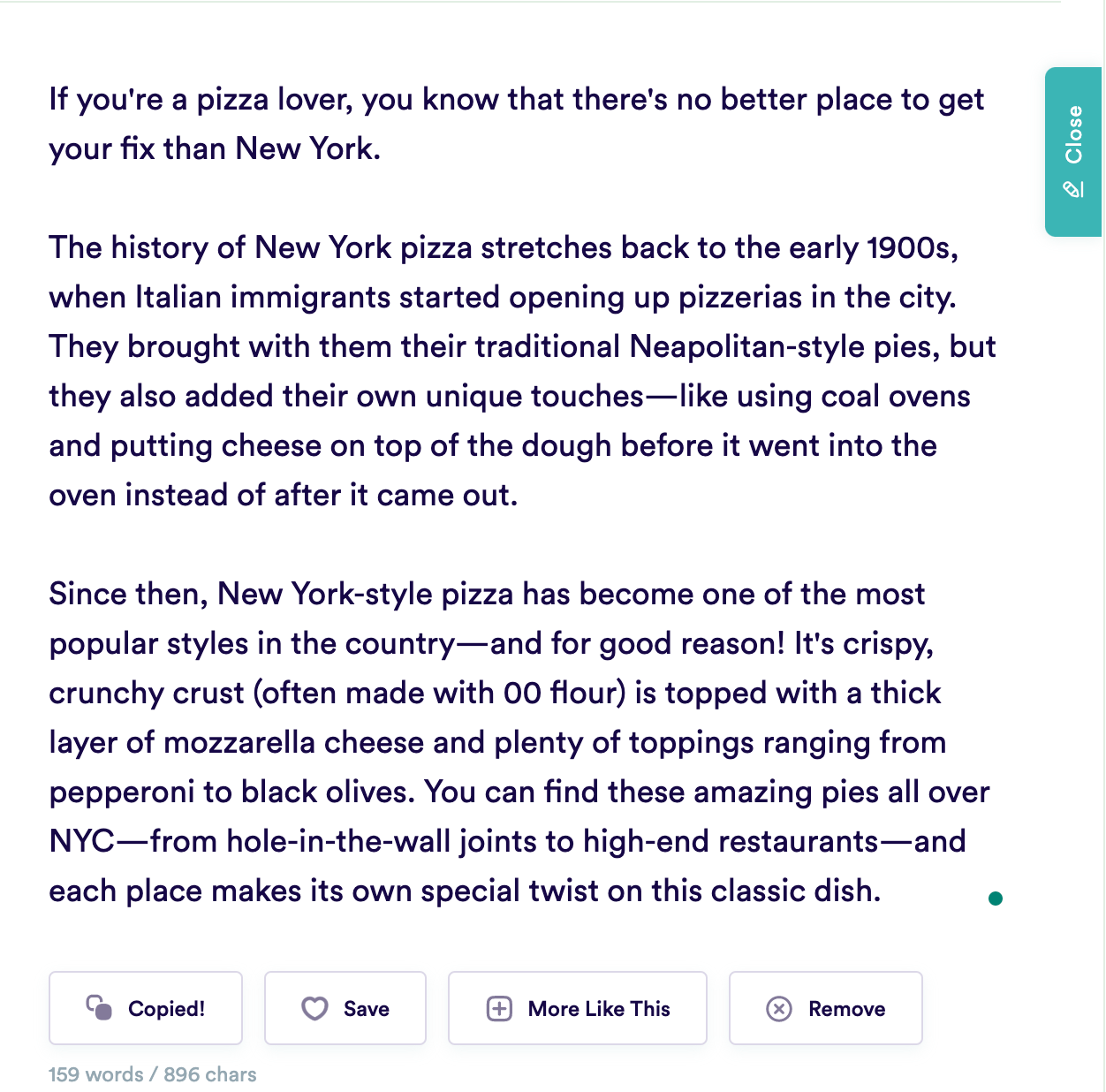 Grammatically speaking, it wasn't bad. For this piece, Grammarly gave an overall performance score of 83, mainly because of clarity issues. We used the freestyle writing option, and based on our main points, the results were somewhat surface-level. While the flow wasn't bad, and a light-hearted read, there wasn't much information on the true cultural significance, nor were there any recommended spots. This lack of insight is a concern for agencies seeking higher-level content. 
Perhaps the mistake here was the instructions. After all, a detailed brief is critical for human writers to nail a piece. Let's be more specific and make the primary point "Mom-and-pop restaurants to get the best New York-style pizza."
To bring readers true value, you can see that much work still needs to be done here. You would need to fill in the restaurants, conducting your own research. However, that's not the greatest issue. The text ignores the second main point and is already glaringly inaccurate.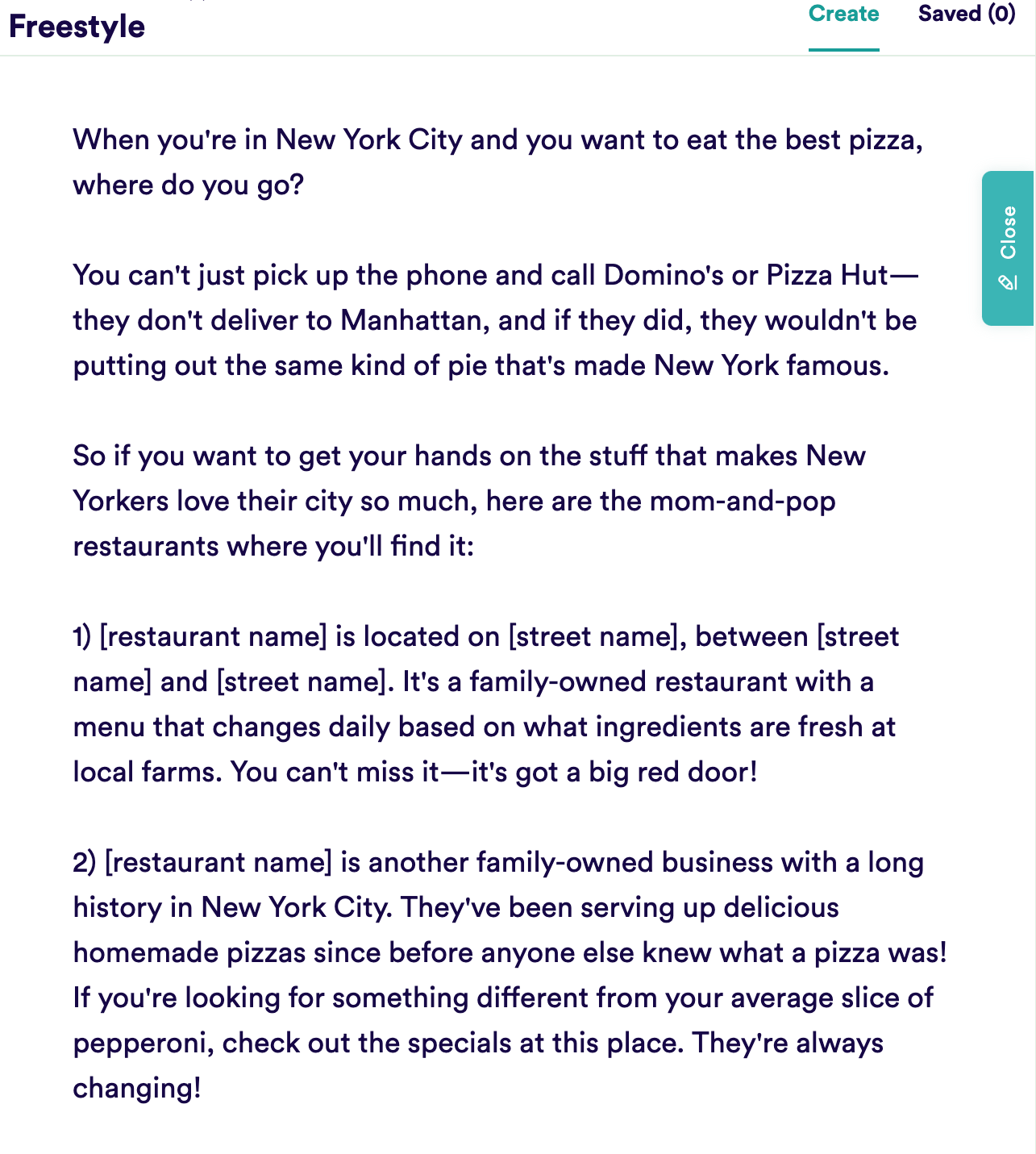 For example, "You can't just pick up the phone and call Domino's or Pizza Hut—they don't deliver to Manhattan, and if they did, they wouldn't be putting out the same kind of pie that's made New York famous." A quick search online shows that three Pizza Huts deliver to Manhatten addresses. And as for Domino's Pizza...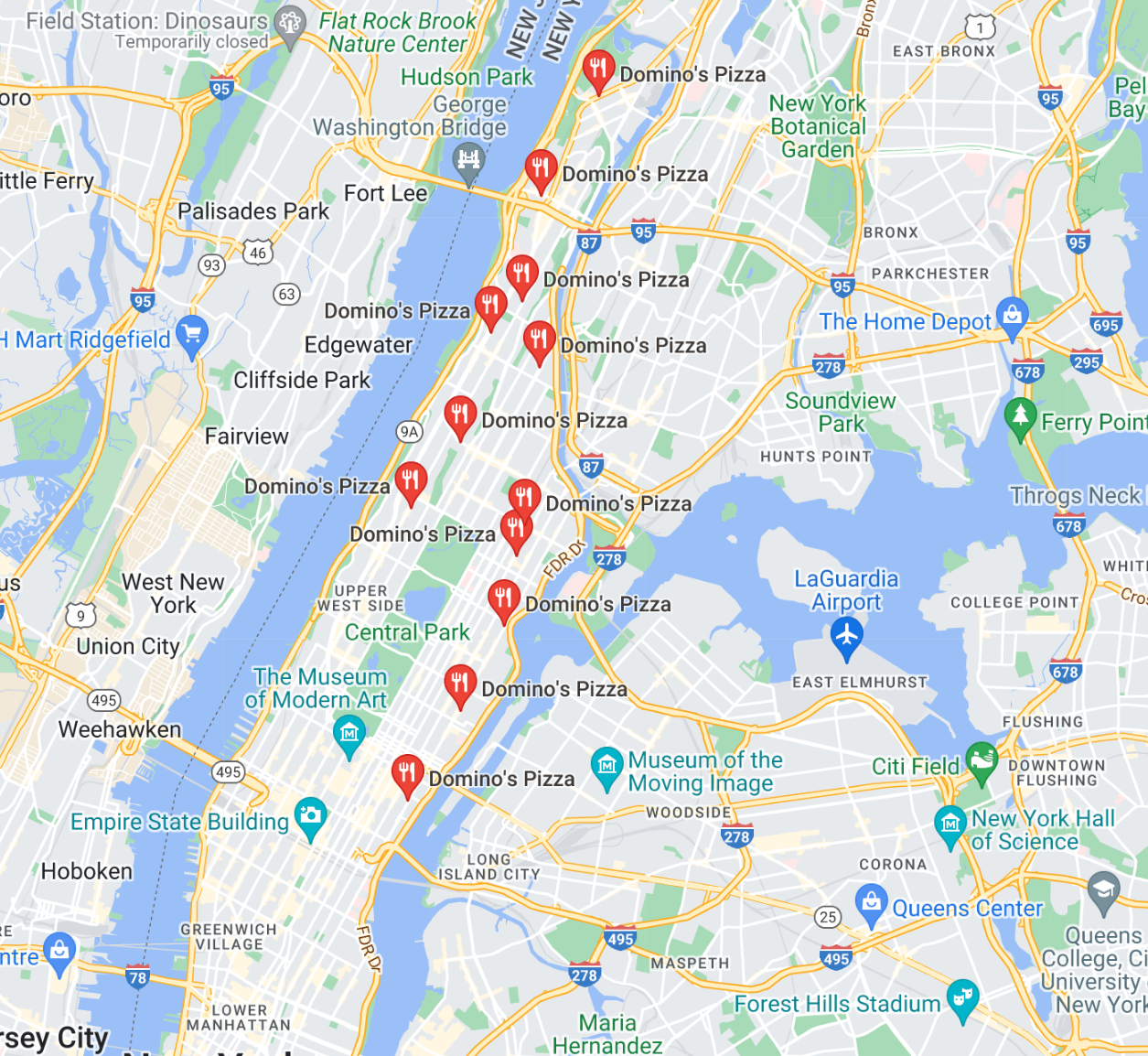 Since AI doesn't always cite, that's another massive, time-consuming issue from an editing standpoint. 
Okay, let's try an outline instead.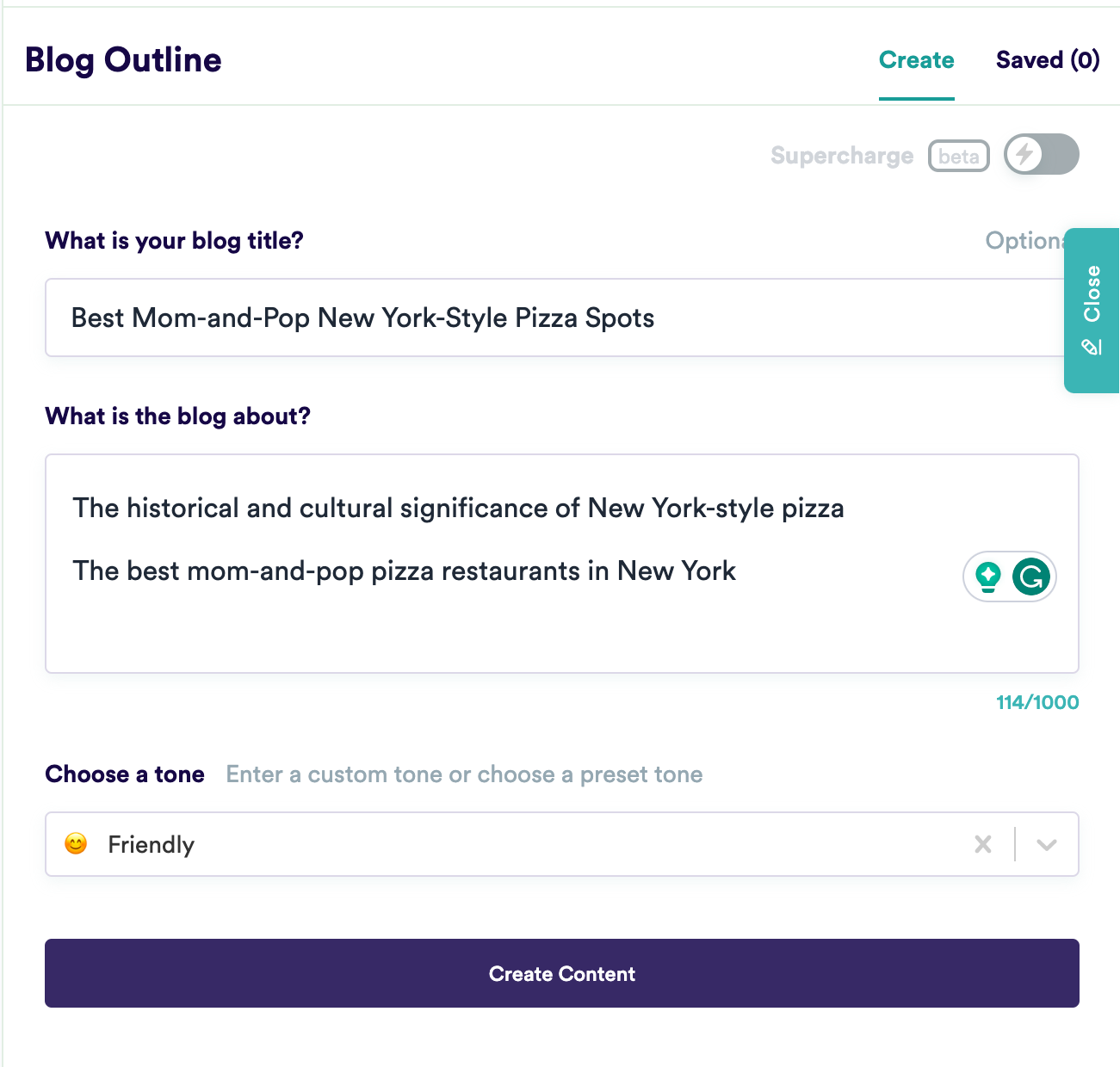 Here is what it spit out: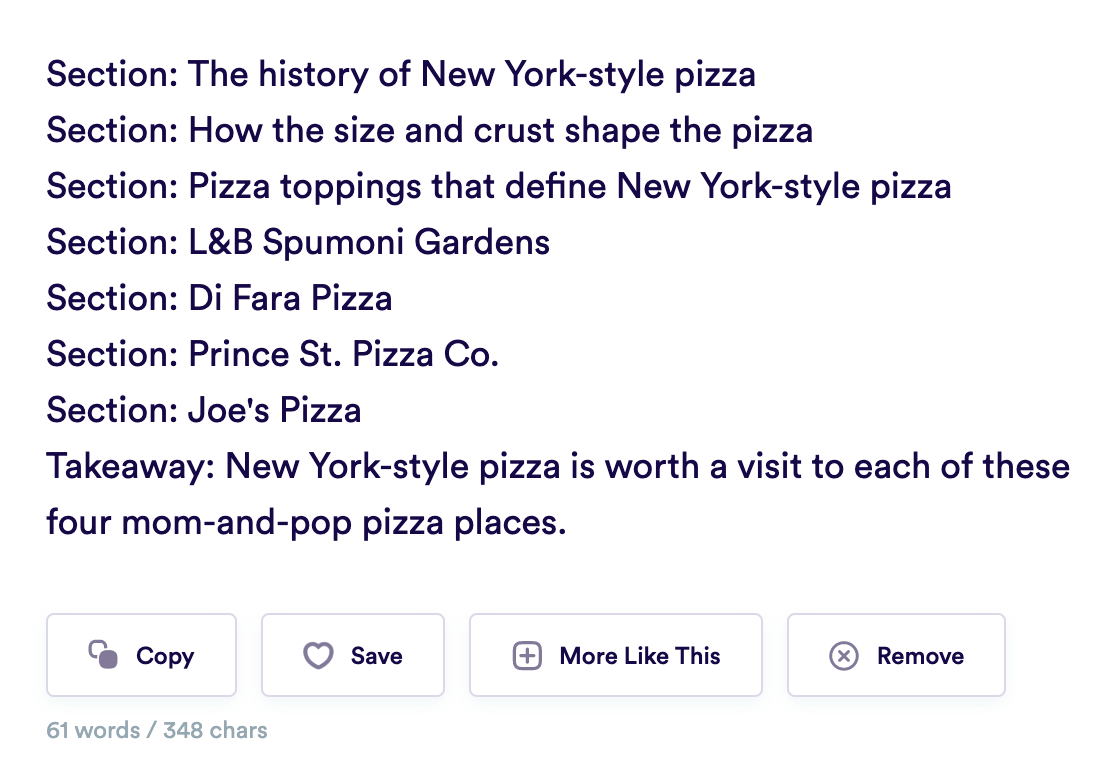 While this outline provides a good starting point, there isn't much of a connection to cultural significance, and fact-checking is required. For example, when searching these spots, it's clear that these may not be the best options concerning the best "mom-and-pop" pizza spots. After all, mom-and-pop shops are family-run, independently-owned businesses and often operate in a single location. 
While Joe's Pizza deserves plenty of credit for its growth since 1975, it's no longer what many consider mom-and-pop. There is no denying people love the pizza from this restaurant and that Joe Pozzuoli has been an icon in his community. However, several locations exist, including Michigan, California, and Florida-based spots. 
Another quick search turns up some icky details about Prince St. Pizza Co. The owners stepped down for their restaurants after racist comments resurfaced online. Ekkk. You might not want to put that on your guide covering the best mom-and-pop New York pizza shops — especially when only listing a handful. 
What's It All Mean?
Even this brief sample shows some of the cracks associated with AI writing when quality and accuracy are paramount. However, it's important to note that this was a basic experiment using only one tool without a specific goal. For example, if your sole goal was to create outlines or headlines, you could likely get a much better result by investing in premium features. 
One of the key things to consider is your time. On the surface, it seems like AI writing is a set-and-go strategy, but it's not yet there. Editing AI-generated content takes time, attention to detail, and strong research skills. So, it depends on how in-depth your content needs to be or how close it must align with your client's unique voice and style. Editing expert human content could take barely any time — that's the difference when you partner with expert freelance writers you love to work with. The process can be incredibly seamless, allowing you to focus on your growing business instead of refining and finessing AI-written content for hours. 
Use One to Support the Other
Based on the bigger picture, it is not about being superior to the other. Human writers are the best option under certain circumstances, whereas AI tools that assist with writing can be a superior fit for other situations. For example, AI tools can be an excellent solution if you want to come up with potential blog titles, ideas, or an outline to pass on to expert writers in your industry. You can also create sample article sections, as seen above, and then have a writer flesh them out so the editing portion of your article is nearly complete.
You may want to use that sample as an example only, instructing a writer to improve it based on a list of requirements — or you could keep some existing AI-written content and order tune-ups, depending on the scope of work. End-to-end marketing solutions like Scripted also incorporate AI-based tools throughout the writing and editing to ensure greater optimization, efficiency, and quality. 
Regardless of how you combine human writers with AI-powered tools, the key is to allow them to work cohesively. One should support the other, helping you maximize time and savings while maintaining consistency across the variables that really matter — creating engaging, accurate, and valuable content. That mentality toward your content marketing strategy will help you boost your ROI — like MDHearinAid.com, who got a 10,968.94% ROI from one blog post.
Create a Content Marketing Strategy That Works for You
Remember, this was just one tiny experiment — it doesn't represent the full capacity of AI writing tools. However, the issues described above are a common trend concerning AI-generated content, regardless of the tool or features used. There are just some aspects of content creation and marketing that AI cannot yet achieve on its own. The best content requires a human touch, and if you find expert writers you love, the editing process can become minimal — even non-existent. This seamless process is especially true when expert copy editors are involved. 
Discover more: Here Are the 6 Types of Copy Editing
AI writing tools offer advantages across the marketing lifecycle but aren't the solution when seeking a one-and-done deal concerning content creation. If your goal is to edit very little, nothing beats human-written content supported by AI tools. From content strategy optimization and headline idea generators to keyword research and analytic tools, Scripted ticks all the boxes and then some. 
Scripted encourages writers to use AI-powered tools, like Grammarly and Clearscope, and has also implemented Scout, the platform's AI technology. Incorporating AI-powered tools will help streamline the content creation process while boosting efficiencies. 
The result is content written faster and more cost-efficiently without ever sacrificing quality. As an agency, that's music to your ears. 
If you're ready to transform your agency's approach and boost ROI, Scripted can help. Scripted's end-to-end content solution allows you to work with expert human writers and Scout. It's a winning combination that will help you supercharge your marketing efforts. Start your 30-day free trial today. 
Want to stay in the loop and learn more? Check out these resources: