How We Got a 10,968.94% ROI From One Blog Post

Would you spend $384.62 to bring in almost $15,000 in revenue in just over 4 months? Sounds too good to be true doesn't it? Check out this case study where we show exactly how scored those results using a blog post written by a Scripted.com writer.  
The Results

Let's start with the results. Check out this screenshot from our Google Analytics:
Here are the details:
We published our blog post on October 10th, 2019

The time period ends at Feb 24th, 2020 in the screenshot above

That time period is 129 days

That article resulted in $14,910.54 of last-click revenue according to Google Analytics

The full year estimated revenue comes in at $42,188.74 ($14,910.54 * 365/129) 

The article cost us $384.62

That math gives us an annual ROI of 10,968.94% ($42,188.74/$384.62)

 
Here's the screenshot of the cost from Scripted: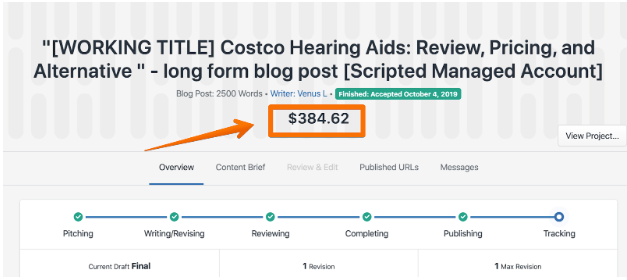 Many thanks to our Scripted writer, Venus L!
First, Some Background
Doug Breaker here, CEO of MDHearingAid.com, the largest Direct-to-Consumer seller of hearing aids in the US (think Warby Parker, but for hearing aids). Up until last September, I ran Scripted.com as the CEO. I loved Scripted (and still do!), but I couldn't pass up the chance to help the millions of Americans who suffer from hearing loss. While at Scripted we built some very cool SEO-optimized content templates & keyword research ability. When combined with 5-star Scripted writers, these templates & keyword research practices produced blog posts and articles that time and again ranked highly on Google.
How Did We Choose the Keyword/Topic To Write About?
When I started at MDHearingAid.com, the team and I dove into keyword research to find some great terms that we could rank for. We looked for keywords and topics that would bring in visitors interested in buying hearing aids. For our initial slew of articles we avoided non-buyer terms that would bring in a lot of traffic, but few buyers. For example, lots of people search for "ear candling", but few likely hearing aid buyers do.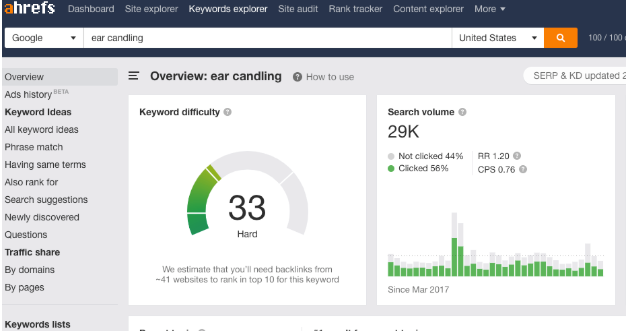 We uncovered "Costco hearing aids" as a prime keyword. People search that exact term roughly 41,000 per month, according to our favorite SEO-research too, Ahrefs.com. That makes sense, as Costco sells about 10% - 15% of all hearing aids in the US.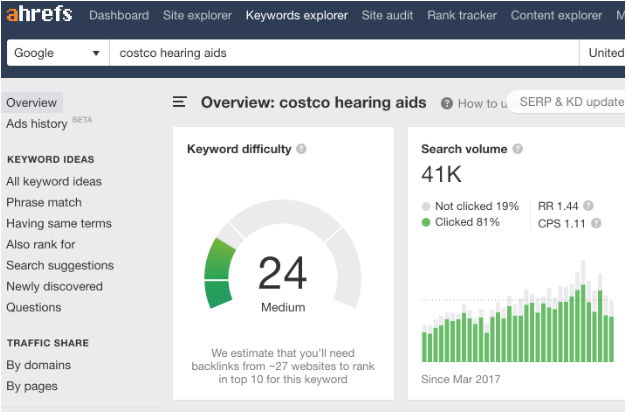 Ahrefs provides a useful metric called " keyword difficulty" that shows the difficulty of ranking on page 1 of Google for a given keyword. Ahrefs told us that the keyword difficulty for "Costco hearing aids" came in at 24, or medium difficulty. One of our current pages ranked for "Costco hearing aids", but way down on page 3 or 4 of Google. The page did not focus on Costco hearing aids, but ranked for that term anyway. That gave us hope that if we published a blog post focused on Costco hearing aids that Google would smile upon it.
How Did We Maximize Our Chances of a High SEO Ranking? 
Google rewards content that answers the questions in searchers' minds when they search on a keyword. Makes sense. Scripted's awesome content templates helped a ton here (here's a helpful blog post from them on additional free blog post templates you can use). They provided a really clear set of instructions to the writer on exactly what type of blog post to write, what questions to answer, how many words to write, what information to include, and more.  
When people search "Costco hearing aids" they want to know all about Costco hearing aids. It sounds simple, but makes sense. We worked closely with the writer to provide her enough information to produce a good draft. Once we got the draft, we had our Audiologist & ENT advisors review and provide feedback. The writer made the revisions and we ended up with a comprehensive, well-written blog post that gives readers everything they need to know about Costco hearing aids. 
A More Detailed Look At Results 
Taking a deeper look at the results shows the power of combining good keyword research with 5-star Scripted writers and Scripted content templates. 
Traffic and Keywords 
Plugging our blog's url into Ahrefs.com shows that this one article ranks for ~1K keywords, brings in almost 6K visits per month, and is worth $10.5K in traffic value. Ahrefs estimates traffic value by asking the question, "if you had to buy this traffic from Adwords, how much would you spend?" This is just one blog post. Great results for under $400 in cost.
How Long Did it Take To See Traffic and Revenue? 
One very interesting thing the data showed is how revenue increases in relationship to how traffic increases. When you graph revenue and traffic against each other, a few things jumped out:
Traffic increases incrementally. It starts slow and builds steadily over time.

Revenue lags behind traffic. The first 9 weeks brought in little revenue, but the next 8 weeks brought in much more.  

We don't know if this delay happens on all content pieces that rank, or is specific to this piece. If I had to guess I'd say that people might be reading the article, thinking about it, then returning to it later when they're ready to buy. That's a complete guess, so take it for what it's worth.
So What's Next?
More content!  Since this post worked so well, we're busy pushing out more new pieces from Scripted writers like our reviews on the Bose hearing aid, Unitron hearing aids and TV Ears.  We're having Scripted writers redo existing content as well, since refreshing old content can give a good traffic boost.
Conclusion
Do you want more traffic from content that will bring in your desired audience? As a happy Scripted customer, I'd highly recommend using their best writers to help. Here's the simple formula we followed:
Do some keyword research to find good topics

Use Scripted's content templates to help guide writers on how to create content that will rank

Publish and measure

Rinse and repeat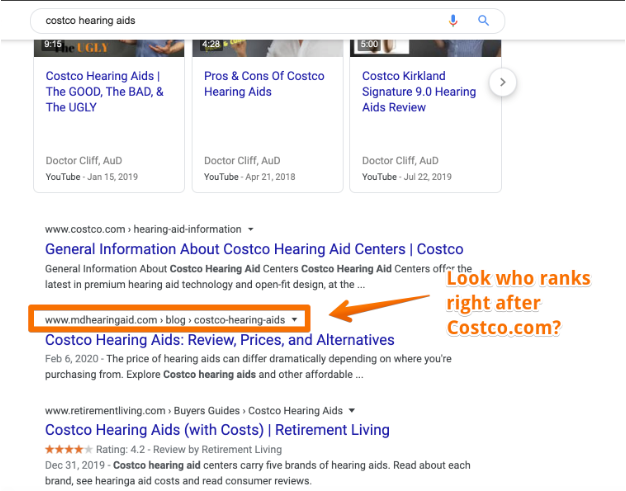 Best of luck, and if you know anyone in the market for FDA-approved, high-quality, medical-grade hearing aids send them over to MDHearingAid.com.
---
Published by
Scripted Writers
on Wednesday, March 18, 2020
in
Case Study
,
Content Marketing
,
Content Strategy
,
Seo
,
Writing
,
Case Study
,
Content Marketing
,
Doug Breaker
,
Hearing Aids
,
Seo
.