11 AI Statistics for Marketers in 2023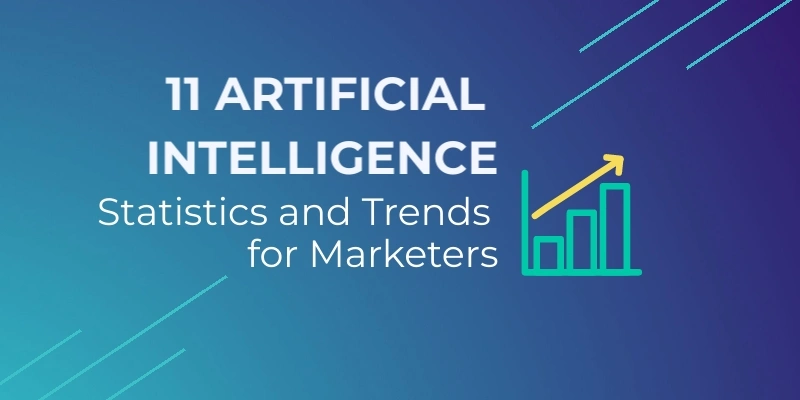 Everyone's talking about artificial intelligence right now, and for good reason. As a marketer, you're probably already familiar with AI tools like OpenAI's ChatGPT, which you can use to create briefs and outlines for content pieces, and Grammarly, which reviews your content for grammatical errors. Other tools assist with keyword research, campaign performance, and other day-to-day marketing tasks that you might not have the time or resources to complete. 
With the current buzz surrounding artificial intelligence, there's no better time to explore some AI statistics for marketers. Later, learn insights about the market for AI and how this technology impacts marketing professionals like you. But first, let's look at AI's full potential in a marketing context. 
AI statistics for marketers: What is AI in marketing?
Artificial intelligence in marketing involves using technologies like natural language processing (NLP) and machine learning (ML) to streamline and automate day-to-day marketing tasks. You can use AI to improve workflows and processes and get more value from your campaigns.
Some examples of AI in marketing include:
Creating outlines and briefs for blog posts and other content types

Checking spelling and grammar in marketing copy

Analyzing all the marketing data that flows through your business

Tracking campaign performance in your specific industry, whether that's healthcare, financial services, or something else

Personalizing marketing campaigns for specific target audiences

Improving ad targeting
You can even use AI to create text for blog posts, whitepapers, product descriptions, website pages, long-form content, and other content types. Tools like ChatGPT, Jasper AI, and Copy AI let you generate content from simple user prompts, seemingly eliminating the need for human writers and editors.
Going this route might save time and money, but it can be detrimental to your business's search rankings. If AI content includes factual errors or inconsistencies, like quoting headlines or entire posts that don't exist like The Guardian recently discovered, it could even damage your business's reputation. Fully AI-generated content also lacks a human touch because, essentially, it's written by robots, not real people. 
Our best-of-both-worlds approach ensures you optimize your content creation processes, not damage them. Get started with Scripted now to learn more. 
Top 11 AI marketing stats for 2023
AI in content marketing has its positives and negatives. Applying the technology appropriately is the key. The following AI statistics for marketers help illustrate how and why using AI in your current content marketing strategy can help propel your business forward.
1. The AI market will be worth nearly two trillion dollars by 2030
Photo by Kenny Eliason on Unsplash
Demand for AI tools is surging, with the AI market expected to show incredible growth in the next few years. In 2021, experts valued the market for artificial intelligence at $100 billion, according to recent insights from Statista. It could reach nearly $2 trillion by 2030 as more companies invest in:
Chatbots

AI mobile applications

Machine learning

Natural language processing
Several industries have already adopted AI this decade, with the technology automating processes for supply chains, research, analysis, and, of course, marketing.
2. AI adoption experienced enormous growth in 2022
While AI adoption slowed significantly from 2019 to 2021, things picked up again last year, according to HubSpot. AI adoption rates grew by nearly 250% in 2022 compared to 2017 as more companies invested in this technology for process automation and workflow streamlining. Expect this growth to continue in the coming years as industries realize the power of artificial intelligence for completing day-to-day tasks that generally require manual intervention. In content marketing, for example, AI can help brands create content briefs, research keywords, and check text for spelling and grammar. 
3. The market for AI in marketing was estimated at nearly $16 Billion in 2021
Speaking of content creation, research shows that AI in marketing is on the rise, with this market worth $15.84 billion in 2021. Marketers use AI for multiple tasks that don't require much oversight, such as:
Streamlining campaigns

Entering new markets

Promoting products and services

Increasing brand awareness
Artificial intelligence, for example, can analyze enormous amounts of marketing data, providing brands with context about potential customers. This technology can forecast sales through predictive analytics and generate intelligence that helps marketing agencies grow. 
4. AI can improve demand generation, lead generation, and prospect education
In addition to optimizing content creation, AI can improve various other marketing tasks in your business. Research shows that 57% of B2B marketers use AI chatbots for demand generation, helping them understand their target audience on a deeper level. Meanwhile, 55% use chatbots to generate new leads, and 43% rely on this technology to educate prospects. These AI statistics for marketers prove the power of artificial intelligence for optimizing various campaign tasks.
If you want to use AI for content creation but still want the expertise and experience of human subject matter experts, Scripted's AI platform can help. Connect with real writers who understand your industry and audience, and leverage AI for keyword research, content strategies, headline generation, campaign performance, and more. Get started with Scripted today.
5. The majority of marketers understand the power of AI technology
Despite some reluctance about the use of AI, most marketers understand its automation power for everyday operations and campaign improvements. According to Deloitte per Mean Marketing, 79% of marketing professionals think AI is one of the technologies that will influence the future of marketing. It's not hard to see why.
AI can revolutionize various aspects of your marketing campaigns, including:
Digital Marketing

Email marketing

Social media management

Marketing automation

Managing and analyzing data sets

Audience segmentation

Customer interactions and engagement
...all of which benefit and improve the customer experience.
6. More marketers are using AI than ever before
Artificial intelligence statistics from Salesforce reveal that AI adoption among marketing professionals is at an all-time high. According to a recent study conducted by the company, marketers' AI usage increased from 29% in 2018 to 84% in 2020. That's a 55% jump in just two years! Reasons behind this increased AI use include automating processes, reducing labor, and getting more value from campaigns in an ever-competitive marketplace.
7. High-performing marketing companies have a fully defined AI strategy
Salesforce's study also reveals that 70% of high-performing companies in the marketing sector have a fully defined AI strategy, compared to just 35% of underperforming companies.
Respondents also said that the top AI uses in marketing include:

Personalized experiences

Improved customer segmentation and lookalike modeling

Better data insights

Automated customer interactions
Whatever you use AI for in marketing, you can improve the efficiencies of your offline and online marketing efforts, increase market share, generate more value from big data, assist marketing leaders with operations, gain a competitive advantage, and improve your overall business strategy.
8. There are still barriers to AI for marketing
Despite brands investing more US dollars into AI, a few barriers prevent AI adoption in companies of all sizes, including startups and multinational corporations. Nearly 42% of respondents in a study conducted by Influencer Marketing Hub say they lack knowledge or understanding of AI. In comparison, almost 24% are worried about the cost of implementing artificial intelligence into their organizations. Other barriers to AI include concerns over data privacy and security, lack of technical expertise, and uncertainty over the ROI and efficacy of AI.
9. Nearly half of companies have used AI for content production
Photo by Firmbee.com on Unsplash
As previously mentioned, content production is one of the best use cases for AI systems in marketing, helping companies create content briefs, track campaign performance, and generate headlines and meta descriptions. Research from Influencer Marketing Hub reveals 44.4% of businesses have used AI for content production. This technology is particularly useful for personalizing content, curating user-generated content, and generating keywords and topic ideas.
10. More than half of companies say AI will greatly enhance marketing efforts
Influencer Marketing Hub also examined AI's impact on future marketing and found that 54.5% of respondents in its survey thought AI would "greatly enhance" its marketing efforts going forward. Only 17.1% thought AI would have a "moderate impact" on marketing. These AI statistics for marketers account for all AI technologies, including chatbots, virtual assistants, voice assistants, content creation tools, and other advancements that optimize marketing strategies.
11. Revenue from AI software will grow rapidly in the next few years
The AI software market, including NLP applications and robotic process automation, will reach around $126 billion by 2025. Marketing companies are purchasing software tools to make life easier for team members and improve operational processes. Software developers will likely create new tools in the coming years as demand for AI technologies grows even more.
Scripted's Scout: AI content creation with a human touch
Using Scripted's AI platform is simple. For example, you can use AI to create blog outlines or content briefs and then connect with a subject matter expert who knows your industry like the back of their hand. You'll be able to communicate with your writer throughout the content creation process rather than relying on a machine to write your content from a few prompts. You can then use AI again to track your content's performance across the web and learn more about the people engaging with your blog posts, whitepapers, product descriptions, and other content types.
If you're looking for a cost-effective, reliable, and efficient AI content creation tool that doesn't generate spammy and potentially damaging text from robots, Scripted is the platform you need.
Reap the benefits of AI without sacrificing your content writing needs to a machine.
Scripted + Scout results in 100% human-written content that can generate incredible results. Scripted has delivered exceptional content to thousands of satisfied customers, and yours could be our next success story. Get started with Scripted today.