Jasper.ai Review: How It Works, Features, Pricing and More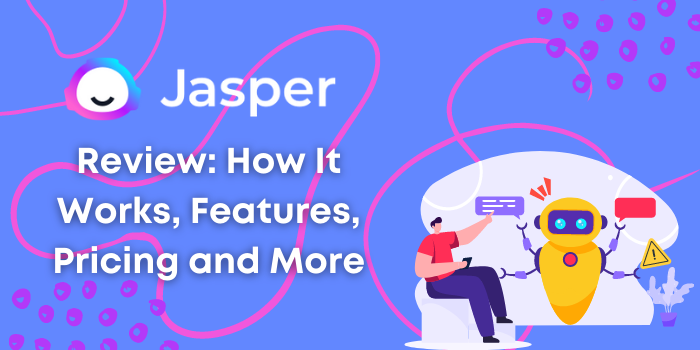 Computers that can write as well as humans might sound like the stuff of science fiction—but if so, science fiction is closer to becoming reality than ever. The release of large language models like ChatGPT has shown that given just a few words or sentences as a prompt, artificial intelligence is capable of generating many paragraphs of content. But is this merely a fancy marketing trick, or does the output of these AI models actually approach human understanding?
ChatGPT and its AI competitors have created a massive amount of buzz in dozens of industries, with thought leaders opining on how these models will shake things up. The same is true for content marketing: everyone's been talking about artificial intelligence as the newest marketing trend. AI can potentially assist marketers at every stage of the pipeline, from content strategy and content creation to analytics and optimization. If possible, top-quality content generated by an AI would be a marketing gamechanger, slashing business costs and potentially putting writers out of a job.
One of the biggest names in the AI content game is Jasper.ai (formerly known as Jarvis.ai, due to legal threats from Marvel). Jasper claims that they are the best AI content writing software and that its program can write highly-engaging content for marketing or content purposes in the blink of an eye.
But is Jasper.ai all it's cracked up to be?
In this article, we'll dive deeper into Jasper.ai's full suite of features. Can Jasper actually improve your marketing efforts, or does it just add another layer of noise between you and your customers? Can generative AI significantly reduce your marketing workload, or does it just change how you create content? And does Jasper actually generate compelling outputs, or is it just another case of "quantity over quality"?
How It Works
Jasper's website offers Jasper BootCamp training to help new users understand how the software works. "The underlying AI model that powers Jasper was trained by reading about 10% of the published internet, with the goal of understanding how people write," Jasper BootCamp explains. "Jasper has read millions of blog posts, Reddit threads, websites, newspapers, and more. This gives Jasper an unbelievable grasp of imitating human language and creating content most find exceptional."
A recent Forbes article gave insight into how this works, explaining that natural language generation (NLG) is the software process that automatically converts raw data into a written story. "In the case of NLG, structured data is fed into the software and is processed through the 'conditional logic' that's part of the narrative design," writes author Bernard Marr. "The goal is for the output to sound like a human-generated piece of content."
An important term in AI content creation—and artificial intelligence in general—is "deep learning." According to another Forbes article, deep learning is "a subset of machine learning in which artificial neural networks imitate the inner workings of the human brain to process data, create patterns, and inform decision-making."
Deep learning uses extremely large machine learning models known as "neural networks" that superficially resemble the structure of the human brain. The field is called "deep learning" because the neural networks have many layers, each performing its own complex set of computations between input and output.
The deep learning models that underlie ChatGPT and other large language models may have billions or trillions of parameters. Each of these parameters is located in a particular layer, and this layer has connections to the layers before and after it—just as neurons in the human brain have connections to other neurons.
As the Jasper website says, deep learning models are trained by feeding in text data sourced from the internet—everything from Wikipedia articles to social media platforms. This allows the final AI model to handle a vast range of topics. Given a particular input, the AI essentially learns over time to predict what the best or most likely output should be for that input.
Natural language generation depends on deep learning to create content that makes sense to human minds. In other words, there's a lot of computer brainpower behind this software, and you'd probably need an advanced degree in machine learning to understand it all. For now, you can think of NLG as how computers reorganize information to follow patterns that make it sound more human.
Jasper.ai Features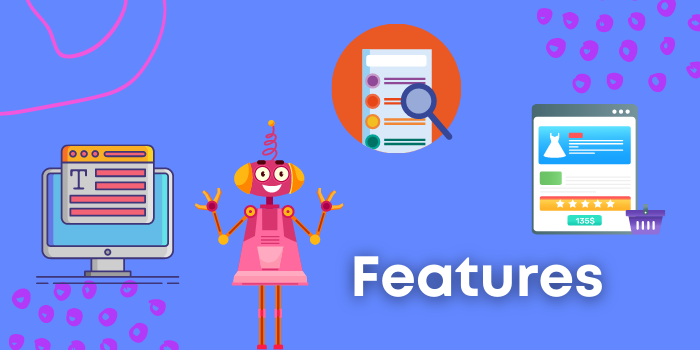 The Jasper.ai website offers great functionality to assist at different stages of the content marketing pipeline. Below, we'll go over the various features of Jasper.ai.
Content Generation
Depending on the plan that you've selected, Jasper can generate a certain number of words on your topic. You can give the AI a few prompts or hints (such as titles, headings, or even a few sentences) and click a button to see what the software comes up with. It can handle producing AI blog content, long-form AI content, and even captions for social media.
Document Editor
The Jasper website offers a Google-Doc-like interface to assist you in composing your piece. It includes all the basic functionality of word processing software: you can move the text around and make it bold, add headings, or insert pictures and links on-site.
Tone of Voice Settings
Striking the right tone, whether it's informal or educational, is tremendously important when writing marketing content. The Jasper.ai platform comes with a feature that allows you to set the tone of voice for your content. This isn't a multiple-choice tool, however—you'll need to come up with your own tone descriptors.
Sentence Rewriting
If you think that your content needs a few minor tweaks, Jasper's "rephrase" tool can generate different ways to say the same thing for your generated content or original writing. There are also buttons for "fix grammar" and "explain it to a 5th grader".
Plagiarism Checker
If you aren't sure where your content is coming from, it's natural to wonder if it was stolen from someone else. Jasper includes an integrated plagiarism checker that allows you to search your content for matching text, showing you what percentage of the text comes from other sources. However, this is not a complimentary feature, and users must pay for each plagiarism check they perform.
Grammarly Integration
Grammarly is another AI-powered tool that helps improve your writing by correcting grammar, spelling, and punctuation mistakes. Jasper has a partnership with Grammarly that allows you to activate the Grammarly toolbar as an overlay on top of your Jasper-generated content.
Jasper Templates
Jasper comes with a selection of templates that give you a jumping-off point for content creation. These include:
Product Reviews

Blog Posts

Google Ads

Photo Captions

Cold Emails
Jasper Recipes
Jasper "recipes" represent a set of workflows that help users create a predefined end product. Think Mad Libs—except instead of writing in the blanks, you fill in keywords or hints, and then Jasper turns it into an article or blog. Users can also create their own "recipes" and share them with the community.
Content Lookback
Jasper's lookback feature allows it to write new words with the previous paragraphs and sentences in mind. This helps ensure that newly generated content makes sense and doesn't repeat itself. For the basic plan, Jasper will consider 600 characters above the cursor's current location. For users who pay for Boss Mode, it considers 2,000 to 3,000 characters when generating content.
SEO Keywords
Jasper has a keyword input tool to ensure your content incorporates relevant keywords to increase its SEO rankings. You can insert up to three keywords, and Jasper will make sure to use them throughout your piece.
Voice Commands
If you're doing a lot of writing, using a keyboard can be tiresome and repetitive. By enabling the feature on your computer, you can use voice commands to tell Jasper what you'd like it to do.
Pros & Cons of Jasper.ai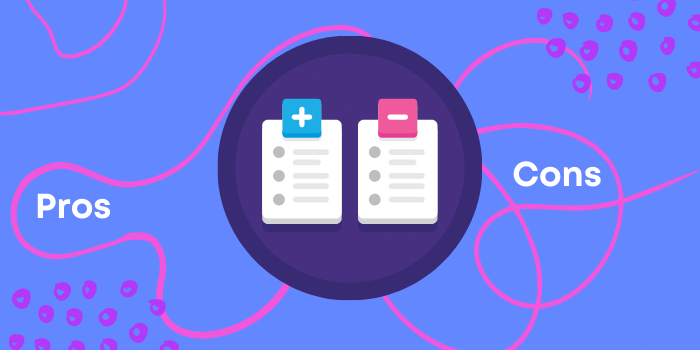 Jasper.ai comes with a number of valuable features—but are there any drawbacks involved? Below, we'll go over the benefits and disadvantages of Jasper.
Pros
Jumpstarts Content: Jasper provides a great deal of pre-written content that you can use to jumpstart your marketing efforts. If you're unsure how to flesh out your marketing initiatives, Jasper makes it very easy by providing everything from AI blog content to AI long-form content. Alternatively, if you're feeling up to editing but not up to writing, you can click to generate content and whittle away until you get something you like.

Saves Time: It takes a lot of time to research and write your content. Jasper lets you generate some of the most popular types of content with minimal effort. If you're having a bad writing day, Jasper is a wonderful way to pad your word count.
Cons
Content Limits: If you're looking to pay once for an unlimited amount of content, then Jasper is not a good solution for you. Even their highest-priced plan ("Boss Mode") has a limit of 50,000 words generated per month.

No Offline Use: Jasper does not work without an internet connection, unlike other products that allow you to save your work to complete later.

Not Hands-off: Sometimes, you just want to walk away from the computer and let a tool do its thing. Unfortunately, Jasper requires that you monitor each post—it cannot produce a finished article by itself. Instead, you'll need to enter a certain amount of user-generated content every few minutes to keep things on track.

Requires Fact-Checking: Think of Jasper as an AI content writing assistant, not a fact-checker. You'll still need to go through and correct the truthfulness of Jasper-produced content. As Jasper Bootcamp says, "While [Jasper] has read much of the internet, the way he is trained to write causes him to put more emphasis on creativity than factuality. Because of that, you'll notice [Jasper] regularly writes things that aren't true."

Pricing: Jasper tends to be on the expensive side when it comes to artificial intelligence-generated content creation. It might be the best AI content creation tool, but other companies allow their users to produce content at a lower price. The pricing models have a nickel-and-dime feel, with even the highest-tier paid plans requiring users to pay for specific add-ons.
Pricing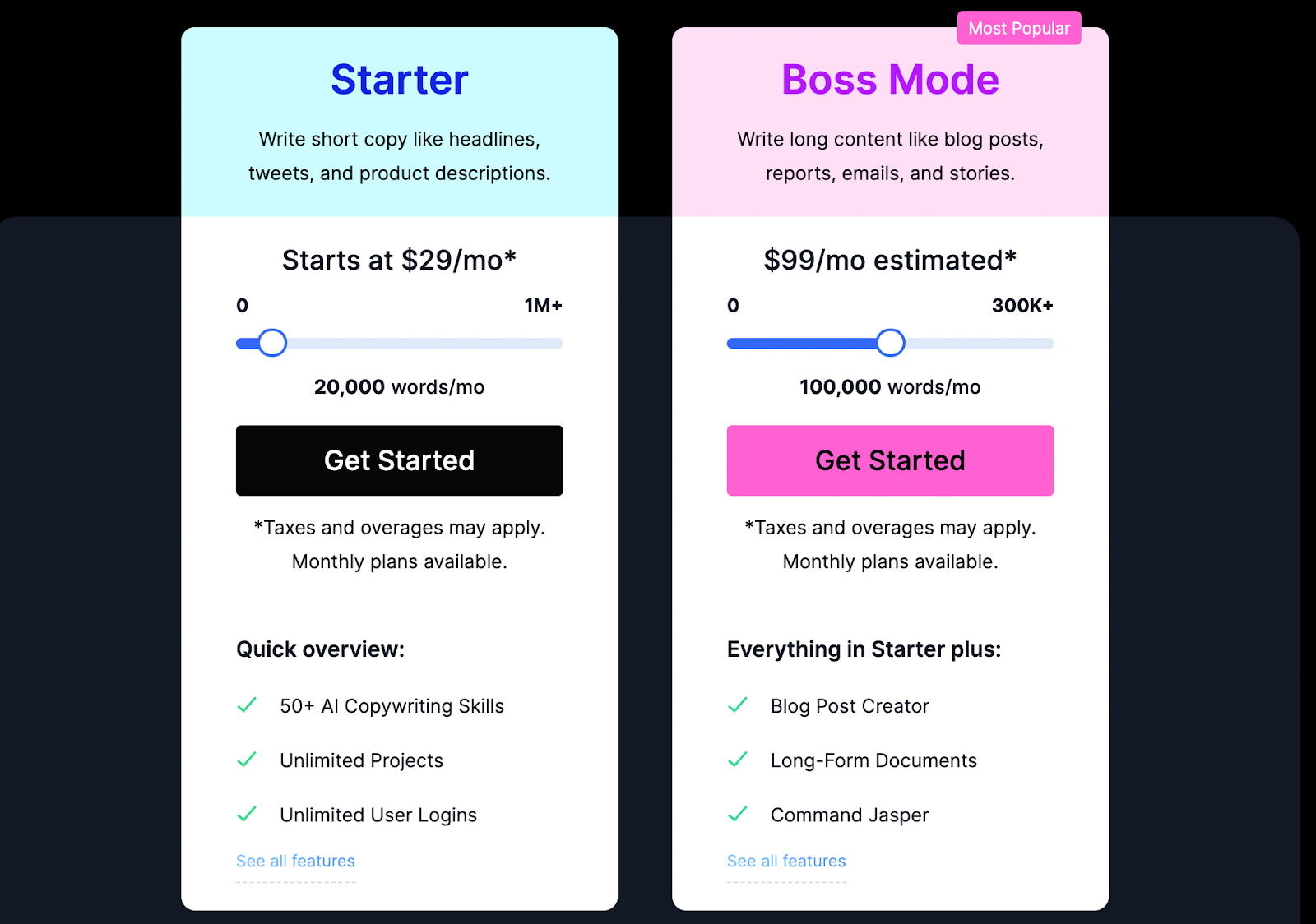 With that said, how much does Jasper actually cost? Jasper's starter plan begins at $29/month. It includes:
20,000 monthly generated words of content

49 + AI templates

Six languages

Ten user seats

Support chat
If you want to write 1,000-word blog posts, for example, you might assume that you can generate 20 articles per month on Jasper's starter plan. However, you should consider this your upper limit rather than your target. Not all of the content that Jasper generates will be publication-worthy, and you'll likely use the tool to generate other content as well.
Jasper's "Boss Mode" is its premiere plan, starting at $59/month. This pricing tier offers:
50,000 words generated per month

Maximum content lookback

Ten total users

Support Chat

Long-form writing assistant

Document Editor

Jasper Command
For each of the two pricing plans, customers can buy more words each month if they use up all of their allotment supplied for the month. It feels a little like cell phone data plans—you can go over your monthly limit, but it's going to cost you.
Jasper.ai Reviews
What do real users say about Jasper.ai? On the business software review website G2, the tool has an average rating of 4.7 out of 5 stars, based on more than 1,200 user reviews. Below are some select quotes from Jasper user reviews:
"Jasper has allowed me to start a new blog site while still having a 'real job' elsewhere. Without Jasper's assistance, there is no way I would have time to post daily. Jasper is like having a partner in my business who is super quick and efficient… Jasper is not just point and click. I still have to use my brain to adjust content to fit my style - but it's not a difficult jump to make. If there was one thing I would "add" to Jasper is that it would be able to read my style and adjust to me."
"Jasper is an excellent AI writing assistant. It takes my words and turns them into clear sentences, helps me develop new ideas, and breaks through writer's block. However, Jasper's output depends significantly on your input… One of the downsides of Jasper is that it tends to repeat itself. You need to make judicious edits to ensure that the content doesn't contain the exact phrases over and over. Also, Jasper uses incorrect facts. You'll need to thoroughly fact-check your content to ensure you are not stating something untrue."
"Jasper is incredibly efficient and intuitive. Most people use it to generate content like social media posts, tweets, and blog entries. I use it as a writing assistant to aid me in creating the content for my training materials and business consultations. It generates high-quality content rapidly when I need to write content that requires breaking down complicated phenomena into their subcomponents, explaining business processes, evaluating different options, or describing conventional management practices to the reader."
"If I was writing content full time, this tool could really help with putting pen to paper and getting started writing. But since accuracy isn't all that great, it doesn't really eliminate any research you would need to do to create an accurate blog post."
Jasper.ai vs. Human Copywriters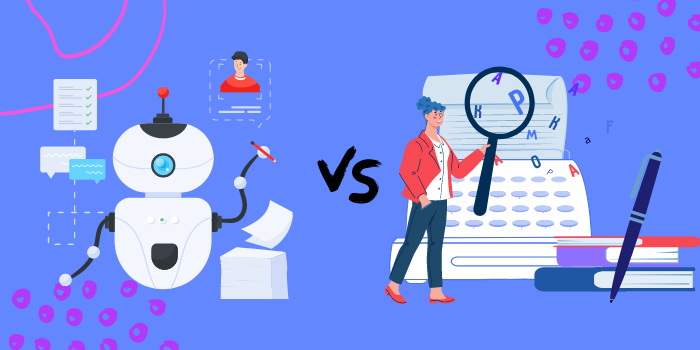 Totally AI-powered writing software might be the future of marketing, but that future is still far away. If you're looking for article writing software that you can use to press a button and have ready-to-publish content instantly, you'll be waiting a long time—maybe even indefinitely.
Jasper is an excellent writing tool, but it functions better as an AI content writing assistant than as a stand-alone writer. If you need to control the flow of your copy or are trying to write something that is very emotional, abstract, or highly differentiated from its competitors, you shouldn't expect Jasper to do the job for you.
For example, Jasper was the AI content writing assistant while writing this review. It significantly reduced the amount of time that a piece of this length takes to write (from about 4 hours to about 2). However, every sentence needed to be tweaked or rearranged, and Jasper was better at finishing thoughts than creating new concepts.
In addition, if you need technically intensive content, such as a set of product-specific FAQs or training material, Jasper can assist as a sort of intelligent, proactive thesaurus. Companies shouldn't make any plans to replace their writing departments with laptop computers, though.
According to Jasper's creators, the software loves to follow patterns. Inputting brand-consistent copy alongside a brand-specific "tone of voice" word might result in copy that works for brand consistency. Whatever Jasper produces for a business that values brand voice should be carefully reviewed, however. Computers can't yet capture brand voice the way humans can.
The Bottom Line
The consensus among most professional marketers is that AI content generators aren't ready to take over the internet—at least, not yet. "These tools are merely content-creation resources — not final resorts," an article on Entrepreneur.com explains. "Some of the tools out there are still in their experimental stage, and even the most developed ones may not understand your brand goals as well as you do."
If you're creating lots of content, Jasper can help you fine-tune your writing and generate ideas for new directions. If you're looking to offload marketing writing altogether, Jasper requires too much hand-holding.
For true freedom from the grind of AI-powered content creation, it's still your best bet to stick with a professional (human) writer. Scripted connects companies with world-class writers at affordable prices. Want to see what Scripted can do for your content marketing strategy? Sign up for a free trial today.