Grammarly Review: Features, Pricing, & Alternatives

Ever since technology allowed for the invention and application of spell-checkers, they've been beyond helpful in saving professionals from accidental typos and embarrassing misspellings in emails and reports, and online. Of course, basic built-in spell-checkers do little to correct more serious grammar issues, be it an improperly structured sentence or poor word choice. Fortunately, that's where tools like Grammarly really shine.

Grammarly launched in 2009 with little fanfare. In fact, it wasn't until the founders closed their first round of funding in 2017 that the tool really began gaining recognition. That year, Grammarly's co-founders raised more than $110 million and, in no time at all, utilized digital marketing to grow their customer base to over 7 million daily active users. Of course, what's most important is how the Grammarly tool actually functions.
Its three founders — Max Lytvyn, Alex Shevchenko, and Dmytro Lider — launched Grammarly hoping to create a tool that went beyond basic spell checking, with the goal of helping individuals, especially professionals and students, communicate in a more effective way. So, how does Grammarly do it? The software is basically an automated writing assistant powered by AI (artificial intelligence).
Overview of Grammarly's Features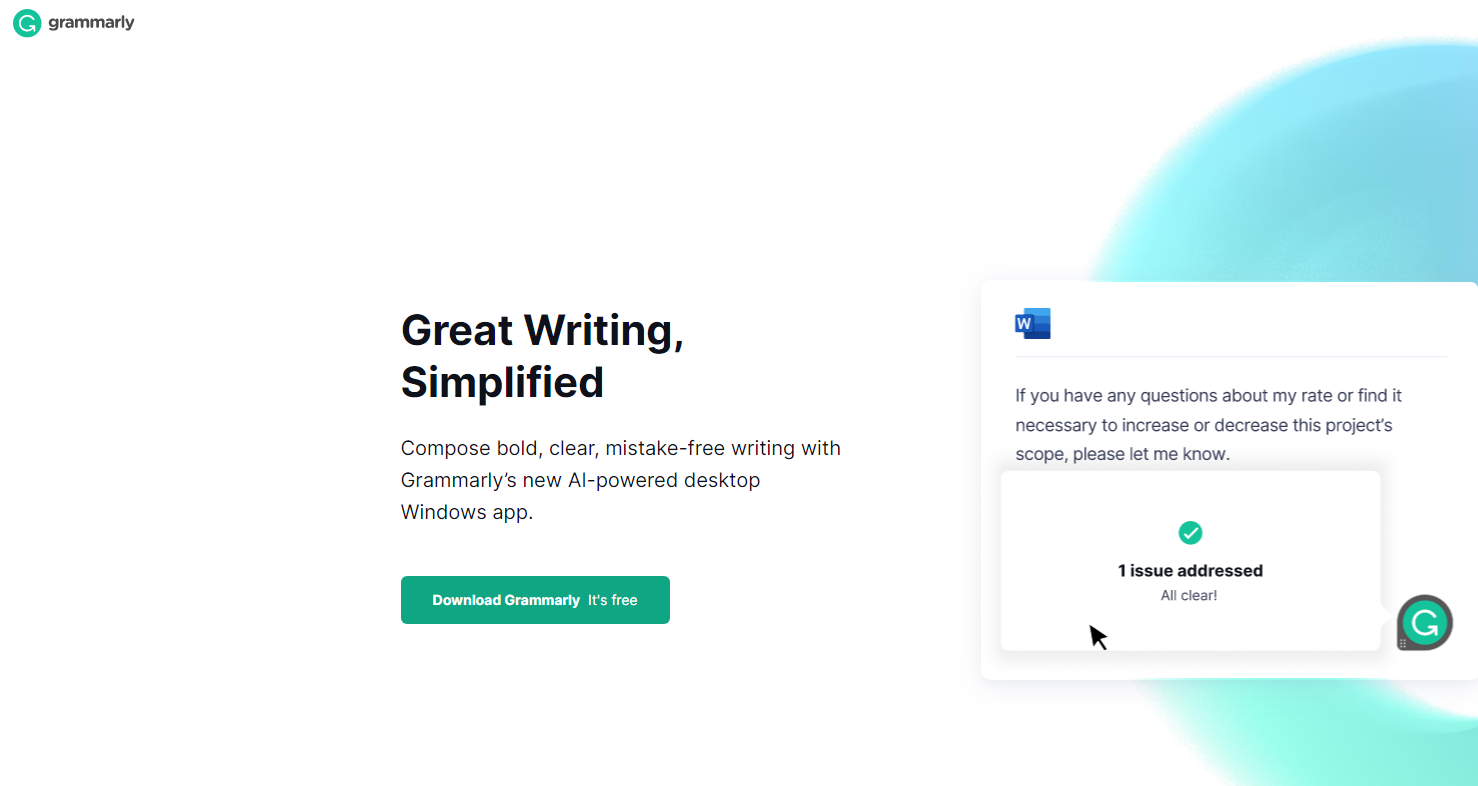 Grammarly offers three core components:
Grammar Checker:

The primary part of Grammarly's offering, the Grammar Checker highlights spelling errors, misused words, incorrect punctuation, sentence structure, and other such issues in your writing. Hovering over a highlighted error will bring up a tooltip featuring suggestions.

Tone Checker:

When using written communication, people lack voice intonation, which can lead to a friendly message being perceived in an entirely different way. With Grammarly, you can improve the clarity of your message using the tone detector, which will help you say things as you intend to say them, eliminating some of the ambiguity that comes with written communication.

Plagiarism Checker:

Powered by the ProQuest databases and content from more than 16 billion pages across the internet, Grammarly's detector has its flaws, but it's a good first step in detecting similar content if you're in the middle of a research project. While you may find some false positives, it's getting better every day, and it's a handy tool in the Grammarly suite.
How to Use Grammarly

Grammarly is super accessible. One thing that has helped spark its massive growth and widespread use is the acknowledgment that modern professionals write in many ways and on many platforms. That's why Grammarly is available in the form of a:
Browser Extension

Desktop Application

Cloud-Based Web Tool

Microsoft Word Add-On

Mobile Phone App
You can use one, all, or a combination of these Grammarly platforms to ensure your writing is always being double-checked.
Once you set up your chosen applications, Grammarly is super easy to use. It's truly just a matter of activating the plug-in or app, and the tool does the rest for you, automatically highlighting potential errors in your writing right in front of you. The browser extension, for example, will work in Gmail, YouTube comments, Reddit, Twitter, Facebook, the WordPress backend, and wherever else you use a platform's text editor.
Without a doubt, Grammarly is far more feature-rich than the built-in spell-checkers your device or browser may offer, and that makes it extremely powerful. Its inline design makes it ultra-convenient to use, as there's no need to take an extra step in order to check your text. Just pay attention to Grammarly's color-coded underlines, and you can hover over any suggestion to alternative spellings and words, and other options that might improve your writing.
Grammarly's Pricing and Subscription Options
Like most tools today, Grammarly operates on a SaaS (Software as a Service) model, meaning you must subscribe to gain access. While they offered long-term and lifetime memberships for a short while, they've now grown to a point where the Premium plan is only available for a monthly or annual fee. Still, Grammarly also offers a free version that costs absolutely nothing, with no word count or usage limit.
Of course, if you opt for the Premium version, you'll have a few different monthly fees depending on your usage:
Individuals:

The premium plan costs $11.66 per month.

Businesses:

The premium plan starts at $12.50 per user, per month, when paid annually.
Grammarly also offers multi-user software designed for educational institutions, but they do not publish pricing for these custom-tailored plans.
Free Version vs. Premium Version

As mentioned, Grammarly offers a free version and premium version, both of which are feature-rich and very helpful.
Free Version
Unlike many free trials and free versions, Grammarly's free offerings are incredibly useful. While the free version doesn't check as many aspects as the premium version, if you're just looking for a free tool that offers a little more than standard spell-checkers do, it may be all you need.
The free version of Grammarly checks:
Spelling mistakes

Punctuation mistakes

Convention mistakes (i.e., if you're writing in Australian English when you've specified American English)
The free version also gives you a number showing you how many additional errors the Premium check has found for that piece of writing, which can be valuable in helping you determine whether it's worth upgrading. Of course, Grammarly's free version places no limitations on word count or usage, so you can take all the time you need to decide.
Premium Version
Grammarly's premium version comes with all the features found in the free version, along with the tone detector, plagiarism detector, and several additional checks, such as:
Inconsistencies in your writing

Unclear structure

Redundant word choice

Lengthy sentences

Insensitive language

Inappropriate tone
Another great, less-talked-about feature of Grammarly Premium is that its tooltips, which always come up when you hover over the highlighted text, give you additional information about your grammar. It also tells you why it highlighted a word/phrase, giving you the opportunity to learn from your mistakes so your writing actually improves over time without developing a complete reliance on such tools.
Additionally, Grammarly Premium offers better suggestions because you can tailor the feedback you receive by telling the tool what you're writing about and who you're writing for. To make the most of this feature, you'll want to specify all of the following:
Intent:

Select from inform, convince, describe, or "tell a story"

Audience:

Select from a general knowledge level or expert knowledge level

Style:

Select from formal or informal

Emotion:

Select from mild (i.e., for unbiased projects) or strong (i.e., for biased or opinionated projects)

Domain:

Select from business, technical, or academic
Making these selections doesn't necessarily mean that all the feedback Grammarly gives will be accurate, but it's a great step toward utilizing a truly "human-like" AI-powered editor.
What Users Say About Grammarly

About 7 in 10 Grammarly users say they have more confidence since they began using Grammarly. Meanwhile, about 76% of Grammarly's users say writing is more enjoyable since they started using the app. Of course, it's important to recognize that no tool can replace the power of a human editor. Grammarly's suggestions won't always be right, especially since it cannot understand context, but the team behind it constantly strives for improvement.
With all of that in mind, what do users actually think about the application? Overall, it has received great feedback from those who understand that its purpose is to correct errors and not to transform sloppy or rushed writing into a masterpiece.
Ben Moore from PC Mag shares this statement in his review: "It's well suited for people actively looking to improve their writing but still caters to users who aren't aware that they need help. Grammarly's real value is its ability to highlight your most common mistakes and help you avoid them going forward."
Meanwhile, reviewers on TrustPilot give Grammarly an average of 4.0 out of 5.0 stars, with more than 1,100 reviews in all.
Critical reviews point out that it can lead to a slow and laggy experience when using the Word add-on for longer documents, with one business user stating: "It simply slows everything down, makes your Office experience and typing incredibly laggy. Every time you open a Read-Only file... Grammarly throws up various notifications saying it won't work in Read-Only mode."
However, performance complications aside, the main issue reviewers find sprouts from misuse of the tool. Accepting Grammarly's suggestions will only hinder great writing, as teacher Matthew David Townend points out in his review, which states: "A student handed in an essay checked with Grammarly... It is finding errors and fixing things that aren't a problem. [B]eing foreigners, they don't know better [and] just trust the tool."
Ultimately, those who use Grammarly as a "better" spell-checker over the default (or non-existent) alternatives in their native applications tend to be beyond pleased with its attention to detail. However, those trying to use the tool to replace an actual human editor or a thorough proofread are sure to be disappointed.
Scripted & Grammarly

When used correctly, Grammarly is a powerful and super handy tool to have around. Not only does it help you catch pesky typos and other simple errors, but it can also help you with more advanced problems, like insensitive language and a potentially inappropriate tone. Plus, with written communication becoming an increasingly major part of our work and professional lives, there's no doubt that having a second pair of "eyes" is, at the very least, a bit more confidence-inducing when you click "send" on an important email.
All of that said, Grammarly isn't a tool that can dress up or transform writing that's sloppy or error-ridden, to begin with, and that's why your writing projects are best trusted to the hands of professional writers like those on Scripted. If you're looking for experienced authors and ghostwriters who can help you with blog articles, e-books, and Web content, look no further than our pool of more than 6,400 professionals.
When you work with Scripted, you'll connect with a team of trusted writers and editors who are prepared to create any content you require. Plus, with our Cruise Control service, one of our account managers will manage your content strategy for you, getting to know your industry and business's needs so they can launch and oversee every project for you. Interested in learning more? Reach out to our friendly team to see how partnering with Scripted can help your business.