How Do I Write a White Paper?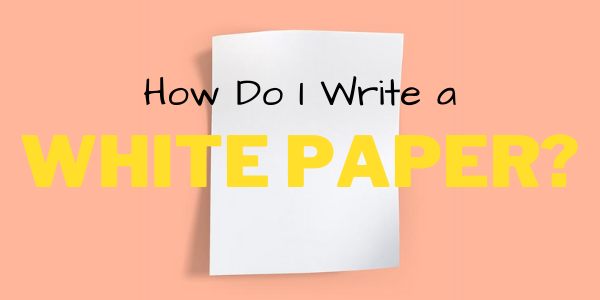 Sometimes a regular blog post is just too restrictive if you have lots of information to share with the world! That's why a white paper is so effective. It lets you communicate your incredible ideas in much more detail, establishing your organization as a fountain of knowledge.
White papers are an amazing way to build a reputation as a thought leader in your industry. By definition, this content type is a "persuasive, authoritative, in-depth report" that addresses a specific topic. Use it to present a problem and explain the unique way your brand can solve it.
If you've never written a white paper before, the process can seem a little intimidating. However, the benefits of producing a high-quality white paper in your content marketing strategy far outweigh the challenges. It's time to dive into the methodology of it all.
Ready to get started with your white paper project? Hire a white paper writer on Scripted today!
Understand What a White Paper Accomplishes
A white paper isn't a promotional pitch. Its purpose isn't to sell products and services but educate your audience about a subject and how you provide a solution to a problem. However, it can serve as an indirect promotional tool in a couple of ways.
A white paper often requires an email address before someone can download it, so this content type is a great way to capture email information from your target audience. You can also use a white paper to tell your audience how your brand, product, or service can solve an issue your audience experiences (more on that in the next section!)
In those respects, a white paper is not like a research paper or report — the type you might have completed at college. A research paper merely takes a topic and provides analysis and insights; white papers do the same thing but gently persuade the reader to make a decision at some point during the text. 
The format of your white paper depends on your goals. However, most documents follow a similar structure with the following elements:
A title page that includes the name of the white paper, its author, and other information

An introduction that presents the subject matter

A table of contents

A 

problem statement

 that explains an issue or challenge, often backed up by relevant case studies

A solution to that issue or challenge, often backed up by original research

A conclusion

References
Regardless of the format you use, white papers can be extremely effective. Research shows that 71% of businesses find white papers to be one of the top four most effective tools for marketing collateral, while 56% of all downloaded content comes from white papers, eBooks, and guides. 
So how long should a white paper be? It all depends on your audience, topic, and content goals. Typically, white papers are six-to-eight pages long but, if you have a lot to say, yours might be much more lengthy! 
Identify a Pain Point

The key power of a white paper is that it digs deep into a significant and specific pain point that your audience is experiencing. Therefore, the first step in writing a white paper is identifying a pain point that's worth covering. Ideally, the pain point you identify will relate to your brand's experience, enabling you to offer unique insight into a solution for the audience's pain point.
White papers typically:
Discuss the results of a survey or study you have conducted regarding the pain point, giving readers more information to address or understand it.

Assemble unique case studies into how a given party solved the pain point in question.

Detail a unique process or procedure regarding the pain point, its impact, and how it was overcome.
Dig Deeper
Writing a typical blog article includes research and fact-checking. However, white papers often include original research that readers can't find anywhere else. That makes this content type extremely valuable for audiences. While research is expensive, it improves the credibility and authority of the information included in your white paper.
Some of the most respected publications online invest in original research for their white papers. These publications include McKinsey & Company, IBM, Deloitte, and Salesforce. Audiences learn about a problem/solution in a white paper topic that often includes statistics, charts, graphs, and other data visualizations.
If you can't offer new research, you should look beyond other blogs and websites by diving into research studies, academic papers, and other reliable sources to offer a truly in-depth and comprehensive compilation of numbers and information for your audience. That's how you add value to your white paper and build trust and authority in your niche around a particular topic.
Outline Your Topics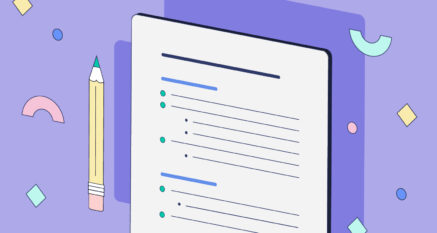 While you might be the type of person to jump right into the writing process without much planning, a white paper is no place to skimp on the details. Since a white paper tends to be detailed, an outline is an essential tool that organizes your thoughts and structures content.
When creating the outline for your white paper, you'll dig into sub-topics for each subject you choose, potentially discovering new points you hadn't thought about before. 
Looking for a freelance copywriter to create a highly authoritative and credible white paper for your organization? Scripted's vetted writers will create a white paper in as little as a few days, helping you share insights with your target audience. Sign up for a 30-day free trial now!
Consider Your Visuals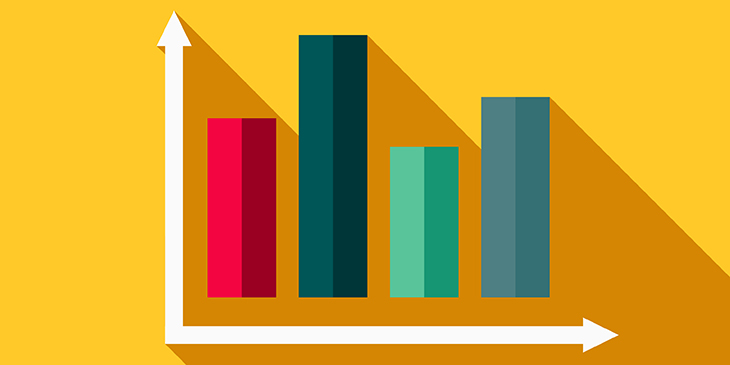 White papers almost always incorporate numbers (and lots of them!) to convey information. So visual charts, infographics, graphs, and reports are worth including. If you can't create these yourself, work with a graphic designer who can make them visually appealing. Investing in a good design will be a smart move for your entire project. Around 40 percent of learners respond better to visuals than text alone.
While white papers were once reminiscent of textbooks — long and lacking any vibrant graphics — they now benefit from an advanced visual design that moves readers from one section to the next. In other words, a long text document is no longer acceptable and won't result in social sharing or word-of-mouth conversations.
As well as visuals, think about the overall look of your white paper. What font will you use? Will you include a table of contents? What about page numbers? Headings? Subheadings? Takeaways? Will you use bullet points to break up information and convey key points? Thinking about the style of your white paper will improve readability for your target audience.
You don't have to publish your white paper as a PDF, which has been the most popular formatting choice for thought leaders for many years. McKinsey & Company, for example, publishes white papers as regular website pages. Using the website format allows you to include internal links, video embeds, and other visuals that aren't possible with PDFs.
Don't Overlook the Details
On top of the visual aspects, it's worth setting aside some time to edit your content throughout and after the writing process. Editing and proofreading can take a while for a long document like a white paper, so working with an experienced copywriter means you can focus on other areas of your content strategy.
Beyond typos, the right copyeditor will help you remove redundancy throughout your document and identify areas where information may be too wordy or perhaps misplaced. A copyeditor's feedback could improve the impact of your writing by relocating, removing, or re-wording certain sentences throughout your white paper.
A good copyeditor will understand the key message you're trying to convey and the core value you are offering readers, ensuring your white paper hooks your readers. The right professional can even help with your call-to-action so your white paper generates the results you're after.
Think About SEO
While the primary goal of a white paper is to inform and educate your audience, these content types can also be effective for search engine optimization (SEO). Search engines still crawl PDF documents and rank them high on their results pages if content in a white paper is useful and valuable to search users. 
You can include relevant keywords in your white paper to improve SEO. However, you'll likely boost your rankings if you create credible and trustworthy content that provides unique insights to audiences. Google, for example, favors content that is either highly sourced or includes original research. Therefore, it's not uncommon to see a white paper on page 1 of its results pages for certain keywords. 
SEO ties into the thought leadership aspect of a white paper. If you establish yourself as a credible source of information, your search engine rankings will improve. You can also include elements in your white paper that make it easier to crawl, such as a meta description and alternative text for any images. 
Working with a reputable white paper writer lets you create authoritative content about your topic area and increase your position on search engines. The right copywriter will translate your ideas into words and create a creative and compelling content piece that resonates with your target audience.
Promote Your White Paper
Once you have published your white paper, you want the world to read it! That's why promoting your white paper is a great idea. It exposes your white paper to your target audience and encourages them to download it from your website. You might want to send a link to your document to your email subscribers and include a brief description of your content and why they need to read it! You can also promote your white paper on social media. 
One of the best ways to advertise your white paper is to create a landing page on your website that includes key takeaways from your document and instructions on how visitors can download your paper. As previously mentioned, you can ask people to provide their email addresses to access your document and use this information for future marketing campaigns. 
If you have a small social media presence, you could ask influencers to promote your white paper on their channels. Doing so will expose your brand to a whole new audience and potentially bring more traffic to your landing page. Alternatively, you can publish your white paper on websites like Tech Target and CIO White Papers Review. These sites accept submissions and expose your content to a wider audience. 
Measure the Success of Your White Paper
It's important to track your white paper online so you know whether your investment in this content type was worth the time and effort. Monitoring content performance will also help you learn how to create even more effective white papers in the future. 
There are various ways to measure the success of your white paper. Start by using analytical tools to determine the ROI of your content and understand how readers engage with your document. The more data you analyze, the more insights you will generate about your investment. Website analytical tools will help you learn information such as the number of people who download your white paper from your site and how many people hit the 'back' button on their browsers after reaching your landing page. If you display your white paper as a web page rather than a PDF document, you can also track how long visitors spend reading your document and how many click on your CTA. 
You can also track your white paper's SEO and see how many people find your document from search engines. Tools like Google Analytics help you achieve this goal, letting you learn which keywords generate the most interest in your white paper. Don't forget to track your social media channels to learn how many people like and share posts about your white paper on platforms like Facebook and Twitter. 
How Scripted Can Help With Your White Paper 
While your business may pour hours into compiling case studies or documenting a process in a unique manner that can serve as the core of your white paper, you might not have the time or experience necessary to convey that information. So it's worth reaching out to a white paper writer to help you turn your topic of choice into an impactful, detailed breakdown.
If you don't know where to find that writer, Scripted is the place to go. This content writing and editing platform matches you with the best white paper writers in your industry, helping you create content worthy of placing on your website. When you're ready to hire, Scripted's platform gives you the tools to collaborate with a copywriter, handle revisions, and bring your white paper to life.
Scripted's freelance copywriters are waiting to write your white paper now! Sign up for your 30-day free trial today.