Zero GPT AI Technology Explained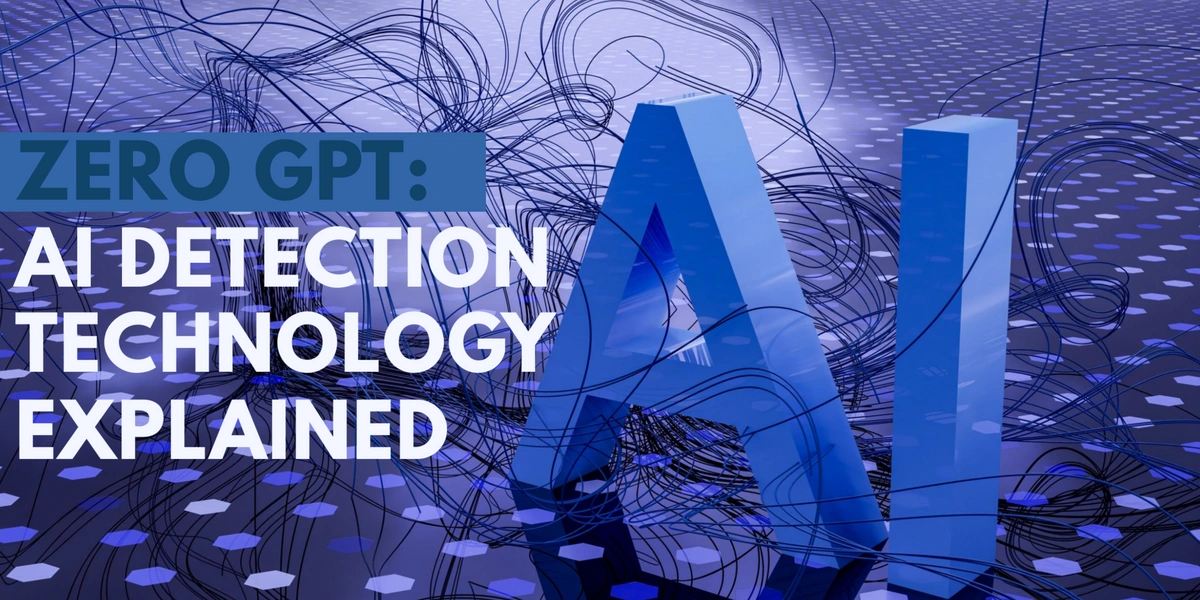 From ChatGPT's momentous launch in November 2022 to GPT-4 beginning to underpin customer-facing business tech, AI is becoming part of daily life. There are many ways to use AI for increased productivity and efficiency, but it's also useful to know when AI has been used to generate content. 
We don't want to be in a situation where we have no way to tell what is AI-generated and what's created by humans. That's where Zero GPT AI Technology comes in.
What is Zero GPT AI Technology?
There are so many generative AI tools used by businesses now. OpenAI's GPT-3 and GPT-4 are intrinsically built-in to many organizations' underlying tech. This can help power chatbots, create meeting agendas and other useful lists, or create snappy short-form content, such as photo captions for social media. Even cybersecurity professionals utilize generative AI, which can accelerate threat detection by as much as 73%. AI is great for these tasks and can save businesses tons of time and money. 
However, AI tools can also generate long-form content, such as blog posts and articles, which businesses might try to pass off as their own content. Even more worrying is the possibility that content platforms can use AI to generate content and then charge businesses for it at the same rate as they would charge for painstakingly researched, human-crafted content.
Zero GPT is one term for AI detection technology. These are checkers that scan text for the likelihood of it being written by a human or AI. You may also hear these detectors referred to as GPT zero tools or simply AI detection tools.
How Does Zero GPT Work to Check for ChatGPT and Other AI-Generated Content?
Zero GPT AI technology is basically generative AI in reverse. It's trained on an enormous dataset of different types of text, which makes it a large language model or LLM — just like ChatGPT. However, instead of using this training to generate text, it uses it to analyze text. This analysis allows it to produce a result that predicts the likelihood of the text being AI-written or human-written. 
AI detection models should then become increasingly accurate as more AI-generated text becomes widely available. This provides more training material, giving the AI a larger dataset of the statistical characteristics of both human and AI content. Key differences include sentence structure, repetitive use of words, and how concepts within an article flow together.
Read More: Focus on Quality Content With Scripted AI Detection Layer
Why is Checking for AI Content Important?
When productivity is such a key concern in increasingly competitive markets, why should businesses care if AI or a human writer generates their content? Well, there are several reasons to use AI detectors:
Some search engines may penalize machine-generated content, although Google states that the quality, not the source of the content, is the most vital factor in SERP rankings
AI writing tools aren't quite able to generate high-quality, deep-dive, long-form content, so AI-generated blog posts or articles could damage a company's brand reputation if the quality is poor
Businesses need to know that if they're paying for human-written text, that's what they're getting
Organizations that can produce genuinely human-written content that offers value to a viewer increase their legitimacy and relevance to their target audience
AI writing tools are advancing quickly, and in a recent survey, 63.5% of respondents couldn't tell the difference between GPT-4 text and human-written content. While that's great news for businesses wanting to use AI-generated content, it's a clear sign that AI detector tools are necessary.
Key Benefits of GPT Zero and Similar AI Detectors
Like all emerging technologies, there are pros and cons of zero GPT tools. 
Pros
Many AI detection tools are completely free
They're usually super easy to use
Businesses may be able to integrate AI detection into a layer of their own tech stack
Cons
AI detection is not infallible — sometimes tools mark human content as AI-written and vice versa
AI detectors aren't reliable with very short pieces of content
Choosing the best zero GPT AI technology is getting difficult as so many platforms now offer their own versions. Usually, it's just the interface that changes, and the underlying tech is very similar across the board.
Three AI Content Detectors Available Now
If you want to start running your business content through an AI detector, here are three widely used AI detection tools and some notes on their success.
GPTZero
GPTZero was created by 22-year-old Princeton University student Edward Tian in just three days. Since its launch in January 2023, it's been used by people across 40 states and in 30 different countries. The app started out as a quick, easy way to check for ChatGPT content. It quickly went viral and now supports checking for GPT-3, GPT-4, and Google Bard content. 
The interface is really simple — just a white box that you enter your text into. You can also upload a file from your device. Click the Get Results button, and GPTZero gets to work. This AI detector uses two primary metrics to analyze text called perplexity and burstiness. These examine sentence structure and vocabulary use to see if it matches the random creativity you'd expect from a human.
We gave it a try. First, we asked ChatGPT to generate a recipe for rose and pistachio biscuits. Then we ran it through GPTZero.
Interestingly, the platform decided this recipe was only partly written by AI. However, it did highlight all but the very beginning of the article as AI-generated. Pretty good. There's a note on each result reminding educators not to punish students with these results, as they're not guaranteed. GPTZero also offers tools specifically aimed at teaching staff.
ZeroGPT
ZeroGPT is another AI detection tool with a free, easy-to-use interface. Its website bills the tools as the "most advanced and reliable" detector, but considering GPTZero also states that it's the "global standard" for AI detection, this is difficult to verify.
Using the good old scientific method, we did exactly the same test with the recipe. 
The result was similar. However, the detector picked slightly different parts as probably AI-detected. This might be because the underlying tech for ZeroGPT is a little different. These algorithms are called DeepaAnalyse and have an accuracy rate of 98%.
CopyLeaks
CopyLeaks promises the "Only enterprise AI content detection solution" and 99.1% accuracy. It's used by a number of educational establishments to check students' assignments. It offers both a free, quick-results interface and a sign-up option that provides additional text capacity and language options. 
The same test produced another positive result for AI content. The interface highlights sentences in red that are more likely to be AI-generated. This platform, whilst boasting higher accuracy than the previous two, actually suggested a lower likelihood of AI-generated content. This highlights how shorter-form AI content is more useful than long-form content, which is often picked up by AI detectors instantly.
The Best Way to Ensure Your Content is Human Written
If it's absolutely essential to your organization that all your long-form content is 100% written by human copywriters, Scripted could be the answer. Our platform has built-in AI and plagiarism detectors, so you know all your blog posts, articles, or whitepapers are completely unique. You also get the reassurance of content written by subject matter experts (SMEs) with years of experience in the relevant industry.
AI detection isn't the only way Scripted utilizes AI to your advantage. We also use our AI to match you with the best writers for your needs via our proprietary SmartMatch offering. AI can even create a content brief or do your keyword research for you. It's all about taking the time-consuming tasks that don't need a high level of creativity and automating them to drive efficiencies. 
For the first time ever, Scripted is also offering AI-generated content. Social media posts, photo captions, product descriptions, and even press releases can all work well when generated by AI. This offering is completely free for businesses, content marketers, and entrepreneurs. 
AI detection will only increase in importance as AI becomes more advanced. With 35% of businesses already using AI, it's time to consider how it fits into your firm's strategy. Talk to Scripted about the right content for you, either from highly skilled freelance writers or created by smart AI. Get started with Scripted here.