The Best AI Detection Tools For 2023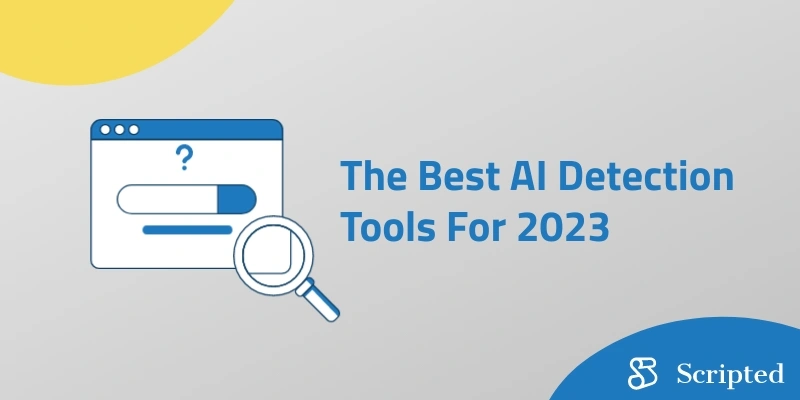 Remember Blade Runner? Yes, we're talking about the 1982 science fiction dystopian masterpiece (arguably), in which Rick Deckard is a bounty hunter specializing in identifying and hunting down replicants. Replicants are like our current AI times a million and stuck into a synthetic human body, and the AI detection method is roughly based around the very real Turing Test—only in the movie, they call it the Voight-Kampff test. 
The Turing Test was the creation of pioneering mathematician and computer scientist Alan Turing, way back in 1950. Despite the common perception that the test was to determine whether machines can truly "think", it was actually to test whether a human could tell the difference between another human and a thinking machine. Guess what: Roll forward 73 years and that's exactly what many of us are doing on a day-to-day basis—using AI detection to figure out if something was written by a knowledgeable, experienced human or created via large language models and algorithms. 
Thankfully, today there are plenty of tools that will let you know if the writing you want to publish has been crafted by AI.
Why do I need AI detection?
What a great question! The main reason why AI detection tools are essential is that, whether you're a content marketer or a business owner, you want to position yourself as a trusted resource within your market. That means no duplicated content, no plagiarism, and no blogs or whitepapers that have been entirely thrown together by AI software.
This is because AI writing is still at the stage where, while it can be very useful in certain situations, it can't be trusted to be completely factual or not duplicate other content already out there. This is problematic for several reasons:
         

You don't want to be accused of plagiarism as this can break down trust with readers and potential customers

         

Getting stuff wrong in your articles spreads misinformation and can damage your brand reputation

         

If someone else runs your work through an AI detection tool and finds out it wasn't written by a human, this could generate negative comments and cause your readership to dwindle

         

Google doesn't like sites with high volumes of AI-generated content, and has already started penalizing websites for this type of writing
So, even if you had no qualms about putting out content that's not completely accurate—and you should, of course!—the bottom line is that it's quite likely that your SEO will drop dramatically, as will your SERP rankings.
This means that you need to make sure that any freelancers you work with are sending in human-crafted content. You also need to ensure that if you're using AI tools for writing, you're fact-checking everything and re-writing sections to provide value and avoid duplicate content. That's where AI detection tools come into their own.
How do AI detection tools actually work?
Obviously, there's no copywriting version of either the Voight-Kampff or Turing tests. AI detection tools don't sit and ask your blogs a series of questions to check that they're human! However, the basic principles are surprisingly not that far off. AI detection software has a built-in understanding of how AI text generators like ChatGPT work, which allows them to compare the content between what they expect AI to generate and what AI definitely wouldn't generate.
Currently, AI detection is based on the principle that, because AI developers are largely transparent about their AI training methods, it's easy to predict how an AI will respond to particular prompts and questions. AI detection tools "know" what type of responses to look out for, and flag those with a high likelihood of being created by AI.
This allows you, the content marketer, writer, or business owner, to re-work your blogs and articles or provide feedback to your writing teams that the content has pinged a red flag for suspected AI creation.
Do AI detection tools ever get it wrong?
It's possible. AI detection software bases its success on the predictability of AI content. Still, of course, some human writing can be predictable, too—ever figured out the ending of a mystery book before you got to the end? You know what we mean, then!
If human writers are creating boring, soulless work that follows the same structure and patterns all the time, there's a chance it could "fool" an AI detection tool into thinking it's actually not human-written at all. Which is kind of embarrassing for everyone concerned.
The other way around, yes, some AI-written text does get past some AI detection tools. This is why we've brought together the best AI detection tools on the market right now to help you know the difference between great writing and AI-generated content.
Top tip: Most AI detection tools can't tell if very short-form content is human or AI-generated. So, an extremely short product description, for example, could easily slip through. However, it's worth noting that if AI detection tools are happy with the content, the chances are that most search engines will be forgiving, too.
Originality.ai
Originality's AI detection platform is not free, which is immediately off-putting for many users. However, what it does offer is a feature-rich solution including plagiarism checkers, a Chrome extension, and content optimizers. It's also one of the most accurate AI detection tools available, and shows 95-96% accuracy compared with OpenAI's accuracy of 35-36%—more on OpenAI below.
Pros
         

Highly accurate

         

Tons of features

         

One cent per 100 words
Cons
Overall verdict
For organizations that don't mind paying for their AI detection tools, Originality.ai is a great, highly accurate, and easy to use solution.
Passed AI
What are all teachers and tutors currently concerned about regarding AI? Students cheating on their homework. Yes, Passed is an AI detection tool specifically for academic institutions to check if students are using ChatGPT or another Ai-generative solution to craft essays, theses, or dissertations.
Pros
         

Leverages Originality.ai's tech and algorithms (see above)

         

Tracks alterations within documents

         

94% accuracy across multiple generative AI tools
Cons
         

No free version although a demo is available

         

Aimed entirely at academic institutions
Overall verdict
For schools, colleges, and universities, this is a clear winner when it comes to ensuring transparency within student submissions.
Hugging Face
Hugging Face is a broad-ranging AI community that calls itself the "home of machine learning" and provides a ton of open-source resources and libraries. It's no surprise, then, that Hugging Face provides one of the best AI detection tools available right now. The simple interface is very transparent in stating that it won't be accurate below 50 characters, and it's modeled on GPT2 yet still managed to show great accuracy even when testing text from later AI models.
Pros
         

Highly accurate

         

Created by experts in machine learning and AI

         

Great for those interested in finding out more about AI as its held within a learning community
Cons
         

Users may see more inaccuracies as AI-generated content improves

         

Limited to 510 characters
Overall verdict
Hugging Face provides numerous AI detection tools thanks to its vibrant user community, and this appears to be one of the best. However, the short character limit might render it not as useful for long-form content writers.
Sapling
Sapling's AI detector is straight down the line in that it states that it's only giving you a probability of AI-generated content. It gives an example of AI-crafted prose in the text editor before you start, so you can see straight away how the interface works. It also highlights the suspected AI content, which is handy for writers who want to adjust their work. We gave it 1,000 characters on the Coke versus Pepsi debate, generated by ChatGPT, and it immediately flagged it as 100% AI-generated copy.
Pros
         

Highly accurate at detecting AI content

         

Allows writers to edit the text to see how the score changes

         

Easy to use

         

Free
Cons
         

Detects some human-written content as AI-generated
Overall verdict
As far as we can tell, there's no limit to how much content you can assess with Sapling's AI detection tool. It quickly picks up AI-generated content, but also flagged many of our human-written sentences as AI-generated, so we're unsure if it's glitchy or if our soda-based writing was just super predictable. All in all, one of the best AI detectors available right now.
Writer
Writer is primarily an AI-based content generation platform, which also includes its own AI detector. The platform has a slew of features, but we're assessing the AI detection side only, today. It's a very simple copy-and-paste interface, with the instructions to the left of the text entry box. There's also a direct link to a help center article.
Pros
         

Easy to use

         

Readily available for those already using the Writer platform

         

Free
Cons
         

Limited to 1,500 characters

         

Low accuracy: text under 1,000 characters from ChatGPT flags as human-written
Overall verdict
While Writer's AI detector is super easy to use and free, it doesn't always work for shorter texts. With a character limit of 1,500, this renders it slightly redundant for most purposes, however, it could be a great tool for checking blogs chunk by chunk.
Winston AI
Winston AI bills itself as "The most powerful AI content detection solution," which is a bold enough marketing strategy to prompt us to take a look. It seems that their detection model is based on a number of tools, including ChatGPT, Copy.ai, and Jasper. This platform currently claims a 96% accuracy rate in detecting AI, and includes features such as printing reports and extracting text from images for analysis.
Pros
         

Feature-rich; far more features than other detectors on our list

         

Easy to use

         

Good user support
Cons
         

The free version only supports 2,000 words per month

         

The $14/month package supports up to 80,000 words which still might not be enough for serious content marketers or agencies
Overall verdict
Winston AI is a fairly new tool so it will be good to see how user reviews stack up against the many features it offers. The chargeable package is probably the only viable option for anyone writing/assessing more than a single blog a month, which makes this a much more expensive option than many on this list.
OpenAI
Remember us talking about how most AI developers have been transparent about their methods? OpenAI, creators of ChatGPT, have gone a step further and launched their own AI detection tool to help people understand if written content is crafted by an AI or not. They call it an AI Classifier, and it's trained to distinguish between human-written and AI-written text.
Pros
         

Created by the developers of ChatGPT

         

Trained on huge large language models, the same as ChatGPT
Cons
         

The developers themselves state that it is not "fully reliable"

         

Does not work in any language except English

         

Unreliable on blocks of text below 1,000 characters

         

Frequently mislabels human text as AI
Overall verdict
Bizarrely, OpenAI's AI Classifier is not top dog, which is a surprise considering they have instant access to the algorithms and training behind some of the most popular AI content-generating tools out there. However, it is refreshing that Open AI is completely transparent about the limitations of this classifier, and we expect improvements in due course.
Getting the right content for your business
You don't need to rely on AI-generated content to keep your blogs, website, or social media platforms up-to-date and on-brand. Get started with Scripted, and we'll match you up with subject matter experts that take the time to craft content your readers will find valuable and shareable. Yes, we use AI tools to assist in content strategy and ideation, but humans craft all our writing—and you can use the tools above to check!