Hire Social Media Writers
For Your Business
Hiring a social media writer can help you leverage the reach of platforms like Twitter, Facebook, Instagram, LinkedIn, Pinterest, and more. Having great content on your site is a must, but properly amplifying that content on social media can be just as important. Find social media writers here on Scripted to write posts for your next campaign. Start your Free 30 Day Trial today!
Great Content Marketing Requires Great Social Media Writers
How It Works
Join Scripted
Gain access to thousands of expert social media writers by joining Scripted. Your first month is always free! Add experienced social media writers to your team and use our powerful platform.
Describe Your Social Media Writing Needs
When you're ready with an idea for content that you want written, create a project. The platform offers simple tools that you can use to describe your project for potential social media writers. You don't have to use all of the tools, but we recommend it.
Invite-only Projects: Over time, you might find that you prefer the work of a few content writers. At that point, you can configure your projects as "invite-only" and invite specific social media writers who have impressed you.
Review Job Proposals
Social media writers will see the project and propose their unique ideas. Start one or more job proposals that you like most.
Receive First Draft
Within a week you'll have a draft to review. You can accept it immediately or request a round of edits. Scripted's in-line review and approve platform makes providing feedback and requesting revisions simple.
100% Satisfaction Guarantee
If you don't love it, you don't pay for it. Period.
Power your marketing with great writing.

– Start your 30-day free trial today!
GET STARTED
Frequently Asked Questions About Hiring Social Media Writers
Online marketing is essential for small businesses these days - but running social media accounts is a lot of work. You need to keep a number of platforms constantly updated with new content to build trust with your audience and grow awareness of your brand. Hiring a social media writer is the best way to create online content that combines the talent of engaging storytelling with the art of selling and SEO.
When it comes to hiring a social media writer, rates can vary quite a bit. According to Sprout Social, you can find a writer in the $25 to $150 range for one short- to medium-length article. The lower end of the scale would be for articles where little to no research is necessary, while blog writers who can research, offer subject matter expertise, SEO, and other skills will be at the upper range or higher.
Hiring a social media writer starts with ironing out the details of your job posting. Know what you want before you start looking. Consider the following:
How much content will you need? 2-3 Facebook posts per week? One LinkedIn article per month? Instagram posts every day?
Would you like one writer to manage all your content needs? Or would you prefer a few different writers?
How much research will your social media posts require? Does your writer need to be a subject matter expert?
What kind of tone/voice are you looking for?
Get a clear sense of what you are looking for so you have a better chance of finding a social media writer who is right for you.
One way to find social media writers is to ask people in your network for recommendations and referrals. You can also find writers online by conducting independent searches for social media writers for hire. This gives you access to writers who work independently and can provide their rates, availability, etc. Content writing platforms are another helpful way to find social media writers. They offer a pool of high-quality, pre-vetted writers across a variety of industries and help you find a good match.
When searching for a social media writer, you want to make sure you find someone who has great technical expertise as well as a tone/voice that matches with your brand. Look at a candidate's writing samples to get a sense of how they communicate. Do you get the sense they will resonate with your audience and be able to match the style of your existing content? Do they have experience writing in your industry? Do they have consistently good reviews and star-ratings from past clients? These questions will help you narrow down your search.
Connect with the Top Social Media Writers
Finding top quality writers may seem like a daunting task. Where do you even begin to look?
At Scripted, we understand that your time is valuable. That is why we offer an extensive pool of the world's top content writers, including some of the best social media writers available. No need to search the web, wondering if you're heading in the right direction — we've completed that step for you.
Since we only accept 2 percent of our applicants, this means that the writers on our platform display excellent skills in grammar, creative thinking, and word choice. In addition, our writers are expected to meet tight deadlines, pitch creative proposals, and use client feedback to perfect ongoing content. By investing in such talented, reliable social media writers, you will already have a competitive advantage.
How to Hire a Social Media Writer
Once you become a Scripted member, the rest is history. You will gain instant access to the highest quality writers and based on varying options, you will be able to find the perfect candidate with ease. Over time, you will establish professional relationships that you can rely on when you need content. That's the power of expert freelance social media writers.
During the hiring process, you can choose from the following options:
Begin browsing all writers based on their expertise, viewing their profiles and available writing samples
When you find writers who impress you, feel free to directly assign them work
One of the most popular methods is to invite writers to "pitch" to your job
Based on the proposals you receive, select the writer(s) you'd like to work with
This level of flexibility means that you can work with the same writers time and time again — or hire new writers for each project, diversifying your online presence. When it comes to social media, you may find one writer that consistently delivers when it comes to product descriptions, yet prefer another writer when developing content specifically for Instagram posts.
Regardless of your needs, take comfort in knowing that the hard work has been done for you. All you need to do is select the writer of your choice, hire them for the job, implement an ongoing marketing strategy, and watch your brand grow.
Scripted Writers Have a Diverse Skill Set
Looking for a writer with a diverse skill set? Not only do we have experienced social media writers, we also have:
Brand journalists
SEO experts
Lead generation writers
Newsletter writers
Advertising copywriters
Technical writers
Press release writers
No matter what type of writer you need - from social media posts to white papers - we know someone who perfectly fits your next project.
Ready to browse social media writers for hire?

– Start your 30-day free trial today!
GET STARTED
Encourage the Best Social Media Writers to Work with You
Scripted is so successful because writers and clients are both valued, as each partnership requires one another. That is why at Scripted, we ensure that our writers are just as happy as our clients. To do so, we provide clients with the tools they need to ensure excellent communication — the type of communication that encourages long-term partnerships.
To become a member that writers want to work with, remain mindful of the following:
Leave positive reviews when writers do a great job — they also have the opportunity to leave you a review based on their experience
Although the Scripted platform can finalize work automatically for you, it's best if you address and finalize projects quickly
If a writer goes above and beyond, you have the option to tip them
When creating a job, ensure that the writer has all of the information they need (both in terms of writing a proposal and for the job itself)
If you find writers you like, build working relationships with them instead of always hiring one-off writers
Although Scripted members will always find a writer that can fulfill their needs, being a great Scripted will attract proposals from our top social media writers and form a long-term relationship that will benefit you long after you hit publish.
These Great Companies Love Scripted Social Media Writers
Social Media Writing Catered to You
Benefits
What Scripted Social Media Writers Can Do For You
Collaborate with Real People
Scripted is a marketplace for writers, not robots. You'll communicate directly with your writer to execute your vision. When you find a writer you love working with, add them to your favorites to start building your bullpen.
Get the Best Content
Thanks to Scripted's rigorous vetting process, only 2% of applicants become Scripted writers. You'll find experts in every industry to write informed content. That's why every order comes with a satisfaction guarantee. Only pay for what you love!
Utilize Powerful Tools
Scripted's intuitive content management tools provide your all-in-one writing solution. Organize, scrutinize, and analyze your entire content operation right from Scripted.com!
Hire a social media writer and start saving money on in-house staffing and PPC.

– Start your 30-day free trial today!
GET STARTED
Can Scripted Writers Help You Rank on Google?
One of the easiest ways to improve your Google ranking? Publishing great content - including the social posts that promote that content.
Google loves websites that:
Publish informative content frequently.
Link to authoritative sites.
Get shared often on social media.
Scripted has writers of various expertise and skills. They write:
100% original blog posts.
Social media posts that promote your content.
Website and landing page copy with SEO-friendly format
Newsletters that keep your audience engaged.
Need extra help with Google rankings? Sign up for Cruise Control data-driven marketing solutions for perks like:
A content strategy developed by our team of experts.
An SEO audit that optimizes your existing content.
Keyword research that helps you attract search engine crawlers.
Publishing content on your site as well as social media, forums, and leading industry sites.
Content from writers with years of SEO experience
Top Google ranking can give your business the edge you need to top competitors. We cannot overemphasize the importance of using strong content to achieve a higher ranking.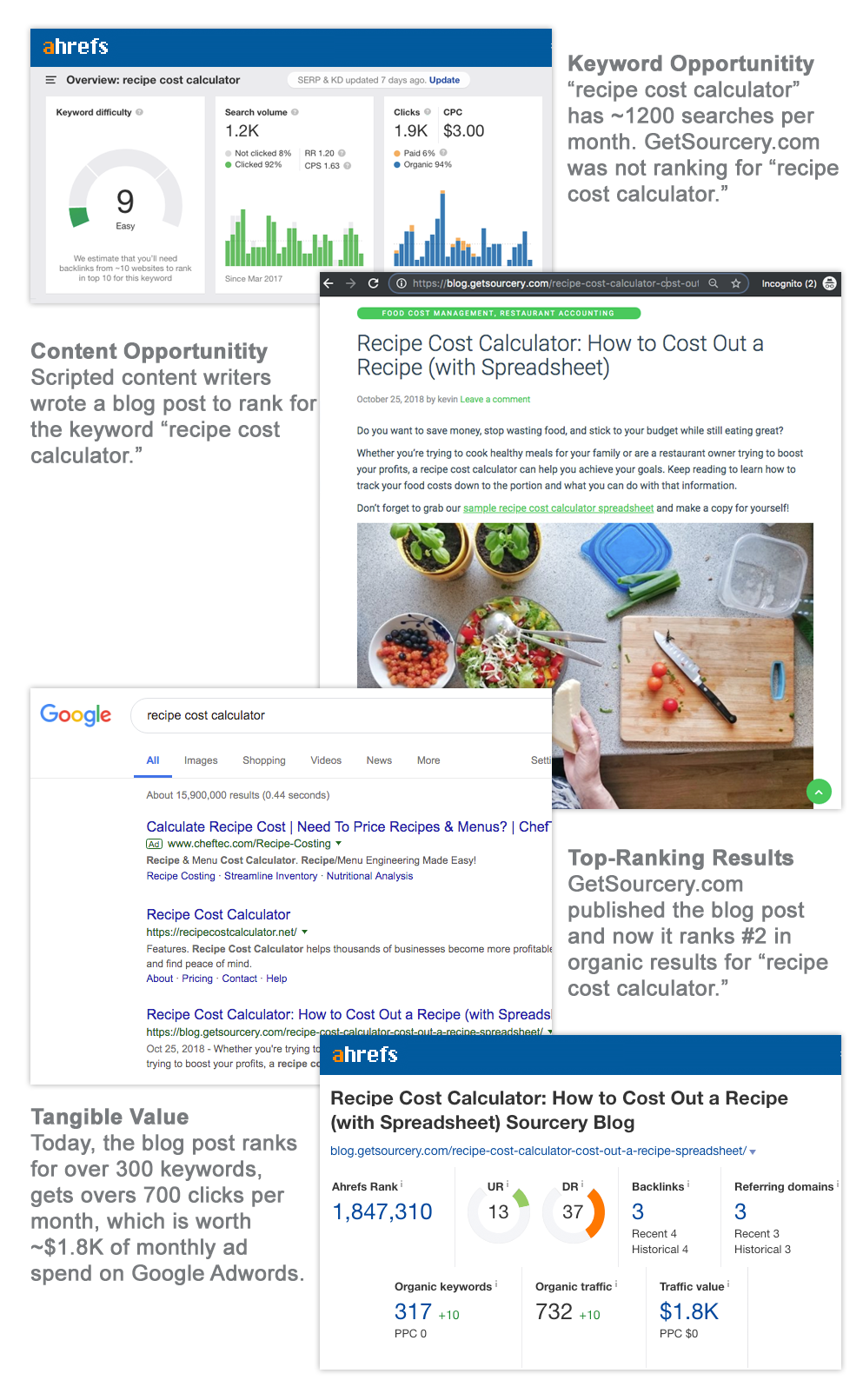 Stop Working with Mediocre Social Media Writers
Every dollar counts when it comes to your business, not to mention your time, which is why you should stop wasting your resources on writers who do not meet your expectations. There are many incredible writers out there, you just need to find them.
Numerous studies have shown that marketers and businesses often waste a significant amount of their marketing budget. As reported in one key study, respondents estimated that they waste an average of 26 percent of their budgets on ineffective strategies and channels. While various factors contribute to wasted financial resources, low-quality content will rarely provide a return on your initial investment.
'That's where Scripted comes into play. At Scripted, we have done all of the "heavy lifting" for you. We have assembled a pool of the most skilled and experienced writers available, including those who specialize in social media content. Why waste your time and money on writers that miss the mark?
Scripted writers will help you build an audience, strengthen your brand, and improve your search engine rankings. For those aiming to grow their social media audience, great content is the first step in doing so. In fact, the better your content, the more likely it is to be shared — and the more often your content is shared on social media, the more your Google ranking will improve.
Whether you would like to develop fresh social media content or require a writer to promote your website content across social media platforms, Scripted will help you reach your unique goals. The process of hiring top-vetted writers has never been easier.
Start your 30-day free trial to access some of the best social media writers today!
Get Started
Try Scripted
Free

for a Month

Your first month is on us.