Free AI Tweet Generator Software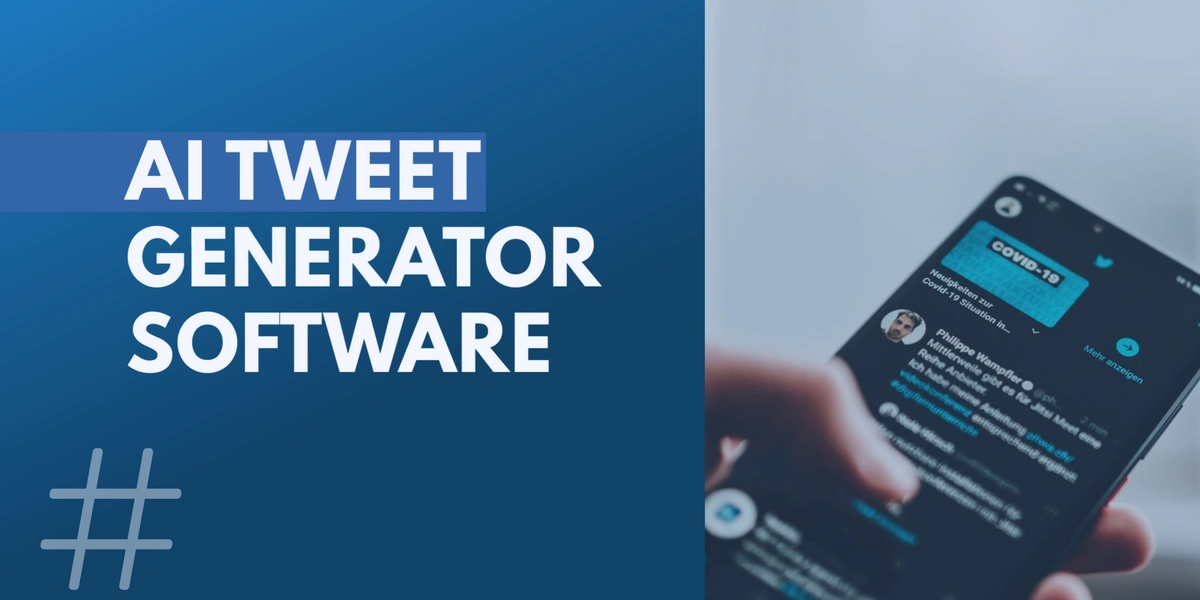 Twitter is a special community, and those in it understand what makes the platform and popular accounts so appealing. 
The popular social media platform often makes headlines because of canceled celebrities and other criticisms, but it's an excellent space for businesses of all sizes. Being a user-friendly, trend-spotting, influential community, it's the perfect marketing tool for your website, blog, and brand. 
With over 300 million monthly active Twitter users and its many evolving features, this social media platform allows you to send your marketing messages to targeted groups of people. Whether you want to convert followers into site visitors, jump on a trending topic to increase visibility or build your brand's personality, this is the spot to do so. 
The only issue is the whole creating content part. It's time-consuming and requires creativity. If you've hit a wall with your tweets lately or don't have the time to tweet as often as you'd like, an artificial intelligence (AI) tweet generator software might be the ticket you seek. 
Why include Twitter in your marketing strategy?
Twitter has long been a meeting place, allowing businesses to use the platform to target specific audiences and build community interest. It's a place where people talk about the latest trends, so it's also a great way to gain valuable customer insight. If you're wondering what your prospective and current customers are chatting about, Twitter can help. After all, Twitter sees around 6,000 tweets each second. This shows that many people use Twitter as a conversation platform, which can open plenty of doors for you.
Plus, Twitter offers several features that allow you to expand your reach, including retweets, hashtags, and mentions. When used effectively and often, you can spark new conversations while expanding on others trending among your targeted Twitter audience. 
The limitations of human tweeting
The conversations you start and join can help guide your ongoing brand marketing and customer outreach strategies. However, to truly optimize the potential of Twitter, you also need to get in on the conversation consistently. The more you tweet quality content, the greater the chance you'll catch the attention of your intended audience — which is easier said than done, right?
Not only are business owners and marketing teams busy, but creating effective tweets that stand out can be tough since thousands of tweets get posted every second. To nail the perfect tweets, you need to know your target audience, be creative, and pay attention to detail — and that doesn't even include the time and energy it takes to consider tone and style, ensuring each tweet aligns with your brand. These challenges can lead to low engagement rates, inconsistent messaging, and missed opportunities. 
The greatest challenge of Twitter is the time it takes to tweet regularlyConsistently tweeting content that is worthy of people's attention is time-consuming. So, why not consider an AI tweet generator tool? This step will allow you to automate this process, significantly reducing the time it takes to craft winning tweets that convert. 
What is AI tweet generator software?
There are plenty of considerations when using AI writing assistants and content generators, but the core point of using these tools is to automate low-level tasks. AI tweet generator software is a platform or standalone tool to help you create engaging tweets in seconds.
These tools generate unique tweets based on user input, powered by advanced algorithms associated with ChatGPT and other chatbots. Many of these tweet generators can effectively analyze data, such as trending topics, engagement rates, and language patterns, to produce tweets that will help you stand out while eliminating the need to manually write captivating tweets — which can be both challenging and time-consuming. 
Generating tweets in seconds could be a game-changer for your team and overall marketing strategy. 
How do AI writers work?
For example, tools that leverage machine learning will create content based on varying dataset categories. They can recognize words based on machine learning algorithms but will not understand the context of the words they write. They rely on algorithms to identify relationships and patterns in data. In contrast, deep learning, a subset of machine learning, can better understand the context of a word and will often present content in a way that more naturally flows. However, it also requires more data to improve accuracy. 
There are specific tools that will analyze your Twitter page, "learn" from it, and produce content to sound like something you'd write — which doesn't always work out the way you'd expect. Regardless of the tool, it will help you produce tweets at scale. However, all teams should carefully analyze the messaging before they publish any AI-generated tweets. You may receive vague quotes or messaging that's far too formal. Again, you still need to be hands-on during this process, but AI Twitter generators can help provide the core foundation for your tweets and help you generate ideas when that dreaded writer's block sets in. 
Top tips to us an AI tweet generator tool effectively
AI may sound like a magical option, helping you cut costs by nearly eliminating time-intensive tasks — and while it can do some amazing things, it still requires you to steer it in the right direction. 
With that in mind, remember these tips:
Know your audience — You must understand your audience when using any channel. What resonates with your intended audience? Be sure to leverage data to gain critical insights to tailor your messaging accordingly. You can use these insights to ensure more detailed input so AI-powered tools can create messages that require less tweaking. 
Set clear, defined goals — Before using an AI tweet generator, you must focus on your goals. Do you want to generate leads, or are you more concerned with brand awareness? Your messaging needs to align with your goals.
Customize outputs to fit your brand messaging — AI generators will create tweets in seconds, but that doesn't mean you should leave them as they are. Customize the output to match your brand's tone of voice, language, and style. Doing so will help you craft the perfect message in a fraction of the time. 
Monitor, test, and pivot — Your Twitter strategy will evolve with you, so lean on data-driven insights. AI tweet generators aim to reduce the manual workload required to operate a successful Twitter account, but that doesn't mean these tools will handle every aspect of your strategy. You must still be mindful of what's working and what's not to ensure maximum engagement and impact. 
Use the right keywords and hashtags — Many AI tweet generators will help you identify relevant hashtags. You can also leverage the power of keyword research tools.
Should you use a free AI Twitter tool?
So, what are the best AI Twitter tools when considering pricing?
There are paid and free options online, and while paid tools offer plenty of features, especially for bloggers, free tools created by end-to-end platforms can be highly effective for low-level tasks like tweeting. 
There are multiple benefits to opting for the free account, but it's not without limitations. 
The primary advantages are that you can:
Create social media content at scale
Generate engaging content without chewing into your marketing budget 
Access the tools that come with this account to optimize other areas of content creation
However, there are some key considerations, including the following:
The content free (and paid) tools provide isn't typically polished 
Human intervention is required to ensure effective, accurate messaging 
Optimize your content strategy today
Seeking an AI tweet generator is a great way to automate a lower-level task so that you can invest your resources into higher-level tasks. You can use one of the many tweet generators online, but why use more tools than necessary? If your goal is to boost automation, save time, and produce more optimal results, Scripted gives you an all-in-one platform that ticks every box within your content marketing strategy. 
Take advantage of unlimited AI-generated content and human expert writers. The result will be time and cost savings without sacrificing quality — which remains one of the most crucial elements of content creation. 
The goal is to produce high-quality content while streamlining and optimizing the content creation and marketing processes. 
So, whether you're looking to up your Twitter game, better understand the keywords trending in your niche, create thought-provoking blog posts, nail your next press release, or anything else related to content creation, Scripted has your back.