How Google Does and Doesn't Want You to Use Artificial Intelligence

Google sees artificial intelligence as an important tool that can help solve complex problems quickly. Google's AI platform has features for machine learning, crowdsourcing data, and analyzing Fairness Indicators to optimize software for as many people as possible.
You might have already noticed that Google AI doesn't take a purely mechanical approach to solving problems. Google AI's Fairness Indicators tool makes it obvious that the company wants technology to focus on humanity.
Google AI also has a list of AI principles to follow. The principles include:
Taking a human-centered approach to design.





Including concrete goals for fairness and inclusion in AI models.





Checking systems for unfair biases.





Understanding the limitations of datasets and AI models.




AI can already do some remarkable things, such as:
Reviewing healthcare data to discover viruses before they spread through a community.





Communicating with customers to give them 24-hour services.





Automating financial decisions to maximize profits while minimizing risks.




All of these examples have at least one thing in common: they work for the betterment of humans.
At this point, you might wonder what any of this has to do with content marketing. AI could disrupt content marketing and what Google thinks about companies using AI to generate content. Let's dive in.
Creating content with help from artificial intelligence
A growing number of companies say they can use AI tools to write content without much – or any – oversight from humans. The fact of the matter is that no software developer has built an AI tool that can give writing the human touch you need to engage your audience and reach KPIs.
Will the technology ever reach a point when it can replace human writers and editors? The software has so far to go that you shouldn't expect to see positive results any time soon. It would likely take decades. You need results now.
What does Google think about AI-generated content?
Don't get too excited. These tools rarely come close to creating the kind of human-centered content that Google wants. Google takes this seriously enough that its search engine penalizes websites that use AI-generated content.
During a Google Search Central SEO Office Hours on April 1, 2022, John Mueller, the Webmaster Trends Analyst at Google, called AI-generated content "spam."
This shouldn't surprise anyone who has paid attention to Google's advice over the last decade. Google Search Central specifically says that publishers should avoid using "extensive automation to produce content." From Google's perspective, automation tools get in the way of creating "people-first content."
Unless you have an AI tool that can perfectly mimic a professional writer's work, your search engine results will suffer. Currently, no tool can meet that goal, so it's always better to write real content that addresses the needs of your audience.
How can Google detect AI-generated content?
Google doesn't release many details about its search engine algorithms. However, you can trust that Google, one of the most powerful tech companies in the world, has a better algorithm than any content generator.
If readers can tell the difference between AI-generated text and content written by a human, Google's algorithm can also spot the difference.
While Google won't tell you exactly how it does this, it readily tells you how to create content that appeals to its algorithm.
Google advises focusing on its E-A-T concept, which stands for "expertise, authoritativeness, and trustworthiness," to improve search engine rankings. If your content demonstrates these traits, it has a better chance of reaching Google's first page of results. AI tools can't demonstrate these traits without significant human oversight. You might get decent results from an AI tool, but you would need to spend a lot of time feeding the algorithm information and correcting its mistakes. It's much easier and more effective to hire an experienced writer.
Does Google penalize help from AI tools?
You shouldn't rely on AI to generate content, but that doesn't mean you have to stay away from all AI tools. Some artificial intelligence software could help improve your content. In fact, Scripted frequently uses machine learning and AI tools to improve content marketing results.
Importantly, all of these tools work as assistants. They don't do the actual writing. Instead, they help writers demonstrate E-A-T while following specific brand voices. Some of the tools commonly used by Scripted writers and account managers include:
Grammarly

Grammarly uses AI to find spelling and grammar mistakes. It can also recommend changes to make content more engaging and precise.
Grammarly suggests improvements, but it doesn't generate text. Someone must write content before Grammarly can review it for recommendations. Google search engine results won't penalize you for using Grammarly. You just have to make sure you write an authoritative article that gives readers useful information.
You're free to use this AI tool without any negative consequences for your SEO. In fact, Scripted's writer platform offers a Grammarly integration that helps writers and editors submit high-quality drafts free of typos and confusing sentences.
What does Google think about Grammarly? Use it!
Clearscope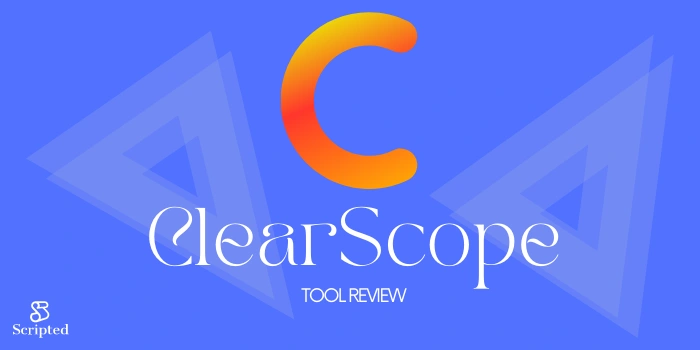 Clearscope is an AI-driven SEO tool that recommends keywords that should attract search engine crawlers. The tool uses advanced analytics to give you insight into keywords other websites use to achieve high rankings. As you use more of the suggested keywords, your content's grade increases. Anything with an A- or above has a good chance of reaching the first page of Google results.
Note that Clearscope doesn't write anything for you. It simply gives writers some guidance so their content will appeal to search engines. Some writers find that Clearscope helps them concentrate on crafting clear, authoritative content because they don't need to worry about whether they've included the right keywords in their text. The tool tracks keyword placement, so the writer can focus on creating an engaging article that meets the reader's needs.
It's also important to note that Clearscope grades can't guarantee good results. You could try posting an article that just includes Clearscope's keywords. The tool might recognize this as successful SEO. Google AI is a bit smarter than that. It will notice keyword stuffing and penalize your website. Just as importantly, people won't want to read your content. As the article's bounce rate increases, its ranking will fall.
Several of Scripted's account managers use Clearscope to create effective SEO strategies that push your content to the top of search engine results. Although the tool can't guarantee results, you get a much better chance of ranking when you have a professional writer using it as an SEO guide. That way, you benefit from the right keywords and a human-centered perspective written by someone who knows how to grab the reader's attention.
What does Google think about Clearscope? Use it!
But the software developers say AI tools work great!
Software developers using AI to generate content automatically want you to think that their tools can help you succeed. You might find ads arguing that artificial intelligence:
Saves money by generating content without a writer or editor.





Uses algorithms to determine effective ways to target audiences.





Speeds up content generation so you can publish more often to boost your website's authority.




Currently, none of these statements can stand up to a little scrutiny.
AI software might cost less money than hiring a writer and editor, but today's tools don't produce high-quality content that Google pushes to the top of its search results. You might save money, but you will lose traffic and generate lower revenues. Although AI is used for optimizing marketing efforts research shows marketers are not using it to replace humans.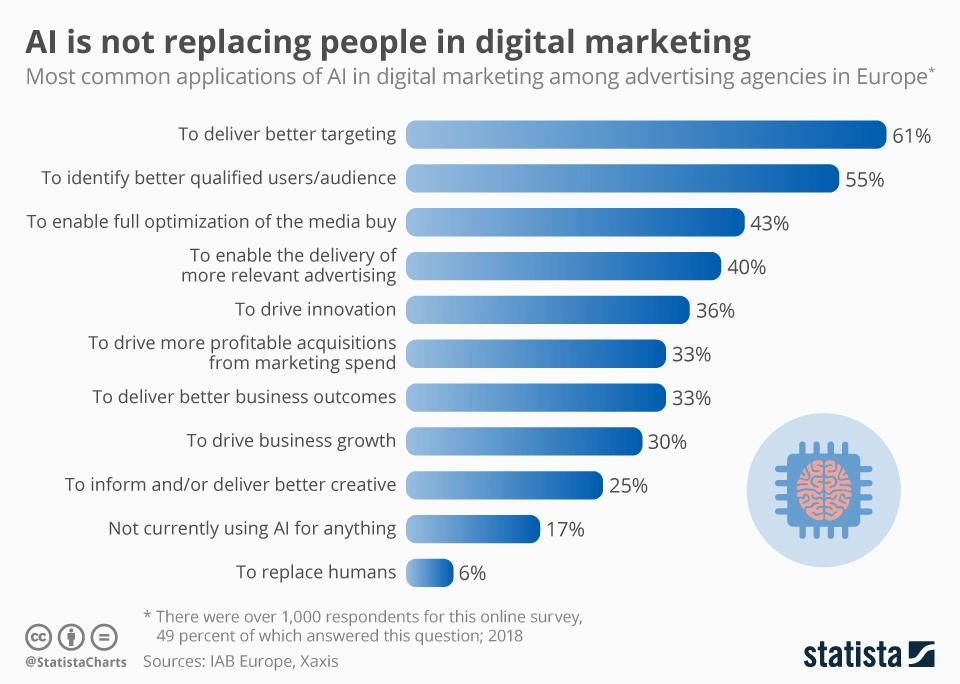 Algorithms can take a data-driven approach to choosing content, but they're notoriously bad at imitating the unique voices that make brands stand out. Every company works in a crowded industry. You must have a voice that sets you apart from competitors. Only a human with years of branding experience can turn your ideas into blog posts, landing pages, social media posts, and other content that sounds unmistakably like your brand.
Automatically generating text will certainly make it possible for you to publish more often. That doesn't mean your website's authority will improve, though. Google and other search engines care more about the quality of your content than how often you publish. Until artificial intelligence can write content that sounds like it came from a human, you can't expect its work to improve your site's authority.
Get Quality Content That Drives Results
Google AI does a lot of useful things, but it isn't sentient – well, probably not. No AI tools can produce the kind of content you need to reach your audience, keep readers engaged, and attract search engine crawlers. Those results rely on the work of a human brain that has spent time learning how to communicate well.
Maybe AI will eventually reach the point where it can write as well as people. Right now, though, that isn't the case.
That's why you need a professional writer with experience creating content for your industry.
Start a 30-day trial with Scripted so you can find the right person for your next content project. Scripted's team members use AI tools for support, but they don't let those tools dictate what they write. By connecting with Scripted's writers, you get the best of both worlds: professionally written content with SEO suggestions from the best tools available.