Joe Pulizzi, the Godfather of Content Marketing, Shares his Wisdom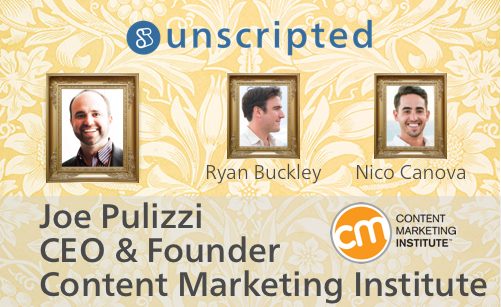 Joe Pulizzi, Founder & CEO of the Content Marketing Institute (CMI), joined Scripted's podcast to discuss CMI's content marketing secrets, explore the future of content marketing and reveal a bit of his personal life. Marketers and businesses would do well listening to what Pulizzi, considered the "Godfather of Content Marketing," has to say.
June Was a Huge Month for Joe Pulizzi and Cleveland
This June CMI was
sold to UBM
, a significant event for Pulizzi's company. This multi-million dollar deal will only help CMI grow into the future.
June was amazing for other reasons. Pulizzi, who calls Cleveland home, saw how the Cavaliers helped end a 52-year drought and make Cleveland a city with a championship team. For Pulizzi, the Cavs are also stars at marketing. The team is active with email, social media and multimedia, and they have fantastic video clips, known as hype reels. A lot of organizations can learn from the Cavs, both inside and outside of sports. Pulizzi believes the key to their success is consistency.
A lot of organizations fall down with consistency. Even when they produce great content they don't follow it up or produce it nearly enough. After basketball season finishes, the Cavs still communicate with their audience year-round.
Content Marketing as a Profit Center
Pulizzi discussed how
Red Bull Media House
isn't measured like other media houses with content marketing, since it has its own record label, events and content marketing. You'd think Red Bull would be evaluated by the amount of cans sold; instead, its execs use content marketing as a profit center. Their media efforts generate their own ROI that goes beyond selling product.
A few weeks ago, Pepsi revealed how they want to generate revenue specifically off their marketing as well. Pulizzi believes content marketing as a profit center will be a new development, and it will rely on a diversification of revenue streams for marketing.
Traditional content marketing is about closing faster, driving more sales, and retaining customers, but it is moving toward subscription models, product sales tied directly into the content, and event-driven revenue, such as those featured by companies like
Salesforce
. Pulizzi believes that in the next three to five years, a media company and an enterprise content marketing group will be measured in exactly the same way.
The Importance of Events
Content marketing conferences are growing rapidly because disruption leads to more people needing education, which is precisely what's happening in the current content marketing world.
Events have been the number one content marketing tactic, according to Pulizzi's research results from the last seven years. You get face-to-face time with customers and can also generate direct revenues from an event.
Many companies, like CMI, are now focusing on events. They generate all their content, including blogs, podcasts and newsletters, and their ultimate product is events.
The History of CMW in a Nutshell
CMI's big event of the year is the annual
Content Marketing World
(CMW), which is considered the premier event in content marketing. Scripted not only attends but is also a sponsor.
Pulizzi's company began as a connecting force. There were agencies out there trying to drive leads and brands out there that needed content marketing. He wanted to bring the two together, but he knew agencies didn't want to pay for anything.
By 2009 he had thousands of people following CMI's work, but he realized his model wasn't working. He shifted attention to emails and social media and saw his audience wanted more training, consulting and education. He realized people don't necessarily need help to execute their content marketing projects; they just don't know how to get started.
He decided to pivot and become a leading provider for educational and training information around the world.
CMI needed three legs to become successful: the digital leg, the in-person leg and the print leg. They already had a digital leg with their blog and email subscription base; then they launched their print magazine, Chief Content Officer, in January 2011.
Pulizzi was worried when they launched CMW in Cleveland in September 2011. He felt nobody even knew what content marketing was at that point, and he believed about 100 people would show up.
A whopping 650 showed up that first year, and Pulizzi realized CMI had a real opportunity.
How Pulizzi Made It Work
Pulizzi said they used basic audience building strategies, starting with the core hub of a blog before diversifying into the magazine and their event. Like other media companies, they have now focused revenue and profit around events, including their spring Intelligent Content Conference and their seasonal road shows.
In fact, Pulizzi says 65 to 70 percent of total revenue comes from events.
Other arms of their company are doing well, including webinars and online training. However, the best thing they offer is that unique event experience.
Big and Small Businesses Benefit
CMI and CMW offer great content for SMB marketers. Of course, there are speakers from Fortune 500 and 100 companies present, but Pulizzi says 30 percent of attendees to CMW are from small businesses.
This year, they're offering 14 concurrent tracks on a variety of topics. About seven to eight of those are applicable to small and mid-sized businesses. The biggest problem you'll have as a small business owner is to choose between these tracks, which are based on your pain points, such as content creation or social media.
On Friday, CMW features the "Content Inc. Workshop," which is designed specifically for small businesses.
Companies Need to Make Content Marketing a Core Part of Their Business
Pulizzi used to work in publishing and said the company would perform "reader calls" to understand what readers did and did not like about the content produced. They could then take that data to the editorial department and sell with it, for advertising and products.
Now, data intelligence can tell you exactly how content is performing. Why aren't SMBs using this data? Pulizzi believes a lot of businesses don't think content marketing is core to their business.
Most small businesses have a marketing person and maybe a freelancer or two, but their marketing is not integrated with the business and how the business communicates. For example, customer service should talk with the content department to produce content that solves problems before they get a helpline call.
Pulizzi believes business will place more impotence on content marketing because it makes for a smart enterprise that understands what customers like and don't like.
How Pulizzi Writes
Pulizzi likes to use the "blog-to-book" strategy. He breaks down each proposal into chapters, where each chapter has multiple points like any book. Each point is about as long as a blog post.
He "bakes" the book and its chapter into his regular writing, which includes speeches and blog posts, and over the course of six to nine months, he'll find that most of his material is already written.
For example, his 2013 book, Epic Content Marketing, took about eight months to complete, and it was just a matter of bringing together all his previous content into one package. Even if the content is already available, people will still pay for the package.
Ghostwriting
Pulizzi writes most of the content for his books but does direct some of the more research-driven parts, which he later puts together and completes with finishing touches. He advises that if you're going to work with a ghostwriter, make sure he or she delivers what you want to say and is behind what's driving your mission.
He also adds that some of the best-selling books ever are ghost-written, and he doesn't have a problem with it.
Learning to Say No
Pulizzi used to say yes to everything in the beginning because he was a hustler. He did every podcast and every Q&A, but now he tries to say no a little bit more.
Ultimately, he wants to educate his audience, and he finds himself saying no if something isn't in line with that goal. He recommends the same for you.
Pulizzi's Daily Routine
The first thing Pulizzi does is grab a cup of coffee; then he reads the paper and does a 20- to 30-minute workout.
His to-do list is all hand-written in his many notebooks. In fact, he's a notebook fanatic, which might come as a surprise to someone considered a leading digital content marketer. Pulizzi then gets on email and starts handling the tasks of the day.
Ultimately, Joe Pulizzi is a huge part of the content marketing universe, and Scripted looks forward to his insights for future Scripted podcasts.
Subscribe for the latest in Content Marketing & Freelance Writing!
While you're here, have you tried Scripted lately?
Used to be a member, but moved on? Heard of it, but never signed up? The current iteration of Scripted will amaze you! Streamline your content writing efforts and build your own team of high-quality writers. It's all you need for content writing. Try it free today and meet your next favorite writer or writers!