AI Marketing Software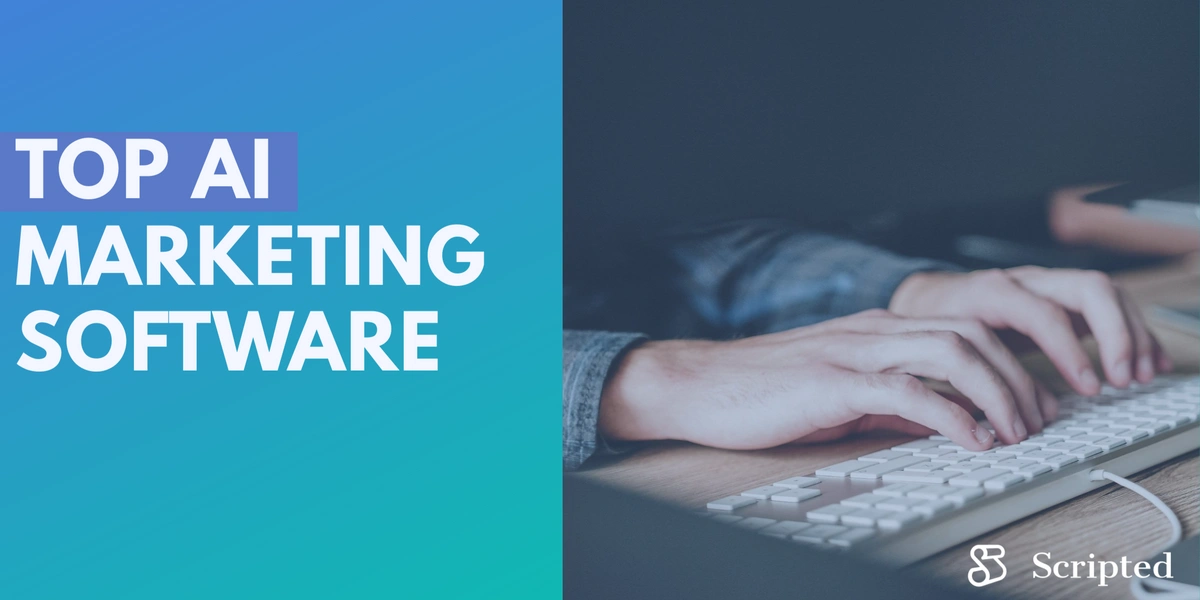 AI is everywhere these days! What is all the hype about? Can you use artificial intelligence for your business? AI marketing software is just one way your business can benefit from this surge of new technology.
In this article, you'll learn how AI marketing works and how to integrate it into your company's marketing strategy. You'll also learn more about the top software options on the market. Ready to get going?
Will AI replace humans?

As AI becomes increasingly popular, many worry that it will eventually eliminate the need for human workers. While artificial intelligence is impressive, it can't completely take over for humans. However, it's still helpful for running a business and can streamline processes. If you need help with your marketing strategy, AI can help.

With AI, you can reduce the workload on yourself and your employees. While it won't eliminate the need for human editing and oversight, it does serve to automate many areas of your marketing strategy. AI can save money, as well as time.
How Does AI Marketing Software Work?
Each AI marketing tool has its own methodology and algorithms, but they all employ machine learning, and most tools use predictive analytics. AI solutions learn through continued use and interaction, applying the lessons in future conversations and other activities.
While humans understand complex contexts and nuance better than any machine can, computers are far better than humans at pattern discovery and behavior analysis. You can take advantage of these capabilities by using AI to analyze your audience and your content. 
There are a few specific areas in which AI marketing software excels, including:
Chatbots. Chatbots let you provide customer service to site visitors during and outside of normal business hours. Chatbots are AI software programs you train with information about your business, questions you typically receive from visitors and customers, and the answers to those questions. The program can then chat with a customer, answer questions, and offer solutions. In some cases, the chatbot may not understand a question or have a satisfactory answer, at which time it can offer to connect the person to a live representative for assistance. One of the most popular use cases is the small corner popup encouraging site visitors to engage in a specific behavior and/or to offer something in exchange for certain actions.

Targeted advertising. Thanks to AI's ability to instantly find patterns, it's perfect for segregating customers and sending targeted messages or deals to the best possible market for that product or service.

Content creation.

 Not everyone is a writer, but content is one of the most (if not the most) important drivers of commerce. AI content creation and marketing solutions can be trained on information from the internet's best marketers to create unique content for your website, social channels, email campaigns, and more. However, it's worth mentioning that serious accuracy issues have been recorded with many AI content solutions. It's likely that AI-generated content will always require a human editor for accuracy and fact-checking.
For a robust marketing arsenal, employing all of these tools can help you create better content marketing options.
3 Current Trends in AI and Digital Marketing
Is AI important to digital marketing? A whole lot of successful business owners think so. According to this study, 91% of Fortune 1000 companies are investing in AI. Out of those, 26% had already added AI systems to their own companies. Considering the survey occurred in 2022, you can imagine how much those numbers have grown with the tech boom.
AI marketing tools continue to improve and grow faster and faster all the time. Here are some of the top trends in AI marketing that you can expect to see more of soon:
1. Automated Content Creation
AI copywriting is a great solution and it's constantly improving. Artificial intelligence can create everything from SEO blog posts and social media posts to product descriptions and ad copy. At the launch of tools like ChatGPT, AI content was robotic, error-prone, and flat. Today, it's drastically evolved and will continue learning from its users. Ideally, you need to combine AI technology with human experts to get the best quality copy. As great as AI is, it's not infallible. It rarely catches the subtle nuances that humans can. Having a Subject Matter Expert review the content provides a human touch.
2. Automatic Customer Segmentation
Marketing has always been about targeting the right audience. AI makes it much simpler to do that and in far less time. It's easy to split your customers into different key segments, such as search intent, behavior, demographics, interests, or other criteria. Segmentation lets you hyper tune your marketing and ensure it meets the right customer at the right time. 
3. Natural Conversation Chatbots
What used to be an annoying, mostly unhelpful text box has become so much more. Chatbots like Manychat can already provide more natural-sounding information to clients.  AI chatbots don't require scripts, which is where technology failed previously. Instead of getting stuck on the same line, it can learn from every interaction and improve upon it. This ability to learn means it's far less frustrating for customers to talk with a chatbot to get more information. Chatbots make it easier to be available to your clients 24/7.
With the rapidly changing face of technology, it's not surprising that there are new updates nearly every day. AI is moving faster than nearly anything we've seen before, and it's bound to continue this growth for some time. That's why you must consider incorporating machine learning into your business strategy.
Top Reasons to Use AI Marketing Automation Software
Even if you're not an expert in digital marketing, you can learn how with AI. It does all the heavy lifting for you, but that's not the only reason to consider AI marketing solutions.
AI marketing automation software can help you:
Save money: Nearly half of all businesses use some type of automation for its efficiency and money-saving qualities.

Improve conversion rates: For instance, with chatbots, you can rapidly answer customers' questions without ever speaking to a customer yourself. Real-time chats using natural language processing make it simple for the AI to communicate with customers in real-time and help close more sales.

Faster marketing solutions: AI is fast. It's far faster than a human. AI marketing helps you appeal to more of your audience by letting you adjust strategies based on customer behavior, buying habits, and more.
The future is AI, and the future is happening right now. So, what types of AI marketing tools are worth considering? Which ones do you really need?
Common Types of AI Marketing Tools
There are so many AI marketing tool options to choose from, it can be overwhelming. First, understand that not all AI solutions are equal. There's been such a rush to market lately, that knowing which tools actually deliver on promises is a tough call. Then decide which aspects of your business you want AI assistance with. Certain solutions are great for some use cases but don't work as well for others.
Common types of AI marketing solutions include:
AI for email marketing

AI for social media marketing

AI for content marketing
Top 4 AI Email Marketing Tools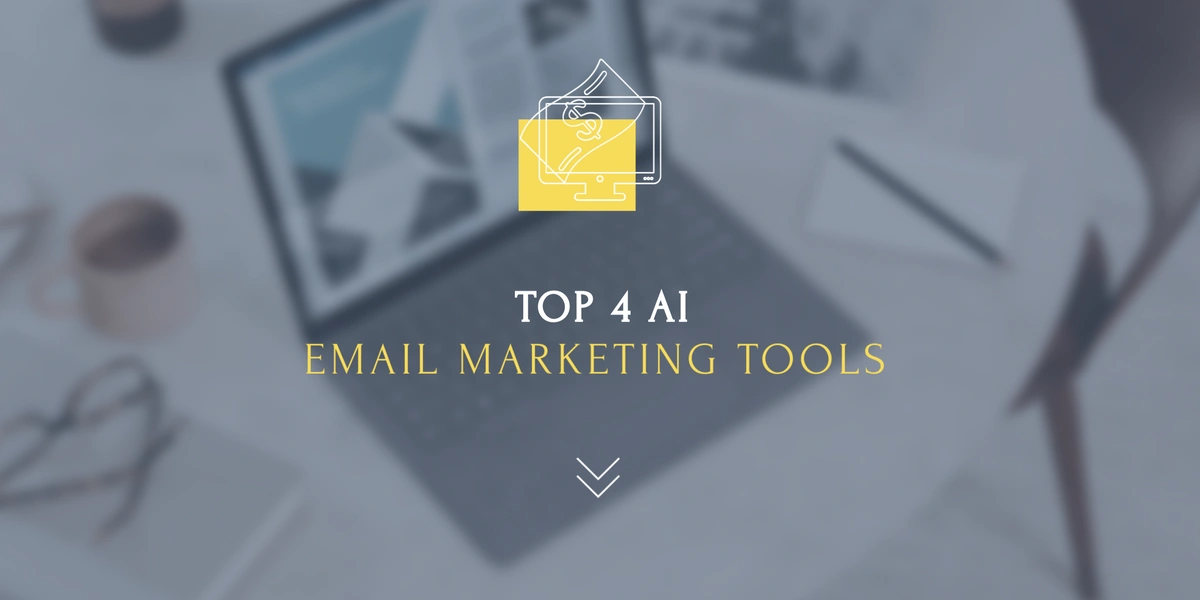 Email marketing is a powerful technique that reaches people directly, right in their email inboxes. However, if not done correctly, you could earn a bad reputation for spam.
#1. Seventh Sense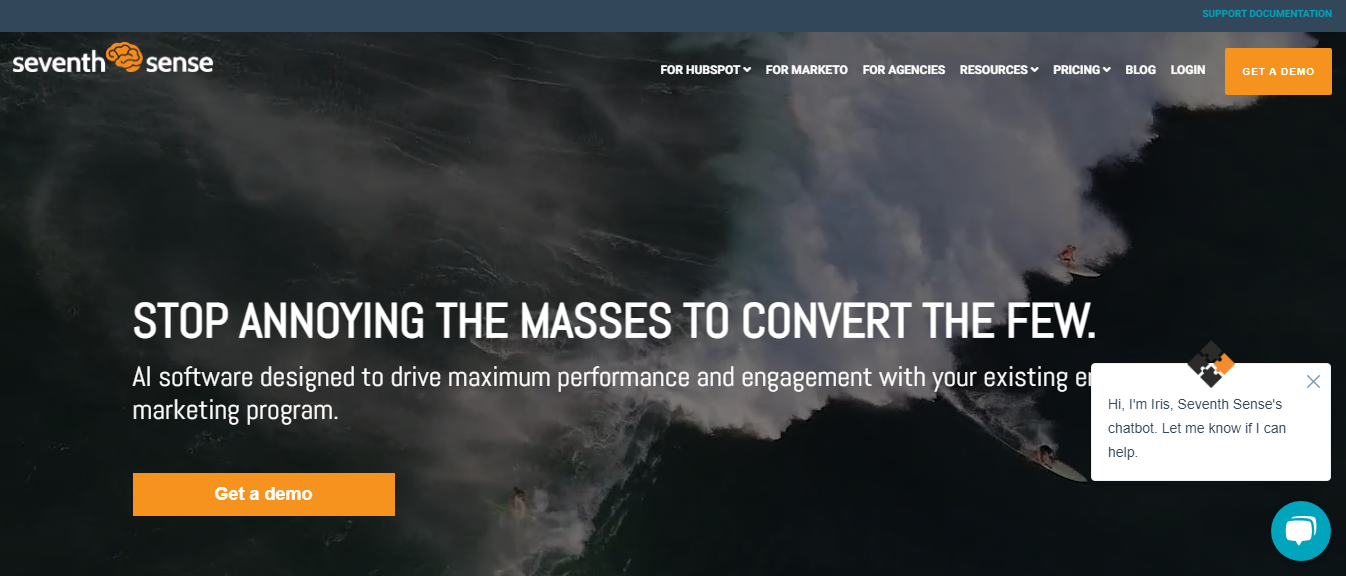 Not sure when you should send an email? Seventh Sense tracks your readers' online time to see when they will most likely open an email. Through behavior analysis, this AI tool makes it easy to send emails at the precise time your audience pays the most attention. It can also help you determine the best email sending frequency.
#2. Personalize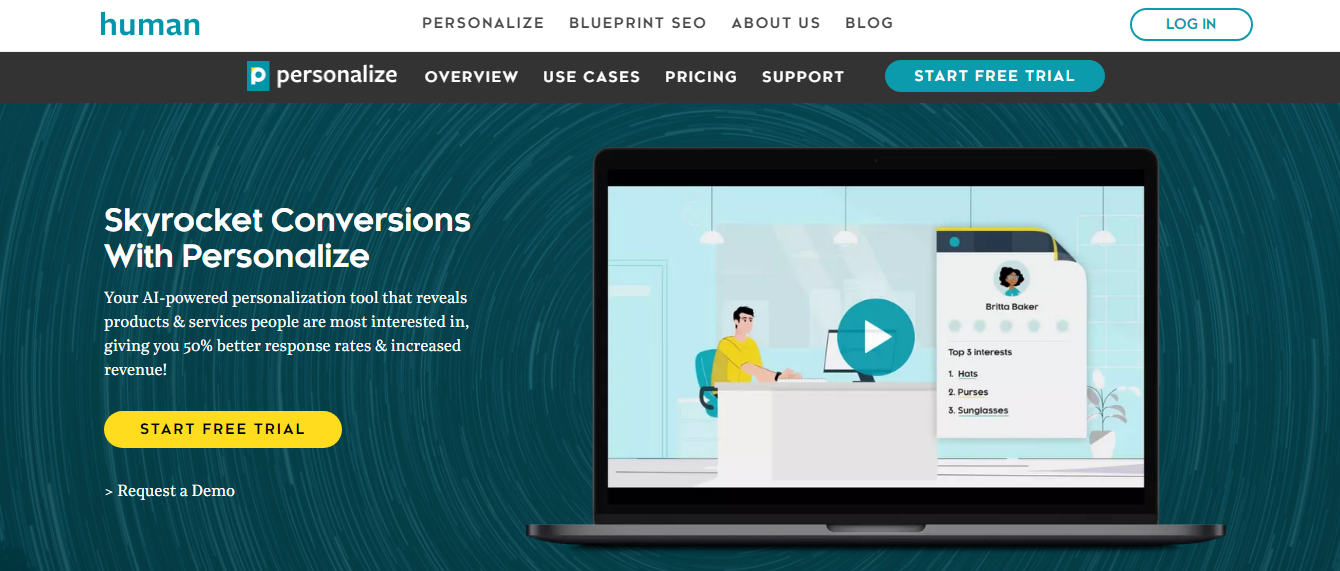 The Personalize algorithm looks at recent site activity for each contact and identifies their top three interests. From there, you can create highly targeted emails that your contacts will be excited to open. Focusing on their interests is a good way to ensure your emails are the right fit for each person.
#3. Lavender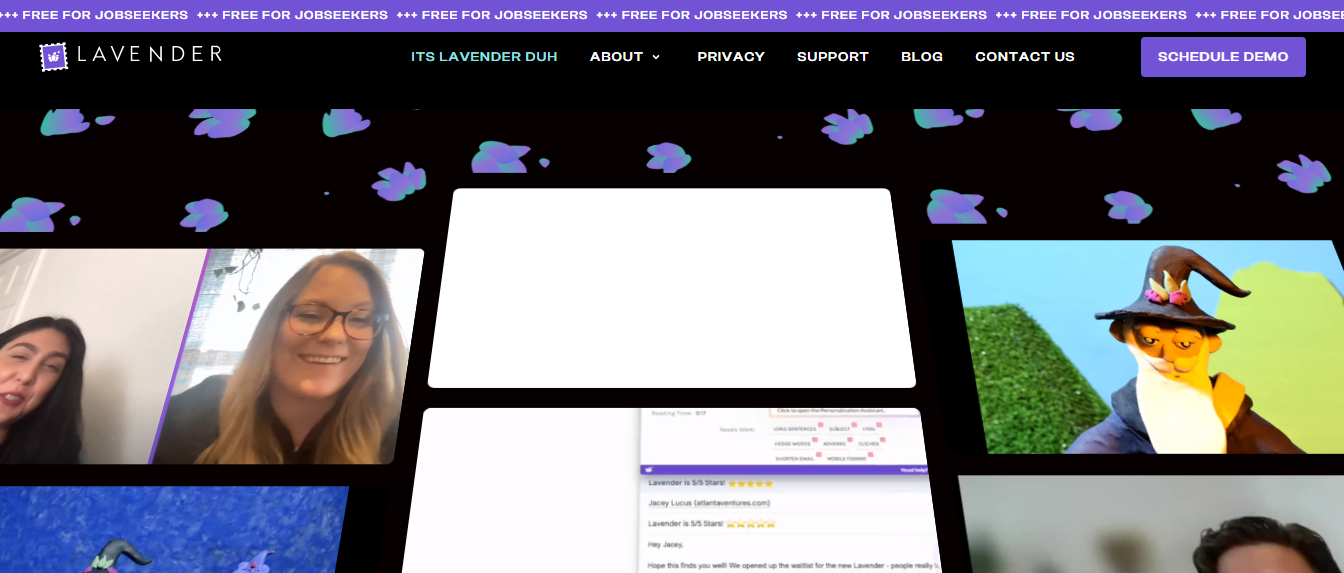 If you email marketing campaigns, you know they need to be attention-getting and well-written. Lavender makes this possible, as it aids you in optimizing your message. You can also let the tool write emails and memos, or even Slack messages.
Lavender is focused on improving your email response rate. It does this by collecting data from your target audience to provide insights on how to improve.
#4. Phrasee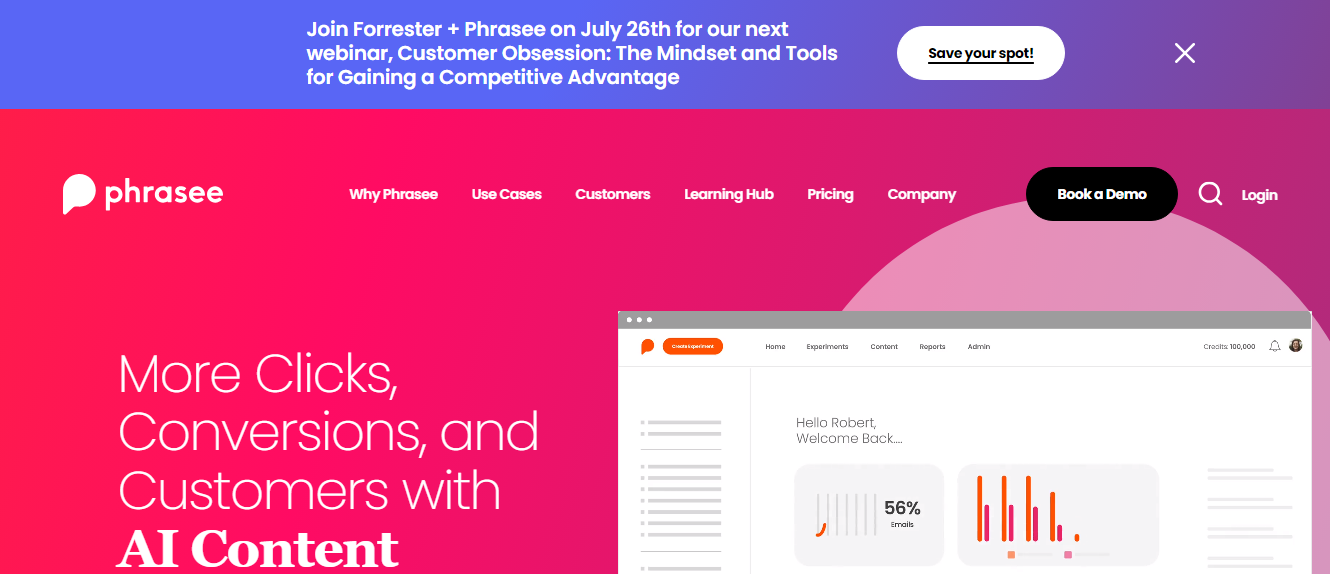 Need better subject lines? Phrasee can help you create the perfect subject line based on previous data. The language model learns your brand voice, too, for authentic messaging. With thousands of subject line options, you can easily choose the ones that best represent your brand.
Top 5 AI Marketing Tools for Social Media

Another common area to focus your content marketing on is social media. Roughly 4.9 billion people use social media right now, and that number will only increase. These users tend to use six to seven platforms, so it's important to be as present as possible on multiple platforms. While there are several platforms in use, Facebook and YouTube lead the pack, with Whatsapp, Instagram, WeChat, and TikTok hot on their heels.
Unfortunately, it can be challenging to ensure your business has a consistent, brand-aligned presence on every site. Creating the right images or videos and posting them with the right captions, hashtags, and emojis can be exhausting. The following tools can alleviate that off your plate and could change the way you approach social media for business.
1. Scripted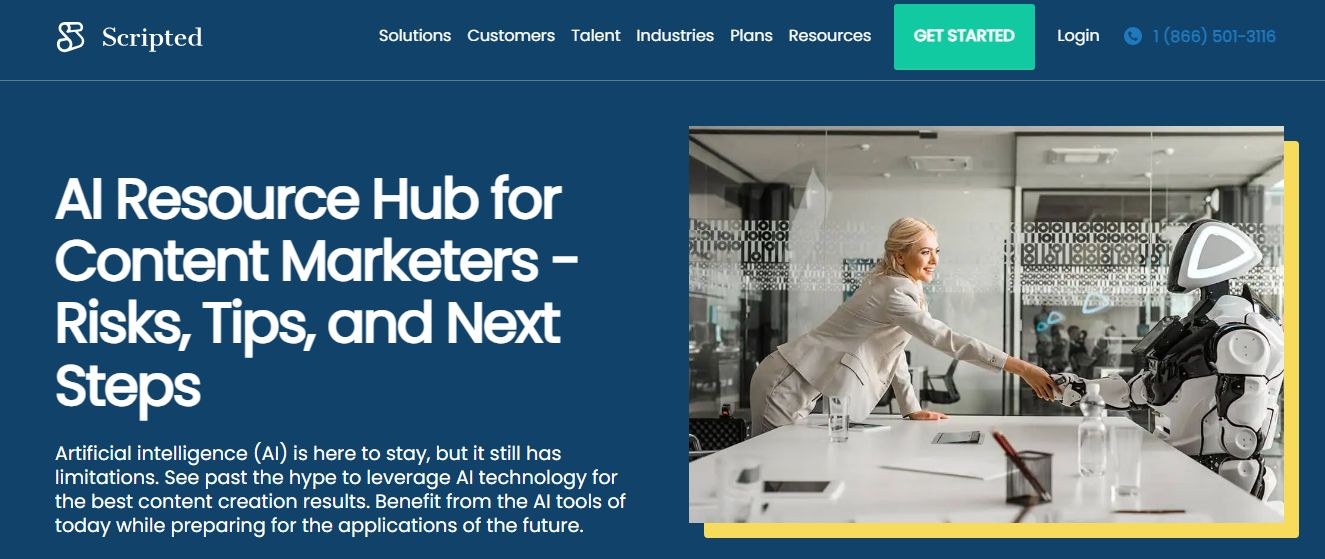 For anyone who is posting on social media daily, it can be challenging to come up with new, engaging captions. Scripted excels in creating AI-generated descriptions for each of the posts you want to make. The best part is that you can use the tool for free.
Once you've selected a tone of voice for your social media post, you can give Scripted's AI writing tool the topic. The tool will give you a quick and easy social media caption for any platform. Not sure you like it? Just try again, and you'll get a very different caption. These can even include hashtags and emojis.
2. Brand24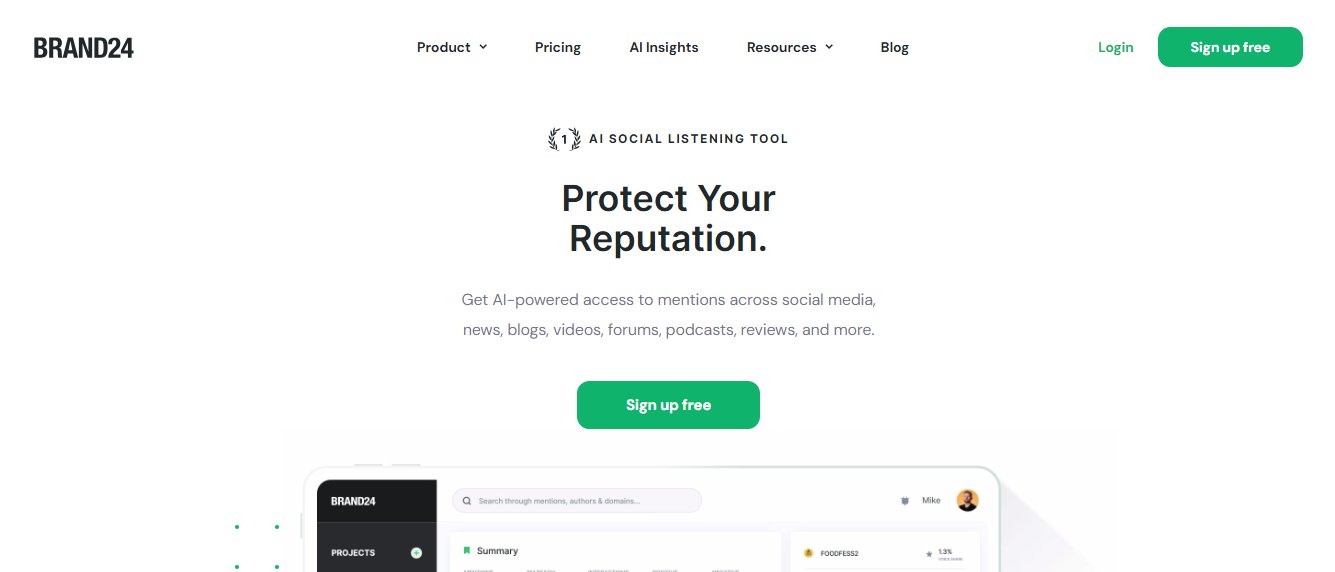 Online brand reputation is a huge part of social media marketing. What do people think of your brand? How do they respond to your ads and content?
Customers often take to social media if they're unhappy with your product or service. Likewise, if they're thrilled, they'll share it with the world. It's easier to track this if you have a specialized tool like Brand24. This AI tool checks multiple social channels to determine where your brand is mentioned, and the sentiment of posts to gauge whether the feedback is positive or negative.
3. Flick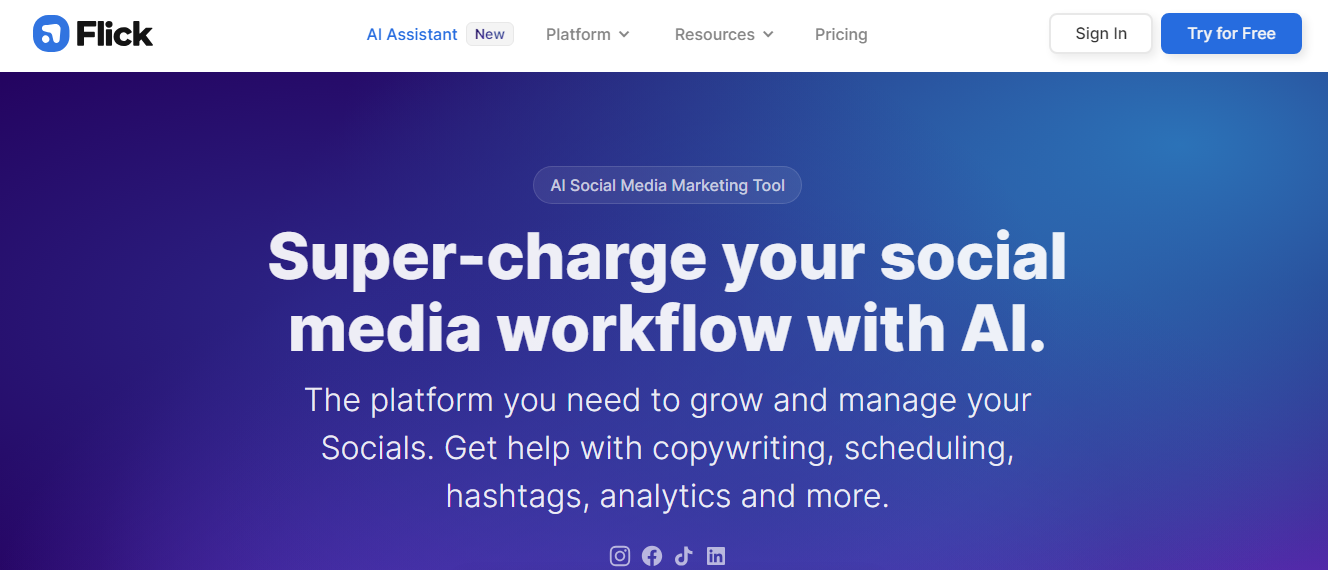 Need a social marketing assistant? This AI tool streamlines social media for your business and makes it easy to ensure you are consistent with your brand. Flick offers a brainstorming option where you can use ideas derived from topics that are doing well. It's perfect for anyone struggling to develop social media marketing ideas.
Flick also takes long-form content, like a blog or YouTube video on your site, and shortens it. The snippets are suitable for sharing on various platforms and let you repurpose the same content in a new way. Flick also helps you plan your marketing campaign and even write captions.
4. Rapidely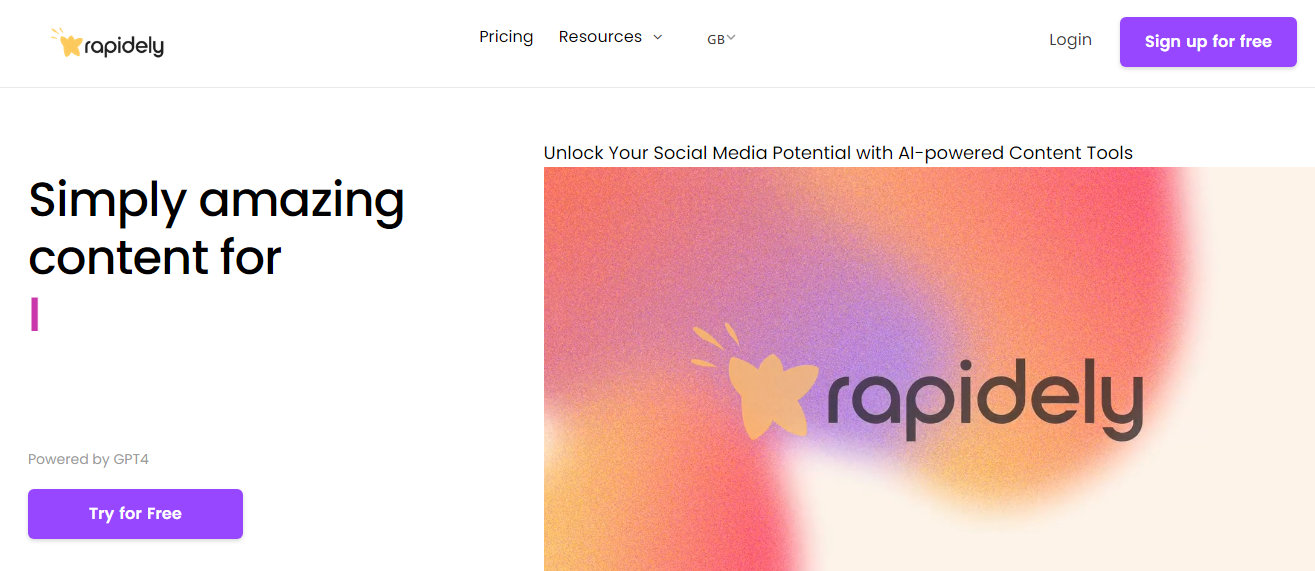 Coming up with ideas for social media posts can be the hardest part. Rapidely makes this easy by giving you content ideas based on your brand. This isn't just about captions, though. The tool provides a personalized content strategy for your social media, using your niche, tone, and goals.
The AI content creation tool also gives you fresh ideas for visuals. You'll still need to create the images, but you won't have to ideate all on your own.
5. Smartly.io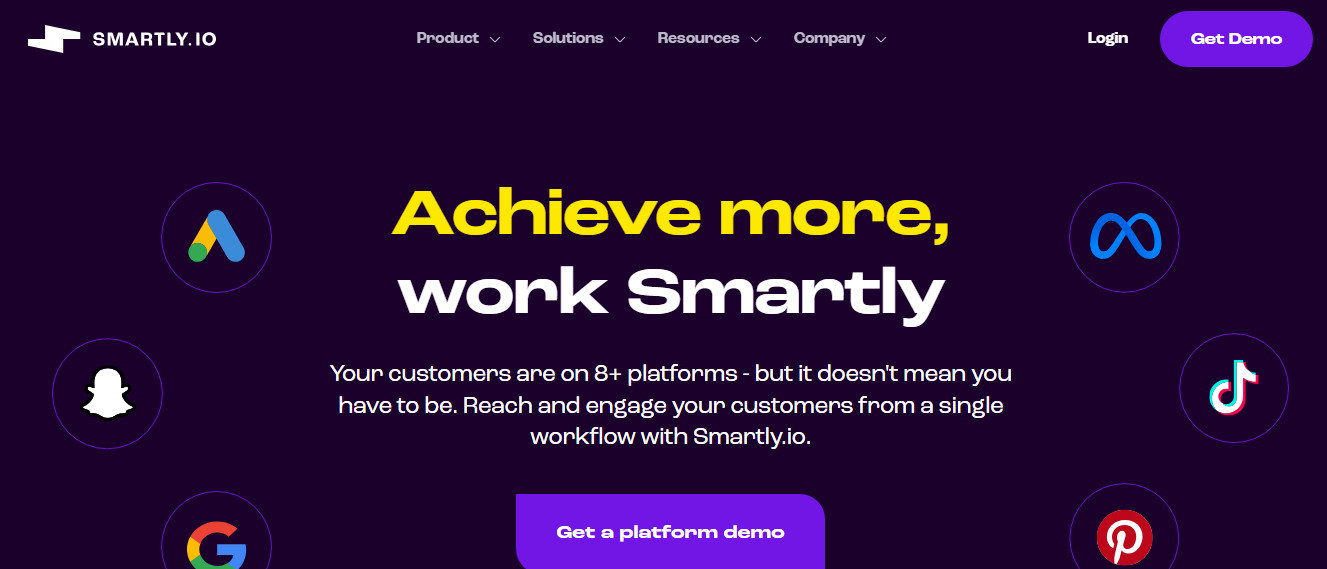 If you plan on running social media ads, you should consider Smartly. It consolidates all your social media marketing in one place. Rather than logging into multiple sites or apps, you can log into one and manage everything on a single platform.
Smartly also offers an automated campaign workflow. The predictive algorithms make it easy to keep your ad budget right where you want to be. It works with all types of content, including videos, photos, and text. Smartly works across industries, from e-commerce to gaming and travel, so it's suitable for any niche.

Content marketing covers a wide range of marketing options, but it usually includes blog posts and articles posted on your company site or elsewhere. The biggest downside to marketing content is the sheer time it takes to create it. Even if you're a fast writer, you'll spend hours every week updating your blog. And that's just for written content.
These AI content marketing tools can provide optimized content for blogs, guest posts, and more. Rewriting old content and creating content outlines can also be managed entirely by AI.
1. Scripted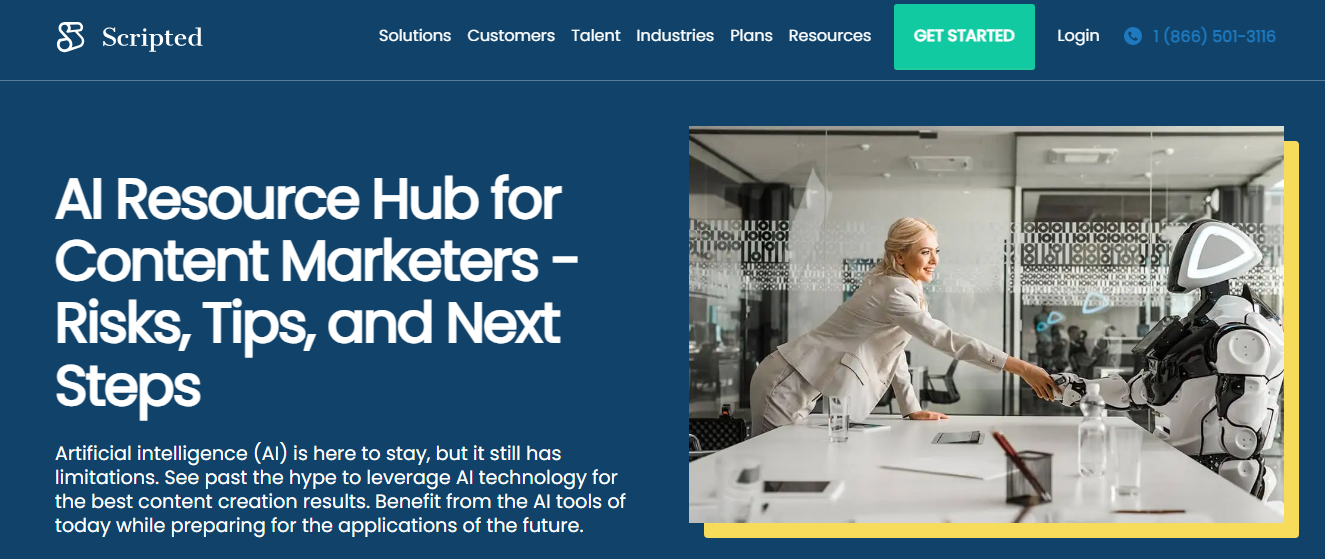 Scripted offers multiple solutions for content marketers. In fact, Scripted is the only platform offering both Human and AI content writing. You can choose a plan with solely AI-generated content, or opt for the upgraded AI + human writers, so the resulting AI content has a human touch. This is often necessary to eliminate robotic tones and other errors in an article.
Unfortunately, AI is known to "lie" sometimes and may invent some "facts." A human editor can catch these and ensure your content is high-quality and accurate. 
2. ChatGPT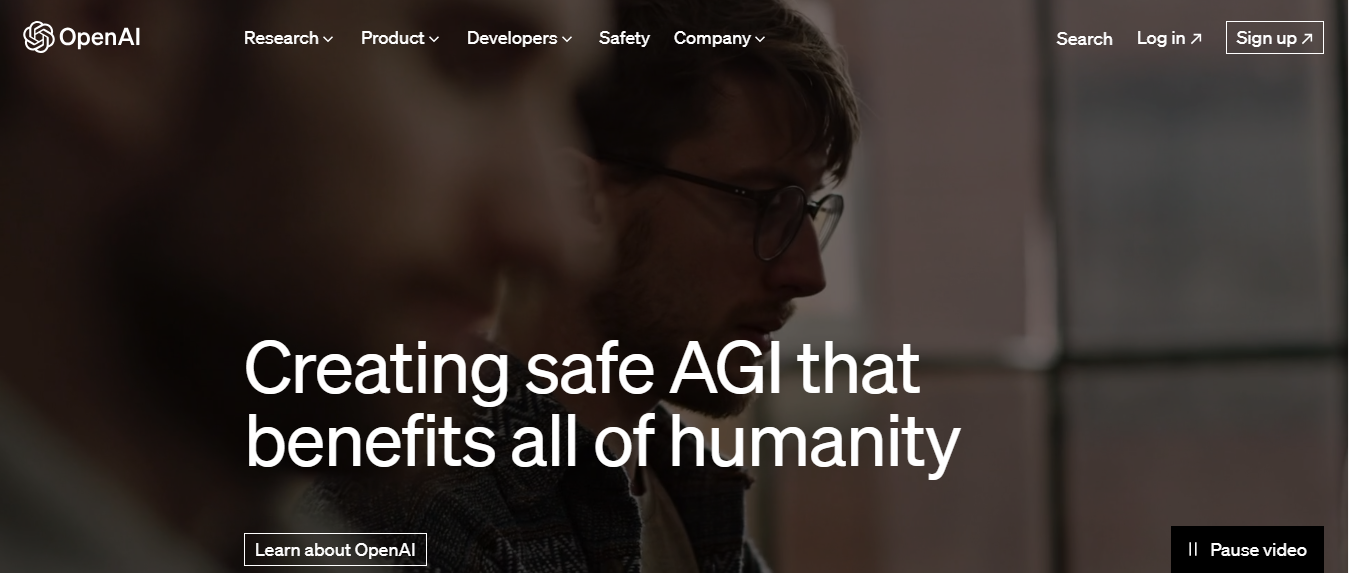 OpenAI's language processing model, ChatGPT, is one of the most used AI content generators now, and there are new features coming out regularly.
ChatGPT can provide you with headlines, ideas for blog posts, and even create the posts for you. However, it does require knowing the right prompts to use if you want quality results. Most of the specialty content tools on this list are pre-seeded with prompts to give you the best results. ChatGPT doesn't have those templates, so you'll need to use your own prompts or borrow from someone else.
3. Grammarly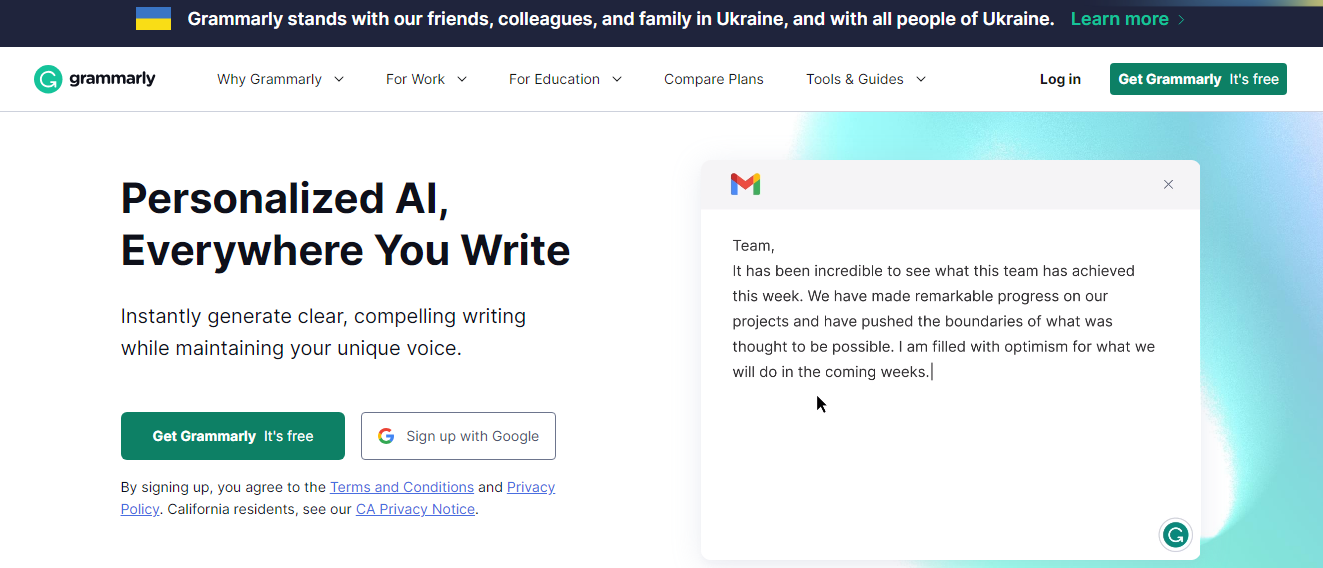 Spellcheckers are everywhere now, but Grammarly takes things a few steps further. Not only will the AI identify spelling mistakes, it will also pick up on grammar, punctuation, and even contextual errors. It can even suggest better phrasing or word choices to improve your content. Whether you're using human or AI content, Grammarly is one AI marketing tool you really want in your corner.
When you use the plug-in, Grammarly checks your writing everywhere online, including social media sites, Google Docs, and more. In addition to improving your marketing content and web pages, Grammarly offers a plagiarism checker. It's a valuable tool to have in your arsenal.
4. Hemingway App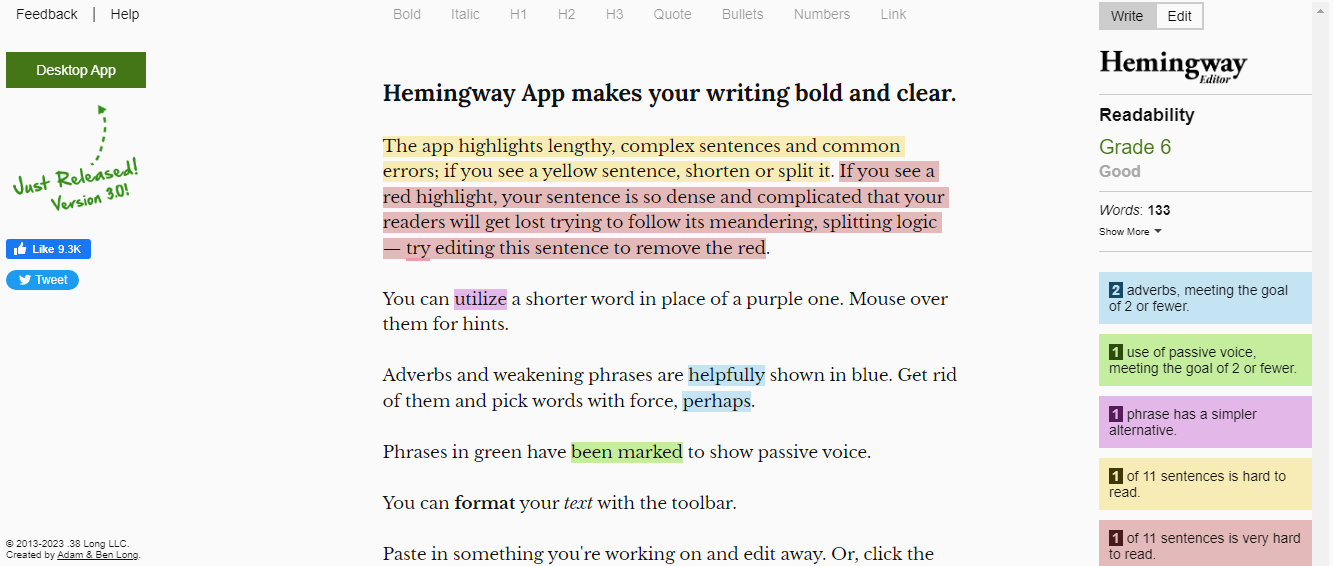 Hemingway is used to catch shorter sentences, passive phrases, and other potential issues. It also shows you the weak points in your writing. You can also use it with AI content creators by copying and pasting the final product into the Hemingway App. Surprisingly, AI still makes mistakes, so this tool is an extra layer to improve the final result.
If your writing is not as good as it could be, using Hemingway can improve it. The more precise the content, the more it resonates with your readers.
5. HubSpot SEO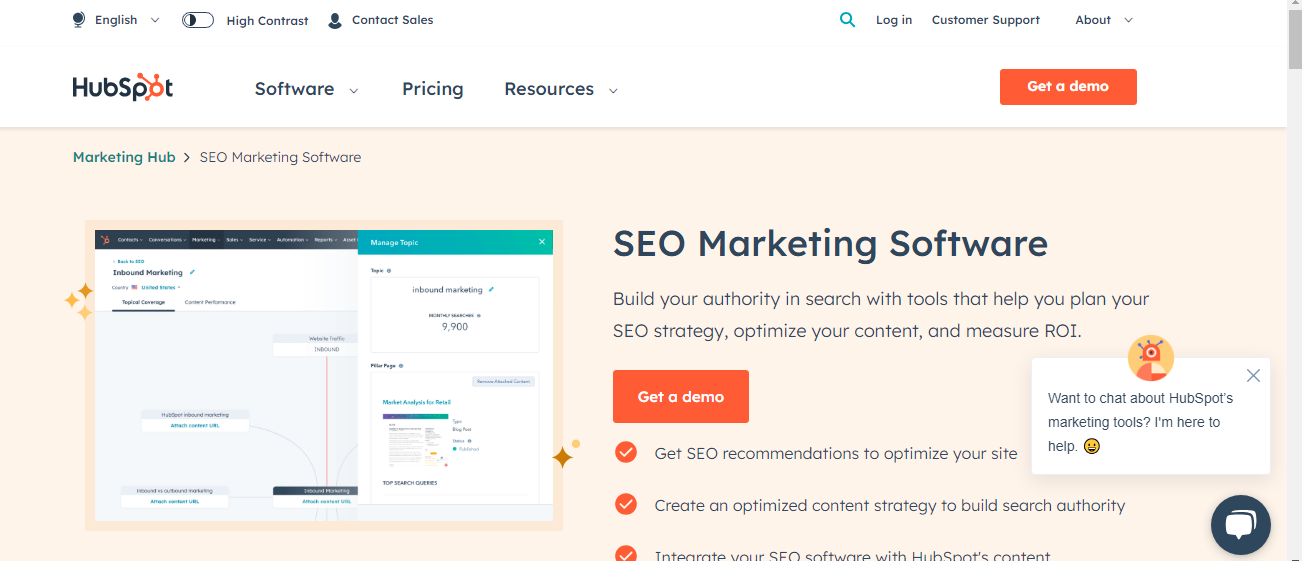 Another handy tool for content marketers is HubSpot SEO. Meant for use by human marketers, but you can also do the research using AI. Once you have the keywords and optimization information, you can plug it into an AI content generator, like Scripted's Scout. You'll get SEO-optimized content back that you can use anywhere you use content with search engine optimization.
6. Jasper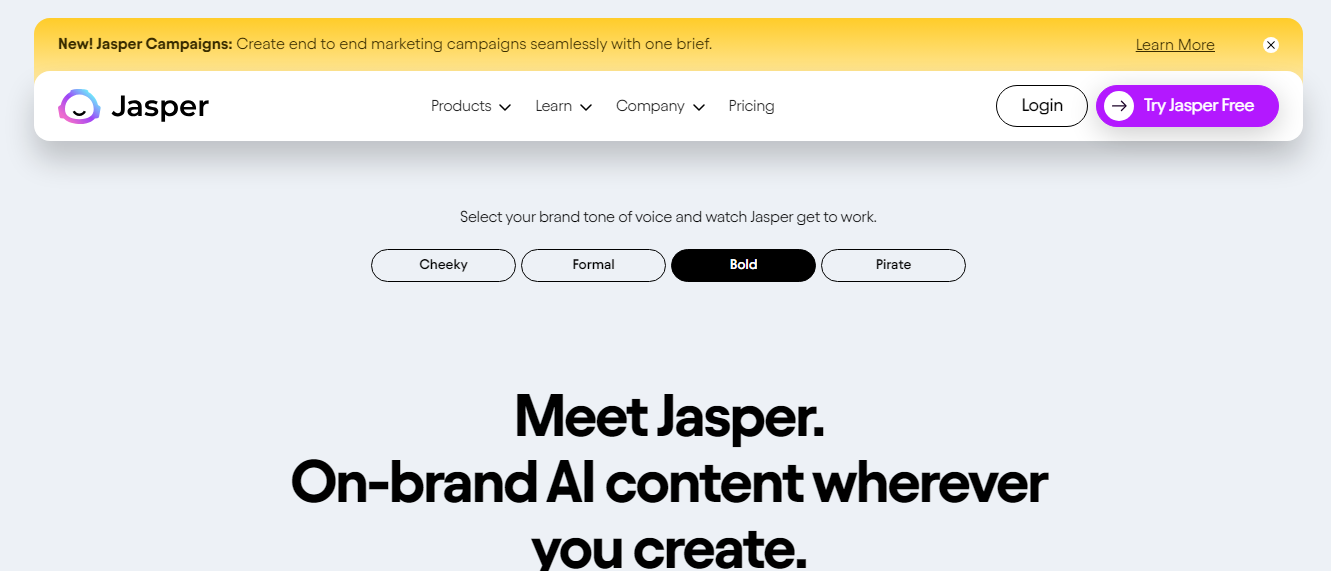 For content creation, Jasper.ai is one of the best-known tools on the market. It's great at providing clear outlines, which you can then fill in with quality content. Unfortunately, the app tends to repeat information in long-form content. Consider using this platform for shorter blog posts, around 1,000 words or less.
While Jasper is one of the best choices for creating short posts and articles, it still needs the human element. You'll need to review the content before publishing if you want it to be accurate and sound like you.
7. Acrolinx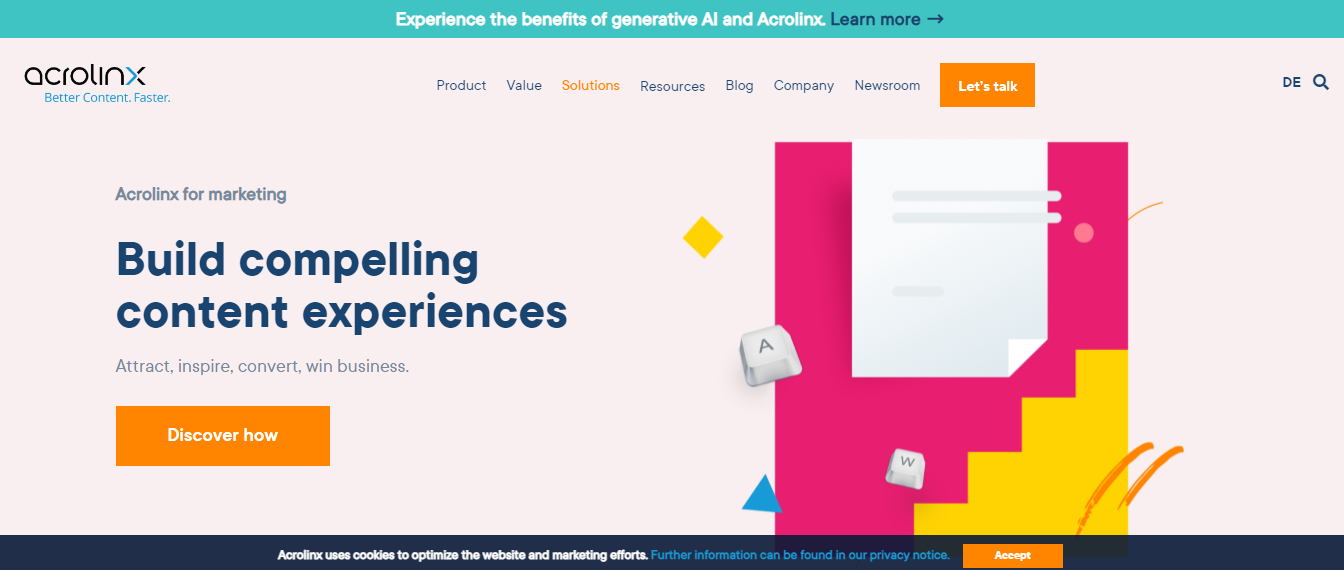 Consistency is vital in any content strategy. Not only is it important to post regularly, but it's also essential your content reflect the company's values and style. When you're using multiple AI content generators or human writers, you get a variety of styles and tones. Acrolinx can fix that issue.
The program goes through your existing content after determining what you want. Select a style of grammar, tone of voice, and any specific wording. From there, Acrolinx examines your content and makes suggestions to help you improve it. The platform works with various platforms like WordPress, Microsoft Word, Google Docs, and more.
8. 

Surfer

 SEO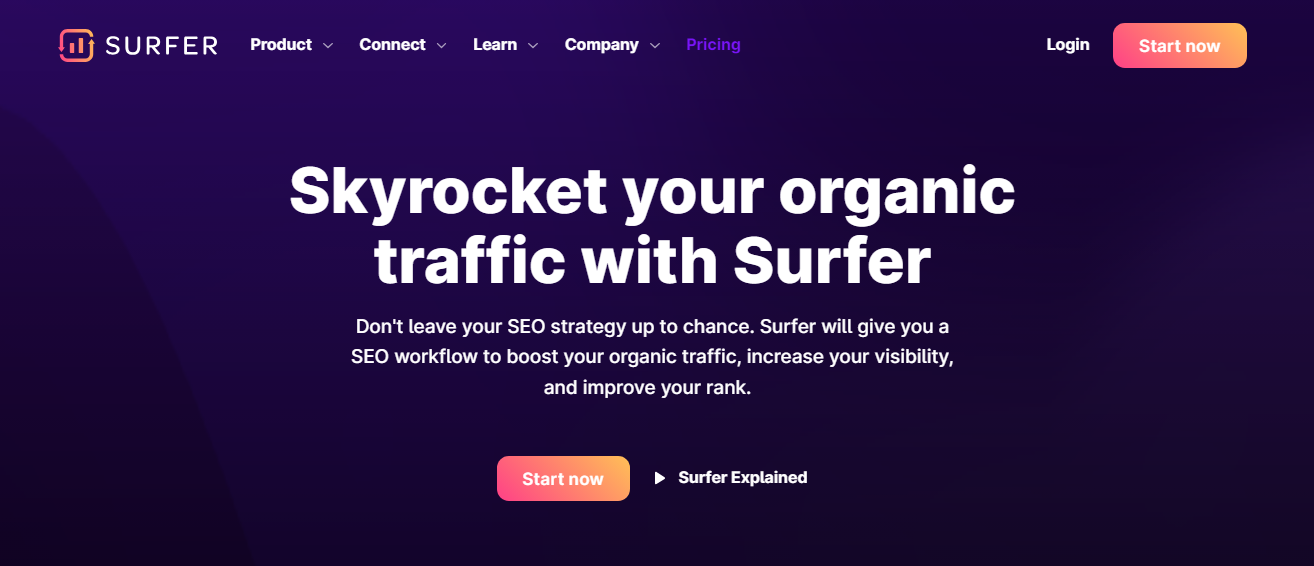 This content optimization tool helps you improve rankings on search engines. It doesn't do the writing for you but provides outline ideas, keywords, and image density. From there, you can create content that should rank very well.
Surfer SEO integrates with multiple content creation tools, including Google Docs and Jasper. Depending on your needs, the AI scores your content in the Surfer SEO platform or the integrated site. Once you see the score, you can take steps to improve the optimization of the piece.
9. MarketMuse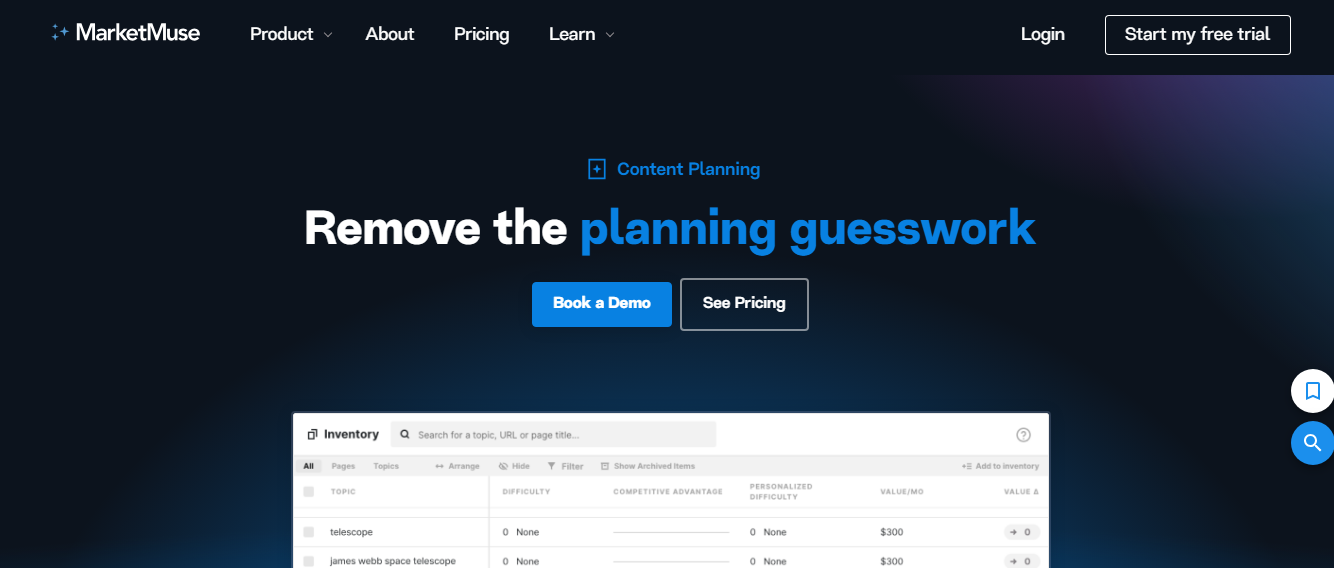 MarketMuse examines thousands of articles on the same topic as your content to determine what you need. Then it makes suggestions to improve your content to rank better than the competition.
If your content isn't gaining traction regarding search optimization, you may need to tweak your writing. Whether using it for landing pages or social media, you want the best quality possible.
Get Started Today
If you want quick and dirty, any AI content generator can provide you with a blog post. However, if you want something more engaging, written in your brand voice with no mistakes, you need AI with a human touch. 
Scripted is the only company offering AI-generated content plus human Subject Matter Expert writers and editors. It's the best option for high-quality content. Your brand and Scripted AI with a human touch is the perfect content marketing strategy.
Ready to take your content marketing to the next level? Sign up with Scripted today and find out how we can help.