Content Audits: How, When, & Why You Need Them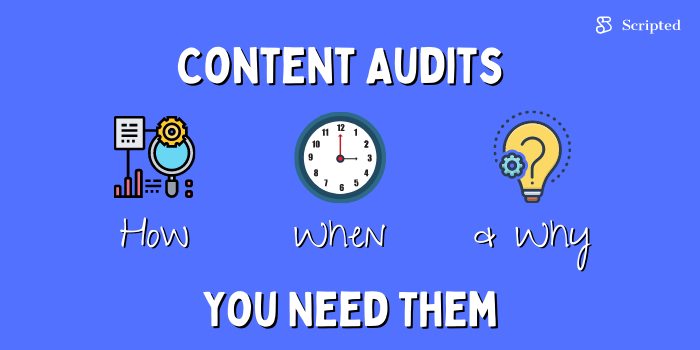 If you've never done a content audit, it should go at the top of your list of things to do. If you have a business website, you know you need to perform a site audit occasionally. You probably run them fairly often to make sure that all of your features are working properly, your SEO is on point, and that your site speed is functioning well.
A content audit is a process of reviewing the actual content on your website. This can be fairly time-consuming, depending on the amount of content you have. But a content audit is not a one-time thing. You don't conduct one audit and then never do it again. Because you'll continually add content to your site, and you'll continually work on fine-tuning your content marketing efforts, you need to make sure the content you have is producing as well as it should and is up-to-date.
What Is a Content Audit?
A content audit should be a concise process. The first content audit may well take you a long time to go through, especially if you have a website with a great deal of content that's been regularly updating for a long time. You will be able to use tools to help you, but some of a content audit is manual by necessity. There are no programs that can read every single piece of content on your website and determine what needs to be changed and why.
You need to define your process before you begin. We'll discuss a full step-by-step in the "How Do You Conduct a Content Audit?" section. But the first step starts with clearly defining your goals. Many businesses conduct their first content audit when they revise or design their content strategy. For businesses that haven't been using a content strategy, your website content will probably not be hitting the mark for your target audience. The audit will help you assess each piece, see how to repurpose, and take a hard look at the metrics to determine whether that type of content will be useful in the future.
Why? Do You Need a Content Tune-Up?

The word "audit" scares most people. Because when we hear audit, we automatically picture many long hours trudging through information. If you've never done an audit, it can be a lengthy process. But, the good news is that you can develop steps in your initial audit to make every subsequent audit much easier and more intuitive to execute.
There are several reasons that your website might need a content tune-up. Here are a few:
You've developed or pivoted your content strategy.

This is important. A lot of businesses are just starting to develop their content strategy, but they have been marketing for many years. That means that they have a wealth of content on their website that wasn't designed with their current strategy in mind. An audit will let you revamp the content, so it's more productive with your current strategy and fits with any new branding or market positioning you've developed.

To update.

This is especially important for industries that change, like marketing or technology. Blog posts written five years ago will be so outdated that the information may be against current best practices. Or it might just not be useful at all. Even if some of these articles are excellent, it's a good practice to note at the top that they were edited and add the new date. Most of your audience will see the date and disregard content that's ancient. But they will read content with an edit date, knowing it's still good information.

To repurpose.

Your content isn't a one-trick pony. You can repurpose most of your content.

To improve SEO.

By doing regular content audits, you'll find a lot of opportunities to improve your SEO. For instance, you'll find opportunities to link new blog posts into older ones.
How Do You Conduct a Content Audit?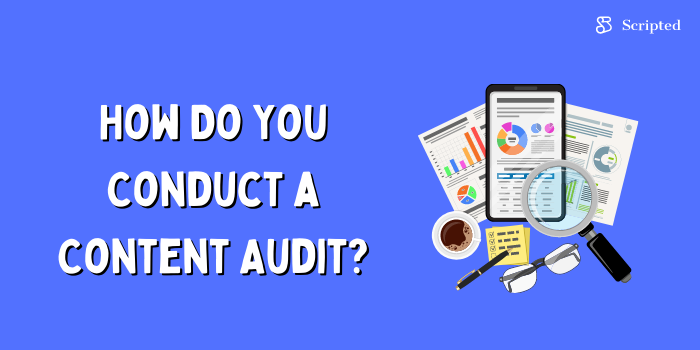 There are a few ways to conduct a content audit. You can expect the process to be lengthy if your website is regularly updated and if there is a lot of content. But, the good news is that you can organize efficiently ahead of time so that each piece of content is clearly categorized and tagged. That way, future audits go much faster.
An audit doesn't mean that you need to remove all old content. Some might need to be removed if it absolutely does not fit with your brand anymore or is just completely flawed. For the most part, you can pivot content or update SEO to salvage it.
Here we'll cover the basic steps:
List Your Goals

Plan Your Audit

Categorize and Organize

Analyze

Assess Each Piece of Content
List Your Goals
Planning is always the first stage, and your audit starts with your own goals. There are several goals that you might have in mind. It's always a good idea to start with your existing analytics. Are you trying to improve your page ranking? Are you trying to increase your mailing list? Maybe you're trying to see more engagement. For most businesses, conversion is the goal, but it may not be the primary or only metric you need to look at.
All of your goals have Key Performance Indicators (KPI) attached to them. So you want to list your goals clearly and then look at your analytics to see where your KPIs are attached to those goals.
If you're launching a new content strategy, past performance may not be as important in your audit. Perhaps the main reason for the audit is to verify that all of your content is rebranded to match your current strategy. You should still check the analytics while working with your content in an audit. This will tell you a great deal about the type of content that works, at least as far as your loyal audience, return visitors, and those who convert.
Plan Your Audit
You may do a whole site audit. But if you have a great deal of content, it may be more productive to split your content into time frames or topics. Categorize and prioritize the content to audit. Unless your outsourcing the project, it can be very time-intensive to go through a large catalog of content to audit each piece.
Your plan should include gathering analytics on each piece and organizing your URLs. You should also clearly be able to determine better options for improved SEO for the whole site and for individual pieces of content. Structure your audit so that it is manageable.
One reason businesses put off audits is that it's such an enormous job when you never complete them. It seems easier to just launch new content. Getting the first audit done will allow you to earmark content that's evergreen (so future audits will know those pieces are likely fine), and note content that needs to be updated regularly (so the audit can quickly find those pieces and assess).
Categorize and Organize
Categorizing and organizing your content is one of the major goals. You want to organize content so that you know which part of the buyer's journey it falls into. You also want to tag content. Gathering pertinent information in a spreadsheet or report will make it much easier to evaluate the content in future audits.
Some things you'll want to verify include the keyword phrases used and where the page ranks at the time of the audit. You'll want to check that again with each audit because page rank will change if you're working on updating content and best practices.
Analyze
Use your analytics. You need to analyze content to see how it performed in the past. You don't want to get rid of high-performing content, but you need to make sure that everything fits your current strategy and branding. So it might be a matter of repurposing or editing.
You'll be using your tools for this part of the process. In fact, you can use various tools for a lot of these processes. Things like SEMRush, or Google Analytics are excellent at helping you get a concise picture of your content. You do need to manually go through the content, as well. But these analytics will help you pinpoint areas that need to be addressed and categorize your content more efficiently.
Assess Each Piece of Content
Here's the nitty-gritty part of the process. Once you have your content categorized, tagged, and analyzed, you need to manually go through each piece of content. You already have the background on how it's performing, and you have your current goals or new strategy.
Armed with this information, you're looking at content individually to see how it is developed. Do the keywords need to be replaced? Is the tone right? Is the length right? Is the information up to date? Are there chances to improve the SEO with better meta descriptions and meta titles? Can you find opportunities to interlink?
Each piece of content will fall into one of these categories:
Keep as is

Update

Repurpose

Delete
Some audits take a great deal of time to complete. Developing a good schedule will help you prioritize which aspects of your audit are a priority. It will also give you set deadlines to make sure the entire project gets finished.
Once you gather your list of content that needs to be repurposed or edited, you can start scheduling that work in your current marketing plans. Looking for a writer to help repurpose content to get your audit done faster? Scripted has a team of writers able to complete these assignments quickly.