The Scripted Podcast: Press Releases Episode 1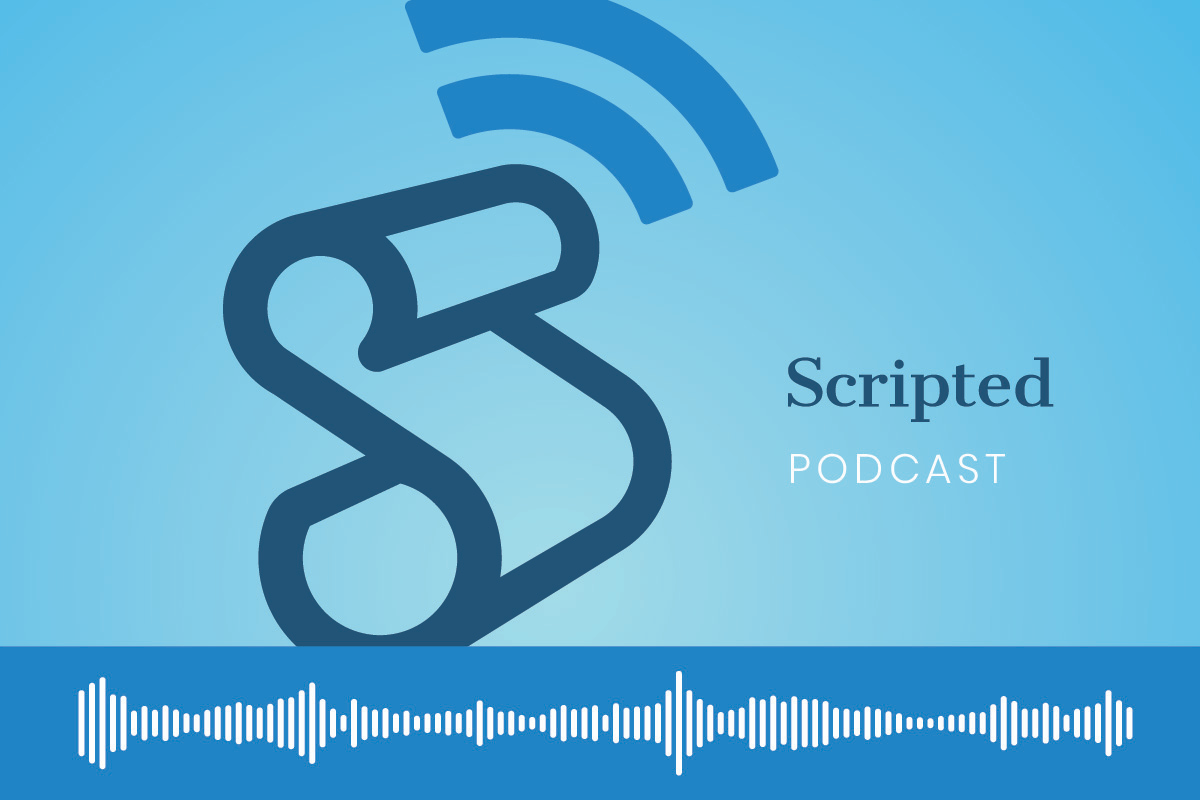 The Scripted Podcast is a show created for content marketers and content writers featuring real Scripted writers. We'll talk about best practices in content and SEO, our favorite marketing tools, how to find and hire writers, and all the fun and misadventure that comes with being a professional freelance writer.
In this episode we bring in Scripted writer Elizabeth T. to talk about Press Releases. When done correctly, a professionally written press release can give your product launch, blog post, or special event a reach that surpasses any advertising effort. For more on the importance of press releases, here's Gregory and Elizabeth...
Episode Transcript
Gregory:
Hey listeners! Thanks for tuning in to the sixth episode of the Scripted podcast. In today's episode, we're going to be discussing press releases and to do so, we're going to be joined by another amazing writer that frequents the Scripted platform - Elizabeth Trach. Just a little bit of background on her, Elizabeth is a professional writer with experience writing online catalogue copy, video scripts, press releases, landing pages for home decor and construction company websites, and how to articles on dozens of fresh DIY topics.
She's an expert blogger with a knack for breaking down complex topics into friendly, easily digestible posts. She also holds a Masters degree in English and creative writing, and she's going to be enlightening us on a few specific things when it comes to press releases. We are going to be starting with the basics: what our press releases and really just getting at why they exist, when they're valuable, and when you should use or ignore them.
We're also going to be discussing what are the components that make up a press release, how do you write a successful one, key things to include in them, key things to avoid and how to get quotes right in press releases, so without further ado, Elizabeth, feel free to introduce yourself a little more and explain why you are particularly well suited to talk about press releases. 
Elizabeth Trach:
Sure, I'm a professional writer and editor, and I've been doing that for a long time. I kind of cut my teeth as a blogger and I also have a published book of short stories and a Masters degree in creative writing, so I come to writing from a lot of angles, and I think that I really enjoy helping clients with press releases, and I think that there's a big misunderstanding sometimes about what they're about, so I'm actually very excited to talk about this. And maybe, steer people in the right direction about how they can help their writers.
Gregory:

Okay, so what the heck are press releases? Because a lot of people don't know what they are. 
Elizabeth:

So a press release. Gosh, it's kind of like a weirdly old-fashioned form of PR, right? So um, the idea really is that you are in an ideal world. You're writing a story that you could hand to a news outlet and say your report. You know you can put your name on this and call it good, because I've done all the legwork on this for you, and you're trying to attract news outlets attention so that they can further report on what you're telling them is newsworthy.

It's meant to look like and read like journalism, and I think that gets lost sometimes. 
Gregory:

Okay, so I'd love for you to expound on this a little bit. What are the different scenarios when it would be ideal for you to be making a press release as opposed to some other form of content? For instance, it might be a new product that they're rolling out, a new hire or something like that. Dive into that a little bit deeper.

Elizabeth:

Yeah, I think you know the most important word there is "new". A press release should be news and so if your plan is, "I need a press release 'cause somebody told me I needed a press release." That's not it. You have a press release because you have something new to talk about and to let the world know about. So yeah, newsworthy things like you just mentioned, like a new hire or a new product or a new service. I also think it's really useful when you have formed a new partnership with somebody, especially because you can get a lot of cross pollination with them. Like if you have a business partnership or licensing deal or something like that.

Gregory:

Can you give us an example of a solid press release you've worked on recently?
Elizabeth:
So I worked with some restaurant groups, and they, in particular, were really wanting to get some words out. So, we worked hard to be like, well, what is newsworthy here? And what's newsworthy at this time of year for them is that they have full kosher menus, and it dovetails with Passover.

So ask yourself: what is the lead thing that is going to be worthy of putting in a newspaper? That's how I always think of it. Like why would the reporter care?
So back to the restaurants, in the beginning, it was very much like, what is new here? Is it a new menu? Is it a new location? I mean it could have been a new logo for all I care, but something had to be news that's worthy of announcing.
 A press release is often an announcement.

And I'm happy to break down what should be in a general press release.

Gregory:

Yeah, let's go! I want to get as much content as possible and then we can always, you know mix and match, filter it out a little bit.

Elizabeth:

Yeah, so I don't have your blank template in front of me, but in general there are things you know. A press release looks like a new story. So if you have a headline that you know you want, say it, you know, tell us what you want the headline to be and it doesn't have to be perfectly worded, but that really helps. Narrow down the scope of the story, 'cause they're only going to be 350 to 500 words long at the most. It's really not that long, so it really needs to focus.
We also need to know your date, where you plan on publishing it, and city and state this is coming from. Typically that's headquarters or the location of a restaurant or store. We also really, really really need quotes. A big point of a press release is that you have a little mini interview when you're quoting. It could be the CEO, could be the head chef, could be the marketing director. It could be anybody. It could even be a man on the street for a testimonial, but we need to know.

When I see a brief has already been filled out with quotes, that's how I know the client has done press releases before and has a sense of what they want. When there aren't any quotes, then I know that we need to dig deeper, right? So I often am willing to create quotes that you sign off on. Like yes, my marketing director absolutely wants to say exactly that. And then, you know, we can reverse engineer it. It's not uncommon. But I'm not going to make up quotes for a man on the street.

I also think it's really important that people are open to working those quotes so that they sound more human, because I tend to get some that you know, they are really like boardroom crafted maybe or like committee written and they sound like their committee written and it's the boredom kiss of death for a press release to have a quote. I really like to encourage quotes to sound more conversational. If you can imagine in your head, if a reporter sat down and asked you a question about the business, what would you have said in person? It should sound more like that. 
And then you know we need the basics: who, what, when, where and why. The five w's 'cause that's what is in a news story. And the last thing that I think gets forgotten a lot is the boiler plate at the bottom. You know every press release has like  an about, you know it's basically your about us. It's you know about Company X and it's just three or four sentences. Once you have a good one, you can use it for every single press release.

Gregory:

Is there something that a lot of people will include in a press release that they should not be including when they're going into that and putting that out there?
Elizabeth:
I think the thing that most people are including slash expecting is there's a blurred line between the self promotion that's appropriate in a blog post and letting the story speak for itself that is more appropriate in a press release. This gets back to what I was talking about before about the enthusiasm has to be in the quotes, and there's like, you know, a general newsworthiness of the topic. So in a blog post, that's like a first person narrative of your journey. And that has, uh, is totally great for blogs. We get that brand voice. You're creating it, but you know, in a press release we have like this layer of distance where you are explaining it in third person. You are explaining it to somebody else who is reporting on what you have done, so I think sometimes, the expectation that that reporting is going to be like gushing needs to be tamed down.

Gregory:
So if you had one specific tip that you would give to somebody that's never asked for a press release or written press release, what would you be giving them?

Elizabeth:

Oh, I mean the number one thing is, do you have something worth telling?

Gregory:

Do you know how to gauge that?

Elizabeth:

I mean honestly, I really think it comes back to that word "new" Something has to have happened. An event that has changed, something in your business, an event that has changed something in the world. When you have something tomorrow that did not exist yesterday, that's when you might want people to know about it.

Recap:
Press releases are important! They allow you to walk up to a news outlet and have them share your story right away without doing any additional work - which is great for promoting your brand, but they are only necessary when you have something new to talk about. If it isn't new or newsworthy, don't bother writing about it in a press release. 
Next, when writing a press release, keep in mind that you aren't writing it like a blog post. You shouldn't add in words to fluff up the story, the press release should tell the story all on its own and still be newsworthy in a third person point of view.

To give an example, you'll want the quotes in a press release to be enthusiastic and lively. Instead of being strictly descriptive and drab. This allows them to promote a certain emotion all on their own, instead of you having to convey it with other filler words.

And lastly, when working with a writer to write a press release, or when writing one yourself, make sure to provide as much detail as possible. If you can, provide the quotes to the writer, and definitely include the who, what, when, where, and why of the story. 
Oh and don't forget the boiler plate, a 3-4 sentence "About Us" section that needs to go at the bottom of every press release.
Hire Elizabeth T. to write your next press release today and start your 30 Day Free Trial now!
---
Published by
Kevin O'Connor
on Monday, April 13, 2020
in
Email Marketing
,
Marketing Tools
,
Podcasts
,
Press Releases
,
Writing
,
Email Marketing
,
Marketing Tools
,
Podcasts
,
Press Releases
,
Writing
.