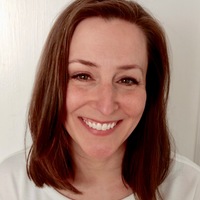 Elizabeth T Last online about 7 hours
Newburyport, Massachusetts, United States
Elizabeth Trach is a professional writer with experience writing online catalog copy, trade magazine articles, press releases, landing pages for home decor and construction company websites, and how-to articles on dozens of fresh DIY topics. She is an expert blogger with a kna...
99% Job Acceptance
92% Followed Guidelines
94% Customer Happiness
Writing samples by Elizabeth T ...
_(with apologies to Keats)_ ## **Sonnet: When a Teacher Has Fears** When I have fears red ink will cease to flow Before my pen has found out ev'ry fault, Before high piles of essays overflow A...
While staying in the small town of Cahuita on the Caribbean coast of Costa Rica, I visited a small cacao farm just to the southwest of Puerto Viejo. This farm is called the Jungles of Talamanca, an...
Like any good baseball parent, I spend a lot of time at the ball field watching my kids scoop up grounders (and sometimes flowers, if they're in the outfield). I love to watch them play, especi...
Pop quiz: What are the most fun words for Spanish students to learn? Answer: Colors! Learning colors reminds students of the sense of playfulness that they used to have about learning. For a little...
The single most important piece of any kitchen renovation is the cabinetry. It's important to choose wisely to make a solid investment, but shopping for kitchen cabinets can be completely overw...
You know those people who never talk about money? I'm thinking of the ones who suddenly drop their voices to a whisper when talking about getting a raise, or the ones who say things like "well-off"...
That second glass of wine always seems like such a great idea. I'm happy and relaxed, the conversation is just picking up steam, and everyone is laughing and enjoying the evening. Why not keep the ...
Our older chickens molted early, and [our younger ones finally figured out the whole egg-laying thing](http://portpotager.blogspot.com/2015/10/a-dozen-eggs.html), so we are flush with eggs of many ...
When we moved into our house, the perennial border needed a lot of work. I've posted ["before" photos](http://4.bp.blogspot.com/-lhhtrBPSrqY/TjBq-cRJDHI/AAAAAAAAAE0/LYYmlf0AoAg/s1600/GEDC0185.j...
If you're like most people, you rely on your car to get you places so you can live your life — and that includes getting back and forth to work so that you can earn your daily bread. Unfortunately,...
Elizabeth T writes about...
---
Topics
Looking to
Hire

Other Writers Like Elizabeth T?

Elizabeth T creates content for these topics. Select a topic to browse other writers on our platform that also write about that topic.