A Guide to AI-Powered eCommerce SEO: the Future of Online Shopping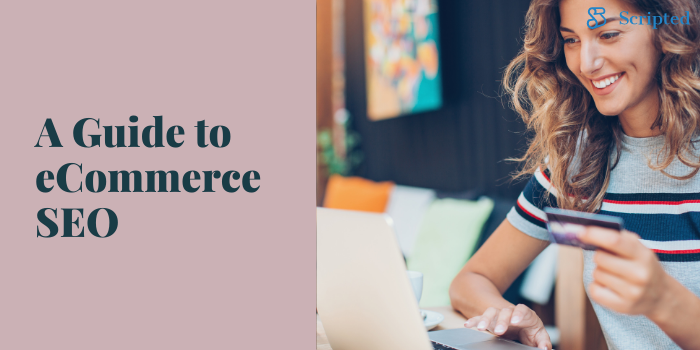 From large corporations to solopreneur shops, creators and sellers are increasing their focus on generating more online sales. The trend toward online shopping has been increasing for over a decade and, more buyers than ever are seeking the convenience of the Internet and home delivery for all their needs and wants. In fact, eCommerce sales are expected to reach nearly $8 trillion by 2027.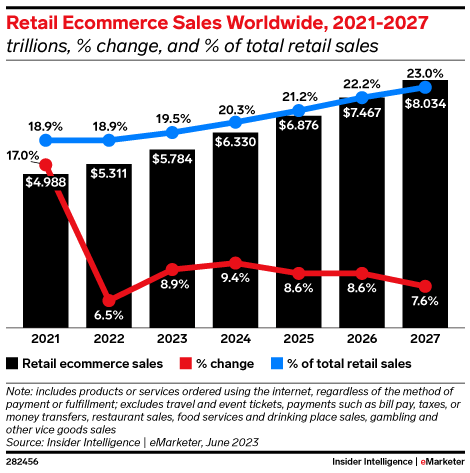 With competition for online traffic increasing almost daily, how do you capture the attention of potential customers and draw them to your online store?  
The great news is that there are many traffic-increasing strategies you can use to bring visitors to your eCommerce websites, including paid advertising, social media posting, and email marketing. Yet one of the most important ways to drive website traffic, especially for eCommerce stores, is through search engine optimization (SEO).
The Value of SEO for eCommerce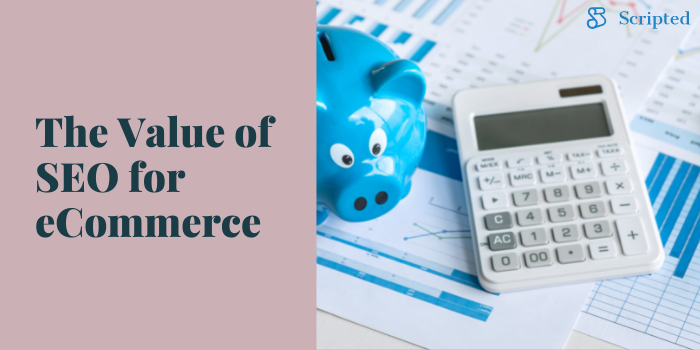 SEO is the process of optimizing your web content to become a priority result for search engines like Google. SEO-optimized content helps your website both attract and retain visitors. This increased traffic can contribute to conversions, such as sales, and help drive revenue for your eCommerce site.
SEO for eCommerce sites boils down to a simple three-part concept: Target your ideal visitors, tailor content to pique their interest and bring them to your store. SEO can also help you outrank (appear higher on the page) your competition in search engine results, as these practices appeal not only to potential buyers but also to the algorithms working behind the scenes at companies like Google and Bing.
SEO is a crucial tool for reaching potential customers at various stages of the buying process, not just when they're ready to make an immediate purchase. This helps you to grow a larger, more loyal customer base that can continue to convert long-term sales. At the same time, you'll also be building relationships with potential buyers and establishing your brand's authority through an optimized eCommerce site.
SEO is all about getting search engines to prefer your website over those of your competition. The goal is to see your domain listed on the first search engine results page (SERP), since very few people ever click on the second or subsequent SERPs. SEO practices can help improve both the quality and quantity of traffic to your website through organic or non-paid search results.
Unfortunately, the most popular search engines are relatively secretive regarding how their search algorithms work. Take Google, for example. What we know about Google's algorithms is frustratingly vague, but, even those limited insights, when properly implemented into your eCommerce website's SEO strategy, can prove massively valuable.
Keyword Strategy: Your SEO Foundation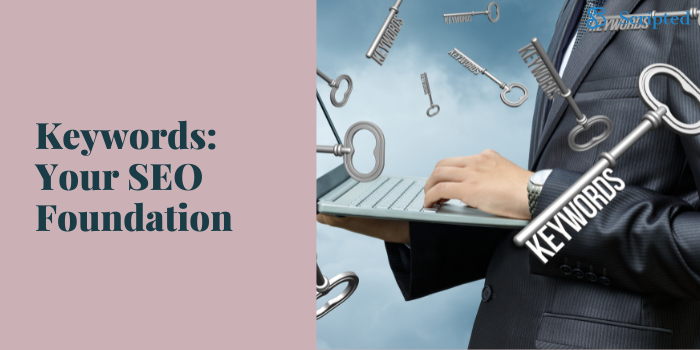 The most basic elements of your SEO strategy are your keywords. These are the words and phrases that your potential buyers use to search and that you want to rank for on search engine results pages (SERPs). Keywords can make or break your site's search optimization, which makes keyword research essential.
Many tools are available to put your keyword strategy on the right track. Scripted's AI-powered SEO keyword research tool can help you build a list of keywords and keyword phrases relevant to your customers and your products. To be most effective, your keyword list should include a mix of short keywords that are more general and long-tail keywords that are more specific. A phrase like "tennis shoes for runners" will both have less competition for ranking and be more applicable to an audience of athletes than a single-word keyword like "shoes."
It's important to keep in mind that more general keywords are likely to be relevant to more pages. And the more pages a keyword appears on, the more competition you'll have competing for that #1 SERP slot. 
Using a free tool is the best way to research keywords as it cuts down on entry-level pricing while still making high-value features available to you. A suitable complement to these free tools is to search Google for the terms you've identified for your eCommerce site and review the results that come up. The more pages of results, the more competitive that keyword is. What are the top results doing well that could've helped them gain those coveted search positions? How can you do what they do? How can you do it better? These questions will guide you as you get into the details of search engine optimization, including on-page, off-page, technical, and local SEO practices.
Once you've researched your keywords and compiled them into a suitable list, it's time to start writing.
The Power of AI in SEO
The best SEO strategies are based on understanding the people—and potential customers—who are performing the searches. Your search engine practices should focus on what your customers are looking for, how they search, and the terms that they use. To do that, however, you'll need a massive amount of data and the ability to process all of it. Enter, AI.
Time, money, and skill. These are the key ingredients of any successful marketing campaign—yes, SEO is part of marketing. Traditionally, you've had to choose one or maybe two of the three. Do you want your SEO strategies to be implemented quickly, affordably, or well? Gen AI makes it possible to rapidly produce content at a scale faster than humanly possible, reducing the time, money, and skill necessary to generate high-quality content.
Of course, AI content writing isn't always the right tool for the job. Depending on your project, you might want to prioritize subject matter expert human writers over AI. Here's a table that can help you decide whether you need an AI content writer or a human content writer (or a combination of the two):
| | |
| --- | --- |
| AI-Generated Content Is Better for… | Human Content Is Better for… |
| Non-indexed content | Thought leadership |
| A/B testing different content ideas | Sensitive topics |
| Writing subject lines for existing email body copy | Branded content |
| Writing metadata descriptions | Storytelling |
| Search engine optimization (SEO) edits | Human connection |
At its core, AI is about teaching machines to think and analyze data like humans (but at a greater scale and speed). In the context of SEO, AI algorithms can process vast amounts of data from various sources, identifying patterns and generating insights that might be elusive to human analysts. By taking a human-driven, AI-powered HITL approach to SEO, you can rapidly perform content generation, optimization, and analysis. You can ask your PDFs for information about their current SEO scores, gain insights, and generate recommendations to improve those scores.
If you're not sure where to get started, Scripted's Smart Content Brief can help. Enter a title (or have our AI-powered headline generator make one), a few keywords from our keyword generator, and your target audience. Then watch the magic happen. Scripted clients also have the ability to run their SEO questions by a chatbot built on advanced GPT-4 technology, helping take their eCommerce SEO tools even further.
The list of AI-enabled content capabilities for eCommerce SEO is only growing. Learn more about how Scripted is leveraging the power of generative AI for content writing.
On-Page SEO Strategies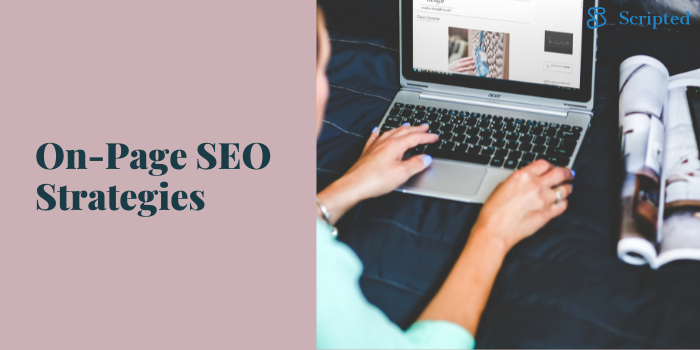 On-page SEO refers to optimizing the web pages of your site for search engines like Google. These are the elements your customers will see on the site as they shop and are also used by search engines to determine how well your eCommerce site answers a particular search query. The following are some of the most critical areas of on-page search engine optimization: page titles, content, images, internal links, and optimized CTAs.
Include Keywords in Page Titles
Your page titles, including product page titles, are the most obvious indicator for Google and search-based visitors on what those pages are about. These titles are the prominent, primary blue text that appears at the top of listings on Google search results pages. Page titles for your online store should be clearly descriptive and include the keyword or keyword phrase you've identified for that specific page. Example: "ASICS men's running shoes for trails, navy blue."
Optimize Page Content
Content on each page should also focus on the product and target keyword or keyword phrase. However, it's important not to "stuff" the page by using the exact keyword too many times and in unnatural ways. This will have a negative impact on your SERP ranking and create a poor customer experience. Instead, write your content to provide the information your visitors need to make a purchase decision. Tools like Scripted Performance and Optimization and Scripted Analytics can provide insight into your SEO performance and help ensure you're not overusing keywords.
Use Images with Keywords in File Names
Product images are another important way to give potential buyers a feel for your products before making a purchase. Images also tell Google what your site and online store have to offer. Best practices say to keep your images' file names in plain text, including the product name and keywords, to make it easier for search engines to make sense of them and tie them to search queries. Compressing your images so that they're smaller than 2 MB can also improve your page's SEO ranking, as large image files can significantly slow down your website speed and increase bounce rates. TinyPNG and Kraken are just a few of the tools that can help you reduce image file sizes.
Internally Link to Your Other Content
Internal linking involves linking to other pages of your site, especially informational and blog pages, to direct visitors to other relevant content or suitable products. See all the green-highlighted text here? Those are external hyperlinks. You want a good mix of both to show search engines that you're not just fluffing your own content with nonsensical links. You'll also want to use anchor text (the hyperlinked text) that includes your chosen keywords. This not only helps customers locate more of the information they are looking for but also helps search engines understand your website's content and content structure. The SEM Site Audit Tool's Internal Linking Report can help you evaluate and plan internal links.
Write Enticing Calls to Action
An optimized call-to-action (CTA) is a brief snippet of text, usually with an internal link, that encourages visitors to take direct action. This can be completing a form, signing up for a newsletter, or—for your eCommerce site—making a purchase. CTAs should be featured in various ways across your website to direct visitors to the next step in their online shopping journey. Effective CTAs are those that stand out, draw attention to themselves, and evoke desire. Here's an example: Learn how AI-generated content can help you optimize your CTAs.
Technical SEO Techniques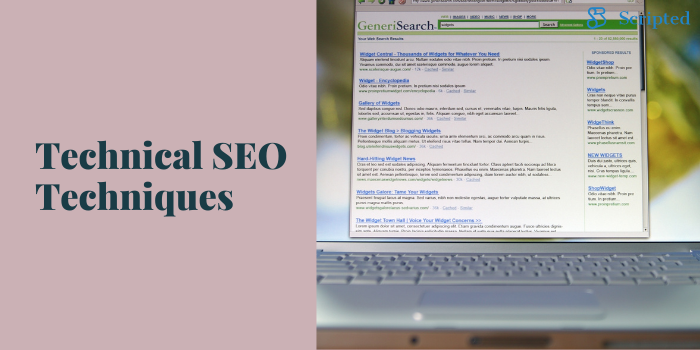 If on-page SEO is the digital spokesperson of your website, technical SEO is the behind-the-scenes engineer. Along with giving search engines a wealth of information on your online store, good technical SEO practices support a positive customer experience. There are four back-end aspects that go into good technical SEO: product URLs, meta descriptions, schema markups, and page speeds.
Pay Attention to Webpage URLs
Product URLs play a major role in optimizing eCommerce SEO. Avoid long URLs that use meaningless strings of letters and numbers. Instead, create optimized URLs that are short, clean, and include your target keywords or phrases whenever possible. This is especially important for the URLs that link to individual product pages in your store. An example of our poor URL would be, while an optimized URL could look something like https://www.scripted.com/seo/a-guide-to-ecommerce-seo.
Customize Each Page's Meta Description
Meta descriptions appear just below the page title on search engine results pages, making them critical for capturing organic traffic. You can write around 300 characters (including spaces) of content that search engines like Google will then display right there in the SERPs. That presents a great opportunity for you to entice shoppers to click your links. When meta descriptions aren't defined, search engines pull them from whatever text search engines can find—which is why each page, especially product listings, needs a custom meta description. We recommend highlighting the advantages of your brand and products, as well as any added perks like free shipping or current promotions. How you add meta descriptions will depend on your website platform.
Use Schema Markup
Another way you can help Google and other search engines understand your site is through schema markup. This SEO strategy includes a number of factors that give more context and details on your website structure and what your store offers. Some of the key elements of schema markup that are important for eCommerce sites include product schema, breadcrumb (navigation) markup, product availability schema, and review schema. You can learn more about what schema are and how to implement them by reading this SEMrush article on schema markup and Google's Structured Data Markup Helper.
Optimize Each Webpage's Load Speed
Your website's load speed directly affects how high or low your website ranks in SERPs. Not only do faster websites offer better experiences for your site's visitors, something Google considers very important in ranking factors, it also helps prolong the customer journey. If more people stay on your page longer, it will likely rank higher. If people tend to bounce away after only a few seconds, your rank may drop. As mentioned earlier, too-big images often contribute to slow load times, but other factors can affect your site speed too. Google's Page Speed Insights is a free tool that grades your web page load speed and identifies specific ways to improve it. You can also implement "lazy loading" of images and partner with web developers to reduce redundant or unnecessary code.
Opportunities for Off-Page SEO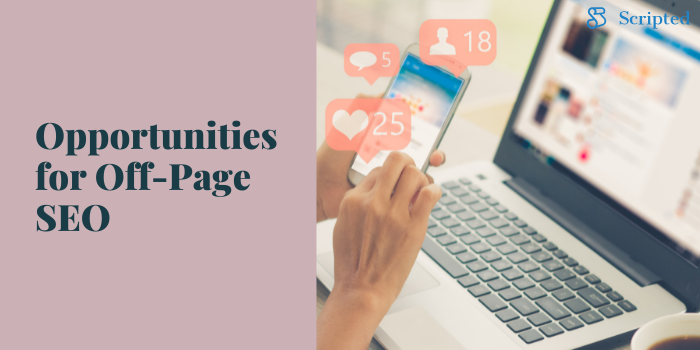 While on-page and technical SEO lay the foundation for your search engine optimization strategy, off-page SEO offers a plethora of other opportunities to amplify your online presence. These external factors, though not entirely within your control, play a pivotal role in enhancing your eCommerce site's visibility. And, with the integration of Gen AI, you can supercharge your off-page SEO efforts.
Building high-quality backlinks, other pages that link back to yours has always been a cornerstone of off-page SEO. In the age of Gen AI, that's likely to remain the same. Backlinks serve as a vote of confidence, signaling to search engines like Google that your content is of high enough value to be referenced by other websites. When authoritative, popular websites link to your content and product pages, that tells Google that your content is more useful. On the other hand, links from low-quality sites can tarnish your site's reputation. To navigate this complex back and forth:
Craft compelling, AI-optimized content that naturally attracts backlinks (don't force it).

Use AI-driven insights to identify potential link-building opportunities and reach out to authoritative sites within your niche.

Collaborate with platforms that align with your brand, offering value-driven content that benefits you both.

Search for broken links on reputable sites and offer your content as a replacement (a.k.a., broken link building).
Social media is another great tool for eCommerce SEO (and also just eCommerce in general). The surge in social media's popularity among the most Internet-savvy demographics and Google's decision to include social media links in search results make this the unsung hero of SEO. Leveraging AI content writing services to develop a social media strategy that incorporates the right keywords and resonates with your audience can not only drive traffic to your store directly but can also bring in traffic by supporting your website content and ranking in Google. Much like your website content, you should plan social media content with keywords and other signals that show the quality of your content and your site.
Elevate Your SEO with Scripted's AI Content Solutions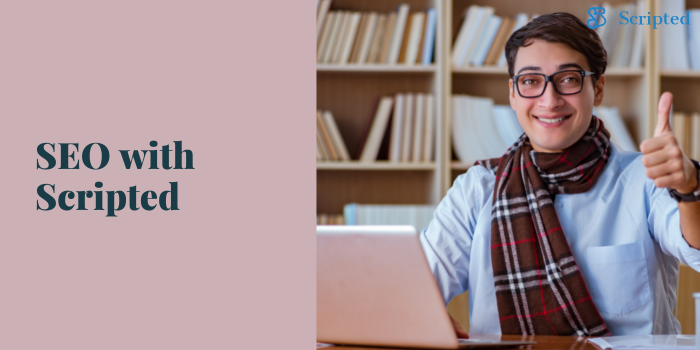 The strategies we've outlined above highlight how you can use your organic content to carve out a robust online presence for your eCommerce store. Of course, SEO isn't just about having a lot of content; it's about having high-quality, relevant, and engaging content that users actually want to spend time reading. From informative pages to insightful blog posts and compelling product listings, your content serves as the backbone of both your business and your SEO efforts.
Harnessing the power of Scout AI, Scripted's AI content writing services elevate your content game, ensuring it's not only optimized for search engines like Google but also resonates with your target audience. If you're on the lookout for a comprehensive guide to boost your content marketing strategy, our guide to content marketing in the retail and eCommerce industry is a must-read. It's a treasure trove of insights, strategies, and resources tailored to empowering your eCommerce site and fortifying your content arsenal. Check it out!