Expert Content Marketers For Your SaaS Business
SaaS companies have unique content marketing challenges, with the need to acquire new leads and convince existing customers to re-subscribe. Scripted can help.
Content Marketing for Your SaaS Organization
The time is right to be in the SaaS (Software as a Service) market. Spending on SaaS is projected to reach $195 billion this year, an increase of nearly $50 billion since 2021. To grab your share of the market, you'll need to cultivate leads and turn them into customers. That's where SaaS content marketing comes in.
SaaS marketing strategies require creativity and a deep understanding of your industry. Traditional sales techniques often don't translate to the world of SaaS. Whether you just released your SaaS app or you're simply looking to attract more customers, Scripted has content creation services that work for you.
What is SaaS Content Writing?
The biggest mistake SaaS companies make is thinking that they can approach marketing in the same way as a traditional business with a physical product for sale. Even strategies that work great for e-commerce don't succeed in the SaaS market.
Here's the biggest reason: SaaS products and services don't have a tangible presence. Whereas traditional marketing focuses on the best ways to get a physical product into a customer's hands, SaaS marketing is all about selling an online service.
Therefore, a SaaS marketing strategy uses digital channels to build brand awareness. A wide variety of techniques are used to reach potential customers and relay the value of a SaaS product.
Power your marketing with great writing.
What Makes SaaS Content Marketing Different?
Selling a product that customers can't see or touch is unique to SaaS marketing. But it's not the only reason why SaaS marketing is different.
SaaS apps are often complex and appeal to a narrow niche. Creating simple and memorable campaigns that convey the service's value and reach potential customers can prove incredibly challenging. Search engine optimization (SEO) can be trickier because of the more complex questions buyers are asking and the relevant terminology.
Traditional marketing often slows down once the product has reached customers. As the SaaS business model is built on subscribers, there's an essential focus on customer retention.
SaaS marketing strategies establish a robust online presence, use multiple methods to attract customers—and work to retain them. No single approach will meet all those goals. You need a proven combination of content marketing methods.
That's why Scripted's content marketing platform as a service (PaaS) offers a variety of content creation services to allow you to diversify your marketing strategy and reach as many potential subscribers as possible. We provide the following writing services to SaaS businesses like yours:
Blogs
Articles
Whitepapers
Case studies
Transcriptions
How-to guides
Video scripts
Ebooks
FAQs
Landing pages
Don't see the content you need on our list? Schedule a call and speak to a member of the team to get matched up with technology writers who'll work with you to create whatever you need.
Challenges of Developing Your SaaS Content Strategy
Scripted understands the many pain points experienced by B2B SaaS providers. We work with many businesses just like yours to help alleviate these challenges.
Time
Finding the time to create genuinely compelling content on a regular basis is tricky for most businesses. As a SaaS provider, you have to deal with inbound enquiries, plus handle the maintenance and queries of your existing paying customers, not to mention updating your own products and services to keep up with a rapidly shifting market.
Outsourcing your SEO content to Scripted gives you back time that you can spend on your real passion: Your business.
Finding Content Creators With Industry Experience
Many SaaS companies may choose not to use a content marketing platform simply because of the complexity of the services they provide. Some freelance content creators may have a limited knowledge of the SaaS industry and related terminology. You might have been stung with content from a writer with an inability to effectively communicate product features and benefits to your target audience.
Our community of tech writers loves software, hardware, and emerging technologies like AI, ML, and edge computing. Simply talk to a member of the team or browse our pool of technology-focused writers to find the right content creator for you.
Consistency
Maybe you're lucky enough to have a great in-house blog writer whose content marketing efforts bring more visitors to your website. But how are their social media skills? Can they craft a newsletter that increases your email-open rate? Consistency, when you're marketing across multiple platforms, is really tricky to achieve without expert help.
Scripted's content creation team helps you create a content calendar and stick to it, delivering content for all the online spaces where your business is active whenever you need it. Quality content, 100% satisfaction guaranteed.
Fill Out a Form to Receive a Free Content Assessment and Strategy Proposal
Set up a meeting with a Scripted content strategist and discuss your content marketing goals with one simple form. Our expert team will review your current content, your content marketing strategy, and propose next steps to get you on the right track to reaching a more diverse audience of subscribers.
Why Invest in a Content Marketing Platform?
Getting traffic to your website requires content. While product pages will attract a few interested parties—especially when you buy product descriptions from an SEO specialist!—nothing brings more visitors than informative, high-quality content. For this reason alone, content marketing is essential for any SaaS business.
You can see how it works for yourself. Go to Google, and search for SaaS apps in your product or service category. If your product is a time management app, for example, search for "time management saas app." You'll notice that the first results pages are filled with your competitors' blog posts.
High-quality content contains relevant keywords and answers the questions asked in search queries. Using the time management SaaS app example, some specific keywords might be "time management" and "time tracking." Some questions your blog posts answer could include "How do time management apps work?" and "Do time management apps sync to my phone?"
By creating content relevant to your target audience, you're helping your ideal customers find you. Content marketing is also versatile, as you can share your blog posts on social media and other digital channels.
Brand Awareness
High-quality, targeted content makes you a more recognized entity in your field. Build authority with buyers and become a trusted resource for anyone seeking information on your specialism. Lead generation is easier when you use quality content to build brand awareness. A better brand means more chance of you becoming a leading organization in your sphere.
Improve SERP Ranking
High-quality, targeted content makes you a more recognized entity in your field. Build authority with buyers and become a trusted resource for anyone seeking information on your specialism. Lead generation is easier when you use quality content to build brand awareness. A better brand means more chance of you becoming a leading organization in your sphere.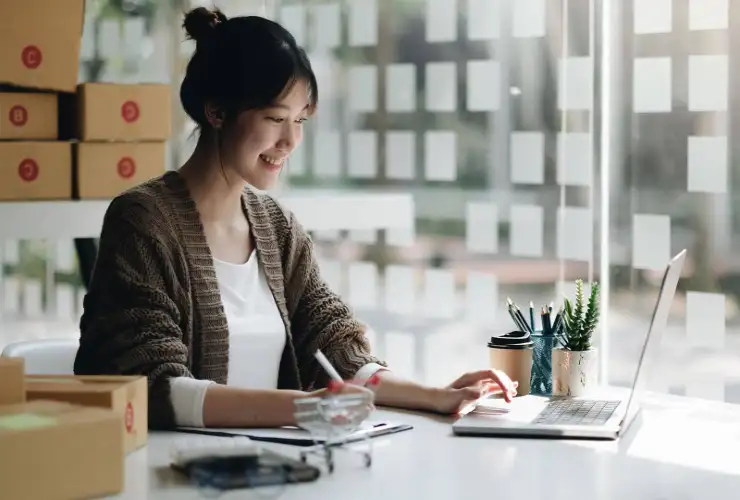 What Makes SaaS Content Marketing Different?
Scripted's platform is easy to use yet utilizes advanced tools and techniques to optimize your content for search engines while providing a hassle-free user experience.
We've built a huge community of industry-expert writers, many of whom have worked in the SaaS industry or written extensively for some of the biggest SaaS brands on the market.
Our writers don't just understand how to write marketing material. They understand SERPs and how to implement SEO organically. They'll use up-to-date keyword research tools and make sure the content they're creating is in-line with your buyer personas. They can create content for every stage of the funnels, from educational top of the funnel content to that all-important bottom of the funnel writing that helps turn uncertain leads into definite conversions.
Our writers work with multiple content formats every day from long-form articles to short, snappy newsletters. They can deliver blogs with included SEO packages and social media snippets to help you maximize your distribution strategy.
Scripted reviews your unique needs and goals to help you create a customized content strategy with the right messaging to gain traction with your target customers. We take a results-driven approach focused on achieving your specific marketing objectives.
Scripted goes beyond the traditional marketing agency to match SaaS clients with content creators that are passionate about technology and work hard to make sure you're delighted with the results.
SaaS Content Requirements
The SaaS market is highly competitive, and we understand that when it comes to budgeting, every cent counts. Valuable content is content that makes your buyer's journey easier ad removes friction from the sales process. We understand that SaaS companies have questions before they commit to investing in a new addition to their tech stack. Here are some we answer all the time.
ROI: How Will Investing In Content Creation Boost Our Bottom Line?
Marketing ROI is a critical aspect of SaaS organizations' budget and we know you don't want to put money into a new marketing service unless you're guaranteed big returns. According to the Content Marketing Institute:
67% of marketers say content marketing definitely creates more leads
63% of marketers believe content marketing improves customer loyalty
72% state that it aids customer education, such as learning to use the software or tools you provide
The most notable stat from the report is that 47% of companies will be hiring content producers in 2023. Can you afford to let nearly half of the competition get an edge you don't also have?
How Can We Keep Control Of Our Brand Voice?
No matter the type of content you need, our writers will always look to your brand voice and company vision as they build your blogs, articles, or social media posts. If you have an internal brand document, feel free to share it with us and we can ensure all writers you work with have access. If you have a brand messaging framework, we can also incorporate this. You can even provide a template if you want all your blogs to follow a specific format. Beyond this, you get the option to request revisions and liaise directly with our professional writers for fast, on-brand results.
How Do I Know SaaS Content Marketing is Worth Investing In?
How can you be sure that the business benefits such as increased brand awareness and higher volume of leads will actually materialize? Well, the fact that tech companies like Adobe, IBM, and Ticketmaster trust Scripted should put your mind at rest. It's also worth noting that in 2022:
Need more information for your finance or marketing team? Schedule a call with a member of our team.
Get Started With Scripted: Contact Us For a Customized Quote and Consultation
If you want to completely optimize your SaaS content strategy, schedule a call with a member of our team today. Our content marketing platform is available via several different subscription plans, and we can make sure you choose the plan that will give you the best ROI and biggest impact in terms of reach and increased conversions.
Talk to a strategist
SaaS Content Marketing Stats: Crunching The Numbers
Like most tech-focused services, we love data! Take a look at some more figures that highlight why content marketing for your SaaS is more important than ever.
How Companies Do Marketing is Changing
80% of marketers believe that the industry has transformed more dramatically in the last three years than it did in the last 50 previous! Businesses need to learn to adapt, and fast.
The SaaS Market Has Exploded by
500%
The overall SaaS industry has grown by a whopping 500% in the last 7 years.While that creates exciting opportunities for software startups, it also means all SaaS providers are vying for business in a vastly overcrowded market.
18%
Businesses Have No Coherent Content Marketing Plan
10% of companies state that they don't use content marketing while 8% are unsure. That's nearly a fifth of all businesses not utilizing what is widely considered the best way to generate new leads.
Great SaaS Marketing Strategies Start With Great Content
Getting started with Scripted is easy! Choose a plan that will work best for your business. Complete an order form and provide some information about the type of content you want in your engaging newsletters.
Our team of subject matter expert writers gets to work on creating your content. Set your own timescales depending on how urgent your email marketing campaign is. Liaise directly with our newsletter writers using our simple, built-in messaging function.
You receive carefully edited, high-quality newsletters ready to send to your mailing lists.
There's never been a better time to launch a SaaS app. The market is growing at a phenomenal rate and shows no signs of slowing down. Marketing your SaaS product can be challenging, but utilizing Scripted's plans will give your campaigns a boost.
The common thread amongst all modern marketing strategies is the need for great content. The SaaS business model depends on attracting more leads and converting them into long-term customers. Quality content crafted toward the unique challenges of SaaS marketing is the best way to make that happen.
That's where Scripted can help. Our team of seasoned writers has years of experience creating high-quality content for blogs, email campaigns, and more.
Choosing the Right Type of Content for Your SaaS
Sign Up For Scripted's SaaS Content Writing Services to Receive High-Quality, Optimized Content on a Regular Basis
Once you register and you choose your plan, you gain access to our community of talented writers with years of experience across multiple technology-based industries. Use our SmartMatch facility to order content entirely to your own specifications or request blog and article proposals from industry experts. Order as much as you like, as often as you like. If you sign up for our Enterprise Plan, you also gain access to an account manager who can liaise with you around ongoing performance, pools of dedicated content creators, and recurring workloads.
We believe in the combined power of technology and people to make your SaaS content marketing strategy come to life. Get started with Scripted today and try our platform free for 30 days.