ContentFly vs. Scripted: Features, Prices, and Reviews

Steve Jobs hit the nail on the head when he said, "Quality is more important than quantity. One home run is much better than two doubles."
This applies to many things, but especially to content. It's more important than ever before to produce consistent, high-quality content. If you do not add value to a reader's life, they will go elsewhere. 
Whether you have a solid content marketing strategy in place or are just starting out, the same rule applies — seek quality content. For many brands, the issue is producing that content. For one, quality content is incredibly time-consuming, and two, writing it requires a specific skill set. 
That is why so many top-performing brands and online companies outsource their content needs. Which brings us to the question: Who do you partner with? There are plenty of options out there, including Scripted and ContentFly. 
Compared to Scripted, ContentFly is a fairly new platform. Today, we're going to review both of these platforms to see which option best suits your current and growing content needs. 
What is ContentFly?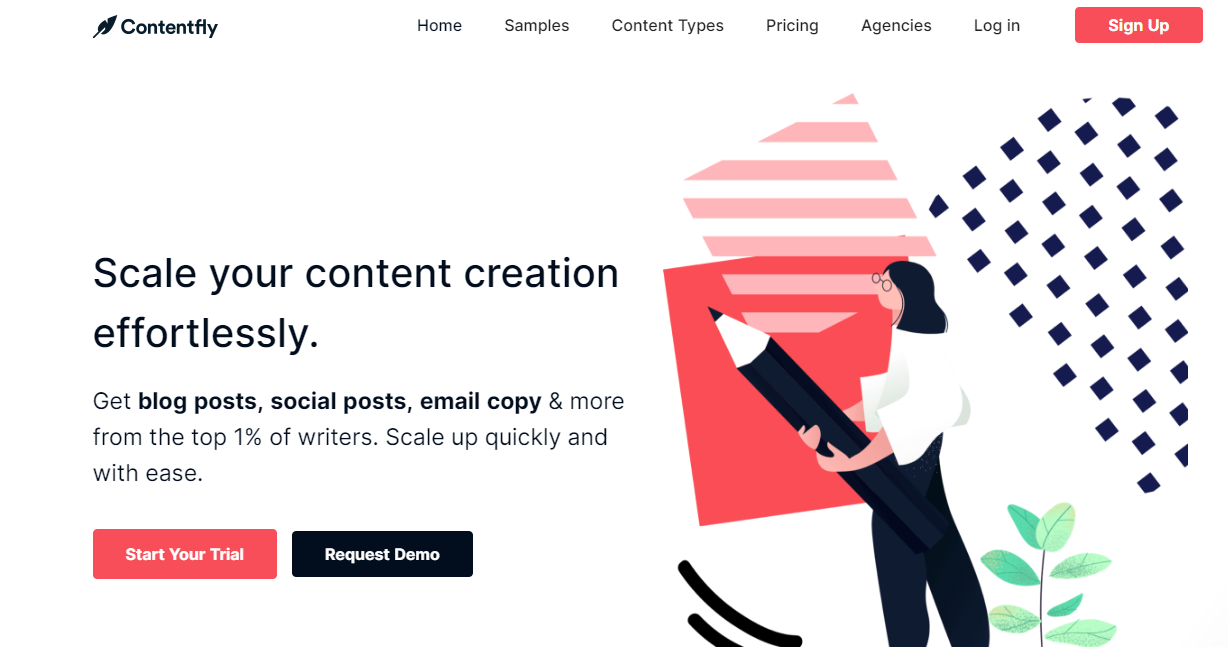 As they say at ContentFly, you can effortlessly scale your content. 
Based out of Toronto, Canada, this content writing service helps businesses develop content based on their goals. Whether you need blog articles or social media content, ContentFly enables companies of all sizes to create, manage, and scale quality content. 
Overall, most users find that ordering content on ContentFly is straightforward, and the quality of writing is what you would expect from a large-scale content writing service. Unfortunately, for some, this means inconsistent quality. That is why when you look at reviews, they are either extremely negative or extremely positive. But we'll touch on that below. 
However, since the company offers a large pool of writers, you can filter out the top writers if you have time to do so. Once you identify writers you like to work with, ordering content is simple, and there's a transparent pricing system. Most would agree it is a reliable content service. 
What is Scripted?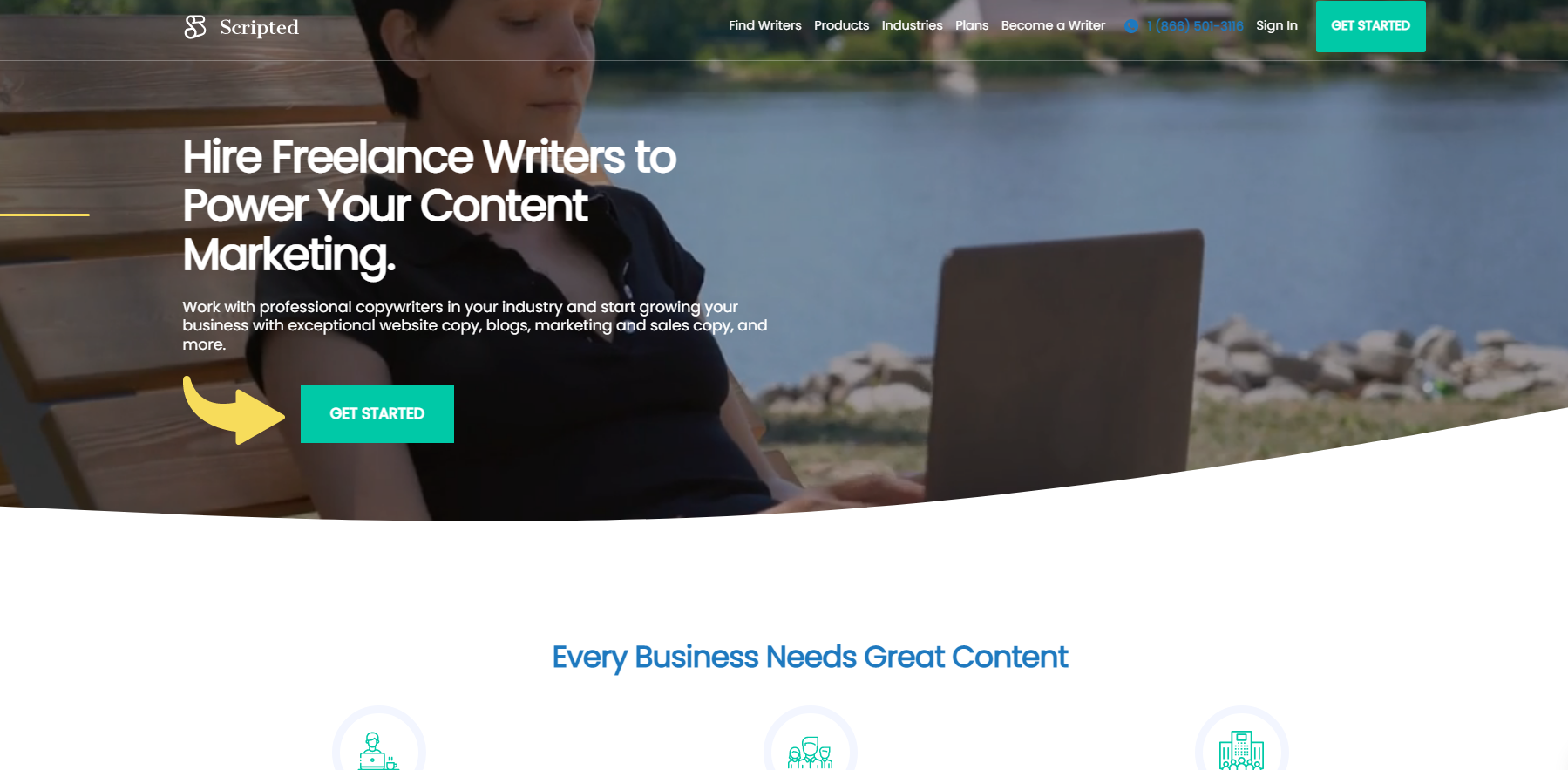 Scripted is an all-in-one content creation platform that connects businesses with highly-vetted writers. These businesses become "members," benefiting from a wide range of features. 
Unlike many content platforms out there, Scripted is highly focused on the quality of content produced. Businesses have the opportunity to work with professional copywriters based on the industry or niche they're targeting. For example, if you're a small business specializing in health food products, you can find expert food and beverage writers and those in the health and wellness industry. 
This attention to detail, narrowing writers down based on their industries of expertise, ensures high-quality, professional content. Scripted also offers SmartMatch technology. This technology makes it easier to get started with skilled writers in your industry. Since writers are categorized based on their skill set, industry knowledge, and experience level, Scripted's SmartMatch technology can connect a business with the perfect freelancers. 
The major benefit is the time businesses save. When using this technology, and Scripted in general, you no longer need to post your content needs on job boards, only to sift through countless writing samples and resumes — many of which are underwhelming. Scripted and the technology used by this platform do all the heavy lifting for you.
Content Types
ContentFly combines its network of writers with artificial intelligence to bring businesses a wide range of content types. However, they mainly specialize in the following: 
Blog articles

, which are delivered in no more than 5-7 business days

Landing page copy

, executed after a client shares a landing page template, their desired word count, value proposition, and business info 

Newsletters and email campaigns

, which can be ordered one at a time or in bulk 

Social media content

, helps provide brands with their unique voice 
Over at Scripted, if there is a type of content you can think of, they offer it. That includes the following, with numerous business benefits:
From whitepapers to ad copy, video scripts to ebooks, and social media content to custom projects, Scripted writers are well-versed and ready to help with any content need. 
Each of these types of content is unique in how it is written and structured. There are also certain best practices that only the top writers know, particularly regarding search engine optimization (SEO). SEO maximizes the chances of users finding your content online.  
ContentFly vs. Scripted Vetting Process

At Scripted, over 150,000 writers have applied. Yet less than 2% of those applicants are accepted. To be accepted, writers undergo a comprehensive vetting process. During this process, Scripted looks for skills in:
Creative thinking

Research 

Grammar

Word choice 

Editing 

Organization

Collaboration 
At ContentFly, the top 1% of writers are available to clients. However, the platform hasn't been overly transparent about how many writers apply or the criteria to be accepted. To apply, writers must submit a portfolio. The ContentFly team reviews applicants' portfolios, and then if approved, they must write a test. 
Both platforms go above and beyond most content service platforms, requiring a multi-step application process. 
Pricing
Both of ContentFly's and Scripted's rates are quoted in United States dollars (USD). 
At ContentFly, when you go to their pricing page, the platform asks you to select how much content you need. The amount of content you require will determine how much you pay. 

Included in their rates, you receive:
The number of words per month you select 

Unused words (that roll over month to month)

Original research 

Royalty-free images
Let's run through a few examples. ContentFly notes that the "average" blog post is 114 words when selecting the best option. 
If you were to select 4000 words a month, this would cost you $375 a month if paid every month and $300/month if paid annually. 

For 16,000 words a month, you would pay $1,500/month if paid monthly, $1,200/month if paid annually. 

For 32,000 words a month, you would pay $3,000/month if paid monthly, $2,400/month if paid annually. 
It's important to plan accordingly because you'll be charged $0.12/word if you go over. 
ContentFly also advertises a range of tools and services. However, it appears that there is an additional charge for these. 
Scripted offers three membership plans so that you can choose the perfect option for your growing business.
All three Scripted options offer:
100% quality guarantee

Access to 18 types of content 

SEO-friendly content 

Editorial

Free blog ideas 

Spelling, grammar, and plagiarism check
Managed Project Services From ContentFly vs. Scripted
As discussed above, there are fully managed options, represented by their own pricing tier — but only for Scripted. 
At Scripted, this is what's known as Scripted Fully-Managed. This service is ideal for those who want to take a completely hands-off approach. You gain access to a complete content marketing strategy, account management, content creation, managed analytics, and more. Content marketing takes a lot of time, effort, and skill, which is why it's often best left to the experts. For example, after Simple.Thrifty.Living took this approach, the company experienced a 543% growth in organic traffic. You can request a free consultation to learn about this service. 
ContentFly does not appear to offer a managed service. This might change, but as of late 2021, no such service exists. 
Reviews from Clients

What Clients Say About ContentFly
ContentFly has received a mixture of reviews. On some sites, such as Trustpilot, many of the reviews are internal, coming from content creators. For the most part, these are positive. However, negative client reviews brought their overall rating down. 
Some of the best reviews include:
"Contentfly provides the leverage to be highly competitive in eCommerce without the budget for an in-house marketing team. I have come to rely on them for well-researched, well-written SEO content for my brands." -

Voké 

"The best part about Contetfly.com is their customer service and quick response time. I have received answers to my comments/questions within 15 minutes using the chat feature on the site." -

Kendall
Client Reviews About Scripted
Scripted has worked with over 50,000 clients, producing over 200,000 pieces of content.
As a result of Scripted's ongoing commitment to quality, the platform has attracted a long list of impressive clients, including IBM, Adidas, Healthline, Adobe, Ticketmaster, LinkedIn, and more!
Based on Scripted's flexibility, some clients are one-person businesses, whereas others have 100+ employees. Regardless of the size of the business, Scripted writers take the same approach with every client. The goal is always to produce the highest quality content, meeting the requirements requested by the client. 
"Scripted has done an incredible job at facilitating great content creation. The account managers care about ensuring we have the best writers writing the best content, and the writers they selected for us are top-notch." -

Myles

"Scripted's services are top-of-the-line. I get great content whenever I need it." -

Carolyn

"Scripted is THE leading content house both for writers and businesses who know what they need from the written content. I've been with the platform for over 1 year and can say for certain that quality is upheld to the highest standards." -

Mike
ContentFly vs. Scripted: Pros and Cons

A pro for both Scripted and ContentFly is that you will receive a free trial when partnering with either platform. 
With ContentFly, the free trial consists of a 4000-word money-back guarantee for the first billing period. 
In contrast, Scripted offers a free 30-day trial! This means you can try Scripted for 30 days without incurring membership fees. 
ContentFly Pros
You can order a range of content types 

Staff understands SEO

The company offers a satisfaction guarantee 

They offer a recurring content package — but this is only ideal under certain circumstances 

Quick turnaround time (3-5) for content, mainly small orders up to 1000 words 
ContentFly Cons 
ContentFly assigns orders, which means that there is often a lack of consistency 

Some users have had a poor experience with customer service 
Scripted Pros
Can order a wide spectrum of content types

Offers an all-in-one dashboard that makes ordering and viewing content simple 

Excellent customer service 

Quick turnaround times 

Flexible, transparent pricing 
Scripted Cons
Pricing can be high for some brands, but you get what you pay for 

It can take time to find the perfect writer based on your unique brand voice