The 3 Keys of Engaging Content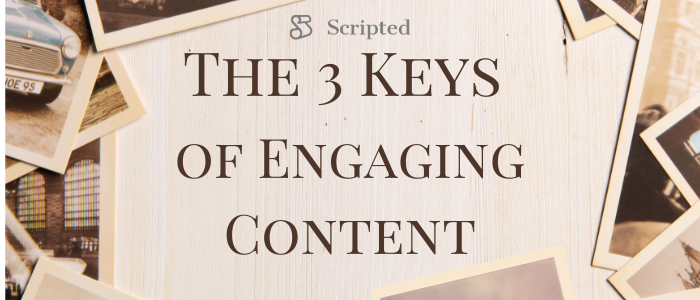 We talk a lot about SEO as content writers. SEO means search engine optimization, and it's about working with search engine algorithms to place your content where it will get read. Why is this important?
68% of all online interactions start with a search engine query.
Less than 1% of searchers ever head to the second page of Google results.
Over 92% of website traffic worldwide comes via Google services, including search.
Leads that come via SEO have a close rate of almost 15%.
SEO drives around 1,000% more organic traffic than social media.
Source: Ahrefs
SEO is how you get readers to visit your blog or, as a content writer, your clients' websites. If you haven't considered this next question before, then it's time you asked yourself:
"What are my readers going to do once they get there?" 
Picture this: you construct an article with impeccable, 5-star SEO. The article hits the top of the SERPs (search engine results pages). It draws thousands of readers each week. Yet hardly anyone stays on the article past the halfway point. One person clicks the CTA by accident. That's it. Your article sits around like a nice car parked in a driveway, never driven.
What happened? In this hypothetical case, you focused on the technical side of things while completely ignoring the design side of things. You didn't engage the viewer's eye by structuring the article in an appealing manner. You didn't engage the reader's mind by providing genuinely compelling writing. All the SEO in the world can't help a giant block of text with no substance.
This next part refers to how you handle customer/client/producer/editor feedback. However, keep in mind that you can avoid many of these interactions by applying the principles in our article from your first draft forward.
In certain cases, after you've submitted a piece of content, you might get feedback from your editor or client asking you to "jazz up" the quality of the piece you're writing. This might be as harsh as "make it not boring!" or the kinder and more constructive request that you rewrite it to be "formal but still fun." Generally, such feedback isn't super clear or helpful at first glance. The person asking for such things is, in fact, calling upon you to create a feeling. There's something lacking from the piece. Such aspects are usually quite difficult to describe. 
Yet, as readers, we always know "exciting/jazzy/sexy/cool" when we see it. That's because these are qualities intrinsic to our lived experiences and personalities. As an engaging content writer, it's your job to make mere collections of facts, figures, or features entertaining and easy for the human mind to grasp. 
But how can you accomplish this? 
At Scripted, we've identified and outlined three key components essential to the creation of engaging written content. Feel free to apply these principles to whatever writing project you see fit. 
We al​​​​so provide AI-powered tools that spot things within your writing you may have missed. Scripted writers use research chatbots to gather info and AI assistants to check for grammar, overly long sentences, and repetition. AI can't replace a great writer, but it sure helps iron out wrinkles they may have missed—as every writer does from time to time.
Engagement Key 1: Identify and Hook
Image: https://cdn.buttercms.com/QgQkCngzRtWQLj9E3Gbg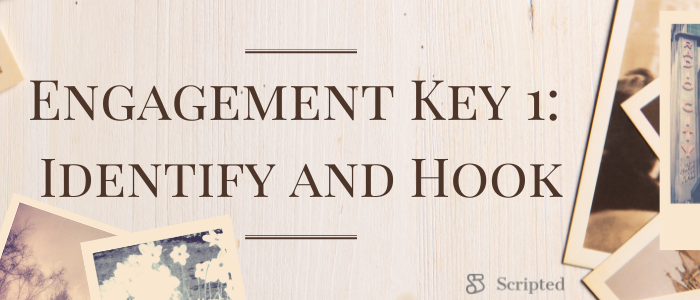 Generally, most content creators write their best pieces when they write to clear objectives provided either by the client or by AI, such as the Smart Content Briefs offered by Scripted. If you find that your assigned brief doesn't have a clear objective, you need to communicate with your client to get more information. For Scripted writers, that's as simple as dropping a quick note into the messaging tool built right into the platform. 
Once you've identified the primary objective of your writing, it's time to build your hook(s). These are components of your written work that actively engage your reader's mind. Most of the time, this can be best accomplished by linking the presentation of your content to the reader's emotions.
Let's use an example. A writer is creating an informative blog. The client is a healthcare tech service company that wants to inform readers about the California Family Rights Act. Specifically, they're exploring the potential ramifications for private practices. 
The ultimate objective is to get the reader to react to the Call-to-Action (CTA) by clicking through to schedule a demo of the healthcare software. We want to create an emotional response within the reader that compels them to do this.
If you're starting from the launch point of "I need to create an emotional reaction in the reader," you must first identify who the reader is. In this case, it's a doctor, dentist, optometrist, or other healthcare practitioner and business owner. Identifying a target audience is a key aspect of marketing. Clients will get better writing when they let their content creators know exactly who the intended audience is or even provide examples of buyer personas or ideal customer profiles (ICPs). Effective content marketing strategies highlight who the reader is and where they go online, which helps marketers decide where and when to publish content.
Now that you know who your readers are, you must identify your ultimate objective for them. In this case, it's to follow through on the CTA and book a demo.
Next, try and identify which emotion(s) you want the reader to feel. This will depend on the objective and the content topic. Is it appropriate to leverage humor, happiness, longing, fear, or sadness? To what end will this emotion be utilized? In this case, we want our healthcare decision-makers to be nervous about costly litigation or losing their practice due to non-compliance with state and federal law. From the reader's perspective, this is answering the age-old question: "Why should I care?"
Finally, you must identify a solution that solves the problem created by the emotion. For humor, you might encourage your reader to keep experiencing the feeling or share it with someone. For longing, it's something to fulfill the need. For fear, it's typically preparation, protection, retaliation, or rescue. In this instance, the reader can protect themselves from the risks of litigation by contacting the client and setting up a demo.
Now it's time to construct our writing based on these principles:
"So, two employees both decided to take some personal leave, but only one filled out the request form? No doubt you know your own company's policies, but what about the laws that protect the employees in this scenario—laws you're all beholden to equally? We've all seen it or "heard it from a friend": one misstep in the wrong proverbial ditch, and you're dealing with costly litigation (or worse—your reputation is on the line). It's a sure bet none of us "know what we don't know," but as you do know, in healthcare: "I didn't know!" doesn't cut it as an excuse. If you wish you could demystify the California Family Rights Act (CFRA), you need to learn how to insulate your practice against the potential and ever-present legal pitfalls."
It's a pretty simple emotional tactic, to be sure. In this case, the writer is playing on the reader's fear of falling foul of the CFRA. Engaging the reader on an emotional level like this is more likely to get your reader down to the CTA than focusing on facts alone.
Sidenote: are you worried that you're being manipulative? In the vast majority of cases, the idea or service you're arguing for genuinely represents a real benefit to the reader. In this example, you're simply capitalizing on an existing emotion and presenting a solution. Your target readers think about these things daily. If they don't follow through on your CTA, they will do it in the next article they read anyway.
Scripted writers: When you submit a piece, always look for guidance from Scout, your AI assistant. Scout will provide notes on the language you've used and tell you if it's too "off tone" from the style guide or content brief. This helps you keep your emotional engagement on-brand for your client and ensures you get your message across organically. Scripted is still the only platform that combines AI technology with expert human writing, creating better content for everyone. You can see it in action for yourself by registering here.
Engagement Key 2: Always Be Turning (Features Into Benefits)
Image: https://cdn.buttercms.com/dplvA4apTuyrDBb4B1vK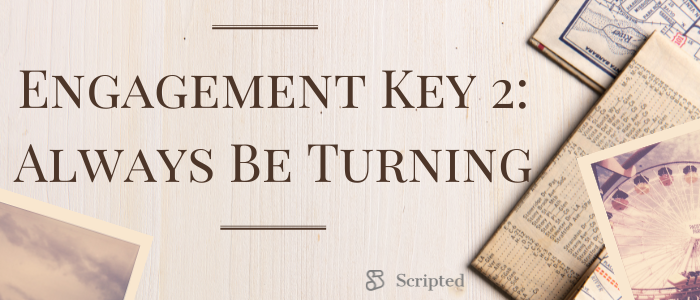 When Steve Jobs revealed the iPod in 2001, he didn't lead his keynote speech with a list of features (thin hard drive, 20 gigabytes, small size, rechargeable battery, etc.). Who would that impress? Only other techies, and Jobs definitely wasn't trying to sell this exciting new piece of technology to techies. They were already invested, by definition. He was trying to sell the iPod to the general public.
In that spirit, he said:
"The coolest thing about iPod is that your entire music library fits in your pocket. Okay? You can take your whole music library with you, right in your pocket. Never before possible."
See the difference? Rather than an emotionless list of features, Jobs described something you can imagine and understand.
You can easily and immediately envision the benefits of what he's describing. 
20 gigabytes? Cool, that's a lot of storage. So what?
…versus…
Take all my music with me? Anywhere? Sold. 
The point is that imagination equals mental ownership. If you can lead your customer to construct a mental scenario of a problem being avoided or solved in a manner that's relatable to that specific individual, then they're already test-driving your product or idea in their mind's eye. 
Think about the blog excerpt in the last section. We aren't even to the end of the article—the CTA—and you're already planting the seeds of a follow-through from the customer. Remember:
Benefits are tangible.
Tangible things create mental ownership.
Mental ownership is inherently emotional.
People make decisions based on emotion.
Features are merely that: features. Static aspects of a thing; its constituent components that make it what it is. 
Benefits are the dynamic, real-life results of those features.
If you're having trouble distinguishing between features and benefits, try this exercise: Could you put it on the technical specification of a device? If yes, it's probably a feature. If no, it's most likely a benefit. Writers sometimes have difficulty because, depending on how practically minded they are, features and benefits can appear similar.
For example, a feature of the iPod was it's ability to contain an entire music library, as we've read. However, that's also a benefit. It benefits users to be able to take their music wherever they go.
As a writer, you have to turn the feature into a clear benefit.
The magic of the iPod is that you have access to all your favorite songs, no matter where you are.
Focus on the benefits that the feature brings to the user, and you'll grab their attention. This applies whether you're writing blogs, social media posts, or product descriptions. Even if you're utilizing generative AI, you can list the features of a product and ask AI to produce a summary of the benefits this will give a user. You can then use this list of features and pick out the key ones that relate to your client's target audience. 
If you want to see how AI can help tailor your content in this way, register for free and get started using over a dozen different content types right away.
Engagement Key 3: TBI + CTA
Image: https://cdn.buttercms.com/Tc5u2ffoTM6IH26438kn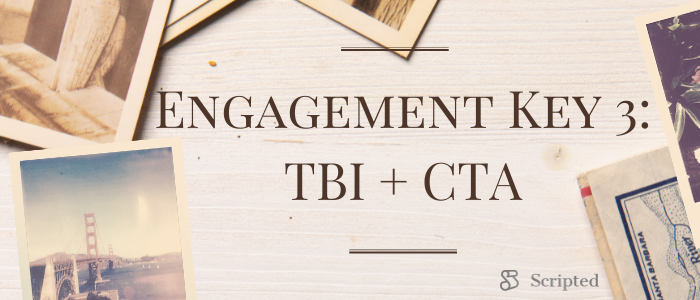 We'll get right to the point on this one. TBI stands for Targeted Bolding and Italicizing. CTA, as you already know, stands for Call to Action.
In our first Engagement Key, we examined how to identify and create emotional hooks. In the second Key, we discovered that mental ownership is crucial to capitalizing on those emotional hooks.
In Key 3, we'll consider how a tactical use of graphics and typeset can help tie all this together. 
Note: This step is optional. Make sure you read your client/customer's Style Guide, or ask for one, before using the following tactic. The good news is that if your client doesn't provide guidance and then doesn't like the formatting you've used, it's super easy to change it back.
Additionally, we'll touch on the whole reason you're creating this content in the first place: conversion. Clients want SEO copy that drives organic website traffic and converts leads. The impact of everything covered in this article will be significantly compromised if your CTA is flat and uninspiring.
Remember that paragraph we wrote earlier? Even though we identified our audience and used an emotional hook, the writing itself is very much a wall of text. It's a big block o' words that doesn't sit well on computer screens, much less smartphones or other mobile devices. The quality of your writing is always relevant. However, how you break up your writing, visually modify it, and punch up its impact can matter just as much. 
Let's break that wall of text down into chunks and add some bolding/italicizing, but with purpose:
"So, two employees decided to take some personal leave, but only one filled out the request form? No doubt you know your own company's policies, but what about the laws that protect the employees in this scenario—laws you're all beholden to equally? 
We've all seen it or "heard it from a friend": one misstep in the wrong proverbial ditch, and you're dealing with costly litigation (or worse - your reputation is on the line). It's a sure bet none of us "know what we don't know," but as you do know, in healthcare: "I didn't know!" doesn't cut it as an excuse.
If you wish you could demystify the California Family Rights Act (CFRA), you need to learn how to insulate your practice against the potential and ever-present legal pitfalls."
This tactic is working towards a concept called skimmablilty, referring to the average reader's ability to skim the article. Ideally, even a casual viewer should quickly parse important information and intended meaning from an article.
Do you remember the concept of "abstracts" from college writing and peer-reviewed journals? You're essentially creating a web-content-style abstract, sprinkled throughout the article. It's the TLDR (tl;dr is social media slang for "too long, didn't read") for formats that don't allow for a TLDR section. You might be writing this article on a computer, but guess where over 92% of your potential readers will read it? You got it: A mobile device. A quick scroll is all some readers have time for, so tactical formatting like this can make websites much more useful to the majority of online users.
Finally, it's time to consider the CTA. Here, as a writer, your objective is pretty simple. You've already hooked your reader by this point. Why not attempt to land them? 
Probably the most common CTA variant alive is "Reach out for more information!" It's… okay, we guess. The main problem with this phrase is that it's so overused and doesn't really have any attractive qualities. It's uninspired, sounds boring, and, worst of all, it sounds like work. I mean, we're all working, right? I want my problem to disappear, not suddenly acquire another task to do. "Reaching out" suggests writing an email, picking up a phone… you get the idea.
Readers want simple solutions that inspire them, not additional items on their "To Do" list.
Let's try something. Pick apart "Reach out for more information!" and give it some variance, but not with a simple rephrasing. What is this prompt actually saying? 
You want the reader to talk to someone, sign up for an email, watch a demo, etc.
Oh, that's it!
Why would you spend all that time crafting an article that embodies everything we discussed so far, only to take this beautiful content cake you've baked and throw it directly at the reader's face? No, dear writer, you want to serve them a delicate slice on a silver platter. Let's try again. 
"See the magic in action for yourself! Click now to register for free or grab a demo." Better?
Tying it All Together
Image: https://cdn.buttercms.com/qXii1LO9TkmBS9630DZS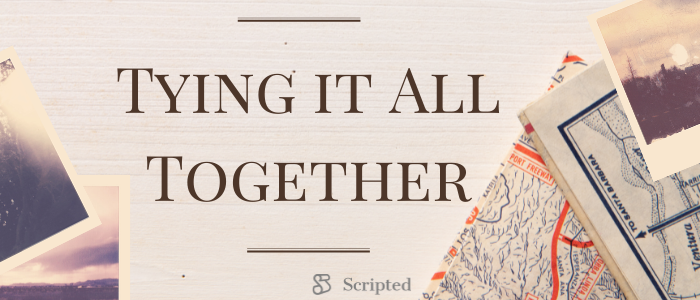 At the core of this content writing approach is the empathetic ability to put yourself in your reader's shoes. You'll benefit immensely from asking the following:
What kind of experience is my reader going to have while they're reading this? 
What will they think by the end? 
Would I enjoy this reading experience myself? 
Does this writing make me want to continue reading or take action?
Can I envision the average reader publicly posting this content or, perhaps, privately sharing this content with people they care about?
Ask these questions during your initial draft as well as in your final review. Give yourself the benefit of seeing the big picture of your own work. Take care of the individual edits, sure, but step back and take a look at the entire work. Digest it for a minute. See how it feels when you're done with specific corrections.
It can help to read sections of your work out loud to ensure that they read fluidly, but also to ensure the tone and emotion is right. Scripted writers also have access to Scout, the AI assistant that automatically checks for anything within the copy that's off-brand, too wordy, or unclear.
By utilizing audience identification, emotional hooks, feature-benefit transformation, purposeful formatting, and holistic review, you're creating something of value beyond mere SEO. More importantly, you can now answer that original question:
"What's my reader going to do once they get there?
If you're applying these key principles, your answer should be that they'll do exactly what you and the client want them to do.
Remember, Scripted is still the only platform combining AI technology with subject matter expert (SME) human writers for the highest quality content that converts. Our writers work across more than 50 industries, from digital transformation to restaurant management. Every piece of content is checked over by Scout, our proprietary AI assistant, and clients can request a human editor for additional peace of mind. Our AI-powered tools can handle social media posts, ad copy, press releases, and so much more.
Writers get the assurance that they can communicate directly with clients or account managers, so they have every tool they need to create those all-important hooks ​and CTAs. Plus, it's easy to request revisions and tweaks to any piece of content or order more content as you need it. Work with the one-stop platform loved by Adobe, L'Oreal, and other big names around the world.
Registering with Scripted is free and you can upgrade to a paid plan at any point. Click here to create a free account and get started creating engaging content today.