7 Title Generator Tools for Tired and Busy Marketers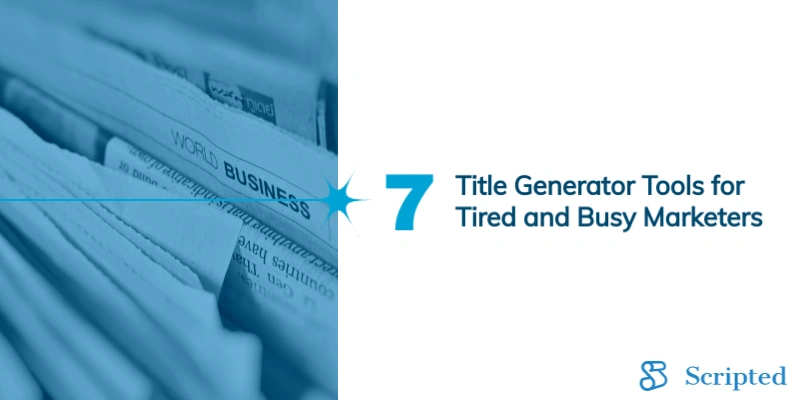 Ah, headlines. Every marketer and writer knows the impossibility of crafting a title that describes your content, hooks readers, doesn't overpromise, and capitalizes on SEO best practices. All in 10 to 13 words, according to research from SEMrush about what titles are most click-worthy. Title creation is an art and a science and a pain.
But no matter how busy or tired you are, you can't overlook the importance of titles for your audience. 
Luckily, there are plenty of tools online that can help you write better headlines. These digital sidekicks are like the caffeine shot your headlines need - they'll perk 'em up, make 'em pop, and leave your readers begging for more. So grab a cup of coffee and get ready to turn your headlines from 'meh' to 'wowza' with these headline generator tools.
What's in a good blog title?
Every marketer is trying to accomplish a slightly different goal with their blog titles, but all blog titles should follow a few basic rules. 
Don't give away the cow. Make sure you leave a tasteful curiosity gap in your title -- don't tell the whole story, just enough to get that click. 

Build and reward trust. Don't write clickbait. Make sure your readers are glad they made the choice to click on your article.

Call on emotion. Why should readers care about your article? The title should answer that question for them. 

Talk to your people. Who's your target audience? Address them in your title so they know this content is for them. (Bonus tip: this might mean that you craft a title with a search engine in mind!)

Be specific. What is your blog about, and what will your readers get from clicking it? 
These title tools won't do everything perfectly, but they'll get you on your way.
Why use title-generating tools?
Titles matter so much, and they're easy to get wrong. A reader decides whether or not to click on your awesome content based almost entirely on what title you choose. That's a lot of pressure. 
Plus, we're not ashamed to admit it. Sometimes it's hard to come up with the perfect title. Sometimes you have a keyword but your well of inspiration runs dry at the critical moment, and all you can think of is "Ten Tips to Do X." And you know that's not gonna fly with your readers. 
A headline-generating tool gives you a starting point. That starting point might not be perfect, but it'll be something you can work from and tweak, rather than having to come up with something from scratch. 
Can I rely on these tools?
As you'll see from some of the example titles we'll provide for each tool, sometimes they're not perfect. And no tool, no matter how artificially intelligent, can ever replace your human experience and business know-how. After all, you know your business and target audience better than anyone else. These tools are more of a way to get your creative juices flowing.
They're great for getting you to consider new angles, new keywords, new buzzy phrases, or topics to tackle. But these titles, no matter how catchy, may need some adjustment from an expert like you.
Let's take a look at the seven best title generator tools for writing effective headlines. For each tool, we'll outline what it does best, how to use it, and give an example of a title it generates. By the end, you should know exactly how to pick the right title generator for your needs. Bonus: these are all free to use.
1. HubSpot's Blog Topic Generator
Let's start with Hubspot's classic free tool. This headline generator is more of a topic generator, but it does provide five free headline ideas based on the topics you provide. It requires that you input at least three, but up to five topic ideas. 
Hubspot's Blog Topic Generator is best at breaking through your creative block. Pop in a few words, hit a button, and bam -- you've got five title ideas to work with. The ideas can be a little hit or miss, but you have the option of reusing the tool as often as you like to get more ideas. 
The tool works like this: you give it some topic keywords, like "marketing," "writing," and "sales." Press the big "Give Me Blog Ideas" button. From there, it instantly generates five blog post ideas. You can also unlock a year's worth of blog ideas by providing your contact information. 
Here is an example title it generated using the keywords I provided above: 
"Marketing: Expectation vs Reality." Not super exciting, but at least it gives you a starting point to work with. And we all know that blank-page syndrome is a tough place to start. 
2. Scripted's Headline Idea Generator
Next up is our own Headline Idea Generator. The idea behind the tool is to make it as simple as possible for you to create attention-grabbing titles that get more people to read your content.
Not to toot our own horn too much, but our Headline Idea Generator is best at being integrated with the overall professional blogging process. It sits inside the Scripted app, making it easy for you to manage all your blog content in one place. You can go from, "Hey, I've got a fun topic I'd like to write about," all the way to a fully-written piece of content within a few clicks. 
It's simple to use because we know marketers don't have time to learn how to use brand-new technology every day. Just pop in a keyword related to your blog post topic, and our algorithm will produce around 20 headline ideas based on your keyword. Pick the title you like most, and you can automatically generate a content brief with your content goal, related keywords, questions you want your article to answer as organically as possible, and related sources for your writer.
Using the keyword "marketing," our tool generated this headline: "Maximizing ROI with Email Marketing." 
Ready to try it out? Start generating topic and title ideas today!
3. CoSchedule's Headline Analyzer
CoSchedule's tool is possibly one of the best-known headline generators out there thanks to its fun, infographic-style explanation of how to write solid titles. This tool analyzes the effectiveness of your headlines based on a variety of factors, such as word balance, length, and emotional impact. Your title also gets a score out of 100.
CoSchedule provides an easy-to-understand, color-coded analysis of your headline. It's perfect for beginners just getting started in the space. 
It works more like an editor than a generator, so think of it as an assistant rather than a full-blown generation engine. Provide a simple headline, such as "What I Had For Breakfast Today." (Sadly a low score of only 48 points.) CoSchedule gives you an analysis and options on how to improve. It focuses on power words, emotional words, and uncommon words. Not sure where to start? It also provides a useful word bank you can browse.
For example, using its suggestions and tools, we landed on the title, "3 Heart Boosting Ingredients That Are Astoundingly Simple to Ignore in Every Breakfast." A little more exciting and clickable, and we were very proud of our score of 80. 
4. Tweak Your Biz Title Generator
This tool generates hundreds of headline ideas based on the keywords you enter, allowing you to find the perfect fit for your article. The great thing about this tool is the sheer quantity of options. 
You just whack in a single keyword, select whether it's a noun or a verb and whether you'd like your title in title case or sentence case. Press the button and within seconds, you have literally hundreds of options. It separates your options into Lists, Best of, Questions, Love, Sex, Celebrities, Secret, Snark, and more, so you're bound to find one that works for your purposes. 
The titles are designed for clicks, so they lean toward the sensationalist side. You can expect to see plenty of exclamation points, and buzzwords like "secret," "success," and "surprising." We were a fan of "How Marketing Made Me A Better Salesperson Than You," from the Snark section. 
5. Portent's Content Idea Generator
Portent's content idea-generating tool offers a fun and playful way to come up with creative headline ideas, by generating random topics that you can tweak to fit your content. Its unique selling point is the explanation it provides for each element of the title it generates.
It's very simple to use. Choose a keyword, type it in, and press the "Generate Idea" button. From there, Portent will create a single catchy title. 
For example, we chose "marketing" as our keyword. Portent came up with, "Why [Insert Celebrity Name] Will Never Be Good at Marketing." Each element in the title was clickable, and you can dive deeper to understand why Portent generated the title in that style. You can generate infinite titles, one at a time. When you find one you like, you can save it to come back to. 
6. Sumo's Kickass Headline Generator
This tool provides a simple and straightforward approach to headline generation, by offering a selection of headline templates that you can customize to suit your needs. It is a much more structured approach to title generation than some of the other tools on this list. We love how simple it is to get a title in exactly the style and tone you want.
To work, Sumo's tool requires just a little bit of user cooperation. You'll have to put in a topic, the desired outcome, a precious thing, the audience you're writing for, an undesired outcome, and something that could affect the outcome. You also need to select the style of headline you want. Sumo offers every tone from Explanatory to Playful.
To test it out, we stuck with our marketing theme. After some input, Sumo gave us "You Won't Be Able To Educate Customers In 2023" as one of our title options.
7. ChatGPT
While ChatGPT is a large language mode rather than a built-to-spec title generator, it's so open-ended and powerful that you can grab some fantastic title ideas with just a little bit of effort. Its strength is just how versatile and customizable it is.
To generate headlines with ChatGPT, you want to provide as much instruction as possible. We recommend giving it your target audience, the tone of your blog, the topic you want to cover, and the ideal outcome. For example, a thought leadership blog title will be very different from an SEO title. 
To do this, create your free ChatGPT account if you don't have one already. Pop in your parameters, and ask it to generate around ten titles to start. The really great thing is that you're able to tweak as much as you like.
For example, the original titles it generated for our marketing blog were a little bland and stuffed full of colons, which isn't our typical style. We asked it to remove colons and go for a more fun, playful tone. That's how we ended up with: "10 Must-Have Marketing Tools for Busy Marketers Who Want to Crush It." Which marketer among us can't relate to that?
Final thoughts on the best title generator tools
Marketers are busy people -- we know that better than anyone. These tools will help you craft blog headlines that accomplish your marketing goals in less time and effort, giving you more time to focus on what you do best. 
Each of these tools has different strengths and weaknesses. Certain tools may be a better fit than others depending on your specific needs. Hopefully, this guide gave you a great place to start. 
Why Scripted?
We've got it all here. Save time and effort by automating the idea-generation process from a single dashboard. With our headline generator, you won't need to use multiple keyword research tools and other solutions again. All of the work stays right inside the Scripted platform.