Low Competition Keywords: A Simple SEO Strategy that Works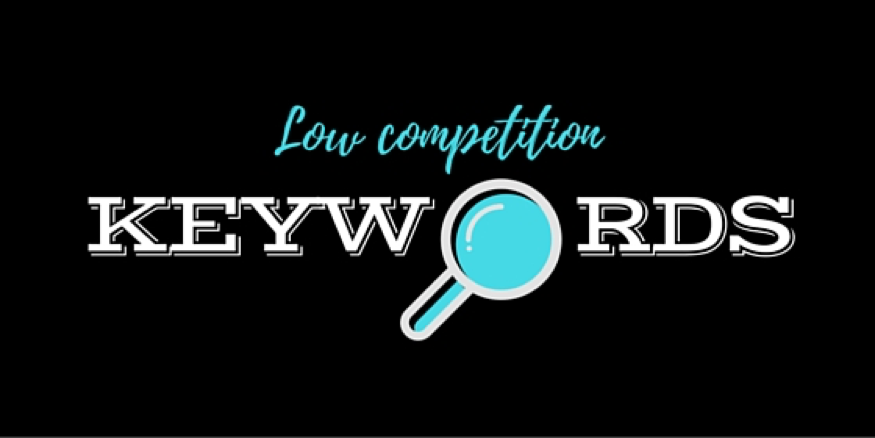 This post on low competition keywords was contributed by Barry Feldman of Feldman Creative.
"May the odds be ever in your favor."
When Effie bestows this wish upon Katniss and Peeta in
The Hunger Games
, the context is essentially, "Good luck. You're going to die."
If you're trying to market your small businesses via search, you probably feel the same way. You understand there's one search engine that matters. There's one page for any given search that matters. And the competition is fierce.
Bigger companies with greater resources are going to dominate the first page of Google. The odds of slaying them all are anything but in your favor. Thanks for playing.
Wait a second. Katniss and Peeta prevail. And about six hours of sequels later, they conquer the mighty, monolithic, monstrous capitol. So with this sinister metaphor am I suggesting a small company can survive and thrive in the deadly SEO arena?
I am. Will it be easy? No. Can I tell you for certain what the outcome will be? I'm afraid not. But I can give you an effective battle plan. `.
My friend, and brother in small business, the heroes of
The Hunger Game
beat the odds by outsmarting every foe and threat. The same can--and does--happen in the search engine optimization wars too. Perhaps it doesn't happen as often as small players would like, but cunning companies that understand and apply a simple SEO strategy have been known to pull it off.
Targeting low competition keywords is the key
Let's myth-bust here and now. Regardless of what they say or do, no superhero SEO company (or guru, or ninja, or BS artist) and no amount of money is going to catapult your pages to the first page of search for the perfect and easy one or two-word term you wish you could rank for. Want to rank for "real estate" or "software" or "dog food?" Sorry.
While we're myth-busting, I want you to also understand
your website will never be ranked.
Search engines don't rank websites; they rank
web pages.
If "website" means "home page" to you, you will indeed find some home pages on the first page of search, but they're generally the property of big brands that have established a great deal of authority online.
So you're left with these realities:


You need to do the work--not buy it.


You need to think in terms of pages--not sites. Blog posts are you best bet.


You need to target search phrases longer than one or two words--commonly called "long tail keywords."


Low competition keywords are your ticket to the top
Let's assume you're not a big fish. Things will go more swimmingly (sorry) for you in a small pond. In search, you want to go after
low competition keywords
.
Don't go thinking the big-fish-in-a-small pond strategy is some sort of compromise or surrender. It's not. In fact, you're about to understand why a long tail keyword strategy is likely to be more lucrative. For an explanation, I submit a lesson from the experts at
Moz on understanding the long tail of keyword demand.
It's wonderful to deal with keywords that have 5,000 searches a day, or even 500 searches a day, but in reality, these popular search terms actually make up less than 30% of the searches performed on the web. The remaining 70% lie in what's called the "long tail" of search. The long tail contains hundreds of millions of unique searches that might be conducted a few times in any given day, but, when taken together, comprise the majority of the world's search volume.
Long tail keywords often convert better, because they catch people later in the buying/conversion cycle. A person searching for "shoes" is probably browsing, and not ready to buy. On the other hand, someone searching for "best price on Air Jordan size 12" practically has their wallet out!
Understanding the search demand curve is critical.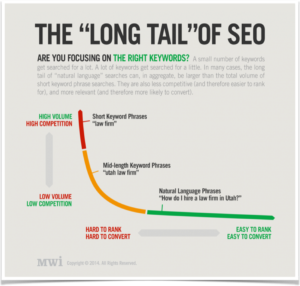 A small number of keywords are searched for a lot and a lot of keywords are searched for a little. Search experts agree these "long tail" phrases are easier to rank for and deliver superior conversion.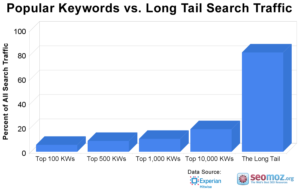 Long tail search traffic represents the bulk of search activity.
Now you have work to do
I encourage you to go after long-tail keywords, because they're easier and more profitable to target. For most of them, you won't face any significant competition." ~ Neil Patel
The title of this post promised to deliver a simple SEO strategy that works. It is indeed simple:
target long tail keywords with low competition to rank high on search.
However, simple doesn't mean easy. Ranking on the first page of search tends to be the result of hard work.
Achieving the goal generally, calls for:


Identifying low competition keywords for which there is an acceptable volume of search. Clearly, it'll do you no good to rank for a term that's never searched. (We'll continue with this subject up again in the next section.)


Creating an engaging page that offers deep, useful and original content on the topic and optimizing it so it appears highly relevant to search engines.The infographic featured below provides numerous tactics to help you achieve this. It's based on an informative post from Orbit Media, Web Content Checklist: 21 Ways to Publish Better Content.


Earning backlinks from authoritative websites. Link popularity has been, and remains, the top search ranking factor since the dawn of Google. But that doesn't mean things haven't changed. Search algorithms have changed in a big way.Be clear: the black hat SEO tactics of yesteryear are now taboo. Though they are often still used by shady practitioners, any positive results are bound to be short-term. The risks involved with employing unethical link building techniques are great and likely to amount in search engine penalties or banishment. Learn more about white and black hat tactics here.Modern, useful tactics don't deliberately chase links. They generally come from a combination of (1) creating great content that organically earns shares and links, and (2) blogger outreach.


The hunt for the right long tail keywords
There are probably more ways to find low competition long tail keywords than I'm about to cover. However, in my experience you'll tackle the task largely in some combination of three ways:


Brainstorming--Begin the old-fashioned way. Get some people in the room and brainstorm. If possible, have people join you who have customer-facing jobs. Think about what prospect and customers have questions about. Get the ideas down on a white board and expand on them by mind mapping. Don't resist the wild idea. Just blurt 'em out and jot 'em down.


Use keyword tools--The obvious place to start is with Google Keywords Planner. Entering even as little as one idea may generate up to 800 from Google's database. Though the tool offers a competitive rating of low/medium/high, be aware the data reflects competition for the AdWords pay-per-click program.The challenge you'll face with Google Keywords Planner is you'll be relying on the same resource your competitors are likely to use. Check out my post, How to Find Keywords People Use (But Your Competitors Don't) for more ideas. You may get ideas from Google Suggest too. These are the keywords presented when you begin typing in the search field. Notice, also, at the bottom of most search engine results pages you'll find a list of related ideas.




KWfinder.com offers free and paid plans enabling you to quickly find long tail keywords with low competition.Also, in his post, A Step-By-Step Guide to Integrating Long Tail Keywords Within Blog Posts, rock star digital marketer Neil Patel offers a downloadable cheat sheet of 21 tools you can use to generate long tail keywords, many of them are free.


Social media research--Mine the gold nuggets you can easily find on Q&A sites, forums, social media groups, and review sites. Social media is an instantly accessible, free and powerful research tool and you'll benefit from gathering insights based on how people actually express themselves.


Long tail SEO strategy is your content marketing roadmap
The long tail SEO strategy you develop with your keyword research will inform your content marketing strategy and improve its effectiveness. You'll gather a wealth of information you can use to create blog posts, infographics, and other content.
Make your content richer than the existing content that currently ranks for the search term or topic. Odds are, you'll put your content in a position to generate traffic, leads and sales.
Need help creating content for your newfound SEO strategy? Scripted has SEO writing experts to help you create original content that ranks. It's free to try, and you only pay for content you accept. So go ahead and browse our writers to find the one that is perfect for your need: