7 Ad Copy Best Practices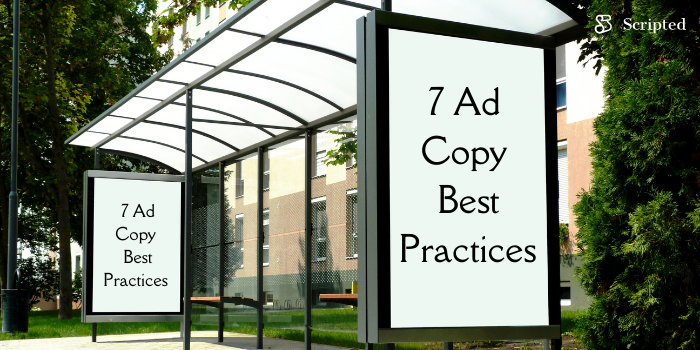 You can say a hell of a lot in a sentence or two. Writing ad copy is a unique skill that converts leads into bona fide customers in as few words as possible, transforming your marketing campaigns. But how do you make the most of your ad copy investment? Learn some best practices for writing ads below. 
A good ad writer is hard to find! That's why Scripted quickly matches you to a vetted copywriter with experience in your industry, giving you more value from your digital marketing investment. Buy ad copy for your business now! 
Understanding Ad Copy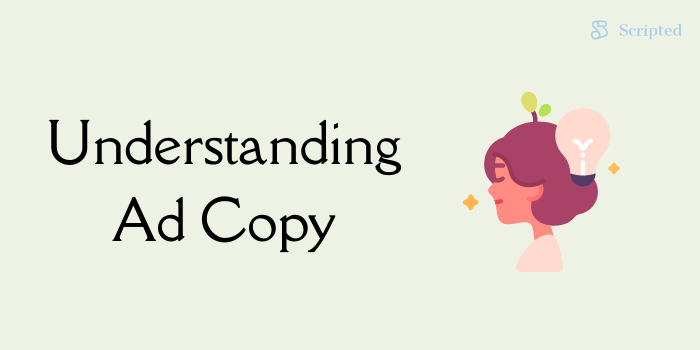 Ad copy is a direct, short-term copy style designed to grab attention and create memorable impressions, so wording and tone is critical. Writing Facebook ad copy, for example? You only have 125 characters to get your message across in the primary text field! On Google, you have even fewer characters to tell the world about your brand. 
Despite these limitations, ad writing can be extremely valuable. One company received an 88% increase in its click-through rate (CTR) after removing generic Google ad text and replacing it with data-driven and useful information. Another company enjoyed a 217% boost in CTR simply by updating its Google ad title. As you can see, ad copy is a critical component of your content creation workflow.
With the right ad copy, here are some benefits you can enjoy:
Great first impressions
Introducing your brand or including a special offer in your copy creates a great first impression with your target audience. That can encourage prospects to visit your website. Tell your audience about your products and services in a well-crafted ad.
Improved SEO
Including relevant keywords based on search queries in paid ad copy can improve search engine optimization (SEO). That will drive more people to your pages. You can target a potentially global audience with your ad writing and boost sales. 
More conversions
Social media ads, display ads, and search engine ads can convert prospects into genuine paying customers. So use ad copy to improve your bottom line. Using the right words for ad writing can be one of the most effective ways to boost conversion rates. 
Increased ROI
Killer ad copy can increase the return on your ad investment by attracting more potential customers to your site. The better the ad writing, the better the chance of driving traffic to your pages. It's that simple.
Credible brand authority
Ad copy can establish your brand as a trustworthy and authoritative resource. That can also improve SEO. Credible copy will tell readers you are the real deal!  
Loyal following growth
You can improve your following with ad copy because more people will learn about your offerings and find out about your company. Many of the world's most successful companies maintain brand loyalty by investing in advertising copy. Now it's your turn!
Types of Ad Copy
A wide range of platforms offer paid advertising opportunities for companies. You can choose one strategy and run with it. Alternatively, blend all of the below to fit your business goals:
Google Ads
Google Ads is Google's advertising platform, allowing you to advertise your offerings on search engines and elsewhere on the internet. Creating an ad for Google requires three headlines of up to 30 characters each, a display URL, and a description of up to 90 characters. Most advertisers include a call to action (CTA) in this description. With its incredible reach, creating ads for Google can expose your brand to a global audience and encourage more people to learn about your products and services. 
Facebook Ads
Facebook Ads is Facebook's advertising platform, helping you reach potential customers on the world's most-used social network. You can create a headline for your ad with up to 40 characters, primary text with up to 125 characters, and a description with up to 20 characters. Many of the world's most successful companies use Facebook Ads to promote their offerings. 
Display ads
Display ads are advertisements that display on various websites or apps. You might use an ad network to increase the visibility of your ads on different channels. Most display ads use a landscape, square, or skyscraper format and utilize images. However, they can also require text that might include relevant information about your brand and/or a CTA. 
Sponsored social media posts
Sponsored social media posts are those that an influencer highlights on their social network pages. Although you write the post, someone with a large following will publish it on their channel, increasing visibility for your product or service. Most social media platforms require influencers to identify these posts with a hashtag like #sponsored or #advertisement. 
Pay-per-click ads
Pay-per-click (PPC) is an advertising model where advertisers only pay money to a publisher (the company displaying an ad on its website or search engine) when someone clicks on an ad. This model can be cost-effective because you pay a publisher when a prospect completes an action. You can also target different demographics with your ads. For PPC ads to resonate with potential customers, you need to create compelling ad copy. This process might include the use of statistics and data in headlines and descriptions (see below) and using actionable words and phrases that grab attention, such as "buy now" and "special offer." 
7 Ad Copy Best Practices
Find out how to create trending ads with these ad copy best practices below. A quick tip: You can optimize your competitive strategy with a team of ad copywriters in your industry. That will power your next advertising campaign and promote new customer connections.
1. Use Compelling Statistics and Data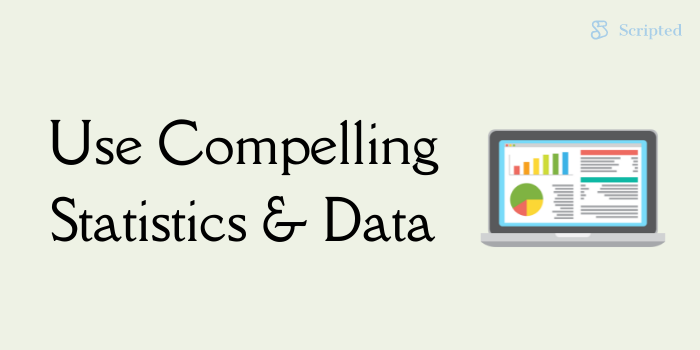 There's something about numbers that grab attention and communicate information effectively. The specific numbers and data you use in your ad copy will depend on your content strategy goals. Here are some popular examples of statistics that will make your ad copy shine:
The average or lowest rate for your product or service

Turnaround time for your product or service

Percentage of satisfied customers

Number of products you offer
Here's an example. You can create ad copy with a statistic such as the number of customers who purchased products on your website in the last year. Your ad headline might look something like this:
Local shoemakers - 5,000 happy customers and counting! 
This type of data-driven ad writing will grab the attention of search users and encourage them to click on your ad to learn more about your company. Alternatively, you can include any awards your company has won, certificates you own, or other achievements in your copy. The trick here is to include information that will make your brand stand out from all the other ads potential customers read on the internet. Highlighting why your product or service is so popular or special can increase website conversions and improve revenue. 
2. Consider Emotional Appeals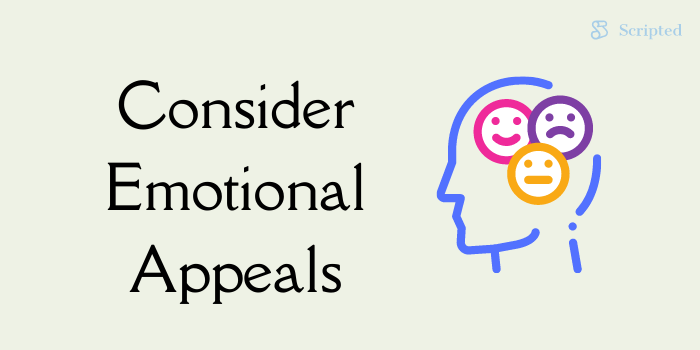 Emotional marketing appeals to your target audience's emotions and makes them feel a certain way. Those emotions might include sorrow, empathy, or even anger. The emotions you trigger in someone all depend on the nature of your ad campaign. Research shows that 85% of consumers think brands don't create emotional bonds with customers effectively, so emotional advertising is a relatively untapped market that you can leverage for higher click-throughs. 
This strategy works better in industries that deal with emotional situations. For example, divorce lawyers, dating sites, and greeting card designers can use emotional language to connect with their audience's emotional state. You might want to use emotional trigger phrases that elicit a visceral response in your audience, such as "take control of," "say goodbye to," and "become the person you've always wanted to be."
Handle emotional content delicately. You can consider using negative emotions, but positive emotions in your copy can be more inspiring and lead to more traffic. You also don't have many words to trigger an emotional response in ad copy, especially search engine ads. Regardless, emotional advertising can work wonders if you want to create compelling copy that creates a dynamic first impression of your brand. 
3. Incorporate Keywords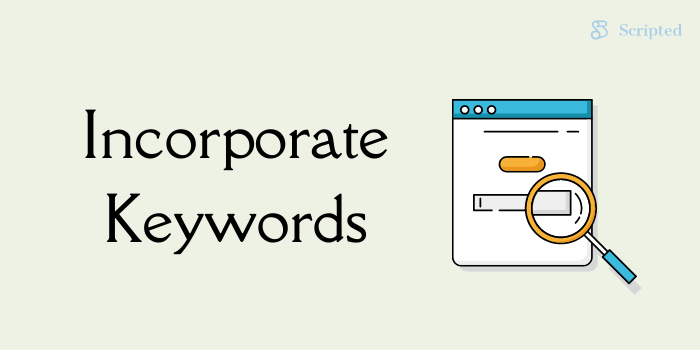 If you're not using keywords relevant to your industry, you may be wasting your advertising budget. This ad copy strategy for search engines should be obvious to many, but many businesses miss it. That's not to say you should stuff your ad copy with keywords. Those days are long gone. Instead, focus on highly-relevant keywords in your industry that satisfy search engines. 
Work with keyword research tools and content strategists to help you find the most competitive keywords. Balance highly searched keywords and ones with lower search volumes to maximize your investment. You can always track the impact of your keywords and change them over time. Doing so will keep your ad copy fresh and relevant. 
Scripted's freelance writers can create SEO-optimized ad copy that drives prospects to your website. These professionals know how to strike the right balance when it comes to keywords, helping you achieve your marketing goals. Sign up for your 30-day free trial now! 
4. Know Your Audience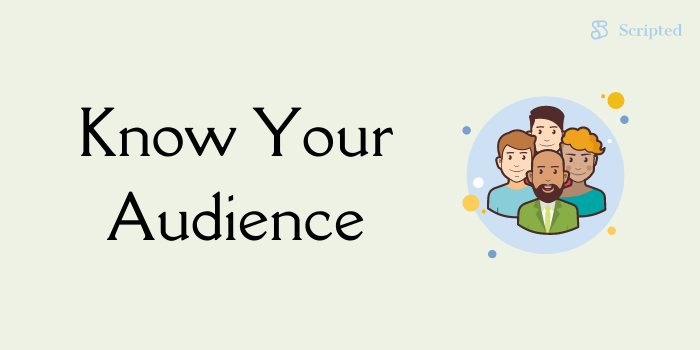 Tailor ad copy to your specific audience. Like creating web pages or ebooks, ad copy offers you the opportunity to connect with a specific set of customers. Ask yourself what pain points your target audience experience and how you can solve these problems in your copy. For example, including information about your affordable prices in a search engine ad description could convince prospects to visit your pages in a bad economic climate. 
Know your brand voice and tone before starting an ad copy campaign. Here are some questions to help you think about your brand voice:
Playful or serious?

Informative or entertaining?

Formal or informal?

Enthusiastic and sassy or straight-faced?
Mailchimp is one company that provides a clear, engaging brand voice. Quirky, witty graphics add a touch of humor to its ads, which convey information in a straightforward manner. Previous ads include an image of a giraffe leaning over to help a dog climb on its back alongside the header, "Award-winning support." Another header, "250+ app integrations," is paired with an image of a seven-fingered hand holding three thumbs up.
The best way to know your audience is to carry out research. Asking your existing customers about their purchasing habits, interests, and other information will help you fine-tune your ad copy. For example, you might learn that your customers value brands that champion good causes or promote values such as diversity, equity, and inclusion. Including your brand values and information about your company culture in ads might convince people to visit your website and learn more about your offerings.
5. Offer the Customers' Objective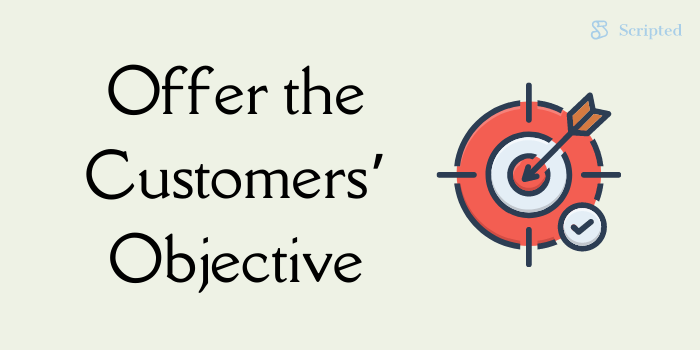 A headline — perhaps the most important part of ad copy — and a short description won't give you room for flowery language. Get straight to the point and state the product or service customers want. Whether it's an insurance quote, custom T-shirt, or local contracting service, your ad copy should clearly state the solution your customers are looking for. Here's an example of an insurance company writing about its services on its home page:
We offer a wide range of insurance products, including home insurance, auto insurance, and life insurance. We pride ourselves on our world-class service and provide a financial safeguard to thousands of customers. Contact us now for a free quote. 
That insurance company won't be able to include all that information in a short ad. So it should highlight the key takeaways instead. Here is how a search engine ad for the company might look:
Home, Auto, Life Insurance, and More - Get a Free Quote

Trusted by thousands of customers. World-class service. 
Creating ad copy can be a little more complicated if you have lots of services or products. So spend some time researching your most popular offerings. Consider creating multiple ads that all focus on a specific element of your business. This strategy gives your ads the direction they need but still helps you connect with a wide range of customers.
6. Maximize Your Word Count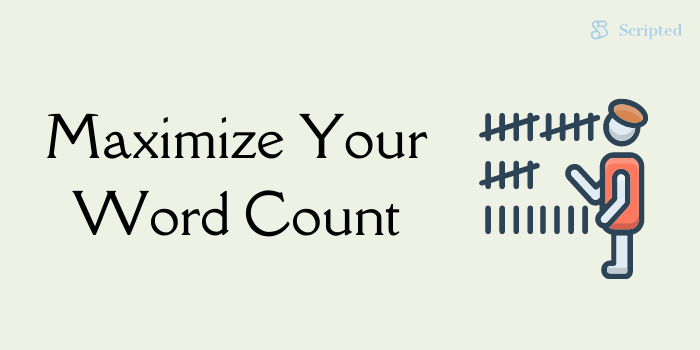 Know the maximum character count for ads and make the most of it. As mentioned earlier, Google Ads gives you 30-character headlines and 90-character descriptions. You won't be penalized for using shorter descriptions and headlines, but you'll be communicating less for the same price. 
Play around with different headlines, descriptions, and other ad copy elements to determine the perfect character count for your brand. Sometimes you might want to use fewer characters in an ad to speed up readability and encourage people to click on your advertisement. Other times, you might want to use the full character count. You can look at ads created by competitors in your industry to see how they communicate information to audiences. 
Things are changing when it comes to character counts. First, Twitter removed its 280-character limit for Tweets, and Google announced in 2022 that advertisers can pay extra for expanded ads that let them convey more information. While longer ads might not work for your company, you can experiment with the platforms that allow them and see if they generate click-throughs.
7. Create a Unique URL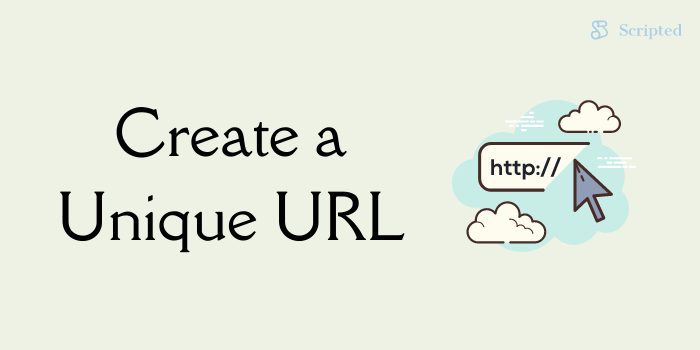 Typically, the URL of your landing page or a product page will appear in ad copy. While longer URLs won't harm SEO, shorter ones tend to look 'cleaner' and might make your brand look more professional to audiences. Whatever format you use, make sure your URL is simple and easy to read. Even if a potential customer doesn't click on your ad, they might remember your URL later in the day and visit your site. 
Here's another tip. Try to include a keyword in your ad copy URL. If you don't have one in the destination URL, add a keyword to the display URL to help improve search rankings.
Bonus Tip: Tracking Your Ad Copy 
Tracking your ad copy is just as important as creating it. There are various ways you can monitor your campaigns and learn more about how your ads engage potential customers. The best analytical tools help you discover how many people clicked on your ads, hit the 'back' button on their browsers immediately after landing on one of your pages, and other information. 

How Scripted Helps With Ad Copy
These ad copy best practices are just the tip of the iceberg. Creating ad copy might look simple on paper, but advertisers often find it difficult to communicate relevant information with this content type and which platforms to use to optimize performance. Adhering to character and word counts can be restrictive and make it impossible to showcase your brand, product, or service. It can be even more difficult if you want to convey emotion in your copy. 
So why not leave your ad copy to the experts? Instead of thinking of the right thing to say, Scripted's vetted ad copywriters will do the hard work for you. These professionals have experience writing advertising copy in your industry and can help you create ads that convey your brand voice and values, even in as little as 15 words! 
Your journey to ad copy success starts right here with Scripted. As soon as you sign up for the platform, Scripted will automatically match you with an ad copywriter in your specific niche, preventing you from interviewing writers, reading resumes, and carrying out other content creation tasks. You'll receive your ad copy in as little as a day and can request revisions for content you are not 100% happy with. 
Whatever your industry, Scripted supports your content marketing goals. Start your free 30-day trial and connect with ad copywriters in your industry!