Guest Post Generator: Free Tools To Power Your Content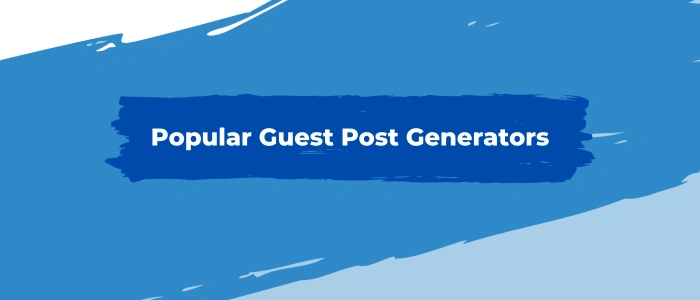 As you probably already know, regularly publishing blog posts on your website is one of the top ways successful businesses get the word out about their products and services. It's also a way to add credibility, build a reputation as a thought leader, and cultivate trust, among other things. But did you realize that guest blog posts can significantly extend your reach?
You or your marketing team can create articles that speak to your existing and potential customers. If you lack resources to keep content fresh or want to generate more blog posts, a guest post generator might be the way to go. Whether you or someone else writes your copy, there's no denying the power that blog content brings to your business. After all, 7 million blog posts are published every single day — including those published on websites in your industry. 
Filling your website regularly with high-quality, relevant content doesn't have to be a huge chore or expense. Neither does placing guest posts on related websites and other media. You can leverage many free tools to help generate guest posts to power your content and extend your reach. In particular, consider a guest post generator.
What Is a Guest Post?

A guest post is a piece of content, such as an article or blog post, created by an individual who's not a regular or permanent contributor to a particular website, blog, or publication. Instead, the website's owner or editor invites or permits the guest author to submit their content for publication on the platform. 
Companies often leverage guest posts to diversify and enrich their website content with expert knowledge, fresh perspectives, or different writing styles. If you're a business owner, blogger, or content creator looking to expand your online presence, guest posting is a powerful tool. 
Benefits of Guest Posts

Guest posting is a content marketing strategy that involves writing and publishing content on someone else's website or blog. It offers a host of benefits that can help you grow your business. 
1. Increased Exposure 
One of the primary benefits of guest posting is the exposure it can provide. When you contribute content to another website, you tap into their existing audience. This can introduce your work and company to an entirely new audience who may not discover you otherwise. Plus, if you choose a platform with a readership more extensive than your own, you increase the chances of your content going viral or gaining significant attention. 
2. Improved SEO 
Search engine optimization (SEO) is essential for driving organic traffic to your blog, and guest posting can significantly boost your SEO efforts. When you publish content on reputable websites, you have the opportunity to share backlinks to your website or blog. This increases the likelihood that your content will rank higher in search engine results pages (SERPs). In fact, high-quality backlinks are one of Google's top ranking factors.
3. Establishing Authority 
Guest posts can also help you establish yourself as an authority in your niche. When you consistently provide high-quality content on reputable websites, you gain credibility and recognition as an expert in your field. This can lead to more opportunities, such as speaking engagements, podcast appearances, and interviews, which can further solidify your reputation. All this can have a ripple effect that leads potential customers right to your company.
4. Diversified Content 
There's no better way to diversify your content and reach a wider audience than through guest posts. Your website and blog may have a specific focus. However, contributing to different platforms allows you to explore related topics, reach different demographics, and experiment with writing styles. Why might you want to do this? Well, it can help you refine your content strategy and adapt to the evolving needs and interests of your target audience. 
5. Networking Opportunities 
Guest posting offers a unique chance to connect with other bloggers, influencers, and brands in your niche. Building relationships can open doors to collaborations, partnerships, and increased visibility in your industry. 
The advantages of expanding your reach through guest posting can't be denied. 
Do you lack the time, know-how, or resources to tap into guest posting? Consider using a guest post generator tool like Scout, Scripted's AI content creation assistant.

What Is a Guest Post Generator? 
A guest post generator tool, also known as an article generator or a content generator, is a software program or application that automatically creates written content to be published on various channels. A guest post generator is typically used to quickly and easily create thought leadership articles on blogs. 
These types of tools are powered by artificial intelligence (AI) and use natural language processing (NLP) and machine learning (ML). Depending on the tool used, it may be powered by various ChatGPT software models, such as GPT-3 and GPT-4.

How Does a Guest Post Generator Tool Work?
AI generators are a great way to speed up the time and effort it takes to expand your reach on other websites. While using AI might be a bit intimidating, it's fairly easy. Compare it to submitting questions to support representatives on Messenger or responding to prompts in a customer service chatbot. 
Here's how a guest post generator tool typically works:
Input: Users typically start by typing a topic or a set of keywords related to the focus of the guest post. You can also input additional information, such as industry, target audience, readability, and other specifics, to help the AI tool understand what you're looking for. 
Content Generation Algorithms: The AI tool uses advanced natural language processing (NLP) and machine learning algorithms to analyze your input and generate human-readable text. It references a massive database of existing text to create coherent sentences and paragraphs. 
Content Customization: Users can often ask the tool to tailor the generated content to certain specifications, such as word count, tone, writing style, etc. Some may also allow you to provide keywords or phrases to be included for SEO purposes. 
Text Generation: The guest post generator tool generates content based on the input and customization options. It will create an entire article or blog post, including an introduction, body copy, and conclusion. 
Review and Editing: It's important to review all generated content for accuracy, coherence, and relevance. Although AI tools have improved, the resulting text may not be of the same quality as human-written content. 
Publication: Once satisfied with the generated content, users can publish it for guest posting on other platforms.  
It's important to emphasize that the quality of content generated by AI tools can vary significantly. While they can save time on content creation, they don't always produce content on par with well-researched, human-written articles. Also, keep in mind that many websites have editorial guidelines and quality standards that automated tools may have trouble meeting. Therefore, use auto-generated content as a starting point, but use human writers for final edits and review before publishing. 

Popular Guest Post Generators
If you've already explored guest post generators, you might have been overwhelmed by the options. It takes some doing to figure out what works best for your needs. Not to mention, there's some concern about AI-generated content affecting Google search algorithms. While Google recently issued a statement about AI — they don't care how content is generated — it's essential that the content is original, helpful, high-quality, and people-first. It should meet Google's E-E-A-T quality factors, which are used to rank great content: experience, expertise, authoritativeness, and trustworthiness.
That said, consider some of the following AI-powered guest post generators that we rounded up:
Article Forge
Article Forge is an automatic AI writer known for its ability to generate articles in various industries. Simply input a keyword phrase, and it produces a guest post article of your specified length. It can automatically add images, videos, and links; it even writes in seven languages. Article Forge offers a free 5-day trial, then plans start at $13 per month (billed annually).
Read More: Article Forge Review: What Users Really Think
Copy.ai
Copy.ai can be used to create various blog content, including guest posts, thought leadership pieces, listicles, and how-to articles. This AI-generative writing tool is powered by GPT-4. It has a built-in library of prompts to help you generate ideas, brainstorm keywords, rewrite existing content, and more. The free plan allows you to create up to 2000 words monthly.
Read More: CopyAI Review: How It Works, Features, Pricing, & More
Jasper offers AI blog writing tools to create SEO-friendly content. You can use it to write, edit, and format a guest blog post. Jasper also has add-on options, such as Copyscape, to check for plagiarism and SurferSEO to see how the content stands against competitors in SERPs. While Jasper doesn't have a free plan, you can sign up for a 7-day free trial (then it's $39 per month for their Creator Plan).
Read More: Jasper.ai Review: How It Works, Features, Pricing and More
Scripted is a one-stop content writing platform powered by the GPT-4 AI model. You can request guest post blog topics using Scripted's AI writing tools and/or subject matter expert (SME) writers. Once you have ideas for topics, you can have your content written in a matter of seconds with Scout, which acts like your personal AI content-writing assistant. You can use Scripted's AI blog post generator for free. 
TextCortex
TextCortex's Zeno AI content assistant uses Generative Pre-trained Transformer 3 (GPT-3) to create guest posts and other content types with a human-like tone. You can even generate guest blog posts in 70+ languages. This AI tool features a rewriting extension, allowing you to revise the generated text. You can ask it to rewrite sentences or extend the text for emails, social media, and other purposes. The Free Plan allows you to generate up to 10 creations per day.
Writesonic
Writesonic is a versatile tool that includes an AI writer and article generator. It allows you to create SEO-optimized articles free of plagiarism. Once you input a topic and keywords, the generator shoots out a full-length article in less than 5 minutes. You can sign up for their Forever Free Plan, which gives you up to 10,000 words per month based on the GPT-3.5 model.
Read More: Writesonic Review: Features, Pricing, Benefits, and More
Get Started With Free Guest Post Generator Writing Tools
If you haven't already been leveraging guest blog posts, what's stopping you? Rather than sticking to blog posts on your own website, extend your reach beyond your loyal customers and followers. Guest posting is amazingly effective for lead generation, positions you as a thought leader in your field, and opens up a world of networking opportunities. Producing a blog post as a guest on other individual or organizational websites can be accomplished by you or your content marketing team.
If you have trouble generating content for your own blog, it may be a challenge to also turn your attention to guest posting. In addition to finding reputable sites, you've also got to come up with the article idea, write high-quality, valuable content, optimize for search engines, ensure it's error-free, and more. It may ease your mind to know you're not alone in this struggle. Reports show that although 87% of bloggers generate their own guest post ideas, only 52% do the actual writing. Many companies use a marketing agency or a freelance writer, but there are also readily accessible AI guest post generator tools.
That's where Scripted comes in!
Scripted is the only one-of-its-kind platform where you can use a free, AI-powered tool to help you create effective content. Our cutting-edge technology tools allow you to do everything, from generating guest blog ideas and creating a content strategy to writing the guest blog post and publishing it online. You get the best of both worlds: AI-generated content and subject matter expert (SME) writers.
Now that you understand what a guest post is and how a guest post generator works, it's so easy to take the next step. Don't have the time or resources? Use a guest post generator! At Scripted, we understand how challenging it can be to keep up with your content marketing efforts. That's precisely what we're here for, so check us out.