In-House vs. Outsourced Blog Writing: What Are The Differences?
You know your company needs stellar content. Does it make more sense for you to use outsourced blog writing services or hire a full-time employee?
The correct answer partially depends on the size of your company. Most small businesses shouldn't waste their time and money hiring in-house blog writers. Even a lot of regional, national, and international companies get better results from turning to freelance writers. There are exceptions to that rule, but they're rare.
Should you build an in-house marketing staff or outsource your digital marketing needs to freelance writers? The following guide will show you why so many businesses choose outsourced blog writing.
Why You Need Amazing Content for Your Business to Succeed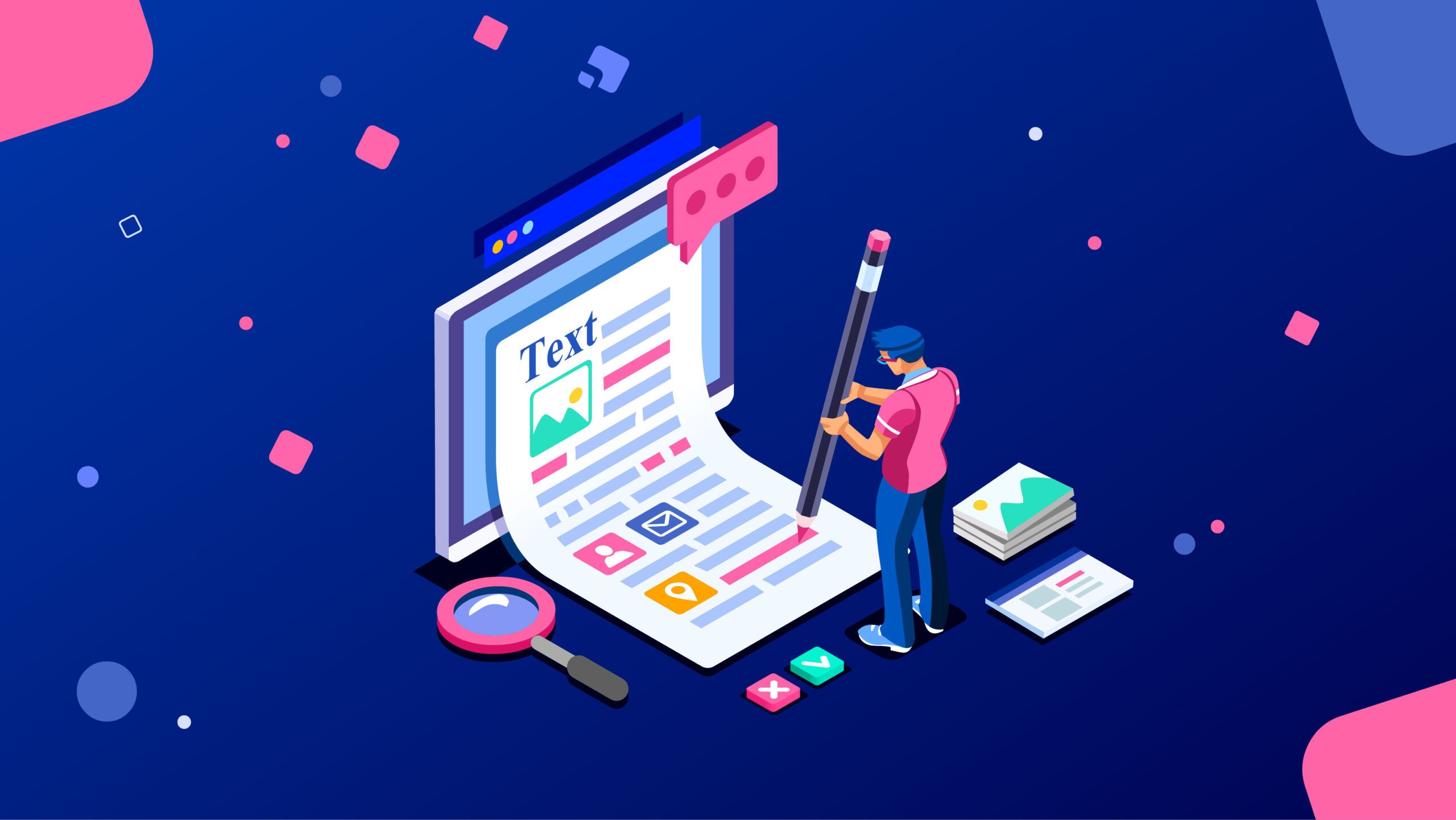 First, let's look at the reasons all companies need excellent content. Publishing quality content plays a critical role in:
Improving your website's search engine ranking

Driving more traffic to your site

Building trust with your customers

Addressing customer concerns instead of forcing them to rely on customer service personnel

Establishing your brand as an industry authority

Generating backlinks

Moving potential customers through the sales pipeline

Increasing leads

Converting leads into paying customers
You can learn more about the diverse benefits of publishing content created by professional writers by visiting Scripted's Why You Need to Consider Quality Blog Writing. Basically, you cannot thrive in today's internet-driven economy without content that positions you above your competitors.
Benefits of Outsourced Blog Writing and Social Media Posts
Hypothetically, you can get all the above benefits from an in-house writer. Before you start collecting applications, consider these benefits that you can only get when you outsource your blogging strategy.
Freelance Writers Cost Your Business Less Money
You have three options to get the content needed to make your business successful:
Hiring a full time writer for your staff

Hiring a freelance writer who works on the projects you request

Writing blog and social media posts yourself
Most business owners and managers know they can't be spending time developing content, so they hire content writers to do the job for them. More often than not, outsourced blog writing costs less money.
According to the Bureau of Labor Statistics, you can expect to pay a writer about $63,200 per year. The top 10% of earners make more than $122,450. You might get more experience and better content from them, but it will cost a lot more. Unfortunately, these salaries do not include the amount of money you will spend on your full-time employees' benefits.
You'll find that hiring a freelance writer gives you more control over your marketing budget. When you outsource your blog posts, you only pay for the content you need. You never waste money paying a full-time employee who has nothing to do at the end of the week. You also avoid the high cost of benefits packages.
When you take a broader view of your company, you discover that outsourced blog writing saves money in other places, too, because you avoid additional costs related to:
Human resources

Insurance

Office space

Equipment

Subscriptions to digital marketing tools
Few small businesses can afford to pay for these related expenses. Unless you have a company large enough to need a marketing department, you shouldn't worry about hiring writers and digital marketing strategists.
Outsourced Blog Writing Pairs You With More Industry Experts
A person can only have professional experience in a limited number of topics. Even a terrific in-house writer who knows how to reach your target audience while staying in line with your brand voice can only write about a small number of industries.
Depending on your business, you might not think that you need a writer with much experience outside of your industry. Why would a car dealership need to hire writers with expertise outside of the automotive industry? Why would a software developer that makes tools for restaurants need a writer with experience outside of that niche industry?
That might make sense until the day you want to grow your audience and improve your search engine ranking by writing guest posts that get published on other websites. You could bring more people to your dealership's website by posting content on a travel blog. You'll get even better results, though, when you have a writer who understands what travelers want to read about. Otherwise, your employee could put a lot of effort into a project that yields few results.
Outsourcing Blog Content to Industry Specialists Gets You More Diversity
Hiring an in-house writer limits the types of blog and social media posts you can publish. When you outsource your blog writing needs to a platform with a diverse group of specialists, you don't need to worry about limitations.
Hiring freelance writers on Scripted means you can choose from professionals with experience writing high-quality pieces in various topics, such as:
Art and design

Automotive

Cannabis

Construction

Personal finance

Healthcare

Accounting and finance

Insurance

Technology

Travel
This list barely scratches the surface of Scripted's experts.
Don't limit your topics by hiring an in-house writer. It makes more sense to hire a writer with the unique experience for each topic you want to cover. Today, you might need a writer with a portfolio of blog posts about parenting. Next week, you might want to switch to a guest post written by someone with experience working in the finance industry.
Choosing the Right Freelance Blogger for Your Projects
Scripted makes it easy for you to find freelance content writers with the knowledge you need for your projects. The website can recommend some of the top writers in your field. You can also search the platform for professionals who have been noted for their experience in certain topics.
Every writer has a profile that will help you select the right person for your job. Profiles give you reviews from other Scripted members who have worked with the writers. You can see how often they follow guidelines and get "favorited" by clients.
Writer profiles also provide links to recent writing samples. Take a few minutes to look over the samples to see how well writers adjust their voices to reach target audiences and conform to brand identities.
When you find some writers that interest you, ask them to submit proposals for the topic you want them to cover. That way, you can determine which ones have the level of experience and insight that you want from your outsourced blog writing service.
Professional Freelance Writers Keep Up With Emerging Trends
When you add a full-time content creator to your staff, you know what skills they have when they join your company. You don't, however, know whether that person will keep up with emerging trends that make social media and blog posts more effective.
Content marketing trends change frequently. If you hired someone a few years ago, they would probably have told you about the importance of improving your brand's recognition. Making your brand more popular can certainly lead to benefits, but today's most influential marketers now know that it plays a relatively small role compared to other objectives.
Outsourcing blog writing jobs to freelancers helps ensure that you hire someone who keeps up with the latest trends. Freelance content creators can't rest on past successes. They always look toward the future.
Keeping up with trends often means reading trade publications and following content marketing influencers on social media. If you were to hire that full-time writer today, they might emphasize the importance of using content to generate leads by:
Writing content to match search intent.

Creating in-content CTAs that motivate readers before they reach the end of your blog posts.

Paying attention to stages in the sales funnel to move readers closer to conversion.
Freelancers stay ahead of trends because they understand the competitive nature of content marketing.
Scripted Cruise Control Builds a Blogging Strategy That Gets Results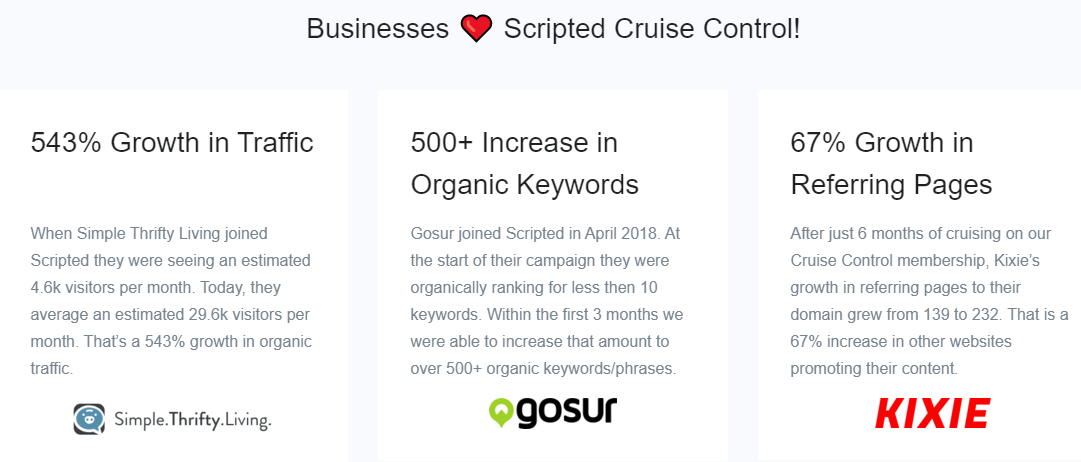 A successful content marketing strategy relies on more than just hiring a great writer. You also need someone who can take a strategic approach to researching keywords, scheduling posts, reaching out to websites to schedule guest blog posts, and tracking your KPIs.
Today's blog writers have some of these skills, but they don't always have the time or experience to maximize the positive influence of their work. You would need to add a marketing manager to your staff to turn excellent blog posts into content that really gets results. Unfortunately, that means spending about $136,850 per year on that person's salary.
The cost of producing in-house content long term just got a lot more expensive!
Scripted Cruise Control offers a fully managed approach that helps ensure the success of your content campaigns. When you sign up for a Cruise Control membership, you get:
A dedicated account manager.

A complete content marketing strategy designed to meet your goals.

Content creation from Scripted's top writers.

Content ideas that will appeal to your target audience.

Ongoing analytics that show how well your campaign reaches its goals (and lets managers make adjustments when strategies don't work as well as anticipated).
Scripted Clients Who Benefit From Outsourced Blog Writing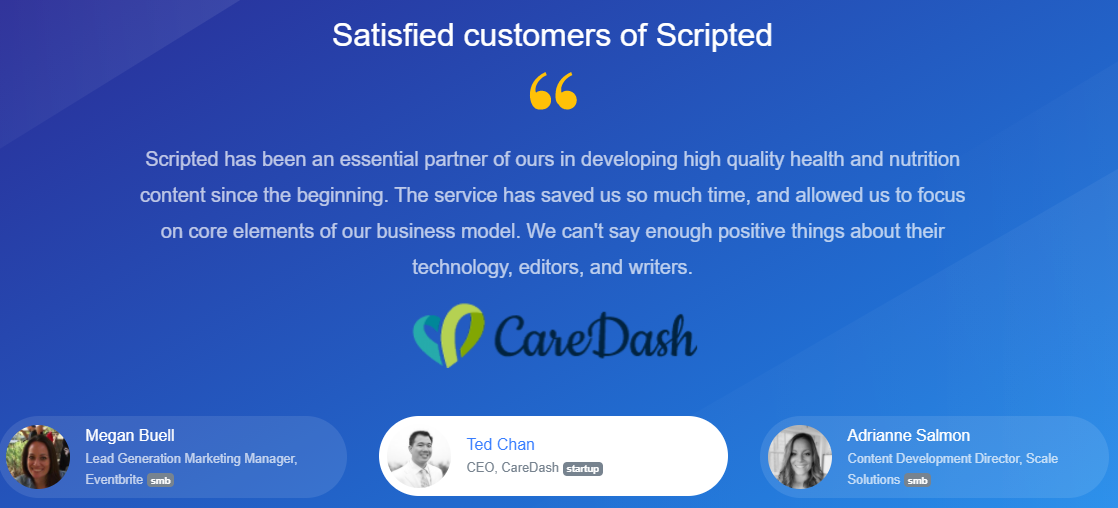 Scripted has worked with over 46,000 clients to reach short- and long-term digital marketing goals. Our customer testimonials show tremendous diversity within our client list. A few results stand out as our top achievements, though.
Scripted Cruise Control has helped:
Simple.Thrifty.Living

grow its organic traffic by 543%

, taking it from 4,600 visitors per month to 29,600 visitors per month.

Kixie

grow its referring pages by 67%

, increasing the number of pages pointing to their domain from 139 to 232 within just six months.

Gosur

add over 500 organic keywords and phrases

to its campaign within three months.
Companies that outsource their digital marketing and content needs to Scripted get results!
Cruise Control doesn't take a one-size-fits-all approach to content marketing and performance tracking. Schedule a consultation with a Cruise Control representative to learn more about how fully managed content strategies and outsourced blog writing will benefit your business.
Get Professional Outsourced Blog Writing From Scripted
Not ready to commit to Cruise Control? Scripted has plenty of other membership options that give you access to professional writers with years of experience.
Scripted vets all of our writers with a screening process that includes tests and writing samples. Only 2% of our applicants get invited to join the platform. We want to make sure that we have impressive experts for your outsourced blog writing needs.
Still not sure whether you want to become a Scripted member? No problem! Experience the platform for yourself by starting a free trial. The trial waives your initial membership fee so you can test the process without any obligations.
When you see how well Scripted works as an outsourced blog writing service, you can start a Self-Serve Basic or Self-Serve Premium membership. Self-Serve Basic works well for companies and individuals that spend $100 to $1,000 per month on content. Self-Serve Premium is a good option for companies with content budgets between $1,000 and $3,000 per month. If you need more content than that, Cruise Control probably makes more sense for you.
In the meantime, browse our blog writers for hire so you can see our diverse pool of professionals who have been creating successful content for years. Most of our blog writers also know how to craft newsletters, press releases, social media posts, landing pages, video scripts, and other types of content. In other words, you get an all-in-one content solution that will improve your website's positioning, grow your audience, and convert more visitors.