Beginner's Guide to Email Marketing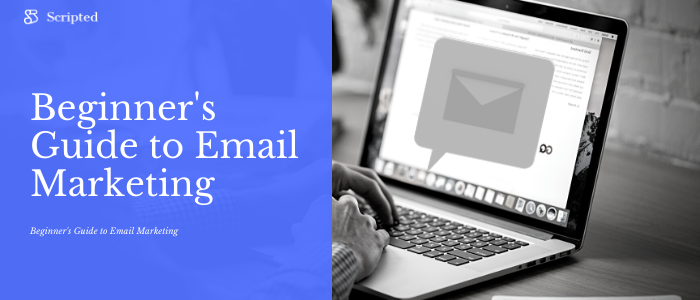 As the marketer of a brand, you have all sorts of exciting new technology to explore. From virtual and augmented reality to artificial intelligence, machine learning, chatbots, and the rapidly successful new social platforms that seem to appear overnight, it's easy to dismiss an old classic like email marketing. However, as marketing guru Neil Patel points out, "Email marketing is still ranked as the most effective marketing channel, beating out social media, SEO, and affiliate marketing." 
If you've thought about dismissing email marketing as a top priority for your brand, you'd be making a big mistake. In defense of email marketing, Patel adds that email will always be in your control. Once you build your list, there are no algorithms or special strategies you have to contend with in order to reach those people. What's more, marketing to your email list is virtually free, aside from the cost of any sending or design tools, and the ROI remains incredible — as high as 4400%.
Of course, there's a big problem with email marketing: Most brands aren't doing it right. So, let's dive into the step-by-step process and best practices you should follow in order to get the results you want out of your email marketing efforts.
How to Use Email Marketing
Whether you're starting from scratch or taking a new approach to an established email marketing list, here are the steps you need to follow to do it right.
1. Build Your List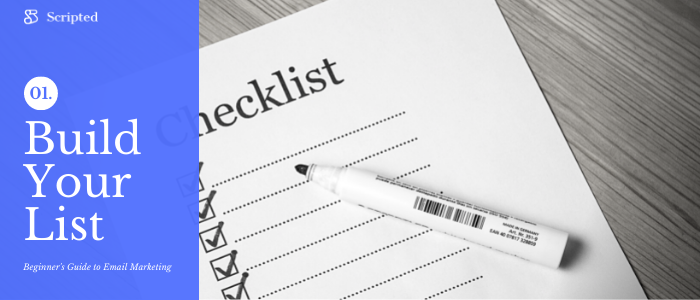 It's impossible to begin email marketing unless you have email addresses to market to. This is where a lot of beginners make their first major mistake, sometimes attempting to shortcut the process by purchasing a pre-made email list rather than building one from scratch. Not only is this a waste of money, it's also a surefire way to get your brand's email flagged as spam by all the major email providers.
The golden rule of email marketing is quite straightforward: Never send an email unless the recipient has explicitly opted into receiving your emails. Failing to follow this golden rule means your email address and even your domain can end up on a blacklist, making it difficult (if not impossible) to consistently reach users even when they do opt-in for your emails.
Fortunately, building an email list is not as tough as you may think it is. The trick is to start by figuring out the other fundamentals, like driving traffic to your content, if you're starting from scratch. Once you have traffic to work with, you can start getting some of your visitors to sign up for your emails, and many proven methods exist to help you do that.
You can build your email list more quickly by:
Offering an incentive to those who sign up. "Lead magnets" are one proven way to do this. Simply advertise a valuable white paper, ebook, or other downloadable content in exchange for their email address.

Running a contest or giveaway for your subscribers, enticing them to opt-in for the chance to win a valuable prize. Make sure you check the laws in your state.

Advertising exclusive content is only available to subscribers, either in the emails themselves and/or by putting content on your site behind a "paywall" that requires a subscriber's email to access.
You can use a combination of some or all of these methods to get subscribers for your email list.
2. Plan Your Emails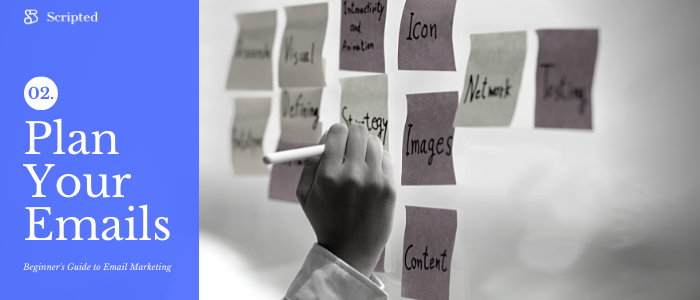 Rarely will you see a sought-after brand send out an email that doesn't have an eye-catching design. You can't simply type up a plain text email and send it to your list, expecting everyone to open it, read it, and react to it. Everyone's email inbox is inundated with new mail constantly, which means your email needs to be top-notch if they're going to read it.
You also need to ensure you're hitting subscribers' expectations in other ways. For example, if they were promised one email per week when they signed up for your newsletter, you should make sure you're sending that email on a consistent basis. Failing to do so can increase the number of unsubscribe requests you see when you finally get around to emailing them again. Likewise, you shouldn't send emails more often than you promised, as that can grow annoying.
No matter what the subscriber signed up for, it's always a good idea to:
Send a welcome email letting them know they're subscribed now and reminding them when and how often they'll get emails, along with why they should want to read them.

Design your emails in a way that matches your brand and puts the most interesting content front and center, so it grabs their attention when they open it.

Follow the rules and regulations regarding email marketing, like making sure the unsubscribe link is easy to find and included in every email.
In addition to the above, it's worth stating the obvious, and that is: Always make sure your emails are enticing, worthwhile, and meaningful. Don't send out an email "just because." Every email should have a purpose and a clear benefit to the reader. Otherwise, recipients will quickly unsubscribe or, worse, mark your emails as spam.
3. Offer Value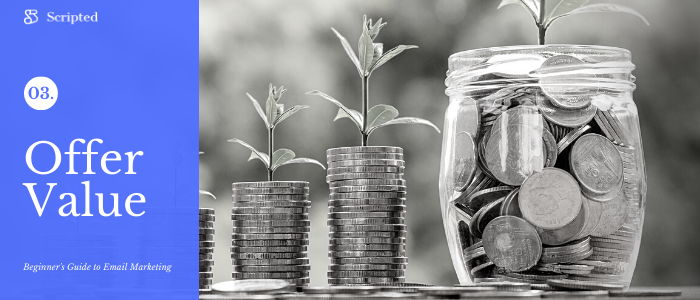 The reason why people signed up for your email list was to receive real value. This might come in the form of exclusive coupons to your store or, more often than not, content or advice they can't easily find elsewhere. Whether you're offering a "daily digest" type of email or something else, subscribers expect to get something in return for giving you their email.
With that said, the only way to make email marketing profitable is to eventually try and sell something to your list. The tricky part is making the move from offering your subscribers the free value they want to making them an offer for something they'll need to pay for. Timing is perhaps the biggest thing to worry about here because making the pitch in the first, second, or even third email to your list probably won't work in your favor.
Follow these tips before you send out any pitch:
Make sure you offer value first. Getting value from your emails should be the expectation and the norm. If you make a sales pitch the norm, people will stop opening your emails or simply unsubscribe.

Consider the offer you're going to make. The offer should align with the content your subscribers seem the most interested in.

Look into segmenting your list before you begin sending out offers to avoid sending irrelevant offers to subscribers.
Depending on your business, you may end up making offers more often than not, and that's okay, as long as your emails align with your subscribers' expectations. Remember that having a subscriber's email address is an asset, but they won't let you keep sending to it if they feel you're taking advantage of that permission. Err on the side of caution to reduce unsubscribes and keep your open rates high.
4. Use Your Analytics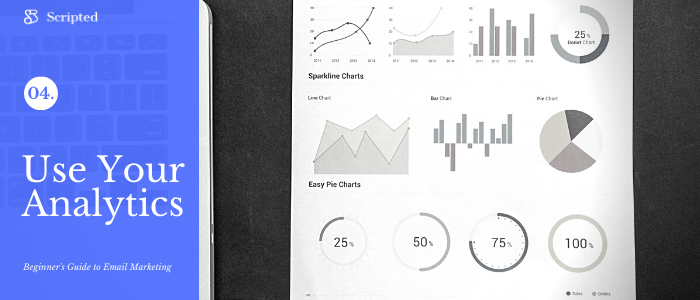 As you test the waters on things like frequency, design, and length, it's important that you're using your analytics to your advantage. A/B testing can also come in very handy, revealing insights into how you can optimize aspects like personalization, subject lines, and so on to get more opens and clicks. Fortunately, most email marketing tools offer a host of analytics that allow you to dig into your subscribers' preferences.
The key metrics you'll want to track include:
Bounce rate: This number tells you how many emails you sent that weren't delivered because they didn't make it into the inbox. These email addresses should be cleaned from your list.

Open rate: This metric tells you how many of the delivered emails were actually opened. Ideally, you want this as close to 100% as possible.

Click-through rate: Your click-through rate ("CTR") tells you how many readers clicked a link in your email after opening it. Again, you want this as close to 100% as possible.

Unsubscribe rate: This number tells you how many recipients unsubscribed after you sent them an email. You should try to keep this as close to zero as possible.
As you look at these metrics, remember that you can improve each one using different methods. Reduce your bounce rate by cleaning your email lists periodically. Increase your open rate by testing the sender name, timing, and subject line of your emails. Increase your click-through rate by changing the placement, call to action, and context of your email's offer or links. Reduce your unsubscribe rate by sending on a predictable schedule and offering enticing value that makes subscribers want to stay on your list.
Best Practices of Email Marketing
Once you know the basic step-by-step process of using email marketing, the next thing on your list should be understanding the best practices so you can get the best results.
Segment Your List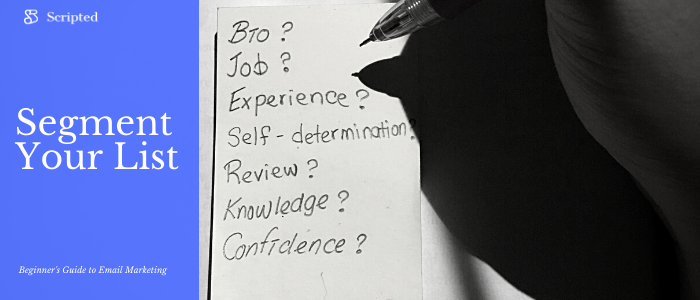 One of the most fundamental and impactful things you can do with your email list is segmented your subscribers. If you have a large list, a popular way to segment it would be by the type of emails they're signed up for. For instance, those who signed up for product updates will be on one list, while those who signed up for your weekly newsletter will be on another.
Segmenting your audience will help you better direct the right offers to the right subscribers, helping to reduce unsubscribes and ensure that your emails are consistently offering the most value to your audience. You can also segment your list further based on aspects like demographics (i.e., where they're located). Further, you could segment based on customers and non-customers.
By segmenting your list, you can end up with a quite targeted and advanced method of sending emails and offers that can vastly improve the performance of your email campaigns. Just don't segment to the point where you have dozens of different lists, as that might make it too difficult to select your audience when sending an email.
Try Split Testing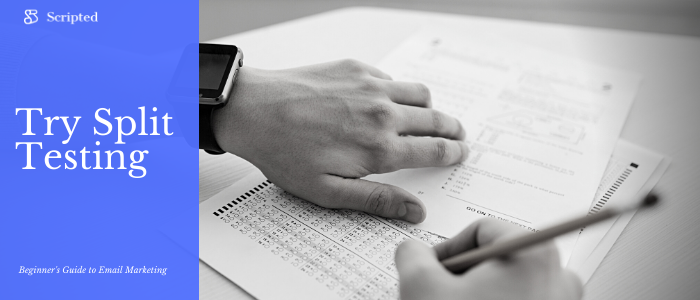 Wondering why your last email didn't get a great response? A/B testing, or "split" testing, is a great tool to use in your email marketing efforts. Using this testing method, you can try different variations of the same email, with one version going to half your subscribers and the other version going to the other half. This is a highly effective way to determine the right subject line wording, heading, layout, call to action, etc. for your emails.
Most email marketing tools have some type of split testing tool built-in so that you can easily begin optimizing your emails for your audience and their preferences.
Write Great Copy
Last, but most certainly not least, it's essential that your emails offer quality, relevant, and engaging content to your subscribers, or they will quickly leave your list. Of course, coming up with an email copy is no easy feat, as there's so much to say and so little room to say it. Scripted can help.
If you're trying to get better results from your email marketing campaign, explore our list of email copywriters. Our expert writers will help you create emails that get results by being catchy, on-brand, and valuable — all things your subscribers expect. Meet our email copywriters today!