AI Email Sequence Generator: Free Tools to Write Emails and Power Your Campaign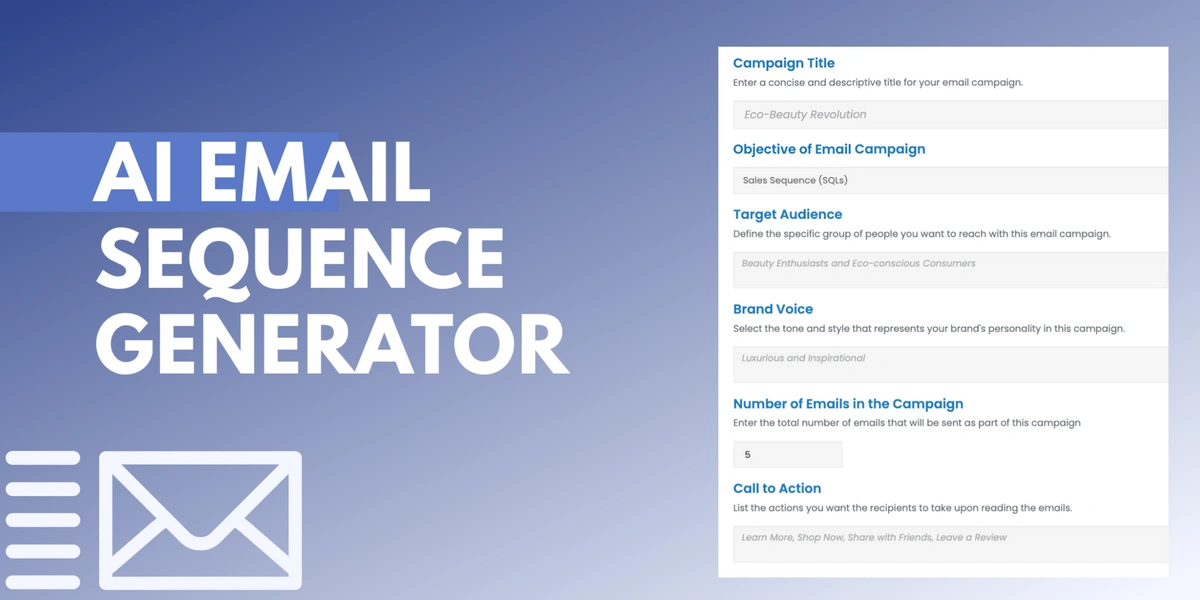 Raise your hand if you actually enjoy writing and sending countless emails to power your email marketing campaign. While email marketing can be a cost-effective way to generate buzz and build a following, it can also be filled with tedious tasks as you send promotional emails, discounts, newsletters, and other messaging. Thankfully, artificial intelligence (AI) email generation is here to save the day.
AI isn't coming for your job as a marketing professional, but it is eyeing all those tedious tasks. Automation in the workplace can lead to a 14% increase in productivity, according to the National Bureau of Economic Research. Explore the benefits of email marketing, types of email sequences, and the best AI email writer tools to scale up your marketing and advertising campaigns. You don't have to be an experienced AI prompt engineer or be able to type up dozens of emails to enjoy the benefits of an effective email sequence.
What Is an Email Sequence?
If you aren't already using email marketing in your advertising and marketing toolkit, then it's time to consider this efficient strategy. At its core, an email sequence is simply a series of emails sent to your users, clients, or prospects. Most sequences are automated, so you can generate the entire series of emails at your convenience and let the automation software send them at appropriate intervals.
Your email campaign can be a few emails or a lengthy sequence of emails and newsletters. Here are a few examples of email sequences that may be effective in engaging with your prospects:
Follow-up email: A client connects with your sales team but doesn't take action. A few follow-up emails can be just the reminder they need to re-discover your brand and take action.

Conversion email: Use an email sequence to encourage a single call to action. This laser focus establishes a clear goal and clear steps for your prospects to take.

Engagement email: Sometimes you want more than just a quick sale. When you're building a brand around a loyal following, an engagement email sequence can promote long-term rapport with your readers, even with a cold email.

Reminder email: If a prospect has already signed up for your product, demo, or other feature, that doesn't mean they will show up. A few reminder emails can help your busy prospects prioritize your offering.
Email campaigns have an average open rate of just over 21%, so in order to receive an excellent ROI, you need to craft email content at scale and automate the process. With free AI-powered text generation tools, you can easily generate an entire sequence of emails in very little time.
How Does an AI Email Generator Work?
Ever since OpenAI launched ChatGPT in November 2022, virtually every industry has been talking about ways natural language processing (NLP) tools can make life easier. For advertising and digital marketing professionals, AI marketing tools can quickly generate text based on prompts written by humans. Enter this basic information into an AI email sequence generator to receive a sequence ready for your email automation software to send emails to your prospects:
Create a descriptive title for your campaign: A well-written title kicks off a campaign with the right goal and tone of voice.

State the objective of your email campaign: You need to identify the purpose of the email content before you start generating it.

Define your target audience: The voice and tone of emails can change depending on your target audience.

Describe (or select from a pre-generated list) your brand voice: Not all email generators allow you to fully customize your brand's voice, but you should tailor the email sequence to match the way your company communicates.

Enter the total number of emails in your campaign: While most email campaigns have between four and six emails, you can personalize the length of your campaign.

Include one or more goals: Are you craving conversions? How about selling sensational products? You should include a call-to-action or other goals to generate a relevant email sequence.
Some AI tools use this information in a template to instantly create a prompt. This generates an email sequence quickly, but it may not craft the most compelling, on-target copy. Other AI email tools use additional prompt engineering to ensure clear, detailed instructions are delivered to the generator, which can lead to better results.
Benefits of Email Marketing
Email marketing is a convenient way to connect with your existing audience or reach out and connect with new prospects. If you're not already leveraging the power of email as an advertising and marketing tool, here are some reasons to start:
Enjoy high ROI: It costs very little to run a marketing campaign, especially with a free AI generation tool, which can streamline the workflow.

Strengthen existing relationships: Email can help improve your communication with existing customers.

Reach out to new customers: Does everyone with potential interest in your brand know about it? Expand your reach and promote greater brand awareness with an automated email campaign.

Improve your lead generation: Carefully crafted emails help you focus on your lead generation to move prospects down the sales funnel and improve click-through rates.
Top AI Email Writer Tools
While there are many AI email generation tools available, the best ones guide you through these steps to craft AI prompts that generate effective emails. Detailed prompts are the secret ingredient that allows AI marketing tools to deliver email content that inspires, motivates, educates, and entertains. It's up to you to decide which tool can streamline this process best.
LongShot AI
LongShot AI offers a beta-version email generator to compose ready-to-go emails. The tool is designed to help you personalize the emails and use a human-like voice as you prepare a sequence.
In addition to emails, you can use LongShot Ai to create summaries, generate email subject lines, and list blog ideas. The software also has an AI content rephraser, which gives a different voice to existing copy. Another handy tool is the FAQ generator, which asks for a topic and generates both questions and answers related to that topic.
This suite of advertising and marketing AI tools offers a free seven-day trial. After that, you'll pay $19 per month for a pro plan or $49 for a team plan to gain access to its AI email generation capabilities.
Rytr
Generate emails for free using Rytr, a content-generation option for marketing and advertising professionals. Rytr boasts a four-step email copy generator process that uses the following basic information to generate emails:
Choose a language

Select tone

Choose a use case from a pre-generated dropdown list

Enter titles, keywords, and key points
From this small amount of input, Rytr can generate an email that's ready to send to your prospects. The generative AI tool also features a built-in plagiarism checker and AI image generation.
While a four-step process makes Rytr a competitive option for fast email generation, it lacks some of the personalization of other writing tools. Rytr offers a free plan, but it only allows you to generate up to 10,000 characters per month. For 100,000 words of AI-generated content, you'll need to pay $9 per month. Unlimited content will cost you $29 per month.
Jasper AI
Designed to offer quick copywriting in very little time, Jasper AI provides a general range of templates and AI tools. You can use it to generate emails, blog posts, ad copy, web pages, and other content types. With the Jasper AI email generator, businesses can create an entire campaign or use AI emails for customer support.
Like LongShot, Jasper doesn't offer a long-term free plan. You can start with a free trial, but afterward, you'll pay $49 per month for a one-seat creator plan or $125 per month for a three-seat team plan.
Scripted
Scripted is the only platform offering both human and AI content writing for your email campaign. Simply select the AI email sequence generator, and you'll have an AI-generated sequence at no cost after following these steps:
Enter campaign title
Select an objective for your email campaign
Define your target audience
Select a brand voice
Choose the number of emails in the campaign
List any actions you want the recipients to take
Enter any additional information
When you sign up for a free or paid plan with Scripted, you also receive the following tools at no cost:
Landing page generator

Social media post generator

Infographic text generator

Scout, a GPT-4-powered chatbot
Scripted offers the best of both worlds: the efficiency of AI-generated content and the creativity of human-written content. Use free AI tools to quickly generate content and scale, then consider connecting with Scripted's talented pool of writers for a human touch. You can also get guidance from a human marketing professional for your SEO content strategy, plus dedicated account management, depending on your plan.
AI generative tools are free through Scripted's platform. But if you're looking to supercharge your content with subject matter expert human writers, you can upgrade to a pro plan for $199 per month. Team plans are available for $499 per month, and Scripted also offers enterprise- and agency-level accounts.
Leverage Free AI Tools for Your Email Marketing
AI-powered content writing is the future of email marketing. Get started today with Scripted's free plan to learn how AI generative tools can streamline your email process and content marketing strategy. You can also access a curated pool of subject matter experts with industry-specific knowledge, ensuring your email content resonates with your target audience. See how machine learning and the personal touch can create catchy emails and quality content for your business.