Analytics for Content Marketing: A Beginners Guide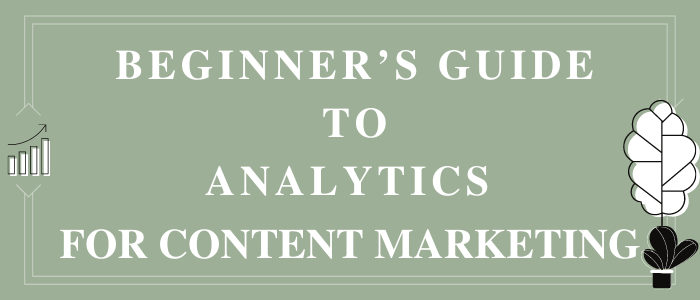 Have you been leveraging content marketing analytics? Are you keeping up with the ever-changing search engine algorithms? Do you know how to use metrics to help you achieve your content marketing goals?
These are just a few of the common concerns business owners and marketers have voiced. In fact, according to Search Engine Journal (SEJ), more than half of those surveyed expressed issues with changes to SEO/search algorithms (64%), social media algorithms (53%), and data management/analytics (48%).
In the world of marketing, there's no doubt that content is key. Nowadays, it's assuming an even more significant role in marketing strategies for businesses ranging from solo startups to enterprises with a global reach. Successful content marketing strategies rely on analytics for insight into what's working, who's engaging, and who's clicking away — and the insights provided by those and other metrics help shape future content marketing campaigns and improve current ones. 
Here's an introduction to analytics for content marketing. It includes an overview of content marketing analytics platforms and tools, including Scripted's one-of-a-kind AI and human writing services. These valuable technologies help marketers create and launch outstanding content marketing campaigns.
The Role of Content in Marketing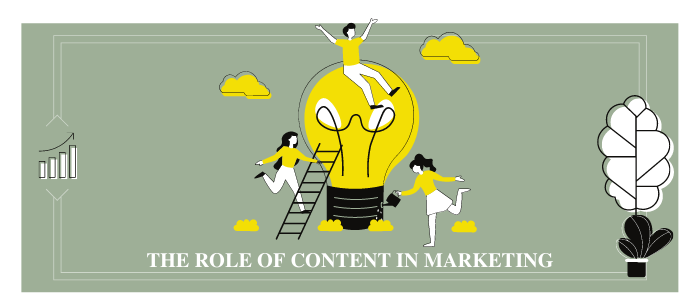 Advertising trends may come and go, but content marketing continues to take a central place in the marketing campaigns of most online brands and businesses. Unlike advertising, which puts a direct pitch to buy the product in front of potential customers, content marketing is "soft marketing" that provides valuable information, not a hard sell. 
In the world of the internet, content refers to any information that can be consumed and shared. That includes blog posts, videos, images, and audio, such as podcasts. This kind of content usually offers consumers valuable, useful information that doesn't overtly sell a product or service. Instead, online content usually focuses on building a brand's reputation as an authority in its niche and encouraging visitors to engage with it.
Content pieces may include a gentle pitch for a product or service, but that's not the larger purpose of the piece. For example, a medical group might produce content that informs people about the treatment of various diseases. The end of the piece might include a CTA that invites them to make an appointment, but even people who don't need the services can get value from the information and keep the name in mind.
Consumable content can take many forms, and content marketing specialists recommend adding a mix of content types for maximum reach and brand awareness. A company might run a blog on its site, a YouTube channel for tutorials, and a podcast interviewing experts in the field. Each of these will engage consumers differently, so content marketers need to keep the behavior of these different channels in mind when they're tracking the metrics that reveal how visitors interact with different types of content. That's one of many things that the Scripted AI platform with a human touch makes easy.
Metrics: Markers of Content Success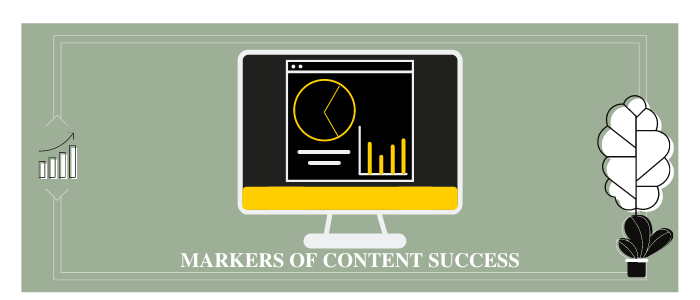 Content marketing is only successful if it reaches the right audience and leads to the desired result, such as sales, subscriptions, or sign-ups. Metrics are the markers by which campaigns measure that success. Relevant metrics can vary widely depending on the goals of the campaign and the nature of the content that's distributed, such as a blog or video channel. 
In general, the metrics that matter most to content producers include:
Consumption Metrics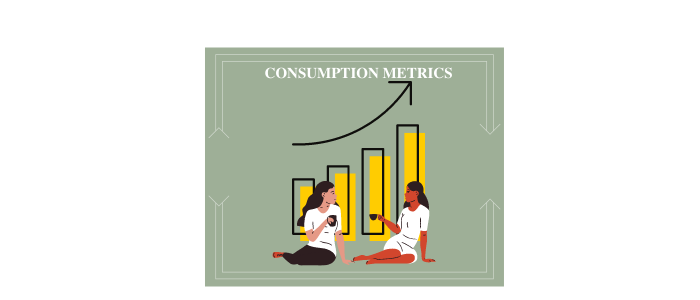 One of the most essential metrics in content marketing is tracking content consumption across the channels in the campaign. Finding out precisely who's reading, viewing, or listening to a brand's content is key to shaping future content and giving those audiences what they're looking for. Consumption metrics track not only the number of people who access the content but also demographics such as age, location, and browsing habits. That can guide marketers toward finding the ideal audience and moving them toward making purchases or using services.
Engagement Metrics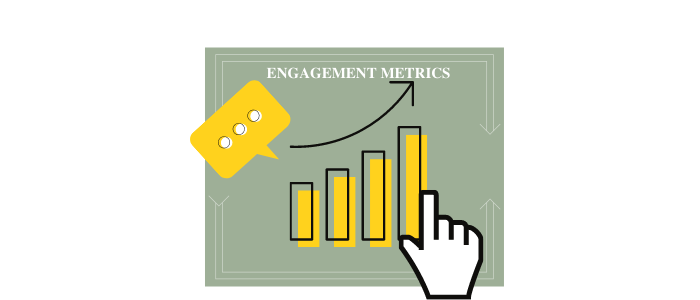 Engagement metrics can move beyond simple viewership numbers to reveal how an audience interacts with the content and what they do with it. Engagement can include behaviors such as:
Action: Taking action after encountering the content, such as subscribing to a newsletter or getting a free offer.
Engagement: Liking, commenting, or sharing the content with others.
Interaction: Dwell time or the length of time they spend interacting with the content, which could include reading an entire blog post or watching a video for a few seconds.
These metrics can provide important clues about the success of a content strategy and reveal a deeper level of connection with your brand than simply reading an article or viewing a video. Engagement indicates whether content provides interest and value to consumers, helps clarify the target audience by tracking interaction, and identifies where engagements are highest.
Lead Generation Metrics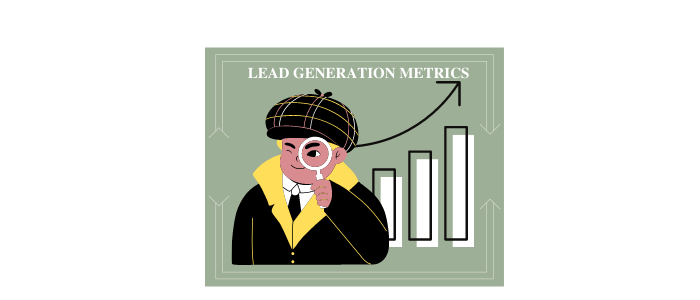 Engagement is the first step in nurturing a lead — someone who might become a customer or client. Lead generation metrics measure how many people are taking engagement to the next level, whether they're interacting with content multiple times, subscribing to a newsletter or other offering, or filling out forms to get more information. These metrics reveal who finds the most value in your content and places trust in your brand or business — characteristics that can move them farther along the marketing funnel toward becoming customers.
Sales Metrics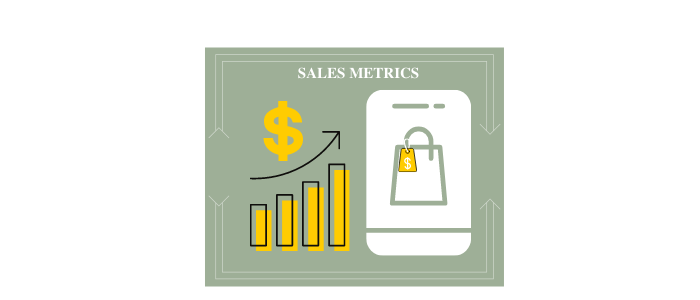 For content marketers in all types of niches, the ultimate measure of success is conversion: turning a casual visitor into a customer or client. Getting accurate sales metrics for the content a company produces helps marketing teams develop targeted campaigns and tweak current ones to improve conversions. Sales metrics might include the number of sales in specific markets and behaviors like abandoning shopping carts or canceling orders.
The bottom line for a successful content marketing campaign is ROI, or return on investment. It's the relationship between the resources spent and the revenue gained. That's where content analytics comes in. Collecting, organizing, and mining your metrics is essential to obtain the insights that drive successful campaigns.
Analytics: Making Sense of Metrics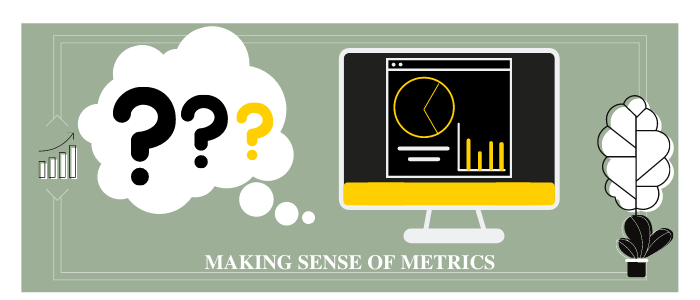 Metrics deliver information on your content's performance, but marketing analytics can place those metrics in context, filter them for particular parameters, and factor in other elements that might play a role. These and other features combine to produce analytics reports, which provide marketers with a wealth of information on variables like content performance over time, how content performs in certain areas and among target demographics, and which keywords deliver the best results.
Content marketers have a wide range of content marketing analytics platforms and tools to choose from, with many targeting specific niches and types of content. Basic analytics software comes with many online e-commerce and social sharing platforms, but they generally offer insights from content that's placed specifically on the site. For example, e-commerce platforms like Shopify and social sharing sites such as Pinterest offer simple tools for tracking visits, shares, and the performance of individual pieces of content.
While these platforms provide basic information about site-specific activities, they don't provide businesses with a comprehensive analysis that spans all forms of content on multiple platforms. Dedicated analytics platforms can track customizable metrics wherever content appears, and some target specific metrics, such as social media stats, search engine optimization, and site rankings. Prices for the web's most popular analytics platforms range from free basic analytics to sophisticated enterprise-level solutions with custom pricing.
Popular Content Marketing Analytics Platforms
If you search for content marketing analytics platforms, you might find the numerous options overwhelming. Here's a look at some of the most widely used content marketing analytics platforms available today and how they manage various content metrics.

With the massive algorithms and search functions of Google behind it, Google Analytics remains the king of analytics platforms. From a single dashboard, Google Analytics can track the performance of any kind of content across all platforms using various metrics. Google Analytics uses machine learning to deliver insights that can be aggregated into shareable reports and customized to highlight specific points.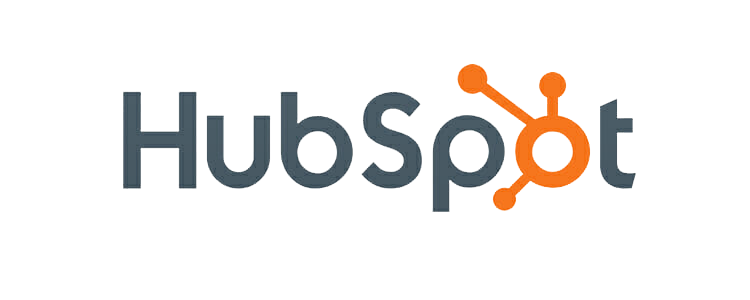 HubSpot is a familiar name in the content marketing analytics platform sphere. It has an easy-to-use interface and many options for digging deep into the data for detailed insights. HubSpot's analytics platform provides customizable report builders that capture data that's unique to each business. HubSpot plans range from forever free to more than US$3,000 monthly for the enterprise version.
Buffer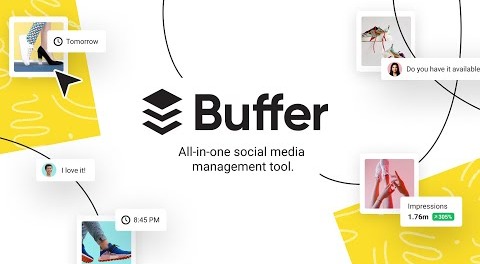 Buffer focuses on social media analytics, although its comprehensive reports include metrics from many other channels, too. With Buffer, users can track engagement metrics for individual accounts and gain additional insights into social media features, such as the performance of hashtags, pins, and stories. Buffer offers a variety of plans ranging from free to business-level at US$99 per month.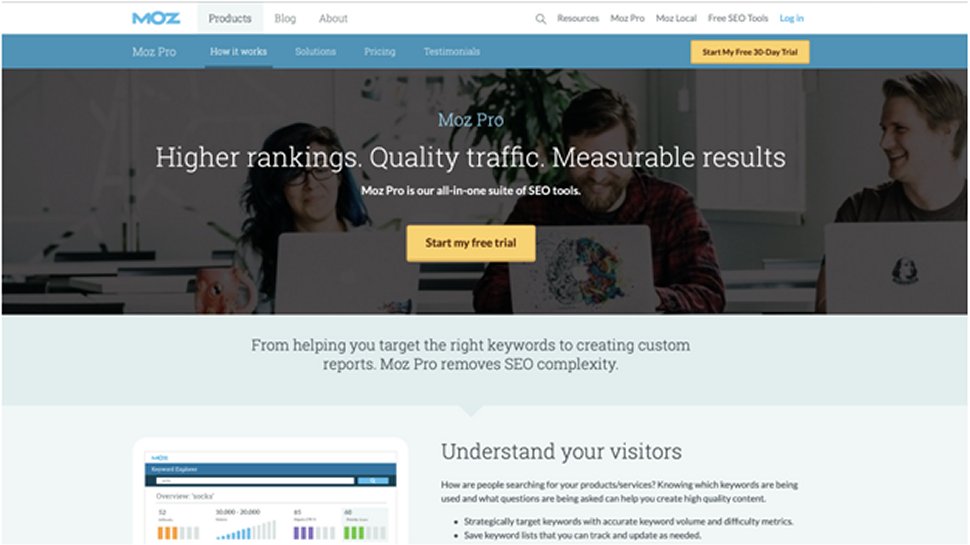 Moz analytics solutions focus on the effectiveness of search engine optimized (SEO) content. Moz tracks the performance of keywords and how they rank on search engine results pages (SERPs). Those metrics provide insights into whether content reaches its desired audience and how a site ranks relative to its competitors. Moz is a business-level analytics platform with plans that start at US$199 per month.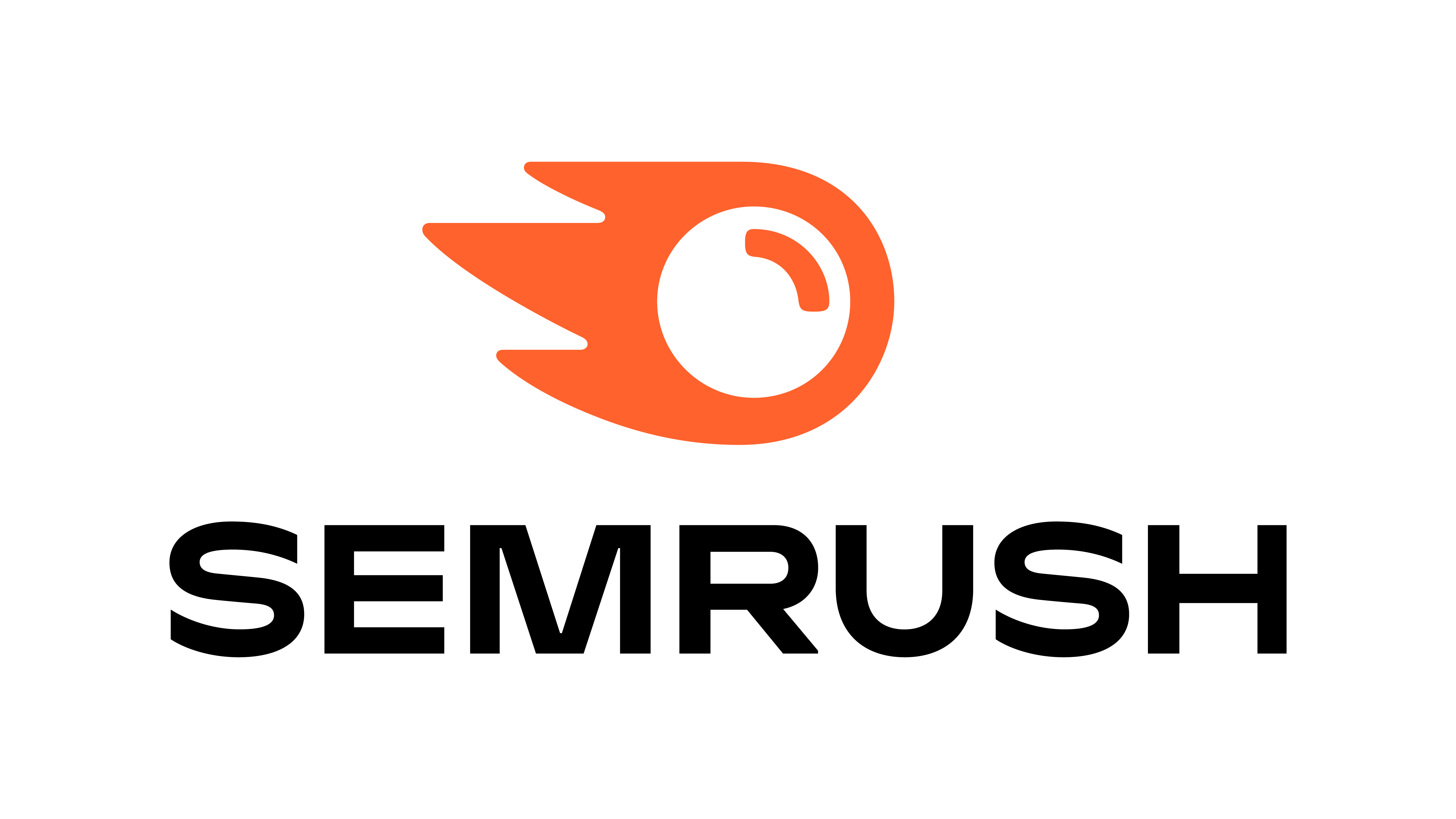 Like Moz, Semrush primarily tracks SEO performance and rankings and measures your brand mentions across all relevant channels. Semrush can also track your site's Google rankings and how much traffic visits each page. Its detailed analytics reports allow users to refine content for searchability and track the performance of keywords in content of all kinds. Semrush targets mid-range businesses with plans ranging from US$119 to US$449 per month.
Designed with marketers in mind, BuzzSumo's suite of analytics tools tracks content performance in real time and filters it according to location and other customizable factors for the most relevant trends. BuzzSumo also offers SEO insights and guidelines for keyword optimization to drive traffic. BuzzSumo's plans range from US$99 to US$499 per month.
Scripted

Scripted offers AI-powered content solutions above and beyond other content marketing analytics platforms. The platform supports your entire content marketing workflow, including keyword research, content strategy, content creation, publishing, and performance. Plus, it's the only platform that combines both AI and human expertise. Scripted plans range from free to $499 per month, plus customized pricing for enterprise and agency accounts.
See for yourself how Scripted can help you level up your content marketing efforts with a free 30-day trial or platform demo.
Getting Started With Content Analytics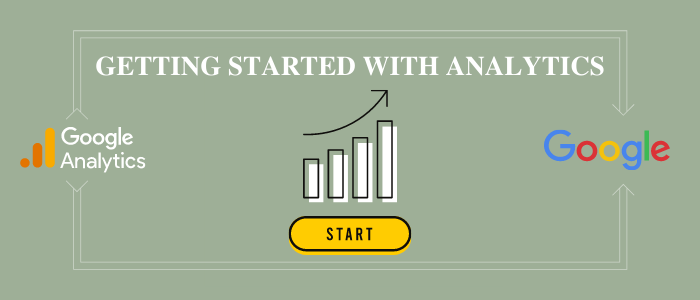 Content marketing analytics can provide essential insights to make sense of your site's metrics. It also helps shape a content marketing strategy for maximum success.
1. Define Goals and Metrics
To get started, you'll want to define the goals of your marketing campaign and figure out what metrics will be most useful for measuring success. Goals can range from raising brand awareness through social sharing to closing sales on an e-commerce site, and they can be carried out with content of many types.
For example, if the cornerstone of your content marketing plan is video tutorials, that might involve different metrics than text-based content such as blog posts. In another situation, you might be primarily interested in tracking how your keywords perform in organic search or how your site ranks compared to competitors with similar content. Other factors might include whether your content strategy relies heavily on social media and whether it's reaching audiences in the right locations around the world.
2. Find the Right Analytics Tools
Once you've decided on the goals of a content marketing campaign and established the metrics that will measure its success, it's time to find the analytics tools that can deliver the insights you need. Regardless of your goals or skill level, there's a content marketing analytics platform with the tools you're looking for. Consider signing up for a free Scripted account. Our AI and human-driven content platform makes copywriting and analytics easy.
3. Level Up Your Content Marketing Campaign
After you've configured your preferred analytics software and gathered some reports, you'll want to consider how to take action to level up your campaign. Analytics can reveal the strengths and weaknesses of your overall content strategy and point out ways to improve or change your campaign to accommodate a new reality. If analytics show your blog posts are getting minimal reads, but your video content is shared far and wide, that could point to a complete readjustment of your overall content strategy.
Navigating the world of content marketing metrics and analytics can seem daunting. But the numbers and trends reveal a detailed picture of real people who are consuming and reacting to your content. Analytics provide ideas for better ways to connect with them and give them the valuable content they're looking for. The best way to do this is by leveraging a content marketing analytics platform.
The Best Content Marketing Analytics Platforms Feature AI and Human Content
If you're in the market for a content marketing analytics platform, look no further. Gone are the days of searching for separate platforms that need varying demands of content. Scripted streamlines the entire process, saving you time and effort. Plus, Scripted is the only platform that offers a combination of both AI-generated content writing and human-generated content writing. 
Our performance and optimization solution helps you monitor exactly where you stand. You'll be alerted about ways to improve your content and move up the search engine page. This helps you avoid penalties and beat out your competition.
Scripted technology keeps you aware of the following:
Organic traffic
Bounce rate
Click-through rate
Keyword rankings
Backlinks
Page speed
Conversion rates
Here's what else you get when you work with us at Scripted: 
Access to Subject Matter Experts - Get help from industry experts to create content that connects with your audience and promotes your brand.
AI and Human Writing - Scripted offers both AI and human writers in one place. Use AI for quick content and humans for high-quality, thoughtful writing.
All-in-One Content Solution - Scripted is a complete platform for all your content needs, from ideas to publishing to analytics.
Future-Proof Your Content - Combine AI and human expertise with Scripted to stay ahead of industry trends and customer preferences.
Learn How Scripted Can Help With Content Marketing Analytics
There's no better content writing service and content marketing analytics platform than Scripted. Scripted's comprehensive content solution includes skilled writers who can create quality content of all kinds and reporting tools to track how it's performing. Scripted's pool of experienced freelancers has specialized expertise in writing SEO-friendly content ranging from blog posts and articles to video scripts and social media posts. With Scripted's managed plans for businesses and enterprises, you'll get the reporting, insights, and guidance you need to choose winning content marketing strategies that boost your brand's visibility. 
Give our reporting feature a test run and see for yourself. Simply sign up for a free trial or schedule a demo today.
Recommended reading: