Why Now's a Good Time to Invest in Content Marketing

Feel like you're using the internet more in the last few days? You probably are. At this troubling time, everybody is Googling more, Tweeting more, and frantically refreshing their news source of choice. 
As people work from home (or are staying at home) because of the coronavirus pandemic, there's been a serious surge in connectivity. Websites are generating 50 percent more traffic than average. As "social distancing" becomes the new normal, this number could mushroom in the coming weeks and months. 
People aren't just using the internet more to search for information about the coronavirus; they are using it more period. As stores close, e-commerce sales are up. More people are using social media. More people are using Google. More people are probably looking at your website.
But won't the coronavirus break the internet?
Not likely. The internet is well-equipped to handle a stay-at-home swell of traffic. 
People Are Home and Online
If people are at home, they need to do something. There are only so many Netflix shows to watch. Animal Crossing will get boring after a while. People will be online. Googling. Tweeting. Reading websites likes yours. So what's the best way to reach them? Keep posting!
Blog Posts - Keep your blog active with updates from your business and employees. How has your business changed? What are you doing to continue helping your customers or community? It's a whole new world for everyone, which means there's a lot to be said during this time on that means for you and your customers. Stay connected, keep blogging.
Email Newsletters - People are home. If you have a message worth hearing, an email newsletter is still one of the best ways to get that message out. Anything you put on your blog can be packaged into a quick hitting email newsletter.
Press Releases - If you can give people a positive distraction to the current situation or give them a way to help others, write a press release about it and get it out to the press. For example, distilleries around the country have started making hand sanitizer to counteract the shortage. When things are tough, people remember who was there to help. If that can be you, now is the time.
Social Posts - Staying active on social can keep your audience engaged right now. Regardless of your industry you can send your audience helpful tips for adapting to our current situation, ways to stay safe, or fun distractions. If you found it useful, your audience may too. Even if your sales have slowed, your connection to your customers should remain active.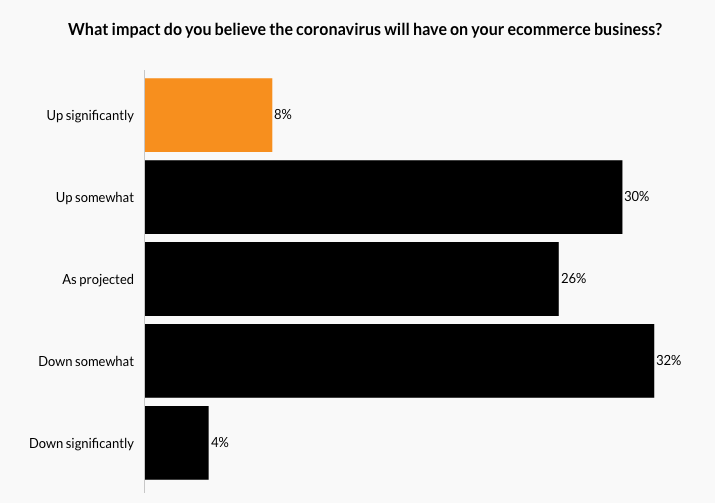 Yes, the future might be uncertain, but quick-thinking businesses are using this time to reach a large audience stuck at home. Right now, people are still buying stuff, so it's important to stay connected. Content marketing is a long-term play that can continue to show return long after this crisis has ended. 
Stay On Top of Trends
It's always important to keep up with trends in your industry, but it may be even more important now with such uncertainty ahead. Ask yourself a few of the following questions about your marketing:
Has consumer behavior changed in your industry? If so, how can you adapt and cater to this new behavior? 
Does your previous messaging still hold up? If not, stop and rework your strategy to match the current needs of your customer.
If you're having a downturn in sales, can you send out a promotion or discount to reengage customers?
Definitely use this time to analyze and refine your content strategy. Any posts you had scheduled before the COVID-19 outbreak should be carefully looked at to determine if they are still appropriate messages. 
What you don't want to do during this time is go dark and continue to invest in something like content that has longterm SEO value. Through regular communication you will retain customers and very likely pick up some new ones along the way. 
Take Help Where You Can Find It
If your business has been hit hard by the COVID-19 shutdowns there are grant programs being developed by Google, Facebook, Yelp, Bing and others to help businesses continue to operate over the next few months. Check out these Digital Marketing Resources to Help Small and Medium Businesses Weather COVID-19 for more details on the grant programs.
If you need help cutting costs while maintaining an active content strategy, please reach out to us at support@scripted.com. We have brought on a lot of new, talented writers recently who are ready to help.