March Madness Is Upon Us - Is Your Business Ready?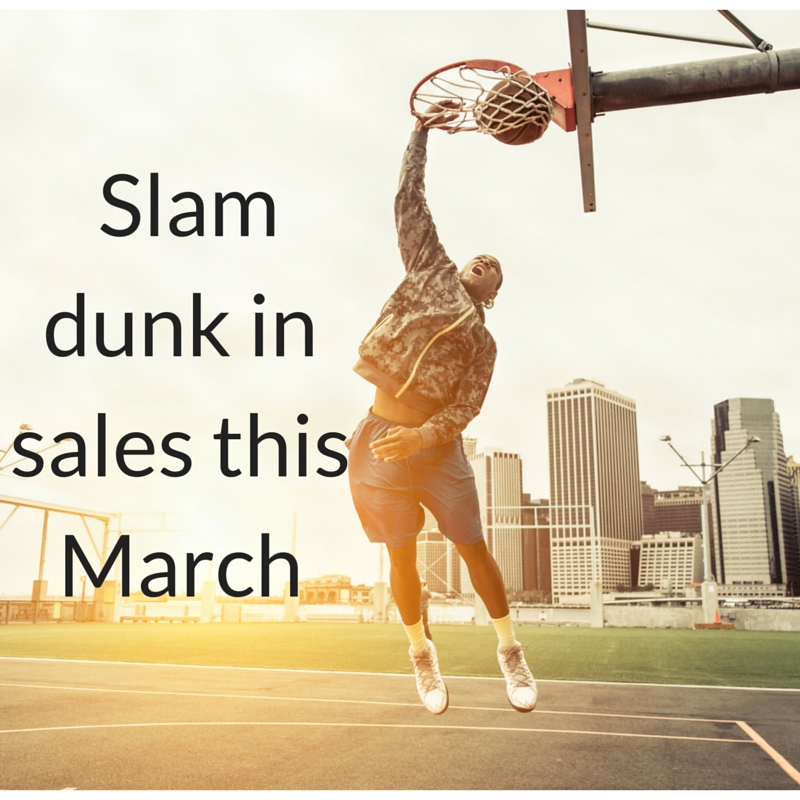 March madness is here, and while three-pointers are up this season, sales are often down. Find out how your business can prepare here.
March Madness is upon us. For the non-sports inclined such as myself, this refers to the peak of basketball season. Sadly,
sales and productivity tend to drop off
as a result of this national phenomenon. The good news is there are a few ways to still hit your sales targets.
While the all-stars are scoring three-pointers, you can make some slam-dunks of your own. Learn how to generate leads and keep your sales momentum moving forward despite the competition of March Madness here. Ready for tip-off? Let's go:
March Madness in Numbers
An estimated
50 million American office workers
participate in March Madness office pools. Starting March 16, millions of employees will storm the Internet to craft a winning bracket with all the right winners.
The firm of Challenger, Gray & Christmas estimates that businesses in the United States lose $1.9 billion per hour during March Madness. On top of that, a 2013 survey from MSN found that 86 percent of workers will spend at least a portion of their workday updating their brackets. In short, all of the excitement of March Madness definitely slows down productivity in a majority of workplaces.
March Madness Content
Try to harness some of the March Madness fever by tying this exciting sporting event into your content marketing. For example, if you're an IT security company, use a blog post explain how a good basketball team's defense relates to protecting a computer network. For a company that focuses on sales, compare how basketball teamwork relates to sales teamwork. It's all about being creative with March Madness to get people away from the games long enough to see what your business could offer them.
The 9-Word Email Is Your Half Court Shot
Of course, you don't just want your employees staying productive, you also want your sales team drumming up leads and nabbing new clients. If you haven't tried the nine-word email, March Madness is a great time to do it. It's simple, focuses on the client's need and can quickly hook a prospect - especially those dead leads you haven't heard back from in some time. The general format for the nine-word email is:
Are you still looking to get [insert] [your] [service]?
Read more:
How to Send an Email That Doesn't Sound Like Spam
For example, if you're in the real-estate business, your email might read, "Are you still looking for a house in Chicago?" while a banking business might ask, "Are you still looking to get a low-interest mortgage?" You'll likely be surprised how many leads you grab.
Support the Hometown Team
As a part of your marketing strategy, you should also be catering to local consumers. With 68 teams in the tournament, chances are there's a team from a university in your area. Get people on board with your brand by promoting content - including tweets and Facebook posts - focused on your local team. Show you actually connect with the team by featuring stats, history and player information in your content to demonstrate you're not just a bandwagon rider.
Ultimately, if you want to score a content-marketing slam dunk and rope in some new business, use some of the above tips to keep your team focused on what's really important during March Madness this year.
Ready to get started curating an awesome team of content writers?