Increasing Organic Traffic to Your Engineering Website: The Complete Guide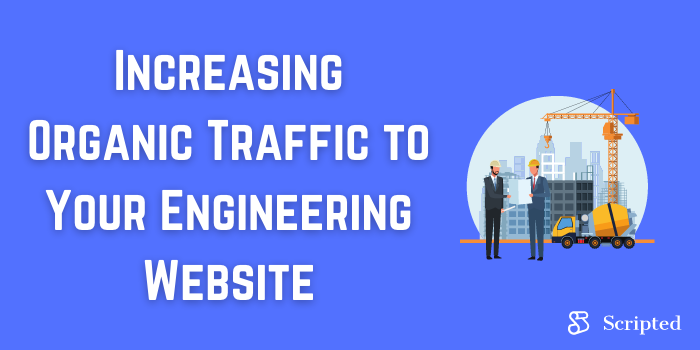 The engineering services industry has seen growth over the past five years. Although COVID caused the industry's annualized revenue trend to fall, there is expected to be a steady demand for engineers from 2021 to 2026. There will likely be a rising level of private investments in large-scale projects. There is also expected to be increased demand from manufacturing and industrial customers to meet growing population needs.
There are opportunities ahead for those in the engineering industry, but in order to remain competitive, you need to build your presence online.
For some, business, engineering, and marketing may all seem like different beasts. However, these specializations overlap, especially when considering the skills required to run an efficient, successful engineering company. From effective planning and time management to a keen attention to detail, there's a lot to consider in the engineering world.
Whether you would like to get more clients or build your reputation online, content marketing will allow you to do just that.
Being a highly technical profession, you need to create content that resonates with your audience. To communicate with prospective clients, you need to communicate to them in their language, which takes a high level of expertise.
Not sure where to begin? This guide tells all.
Why Invest in Content Marketing as an Engineer?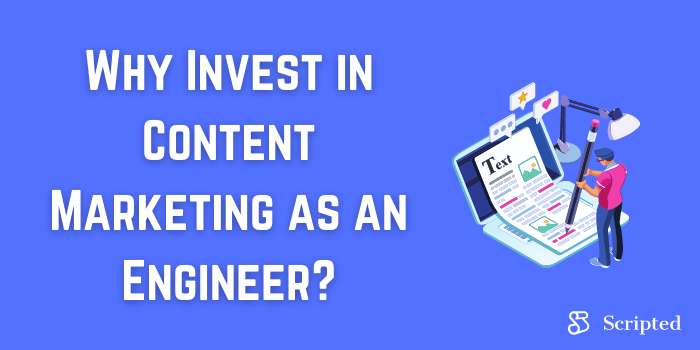 As an engineer, you wear a lot of hats. You're a combination of a tradesperson and scientist, showcasing high intellect and a strong business sense. However, marketing can be tough — especially since there is often a language barrier in terms of scientific processes, complex testing processes, and technical terms.
If you're an engineering firm and want to generate new leads, inbound marketing strategies can seem rather foreign. After all, you typically get clients by generating positive word-of-mouth. While this is an excellent approach, in today's digital world, if you are not creating a presence online, you may miss out on business. Even worse, your competitors may gain all that lost business.
The truth is, it's no longer enough to have technical skills and work experience. When people seek an engineer, they often look online.
Whether you want to attract new clients or a new employer, marketing yourself online is important. This requires a solid digital marketing plan.
When you invest in content marketing, you can:
Boost your ranking and increase traffic to your site

Grow your subscriber list

Build a positive reputation online

Increase leads and improve your conversion rates

Get new working opportunities — either in terms of private clients or through an engineering firm
Creating a Winning Content Marketing Strategy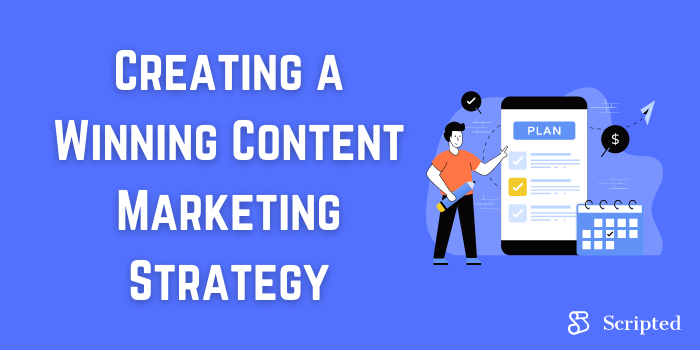 Yes, engineering is unique compared to industries such as retail, IT, or healthcare, especially when it comes to digitalization. However, regardless of the industry, content marketing will play an imperative role in your ability to succeed and grow. Gone are the days when outbound marketing was enough — you need to invest in social media, blogging, and company newsletters.
The key is to approach content marketing as an engineer. You'll want to focus on your target audience so that you can become a thought leader. This will help you attract visitors so that you can increase organic traffic to your site.
Related: Six Ways to Gain Your Audience's Trust Through Content
Creating a content strategy will help you focus on what needs to be done and when. Outsourcing the bulk of these tasks can help you continue to focus on your clients and growing engineering firm while benefiting from the power of digital marketing.
Conduct Keyword Research and Stay On Top of Engineering Trends
One component of your strategy you'll want to pay close attention to is SEO — or search engine optimization. This is especially important when aiming to increase organic traffic to your engineering website. Start with keyword research, coming up with both short- and long-tail keywords. For example, instead of just implementing the keyword "engineer," you may want to focus on a more specific phrase based on what your potential clients are searching for, such as "engineering firms in New York City" or "the best engineers in Miami."
Use these keywords organically within your content. For example, you could create a blog post that is titled, "What the Top Engineering Firms in New York City Offer." This will give you an opportunity to highlight the services you provide without being overly salesy. At the end of your article, you could include a call-to-action, providing your contact information. Those in need of your services can then easily take the next steps.
Here are some keyword tools to assist you along your journey:
BuzzSumo will help you discover the top content based on a specific keyword. For example, when you put "engineering" into BuzzSumo's search bar, you'll see what's trending based on engagement rates. If you'd like to be more specific, you can type in structural engineering or mechanical engineering.
In Summary
Before you write your content marketing strategy, ask yourself:
Who are you trying to target with your content?

What keywords will attract your target audience?

What does your target audience seek? What are their pain points?

How can you provide value?

What types of content will resonate with your audience?

How do you want to portray yourself/your brand?
While developing your strategy, also consider what voice your content will have. Do you want to brand yourself based on a certain type of personality or writing style? Decide on a voice that resonates with your intended audience. The goal is to attract the types of clients you want to work with.
Types of Content to Consider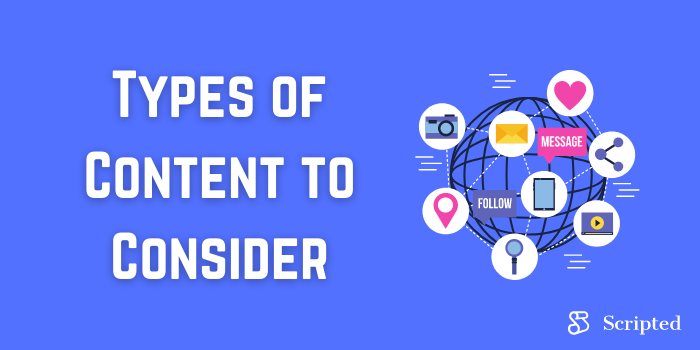 If you operate an engineering website, you must take the right approach. This will allow you to maximize conversion rates and ultimately, your ROI.
Before you decide on what content to provide, you need to ask yourself some important questions. You'll need to know...
Who your target audience is. Have you developed

buyer personas

yet?

What keywords are trending within your industry?

What are your clients' greatest pain points?

How can you solve their problems?
And last but not least, what types of content will allow you to address the answers to the questions above?
Blogs are one key type of content you'll want to focus on. When you publish quality content regularly, this will help you boost your ranking, driving more traffic to your site. As an engineer, your audience will seek specific information, most of which will be rather technical. The key here is to invest in quality over quantity. This will help position you as a leader in your industry. Research shows that 32% of readers agree that accurate content is amongst the most crucial factors in quality content — and nearly 24% of readers say bad quality destroys a blog's credibility.
Create a list of potential blog ideas based on your previous target audience and keyword research. Then, outsource these posts to an expert writer with engineering experience. Sure, you likely have a wealth of knowledge and are highly experienced when it comes to engineering. However, writing and engineering are completely different. Crafting quality content not only takes a certain set of skills, but it is also extremely time-consuming. In 2020, most bloggers spent over six hours on each post. Outsourcing this task can help you focus on other critical tasks, improving your ROI.
Blogs are a great tactic, but they're not your only option these days. Also, consider:
Social media content

Email newsletters

Press releases

Whitepapers

Webpages

Podcasts
Example Engineering Sites to Learn From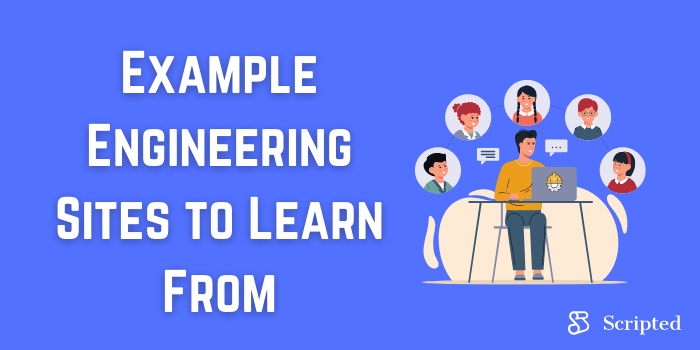 Below you'll find a list of some of the best engineering websites as of 2021. The idea here is to study these sites to see what makes them so successful. You can then leverage some of their tactics and strategies to develop your unique content marketing strategy.
NASA.gov
No surprise here, as NASA.gov is the #1 most popular engineering site, bringing their audience the latest news and media from America's space agency, sharing scientific discovery and aeronautics research. NASA has created a range of engineering careers, most of which focus on computer engineering and aerospace. NASA's website is full of engaging content, covering the latest stories. You can even search topics from A to Z. On the homepage, you'll find the main menu, featuring a "follow NASA" drop-down menu. Here, you'll find NASA's blog, social accounts, newsletter, and more!
Related: 5 Best Engineering Blogs on the Web
PopularMechanics.com
Popular Mechanics covers everything related to science and technology, including topics surrounding aviation, space, gadgets, and home. You can easily search for topics you're most interested in, finding articles such as The Fatal Engineering Flaw Behind the Deadliest Building Collapse in U.S. History. This content is exclusive and requires a subscription. Popularmechanics.com is content-rich, focusing on the latest news and trends. From DIY engineering projects to the most impressive feats of engineering,
TechnologyReview.com
MIT Technology Review provides its audience with an inside look into the complex and fascinating world of technology. On the homepage, you can organize content based on featured topics, general topics, newsletters, events, and podcasts. Covering a wide range of subjects, you can easily search for topics related to geoengineering or genetic engineering. The articles written are incredibly unique and interesting, including A futuristic plan would turn air conditioners into climate-change-fighting machines and A blind man can perceive objects after a gene from algae was added to his eye. Technology Review has carved out its own niche, becoming an authoritative leader.
All three of the websites above differ in terms of their approach, content, and overall marketing strategy. However, they all have one distinct thing in common — they consistently produce high-quality content that their audience wants to read. They also remain on-trend, leveraging the power of SEO.
Related: 5 Best Engineering Blogs on the Web
How to Track Results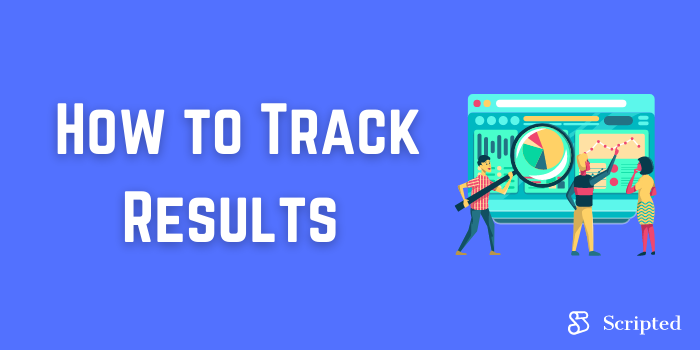 Whether you want to build a professional portfolio or optimize your networking strategy, you'll need a website.
WordPress is an obvious choice, but it's not your only option! If you'd like to build a portfolio quickly and easily, you should also check out:
There are pros and cons to all the above, so it just depends on what works best for you. For example, if you'll mainly focus on blogging, WordPress is ideal. However, Weebly may be your best bet if you're not selling anything online. If you get most of your clients via foot traffic but want to build your reputation online, Wix or Squarespace are also great choices. Medium can complement other platforms as it offers a large built-in audience, which can help you increase traffic to your site.
Now, for tracking. If you're going to invest in content, you need to know how that content performs. This will allow you to make more informed adjustments. As of 2021, some of the top analytics tools include:
Hiring a Content Writer Doesn't Need to Be Complicated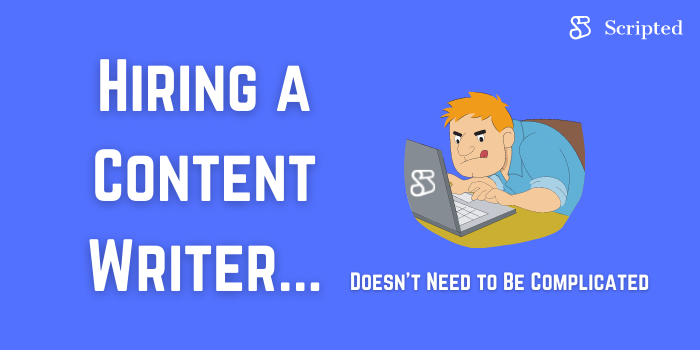 Although you are highly knowledgeable, you likely do not have time to write well-crafted content. As of 2020, one in five writers spend 6+ hours writing one article. These are the bloggers/writers who are most successful.
Why?
Because quality content takes time — time you could spend on your latest project.
So, outsourcing is the way to go, but how do you get started?
The engineering industry can be tricky. Finding the right writer means sourcing an individual who has both technical knowledge and top-notch writing skills. Remember, the content you publish reflects you
Luckily, Scripted makes this process seamless. Offering a pool of highly-vetted writers, you will easily find an expert in engineering. After all, Scripted writers are categorized based on their industry expertise. Whether you want to work with someone who has direct experience in structural engineering or a writer who possesses strong research skills, you will receive quality content in a timely fashion.
Visit Scripted's engineering page to get started today!