Web Tools to Check for Plagiarized Content

As more organizations, including your competitors, direct more time, effort, and resources into content in 2023, content marketing is only increasing in importance. Content will likely become a huge part of your marketing efforts next year and beyond, but creating the type of excellent original content that ranks on Google and blows your competition out of the water is challenging. 
When performed well, content can be highly lucrative, drawing in quality leads that genuinely care about what you offer and with whom you can grow solid long-term relationships. One aspect is often overlooked in content creation, a factor that can render the hard work, time, and effort of creating great content pointless. A little something called plagiarism. 
While you may have shrugged plagiarism off as low-level work reserved only for poor-quality writers and lazy students, plagiarism in the content marketing world is more prevalent than you think and comes in various forms. All of which could affect your content's success without you even knowing. Before we dive into why non-plagiarized content is essential and the best tools to overcome the challenge, let's define plagiarism. 
What Is Plagiarism? 
In short, plagiarism is stealing someone else's content. It can be defined as publishing or presenting someone else's content without accrediting the original creator. For instance, this is not citing a source, wording a blog post similar to an existing piece, or, worse still, copying and pasting an entire piece of someone else's content. 
These are huge no-goes in content marketing, but you'd be surprised at how much plagiarism occurs even when collaborating with quality writers and creators. With such a massive volume of content on the web, plagiarism is somewhat inevitable from time to time.  However, not all plagiarism is created equally, and it comes in several forms. 
The Types of Plagiarism
Self Plagiarism - Re-using documents and citing sources without linking to the original source. 
Direct - Direct and likely intentional plagiarism is a copy-and-paste job from existing content.  
Accidental - Where a creator may accidentally write something similar to other content on the same subject. As an organization with an established content strategy, this is the type of plagiarism you'll need to be most aware of. 
Patchwork - Patchwork plagiarism is copying sections of existing content and interlinking it into a new piece. 
Why Use a Plagiarism Checker Tool? 
Credibility 
Imagine damaging your organization's reputation if you were to rip off competitors' content! The repercussions are never worth it, from not citing sources to copying and passing off content as your own. Whether you're an up-and-coming start-up or an established enterprise with a content strategy, don't risk losing the credibility you've worked so hard to build. 
Authority 
The most authoritative company in your niche never creates duplicate content and ensures everything they create and publish is 100% original, fact-checked, cited, and well-written. Be the type of content people want to copy off! So if you want to maintain or become an authority and go-to source in your niche, non-duplicate content is vital. 
SEO 
Using any form of copyrighted material on Google can seriously damage your website's performance. This is especially true for photos, videos, and other media you may embed into your content. If you're copying existing content, there's no chance you'll be able to adopt a 10x skyscraper content strategy to beat your competitors.
Why will Google replace the top spot with your content when you upload a blog post that offers no more value than what's already out there? It won't. So how do you avoid plagiarism and ensure your content maximizes its potential? Enter plagiarism checker tools. 
The Best Plagiarism Checker Tools 
While hundreds of plagiarism checker tools could help you do the job, some are more comprehensive and make for a fantastic all-encompassing tool for ensuring plagiarism-free content. We've handpicked the best, so you don't have to sacrifice valuable time in discovering such tools. Here's our shortlist. 
Grammarly 
As one of the most popular writing tools, it's no surprise that Grammarly also features a plagiarism-checking tool. While Grammarly is a super helpful writing tool, giving you and your team the power of error-free, concise and compelling copy, the plagiarism checker is also excellent. Providing instant checks of your documents, pulling data from the ProQuest database to check your content against what's already out here. Our team of freelancers and editorial team use Grammarly to sharpen their writing and ensure superb plagiarism-free copy.
Pros: 
Detects plagiarism from billions of sources across the web 

Generous checking limits 

One of the most accurate tools out there  
Cons: 
Only available with the paid version of Grammarly 

Costly 
Chegg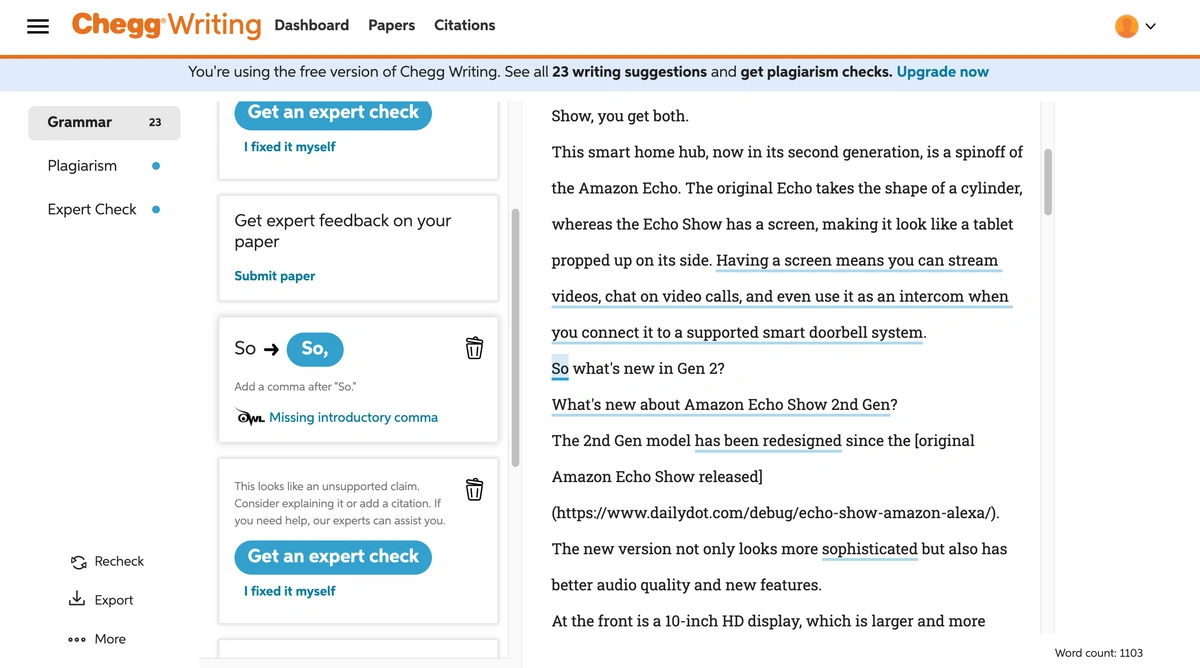 While traditionally geared toward academic writing, this paid tool offers an in-depth analysis of potential plagiarism. Chegg is an excellent option for specialized niche topics and compares your content with a vast database. The tool compiles a detailed plagiarism report, including a plagiarism percentage rating–making it clear if any parts of your content are plagiarised. Discover more about Chegg here. 
Pros:
Super thorough database checks 

Only $10 per month to access the plagiarism checker feature  
Cons: 
Copyscape
 
Copyscape is another fantastic tool for checking for plagiarized content. This tool allows you to check for obvious and minor duplications other tools may miss. There is a free and paid version of Copyscape, while the free edition affords you basic insights into potentially plagiarized content, the paid edition is significantly more comprehensive. 
Something we love about Copyscape is the content protection feature, which makes it easy to protect your content. For instance, if your organization has created an epic thought leadership piece, research paper, or factual article that others are likely to link to it, Copyscape allows you to warn those people via a website banner. Learn more about Copyscape and its features here. 
Pros:
Affordable 

One of the highest-rated plagiarism tools on the market 

Content protection feature 
Cons: 
Scribbr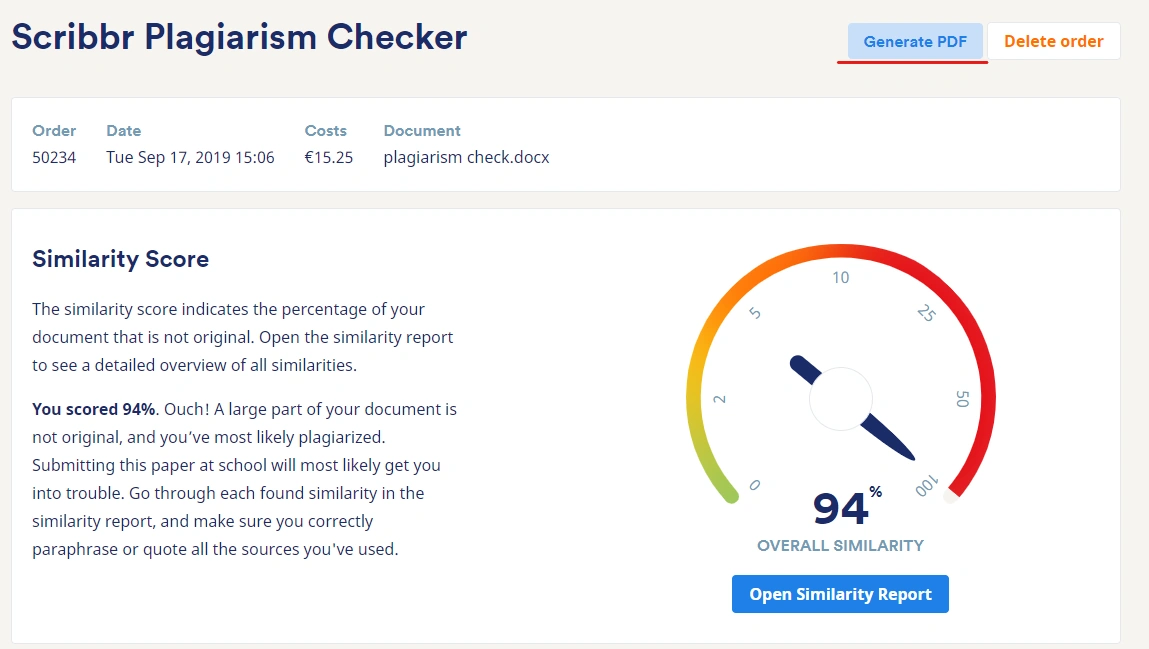 Using the Turnitin database, Scribbr is an excellent plagiarism checker tool and works perfectly for high-quality, thoroughly edited text. With a database comparison of over 9 billion websites, Sribbr checks are thorough and can be performed in over 20 languages. This makes Scribbr one of the best and most accurate plagiarism-checking tools available. 
Pros: 
Super in-depth plagiarism highlights 

Free version available 

Satisfaction guarantee and live support 
Cons: 
Costly 

No editing functionality within the tool 
UniCheck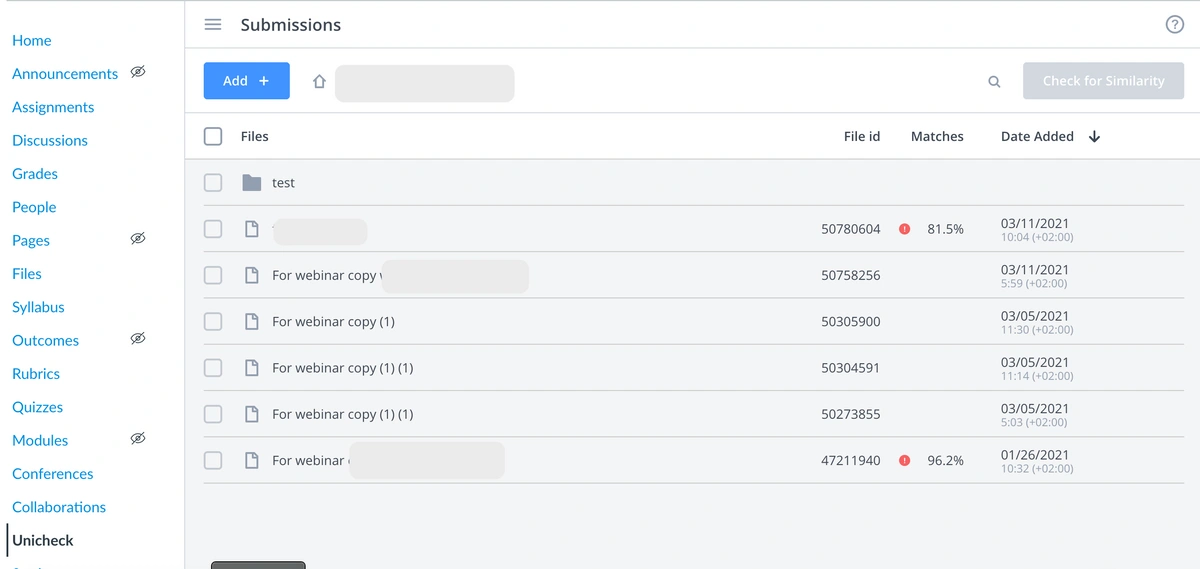 With a super simple, easy-to-use interface and intuitive design, UniCheck is one of the best tools on our list. You'll be hard-pushed to find a superior alternative for the ease of bulk uploads and multiple file format support. UniCheck allows you to check content via a detailed originality report. Trusted and used by over 1 million users, UniCheck does precisely what you want it to while making it easy. Learn more about UniCheck here. 
Pros: 
Simple, easy-to-use interface

1 million trusted users 

Great intuitive originality reports 
Cons:
ProWritingAid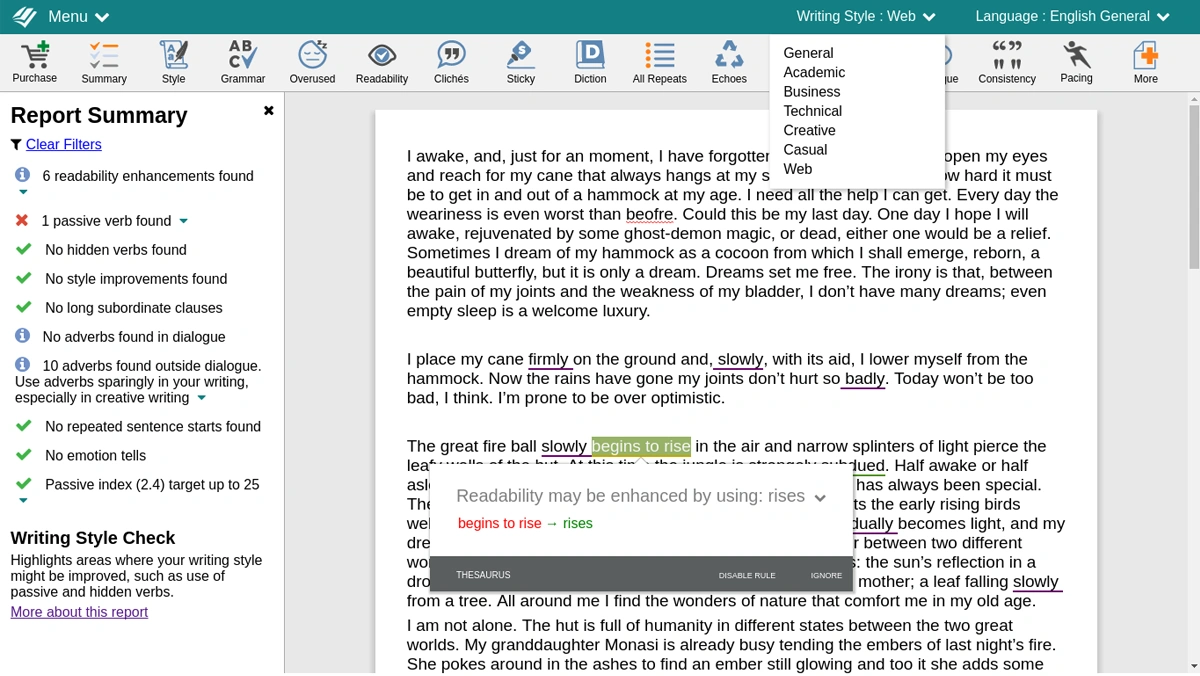 Typically Pro Writing Aid is used as a Grammarly alternative. A writing tool to help sharpen your copy and ensure you and your team are writing concisely, compellingly, and error-free, but like Grammarly and all the best writing tools, ProWritingAid has an awesome plagiarism checker feature. 
While this tool comes with all the bells and whistles of Grammarly, it also showcases a writing mentor feature and plagiarism checker. You can check any content to ensure it is not plagiarized and align your content with a particular style. Pro Writing Aid is fabulous if Grammarly isn't working for you. Learn more about Pro Writing Aid here. 
Pros: 
Simple to use 

A lifetime purchase option is available. 
Cons: 
Bugs and reports of issues on some websites 
Best Tools To Check Plagiarized Content - Final Words 
For a successful content marketing strategy in 2023, excellent, unique content is essential. It's the only ingredient, and you won't get far without it. However, even the best, top-quality writing talent is sometimes caught out. So as an enterprise owner or content manager, you must ensure your content success doesn't get let down to something low-level like plagiarism.  
Thankfully, these top plagiarism checker tools can alleviate any plagiarism issues. After all, there's no point focusing precious time and resources on acquiring top writing talent to have your content not reach its full potential due to a plagiarism flag! It's just not worth it. So whatever content you're publishing, choose from a section of these different tools. While they all differ somewhat in how they work and how they check your copy, they give you similar information. 
If you're looking to accelerate your content marketing game into the stratosphere this coming year, why not tap into Scripted's pool of highly vetted writers? All of them are fantastic writers in their own right, but all use these writing tools to sharpen their copy and avoid plagiarism, not to mention the check on our side. To get started with Scripted, contact us today to schedule your free trial and see what our expert writers can do for your content marketing game.