AI-Powered Content Generation and Strategy Tools - Boost Your Marketing Efforts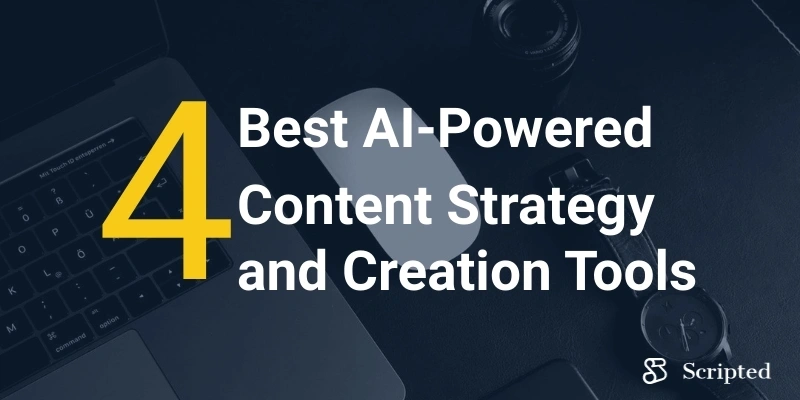 You need high-quality, authoritative content to boost sales, attract new customers, improve search engine rankings, and increase brand awareness. But what happens when you don't have the time or resources to create thoughtful content? That's where AI-powered content generation and strategy tools come in. These tools can:
Connect you with human writers who create content for you

Automatically generate content for your business from user prompts

Help you create a content strategy that achieves your business objectives
Experts recommend that you blog at least one to two times per week. AI-powered content generation and strategy tools can take care of this task, freeing up resources in your business. But which tools should you invest in? Here are the four best AI platforms for content generation and strategy you need to know about in 2023.
1. Scripted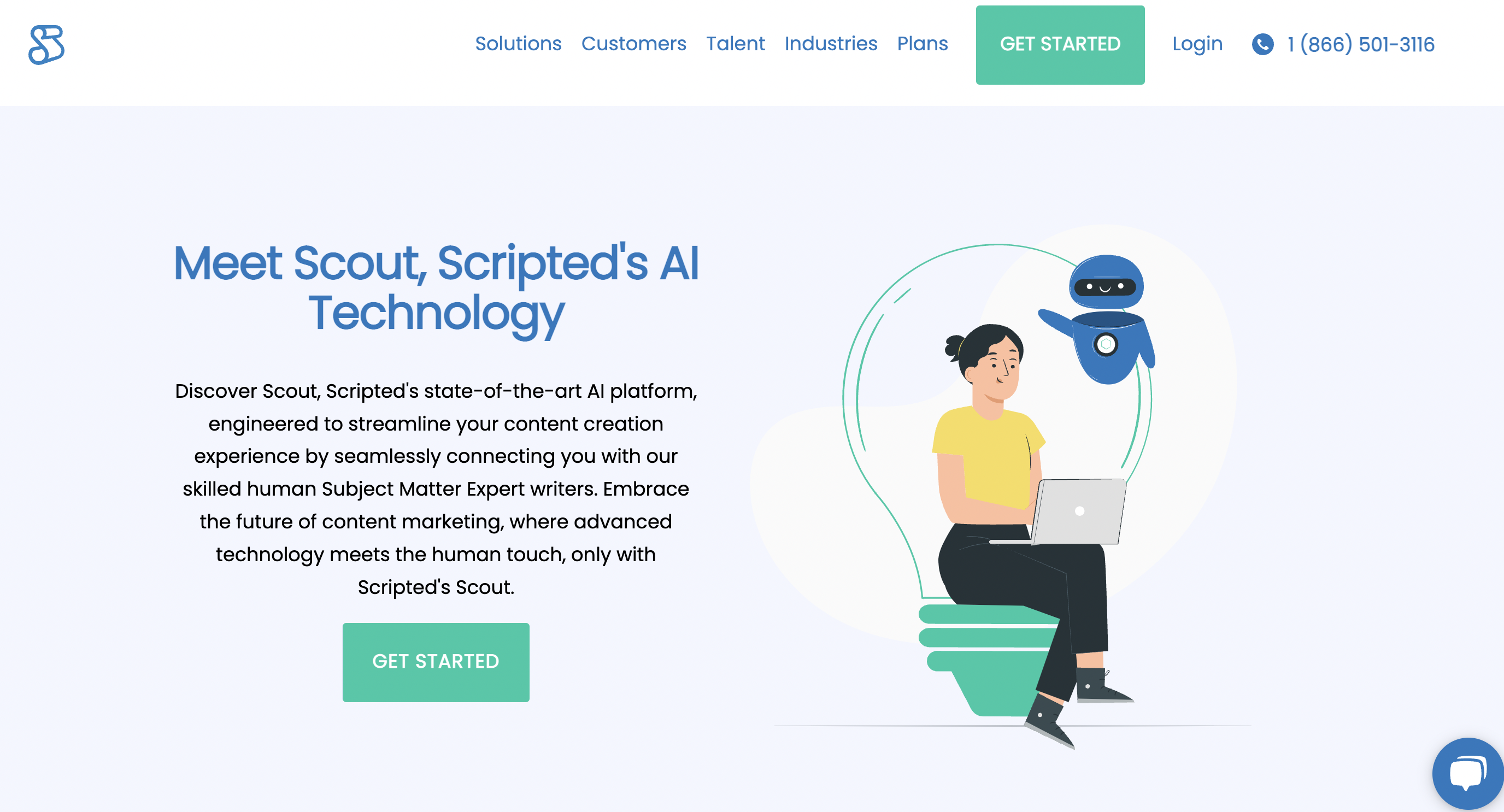 Scripted is a content generation and strategy tool that's different from the others on this list. While some platforms offer AI-generated content or focus on building a content strategy, Scripted connects you with writers in your specific industry and offers all the benefits of artificial intelligence during the content production process. Its AI-powered content creation assistant, Scout, can order writing jobs, research content ideas, generate headlines, create content briefs and outlines, and analyze your content's performance. But human subject matter experts still create content for you, giving you the best of both worlds — AI and real writers.
This new approach makes Scripted the No.1 platform for content generation and strategy. Writers take care of content generation by creating blog posts, product descriptions, white papers, social media content, and other content types for your audience; AI handles content strategy by making it easier to order jobs, think of content ideas, and optimize content for search engines like Google search. 
Scripted believes in 100% human-written high-quality content, unlike other tools on this list that generate content entirely from AI algorithms. While AI can guide the content strategy process, it's incapable of producing the content your audience deserves. For example, relying on fully AI-generated text can lead to factual and grammatical errors in your content that impact your search rankings and reputation. Then there are ethical dilemmas like whether you should use robots to create content and whether you own the text that other AI-powered content generation and strategy tools produce. 
With Scripted, you can automate many of the processes associated with ordering, publishing, and promoting content but still connect with experienced subject matter experts. For example, Scout will analyze industry trends, audience behavior, competitors in your space, and search rankings to generate content ideas. Real writers will take care of the rest. Scout's writing assistant also provides subject matter experts with detailed briefs that help them include important topic ideas and keywords. You'll get a finished product you own and are proud to place on your website. 
Scripted Features
Here are some features of Scripted's AI-powered content generation and strategy tools:
Create blog posts, social media posts, white papers, product descriptions, ad copy, SEO-optimized content, long-form content, short-form content, landing page content, video content, and more

The Scout AI assistant generates content ideas, relevant keywords, headlines, content briefs, and real-time performance metrics while human subject matter experts write, edit, and personalize your content with the right messaging, tone of voice, and style

Scripted adapts to your content needs and marketing strategy as your business grows, improving your 

content creation

 workflows
Scripted Pricing
Scripted has four pricing plans based on your specific content marketing requirements:
Self Serve Basic, from $199 per month

Self Serve Premium, from $499 per month

Agencies, from $2,500 per month

Enterprises, from $5,000 per month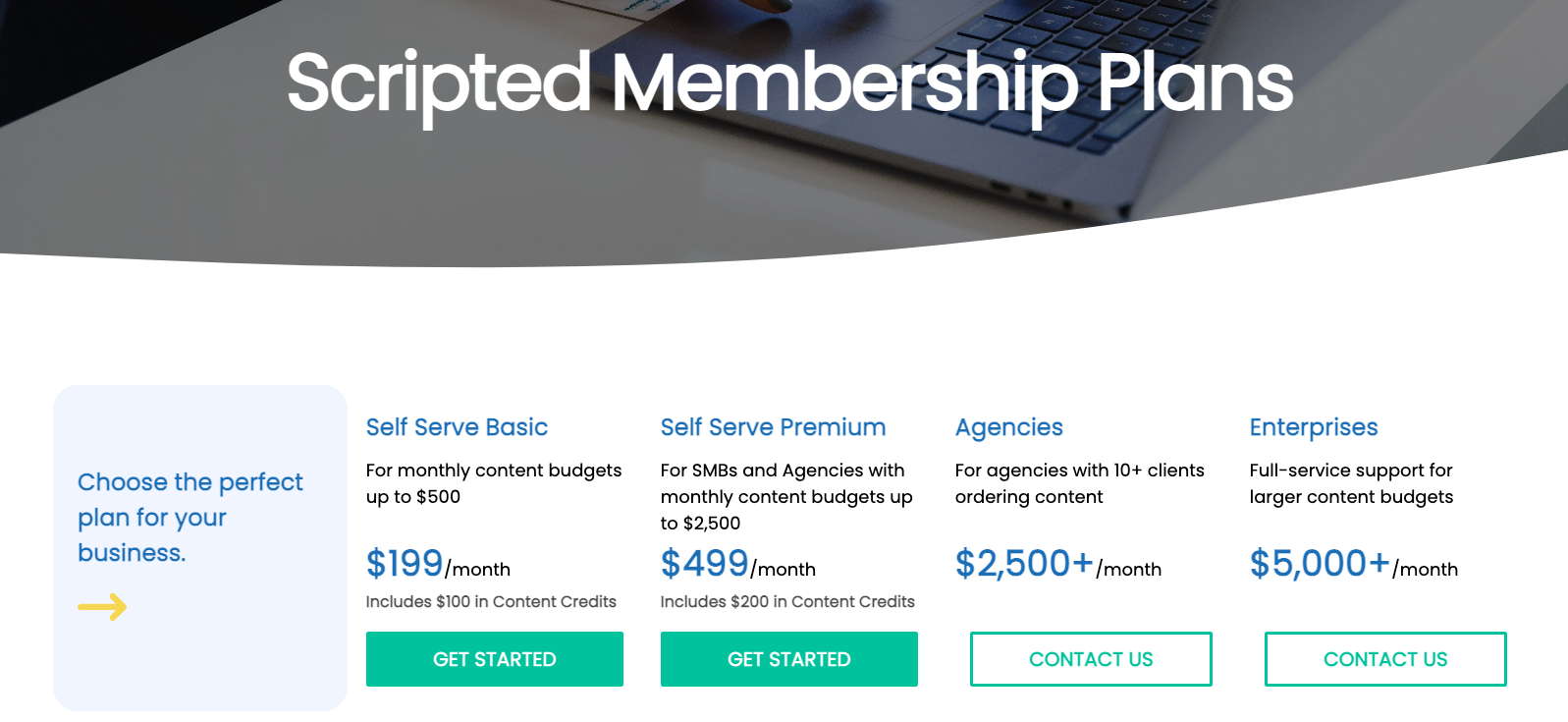 Bottom Line
Scripted's unique approach to content generation and strategy means you receive all the benefits of artificial intelligence for ordering, publishing, and promoting content pieces, while human subject matter experts write your content. This way, you don't have to rely on fully automated text that might include factual and grammatical errors and jeopardize your search rankings. After all, AI is merely a tool that can guide content generation and strategy. It isn't capable of replacing real content creators. 
What's the best approach to content generation and strategy? Use AI to streamline your content strategy and get real human writers with experience and expertise to generate the content you need. Get started with Scripted!
2. HubSpot
HubSpot only focuses on content strategy and doesn't allow you to generate content with AI or human writers. However, it's machine-learning capabilities make it an effective tool that can help you create content ideas for blog posts and other content types. If you need to create content but don't know what to write about, HubSpot is definitely useful. 
Coming up with content ideas on HubSpot is easy. The tool suggests topic clusters based on what other businesses in your industry are writing about. It also carries out competitor research to ensure those topics are right for your business. Scripted does the same thing, of course, but also connects you with subject matter experts who do a more important job — actually write your content!
HubSpot shares other features with Scripted — the ability to find relevant keywords for content and track content after you've published it. Both features improve your strategy by making content more friendly for search engines and helping you learn how content ranks.
HubSpot Features
Here are some features of HubSpot:
Generate content ideas based on your industry 

Find relevant keywords for content pieces and improve search engine optimization (SEO)

Use metrics like clickthroughs and impressions to learn how your content performs across the web
HubSpot's content strategy tools are part of its SEO marketing software, which means you might pay for features you don't. This software has three pricing plans:
Starter, from $30 per month

Professional, from $800 per month

Enterprise, from $3,600 per month
Bottom Line
While HubSpot's machine learning tools can produce content ideas, find keywords, and track content performance for various use cases, you can't generate content for your website. If you already have an internal team of writers, this platform might improve your overall content strategy. If you don't, another tool on this list might be a better fit for your organization. 
Unlike HubSpot, Scripted can connect you with subject matter experts in your industry to create better content for your business. Book a demo now and learn more about Scripted's AI-driven content!
3. BrightEdge
BrightEdge is similar to HubSpot in that it guides your content strategy but won't take care of the content generation side of things like Scripted does. Alas, this tool tells you what people are searching for, comes ups with content ideas based on popular search terms, and monitors the performance of your content after it's published. You can use it throughout your content strategy to connect with your target audience and learn more about how your marketing performs on the web.
Say you want to publish three blog posts a week but don't know what to write about. You could use BrightEdge to research keywords and think up relevant ideas for your blog. Those ideas will be based on what your audience wants to write about, allowing you to drive more traffic to your blog and engage with potential customers. 
BrightEdge Features
Here are some of the features available in BrightEdge:
Create a content strategy from scratch with BrightEdge's keyword research, content idea generation, and performance tools

Make your content more search-friendly and relevant to your audience

Access SEO guides, whitepapers, and other resources to improve your content strategy
BrightEdge Pricing
BrightEdge doesn't publish any pricing on its website, making it difficult to compare the platform with other tools on this list. You can request pricing information on the BrightEdge website.
Bottom Line
Struggling to think up content ideas for the writing process? Want to track content performance? Not sure which keywords to use in your marketing? BrightEdge can help you achieve these goals with its content strategy tools.
4. Jasper AI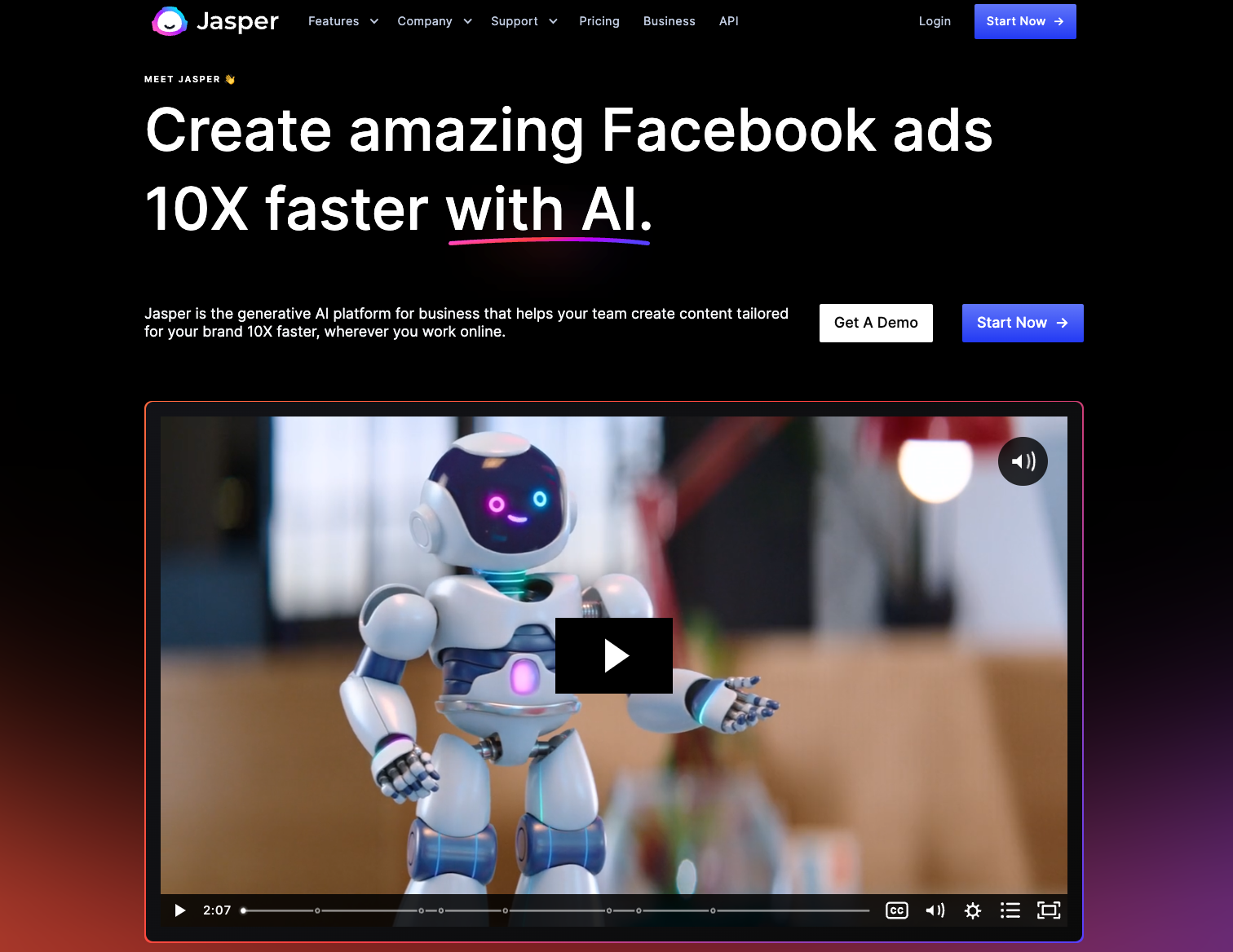 Jasper AI is primarily an AI content generation platform that automatically produces content for your website based on prompts without the need for human writers. You tell this AI content creation tool about the type of content you want, and it generates text based on your preferred tone and style in just a few seconds. Because no writers are involved in this process, you will save money and produce more content for your website.
Jasper AI says it creates content ten times faster than other AI writing tools and generates text for blogs, websites, and social media platforms like Twitter and LinkedIn. The platform uses machine learning and natural language processing (NLP) to achieve these goals, making it one of the most popular AI-powered content generation and strategy tools on the market. Jasper AI can guide your content marketing strategy with its content planning and content marketing tools.
The problem with Jasper AI is that you receive a piece of content written by robots and AI algorithms, not humans. This content will lack the depth, perspective, experience, and expertise of a real content writer, which might render your copywriting objectives entirely useless. Creating content with a human writer who knows your industry can help you rank higher on search results and preserve your reputation as an authority figure in your market.
Jasper AI Features
Here are some features of Jasper AI:
Save time and money by eliminating human writers from the content creation process

Jasper AI creates content in over 25 different languages

The platform's content improver feature lets you rewrite sections of your AI-generated text before publishing it
Jasper AI Pricing
Jasper AI has three different plans:
Starter, from $24 per month

Boss mode, from $49 per month

Business — contact Jasper AI for pricing
Bottom Line
While Jasper's AI-powered content generation and strategy tools can save money and improve automation, they might not provide you with the great content you need. Eliminating writers from the content generation workflow can result in poor-quality text that damages your search rankings and provides little value to your target audience. Google, for example, favors content written with experience and expertise — something that's not always possible when relying on fully-automated AI text.
Why Scripted?
Unlike the other tools on this list, Scripted provides AI features and real human writers in one platform, helping you improve content generation and strategy. Scripted relies on subject matter experts with experience in your industry rather than robots but still utilizes the power of artificial intelligence for the rest of the content marketing process via Scout. The company's record of producing high-quality and engaging content means you get a finished product worthy of appearing on your website.
Book a demo now and learn how Scripted's reliable, efficient, and cost-effective platform can optimize content generation and strategy.