6 Reasons Your Small Business Should Outsource Content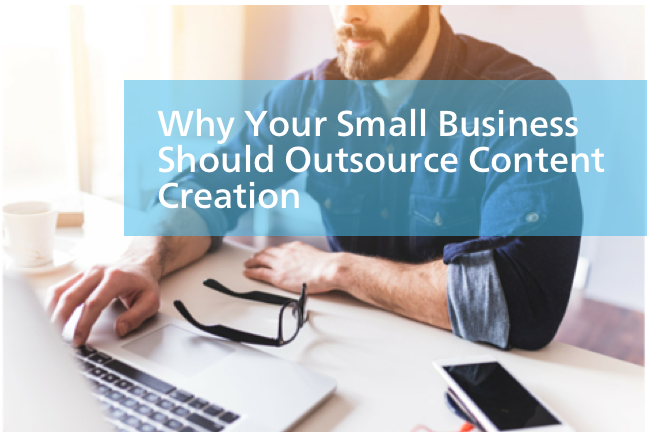 By now you must know that content marketing is the way of the future. Traditional advertising methods are beginning to fall out of vogue as companies expand their content marketing budgets, investing in the digital media that has seen so much success over the past several years.
But what happens when the writing aspect of this form of advertising becomes too overwhelming for your small business? The answer is far more simple than you think: outsource.
By outsourcing your content, you can avoid the burden of managing all the writing and the strategies that accompany content marketing. Read on and you'll learn six reasons why outsourcing your content may be the best business decision you ever made.
1. Top Quality Writing
Most likely, the business realm is your forte, so your strengths may not be tailored around writing. Even if writing does come naturally to you, you may not have time to produce the heavy volume of material that you need for content marketing. This is where outsourcing can relieve some of the pressure.
When you hire professional writers to produce your content, you can be sure you're getting top-notch copy with a consistent voice. After all, there's a reason they're professionals -- they're familiar with style, composition, grammar and all the other essentials that comprise a good piece of writing. Their unique blend of skill and creativity can take your content further than you can on your own.
Read More:
A 3 Step Guide to Hiring Quality Content Writers
2. Knowledge of Search Engine Optimization
SEO is a critical aspect of content writing. Your copy needs to contain keyword combinations that ensure it a high placement in Web searches, and knowing how to optimize content in this manner can make or break your marketing.
If you cannot draw people in, you certainly cannot convert website traffic into sales. No matter how much you know about writing, if search engine optimization is a foreign language to you, even fantastic prose won't be enough to create successful content marketing.
See Also:
An SEO Checklist Before Publishing Your Blog
3. Increased Exposure
Good content writers not only give your brand a boost, but they can also ramp up your website
traffic
. By producing a steady volume of blog articles combined with strategic keywords, your writers essentially branch out your business into related areas to draw consumers in. This way, people who haven't directly searched for material on your home page will still be directed to your site via your blog. Diversifying your website in this manner provides more opportunity for potential clients to discover you and, at this point, your top-caliber writing makes the first impression that converts these website visitors into loyal clients.
Read More:
How Content Marketing Grew Creative Market's Blog Tenfold (Interview)
4. Eliminate Space Issues
One reason for outsourcing is pragmatic, but for many
start-ups
, practical concerns are no small affair. As a growing business, you can be limited on office space, unable to cram in yet another cubicle for a writer to work in.
When space is your downfall, outsourcing provides you an easy way to deal with this problem, as you can simply hire a writer, or even several writers, to work remotely. You distill all the information you need to have written, send it via email, and your remote writers completes the job from their home office or any other location. It's that simple. There's no need to give up more of your already scarce time and space: A freelancer is just what you need to keep things from becoming over-complicated.
Read More:
Developing a workflow with writers
5. Slash Your Budget
Believe it or not, hiring outside writers is actually
cheaper
than having a full-time content writer on staff. This is particularly important for small businesses trying to keep their initial costs low. Think about it: A full-time staff member is salaried and will probably require you to pay medical benefits as well. A remote writer is paid per piece of copy, so if you hit a dry period where you don't need as much content written or you simply need to cut costs, you can take a break without having to fire any of your employees. The financial benefits are enormous: You pay for what you need, convert traffic with amazing content, and reap the rewards.
6. Get a Unique Perspective
Sometimes writing needs a fresh set of eyes. As you know all the technical ins and outs of your business, you may fall into the trap of composing cumbersome, jargon-filled articles that aren't of interest to your average consumer. Outside professional writers can look at your business in a brand new way, cutting through all the technicalities and getting to the heart of what you do. Their job is to make you look more appealing than ever with engaging, accessible writing. Their detachment and fresh perspective are exactly the qualities that you need to create incredible copy.
Read More:
Why Your Content Strategy Needs Scripted Writers (Case Study)
Outsourcing your content can feel like a big step for your small business, but the gains of hiring an outside content writer are incalculable. You stand to significantly cut costs while increasing your exposure, and for a business that's trying to get a foothold in a competitive market, this is the jump-start you need to carve out your niche and grow your company.
Scripted writer Elizabeth D. created this blog at the request of Scripted. To hire Elizabeth for your own projects, or see more of her work you can visit her profile here: 
---
Published by
Ryan Buckley
on Thursday, June 30, 2016
in
Business Strategy
,
Content Marketing
,
Content Strategy
,
How To Outsource
,
Outsourcing Content
,
Reasons To Outsource
,
Small Business
,
Small Business Content
,
Why Outsource
,
Why To Outsource Content
.