10 Best Tech Blogs on the Web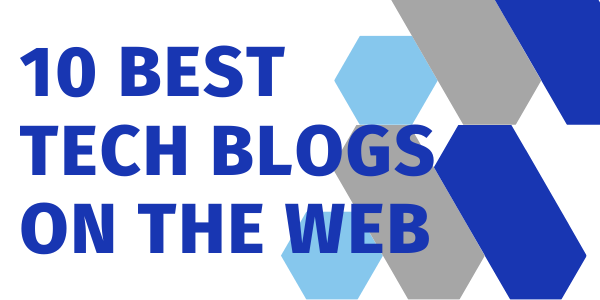 Given technology's rapid acceleration these days, there are plenty of blogs and other news sources devoted to covering different aspects of the industry. This is no small task. With new tech trends coming at us every week, and information becoming obsolete just as quickly, it can be near impossible to keep up with all the changes.
Tech blogs have to stay consistently ahead of the curve by not just determining trends, but sometimes even being the trendsetters themselves. Tech blogs can determine the success of new products, how quickly new trends get adopted, and more. Brands have a hard time surviving if the best tech blogs aren't excited about what they are doing. 
All of this goes to show that tech blogs are critical in the industry - and for freelance tech writers, keeping up with the latest tech news is a great way to inspire your content. Following tech blogs and influencers helps you stay abreast of what's happening with the industry at large so you can inform your writing and attract new clients.
We put together this list of 10 of the best tech jobs on the web so you can check out examples of successful content strategy and get inspired by other blogs in your vertical. 
Wired is one of the most popular tech blogs on the internet and covers anything and everything related to the latest trends of technology. It also publishes helpful guides related to the latest gadgets and those soon to be released, science, entertainment, business, design - you name it and they've got it covered.
It has a huge readership due to the variety of topics it manages to cover, and it keeps you up to the minute on all important and breaking tech news out there. Comprehensive and educational, it's a perfect example of excellent tech writing and offers great ideas for presenting critical topics to an audience. 

TechCrunch.com is one of the most well-known and well-regarded sites for high-quality tech news. Founded by Michael Arrington in 2005 and later sold to AOL, TechCrunch has remained as one of the leaders covering tech industry news.
It features the business-verse of the tech world, with content on tech companies, analysis of emerging trends in tech, technology news, and listings of new tech products available. They offer knowledge about new gadgets as well as apps. And it's one of the first publications to report about tech startups and funding. This is a great resource for info on tech businesses and startups all over the globe.
Some of their recent articles include the following:
Tumblr now removes reblogs in violation of its hate-speech policy, not just the original posts
Reserve your demo table at TC Sessions: Robotics & AI 2020
Pete Cashmore founded Mashable in 2005. It quickly became one of the most influential technology blogs on the internet. It's a world-renowned entertainment and multi-platform media channel and covers the latest technology news, gadgets, science, and cultural trends and provides helpful user guides.
One of the best parts about Mashable is that they also feature videos related to tech news. Powered by its proprietary technology, Mashable has a dedicated and influential audience around the globe. It's a great site because it doesn't pigeonhole itself into a tech-only corner - visitors can find news on everything from politics to movies, finance, travel, and more.
They also feature a lot of niche articles and perspectives that you can't find anywhere else. Check it out if you want to broaden your horizons in the tech sphere and beyond. 
Founded in 2006, Venture Beat is one of the best tech blogs for those interested in the most groundbreaking technological innovations on the horizon. If you want to hear about the latest scientific studies as well as the daily headlines making a splash in the tech world, this is a must-read.
Writers can glean a lot of insight from their news topics and learn about new tech that is changing the face of business and the lives of consumers every day. You can read about video games, artificial intelligence, marketing, media, and transportation. Plus, you can follow the channels you find most relevant to your personal and professional life so you can hone in on the topics you care most about.
They are definitely recognized as the leading media authority in artificial intelligence and machine learning and also offer in-depth coverage of the gaming industry.
Bonus: If you want to stay on top of the latest news without leaving your inbox, you can sign up for their fantastic newsletter. They send all the news and analysis a techie could dream of, and you can receive it on a daily or weekly basis. 
One of the longest-running tech blogs on the web, CNET follows the latest trends in consumer technology. Halsey Minor and Shelby Bonnie started this site in 1994. They report on tech breakthroughs and highlights, including how tech interacts with our daily lives.
CNET distributes information across its website, apps, RSS feed, videos, social media platforms, and even a quarterly print magazine. It's an invaluable resource for in-depth reviews of the newest tech products hitting the market and offers great info on the best ways to update the tech in businesses.
They also have an attractive news blog that covers all the major headlines in the tech industry. They pride themselves on publishing the top unbiased editorial reviews and ratings for tech products, along with specs, user reviews, and prices. 
Founded by trio Joshua Topolsky, Jim Bankoff, and Marty Moe in 2011, The Verge is more than just one of the best tech blogs on the web. It might be the top authority on the most contemporary products and trends in the world.
Owned by tech giant Vox Media, this legendary blog somehow gets access to every gadget on the market, often before the gadget even goes public. The Verge offers extensive reviews and coverage of products and tons of personal perspective - it's a goldmine for writers looking to put their own personal spin on their writing.
Some of their recent articles include:
The Microsoft Classroom Pen 2 is an affordable Surface Pen for students
Twitter is now letting everyone tweet pictures in 4K on Android and iOS
Amazon One's palm-scanning payments are coming to Whole Foods
Many of their articles are also available as audio recordings on the site, so you can listen to them while you're on the go. 
Engadget, founded by Pete Rojas in 2004, grew from a small news organization into a leading global technology giant with millions of visitors. They cover any information relating to the latest hardware and software to gadgets, video games, NASA tech, and more.
Readers visit this blog for the latest reviews and news in entertainment, gaming, and tech, as well as a record of archives from some of the best, early tech publications out there. They post trusted, in-depth updates on the latest releases, so you can stay up to date with the best stuff in the industry.
They also have a separate video area so you can check out product features and more. There are plenty of reasons why so many tech junkies call this blog their favorite. 

Before Pete Rojas founded Engadget, he started the Gizmodo blog in 2001 as part of the Gawker Media network, and it is still going strong on the web. It's one of the best online tech portals to keep up with gadget news.
Readers can check out guides and watch tutorials that explain the best and newest gadgets on the market. This blog helps keep you up to date on the newest information related to innovation and technology. Their site tagline declares, "We come from the future," and they definitely offer enough content to make this statement seem true.
Writers can glean plenty of inspiration and ideas from their progressive postings and topics. Gizmodo also includes the subsite io9, which focuses on science fiction and futurism.
TechSpot focuses primarily on consumer electronics. Readers can easily browse product reviews, news, updates, and recently trending stories with their user-friendly interface. It's an especially impressive site for anyone who manages or creates online content around different types of tech products.
If that's your specialty, check out the TechSpot "The Best" pages. They feature detailed roundups of all the best tech products in different categories and they each offer information and reviews from industry professionals. If you prefer to chat with other people interested in the tech industry, check out the TechSpot forums, where you can ask questions or get tips from the community.
You can also discuss and comment on stories you find on the blog. It's a great site to interact with other techies and find answers to questions. 

SlashGear is a virtual magazine, founded in 2005, featuring news stories, product reviews, and different areas of content for technology, cars, gaming, science, and more. They cover a variety of topics but limit coverage to that which is relevant to people interested in how technology moves us into the future.
You can find ideas related to innovative technology, business transformation, gadgets, and cool tech stories that they scour the web for each day. It's also great because it offers high-level tech content but isn't overly technical - the language is friendly to entry-level readers while still engaging tech professionals.
Check out their articles to see how to write for a wide audience of tech readers. They try to bring an open mind to all their articles, and strive to make complex topics very accessible to all types of readers. 
Writing a Tech Blog
Tons of people enjoy reading tech blogs every day. The niche continues to grow every year, which is why having your own tech blog can help make you an authority in the industry. If you're particularly adept at and knowledgeable about all things tech, starting a tech blog is an excellent way to share knowledge and expertise with your audience and gain a following. 
Having an engaging and informative blog is a great way to share your wisdom, expertise, and point of view with others. You can also connect with others in the tech world and develop a community around your blog topics and content. You can use a blog to review tech products, share ideas and opinions with the world, make money from promoting products and services, explain tech nuances to those new to the industry, and more. 
Most tech blogs have a specific focus, such as tech product reviews, tech trends, mobile technology, programming languages, etc. And within that focus, you can choose an even more specific niche. A blogging niche is a topic or set of topics that cover a specific segment of the industry. Writers usually choose a niche based on knowledge, experience, and interests, and they can include anything from tech repair to gadgets to audio tech, etc. 
If you're looking for inspiration for your tech writing, reading the above blogs is an excellent place to start. It's helpful to see what other bloggers are writing about - especially on sites that you know have a wide readership. 
Get Help From Scripted Writers
Reading tech blogs is a great way for writers to discover fresh topic ideas for blog posts, website content, and social media posts. It can help you find the intersection between recent posts on one of these tech blogs and something that will interest your audience. Sometimes that's all you need for a creative idea that brings more awareness and authority to your brand. 
If you're looking for ways to boost your content marketing strategy, hiring a professional tech writer on Scripted can help. Our skilled writers have the expertise and talent to help you light up your blog and stand out from the competition. Browse through some of our top tech writers to get started today. 

---
Published by
Carolyn Heard
on Thursday, May 6, 2021
in
Blogs
,
Technology
,
Cnet
,
Engadget
,
Gizmodo
,
Mashable
,
Slash Gear
,
Techcrunch
,
Tech Spot
,
The Verge
,
Venture Beat
,
Wired
.